Instagram:
@drawingmary
Website:
www.drawingmary.com
1. What's your story? Where are you from?
I am an illustrator 'Lee Min-kyung'. I am also called 'Mary'. I live in Seoul, South Korea. 저는 서울에서 '드로잉메리' 라는 작가명으로 활동 중인 일러스트레이터 '이민경'입니다.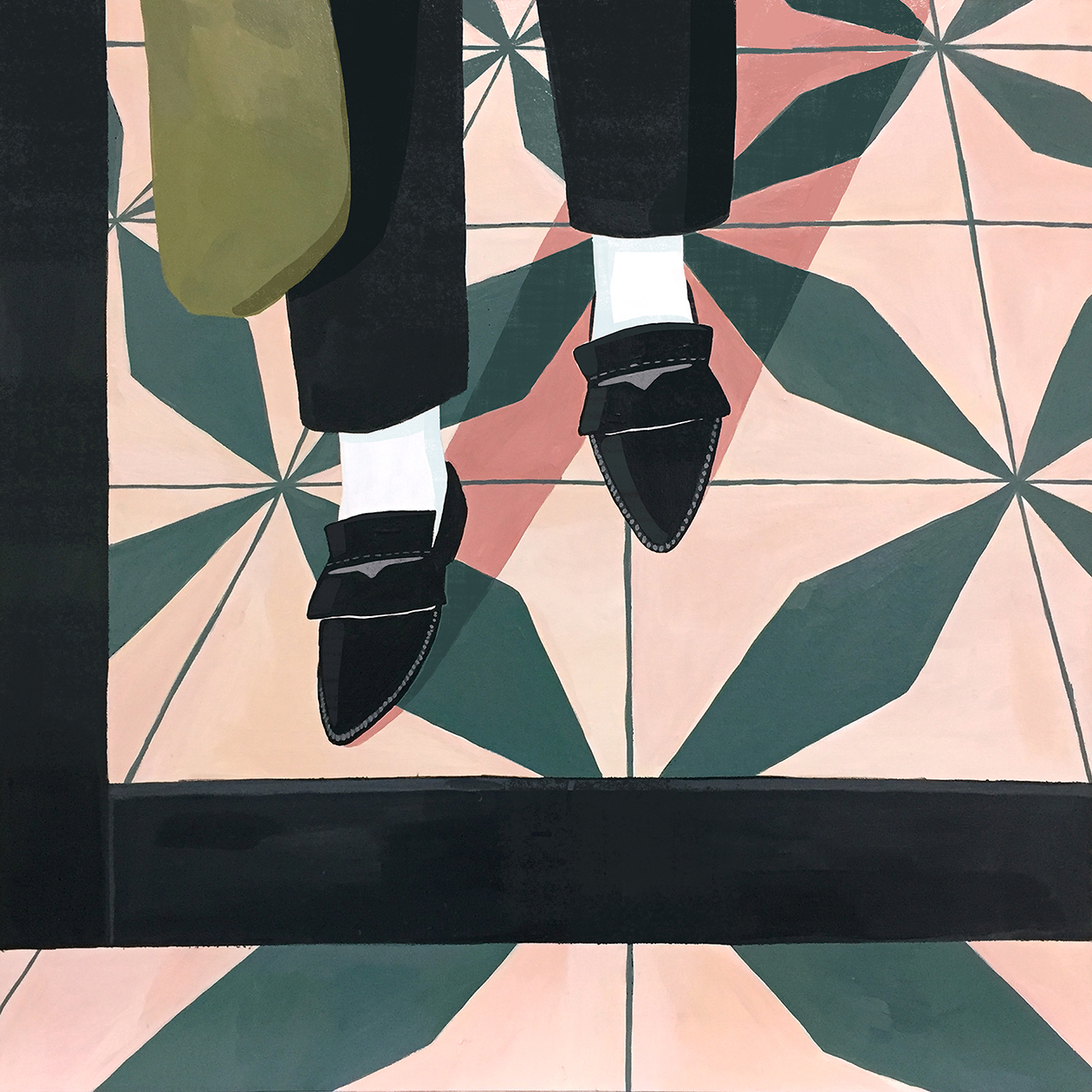 2. Tell us about your aesthetic.
When I feel 'pleasure', it expresses whatever form it is. Sometimes I only draw what exists in my head, and I usually express my own pleasure in my life as it is. '즐거움'이 느껴지면 형태가 어떠한 것이든 표현합니다. 오로지 머릿속에서만 존재하는 것을 그릴 때도 있고, 보통은 생활 속에서의 '나만의 즐거움'을 있는 그대로 표현합니다.
3. What is your favourite medium and why?
I prefer acrylic paints. I like the feeling of being painted smoothly when the proper water and paint meet. I feel attracted by the fact that it is a material that can express various colors and various expressions when I apply it once and twice. 저는 아크릴 물감을 선호합니다. 적당한 물과 물감이 만났을 때 매끈하게 칠해지는 느낌을 좋아합니다. 또 한 번, 두 번 덧칠했을 때 빈틈없이 차오르는 색감과 다양한 표현이 가능한 재료라는 것에서 매력을 느낍니다.
4. What is your artistic process like?
I often see things all day, draw a list of what I hear and do. Sometimes I lay down to sleep and then I wake up and sketch. These days, I use iPhone 's memo feature to record and make a lot of idea sketches with iPad Pro. It is interesting to forget it and open it after a long time, and there is a time when it is inspired again. Sometimes, one image in the head keeps rolling. If you draw the image, the result is satisfactory. 하루 종일 보고 듣고 한 것들이 하나의 이미지로 불현듯 나타나곤 하는데, 가끔은 자려고 누웠다가 벌떡 일어나 스케치를 할 때도 있습니다. 아이폰의 메모 기능을 적극 활용하며, 요즘은 아이패드프로로 그때그때 아이디어 스케치를 많이 합니다. 잊고 있다가 가끔 열어보면 재밌기도 하고, 그것에 다시 또 영감을 받을 때가 있습니다. 또 어떨 때는 머리에서 한 이미지가 계속해서 맴돌 때가 있습니다. 그렇게 그린 그림은 결과도 만족스러울 때가 많습니다.
5. Who and/or what inspires your work?
I get inspiration anytime, anywhere. Recently I have been inspired especially by people who come and go to my studio. In conversations with them, there is much that they feel in their work. 언제 어디서나 영감을 받습니다. 최근에는 특히 제 작업실에 오가는 사람들을 통해 많은 영감을 받고 있습니다.그들과의 대화에서, 그들이 하는 작업에서 느끼는 것이 많습니다.
6. What role does art play in your life? How does it change the way you view the world?
Painting is 'fun play' and 'work' to me. It seems to me that drawing is a tool for living in a difficult world. 그림은 제게 '재미있는 놀이' 이면서 '일'입니다. 조금은 각박한 세상을 어렵지 않게, 재미있게 살아갈 수 있게 하는 역할을 해주는 것 같습니다.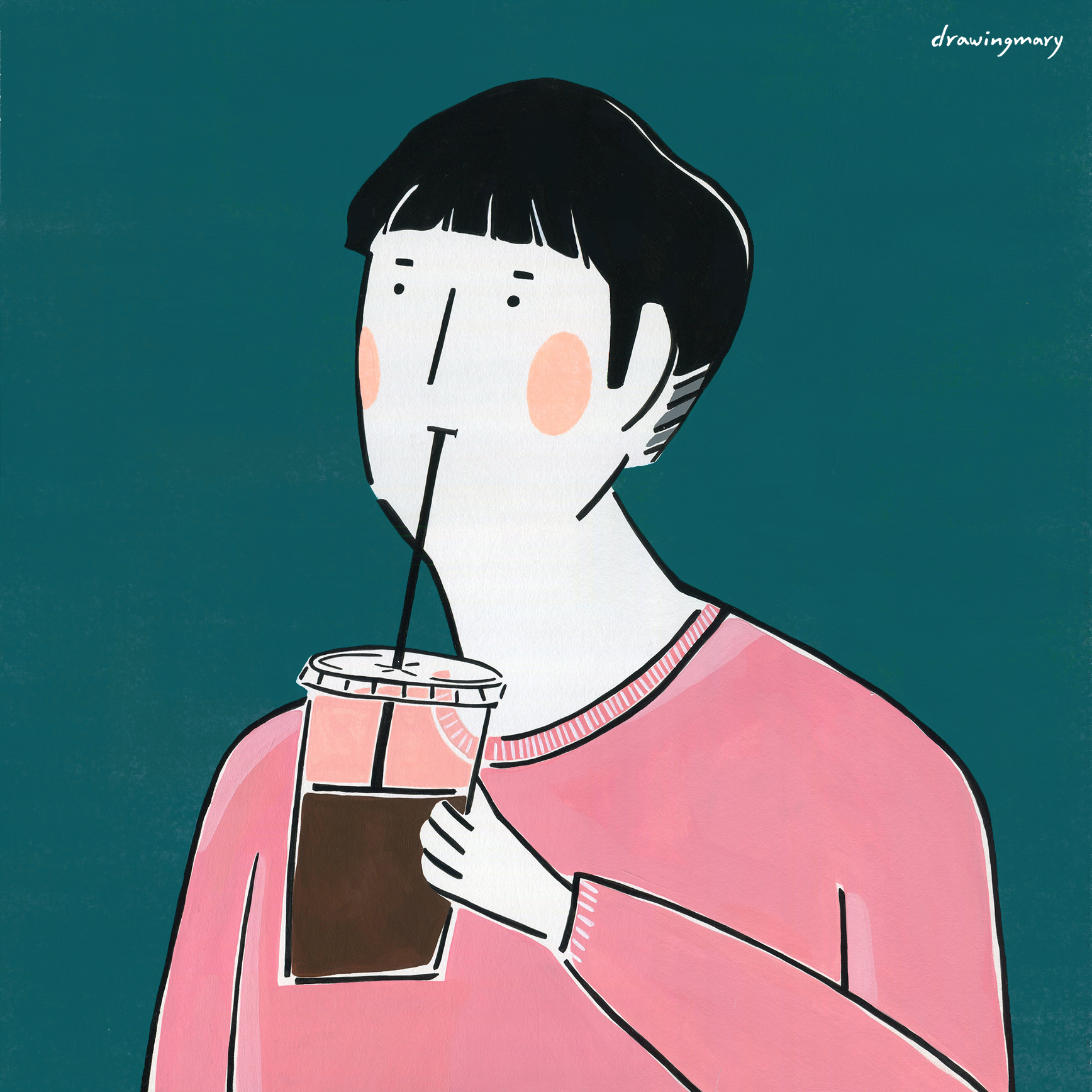 7. Where did you study?
I majored in Animation at Hansung University in Seoul. Animation is the moment when I started to work on art, and it still has a lot of impact on my work. 한성대학교에서 애니메이션을 전공했습니다. 애니메이션은 제가 미술을 시작하게 된 계기이며, 여전히 제 작업에 많은 영향을 줍니다.
8. Where do you see yourself in five years?
I do not know. But I am sure I will be enjoying the process and enjoying it wherever I am. 글쎄요. 하지만 분명 어디에서든 즐겁게 작업하고 그 과정을 즐기고 있을 것입니다.
9. What about in ten?
Even then, it will be the same. But at that time, regardless of time and place, I hope you are doing a lot of work in a wider world. 그때라도 똑같을 것입니다. 하지만 그때라면 시간과 장소에 구애받지 않고. 더 넓은 세상에서 많은 작업을 하고 있길 바랍니다.
10. What do you hope to achieve with your art?
The reason I draw the picture is always 'just like it.' But now there are more people wanting to look at my pictures, I hope that my art will be completed with more experience and work. 항상 '그냥 좋아서 한다.'라는 이유가 전부였습니다. 하지만 지금은 좀 더 많은 사람들이 내 그림을 봐줬으면 하는 욕심도 있고, 더 많은 경험과 작업을 통해 저만의 예술이 완성되어 가기를 바랍니다.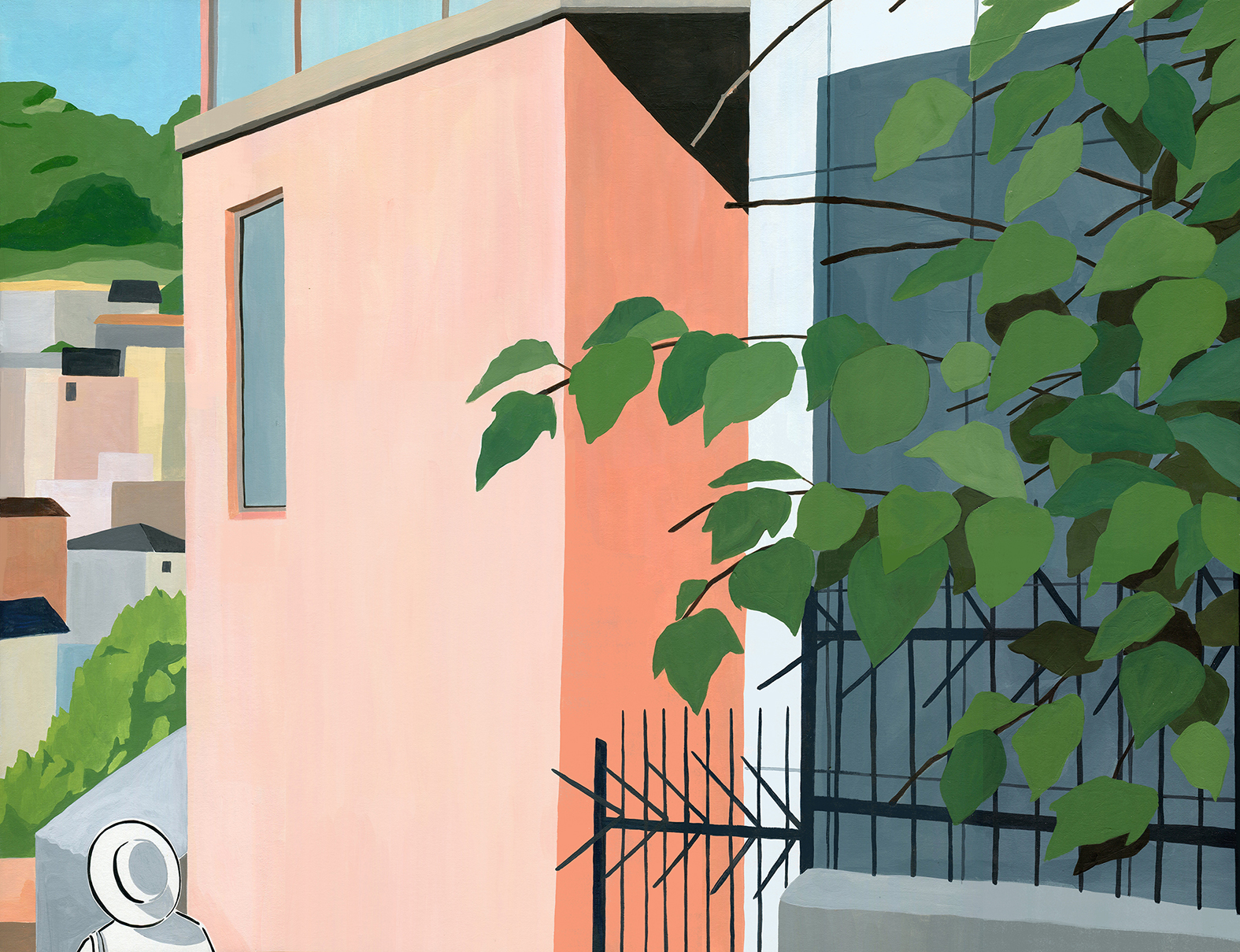 11. Now, tell us a little more about you as a person: what is your favourite food?
I like Grilled Pork Belly(Samgyeopsal), Kimchi Stew(Kimchi-jjigae), and Dumplings. 저는 삼겹살과 김치찌개를 좋아합니다. 그리고 만두를 엄청 좋아합니다.
12. Favourite book?
Roald Dahl's 'Charlie and the Chocolate Factory'. I like fantasy. This book was my first fantasy. I can not forget my feelings when I read this book when I was 10 years old. 로알드 달의 '찰리와 초콜릿 공장'. 저는 판타지를 좋아하는데, 제 생애 처음 책으로 만난 판타지였습니다. 10살 때 이 책을 읽으며 느꼈던 충격은 아직도 잊을 수가 없습니다.
13. Favourite genre of music?
I do not have any favorite genre. I like the hopeful and light melody. 특별히 찾는 장르는 없지만 희망적이고 경쾌한 멜로디를 좋아합니다.
14. What are your hobbies?
I usually do hobby and work without distinction. I like to watch movies and dramas I put off when there is no schedule. 평소에 취미와 일을 구분 없이 하는 편이라 '무엇'이라고 말하기 어렵네요. 스케줄이 없을 때는 미뤄 두었던 영화나 드라마를 보는 것을 좋아합니다.
15. If you weren't an artist, what would you be?
If I did not draw a picture, I would have dreamed of an astronomer. I have much interest in the stars and the universe, and the last wish is still to go to space. 그림을 그리지 않았다면 천문학자를 꿈꿨을 것입니다. 아직도 막연히 별과 우주에 대해 관심이 많고, 여전히 마지막 소원은 우주에 가보는 것입니다.