Instagram:
@ecarlaat
1. What's your story? Where are you from?
Hi! My name is Louise, I'm 24 years old and I'm French. I spent my childhood in the southwest of France, in a large house in the countryside. My parents being an antique dealer and upholsterer-decorator, have evolved me in a creative and artistic universe. I am a rather reserved person by nature, art has somehow allowed me to express myself more openly. Salut ! Je m'appelle Louise, j'ai 24 ans et je suis française. J'ai passé mon enfance dans le sud-ouest de la France, dans une grande maison à la campagne. Mes parents étant antiquaire et tapissier-décorateur, j'ai évolué dans un univers créatif et artistique. Je suis une personne assez réservée de nature, l'art m'a en quelque sorte permis de m'exprimer plus ouvertement.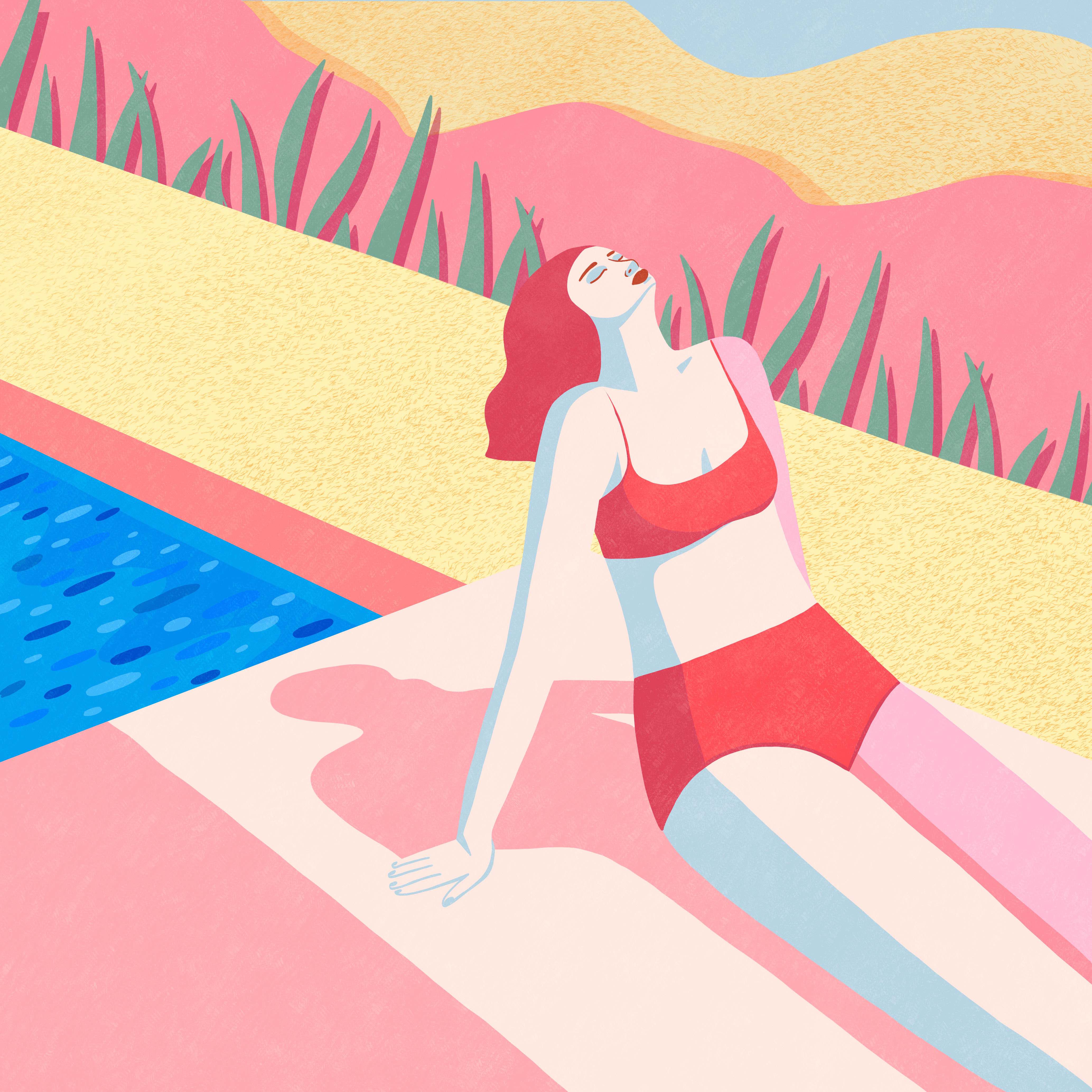 2. Tell us about your aesthetic.
I would describe my aesthetics with many colors, women and simple shapes. I have always liked drawing female faces, I suppose I like to create around an attitude or an expression. I have been through a lot of experimentation because of this, it is an infinite source of inspiration for me. I like to draw women who tell stories, in very colourful and somewhat surreal worlds. The choice of colours is very important to me, it is around them that I build my illustrations. Then I add a decor often very simplified, I try to be poetic and light to give space and mystery to my characters. Je décrirais mon esthétique avec beaucoup de couleurs, de femmes et de formes simples. J'ai toujours aimé dessiner des visages féminins, je suppose que cela me plaît de créer autour d'une attitude ou d'une expression. Je suis passée par beaucoup d'expérimentations grâce à ça, c'est une source d'inspiration infinie pour moi. J'aime dessiner des femmes qui racontent des histoires, dans des univers très colorés et quelques peu surréalistes. Le choix des couleurs m'est très cher, c'est autour d'elles que je construis mes illustrations. J'ajoute ensuite un décor souvent très simplifié, j'essaies d'être poétique et légère pour donner de l'espace et du mystère à mes personnages.
3. What is your favourite medium and why?
I have always had a penchant for painting, especially acrylic and Indian ink. I like their deep and striking colours. Something that is visible, that marks the gesture in time. I have also recently discovered digital illustration, it is an extraordinary medium that allows me to evolve faster thanks to this infinite palette of colors and its many features. Everything is possible and I love this freedom! J'ai toujours eu un penchant pour la peinture, notamment l'acrylique et l'encre de Chine. J'aime leurs couleurs profondes et percutantes. Quelque chose qui se voit, qui marque le geste dans le temps. J'ai également découvert depuis peu l'illustration digitale, c'est un médium extraordinaire qui me permet d'évoluer plus vite grâce à cette palette de couleurs infinies et ses nombreuses fonctionnalités. Tout est possible et j'adore cette liberté !
4. What is your artistic process like?
I would say that at first I am most often attracted by a behaviour usually found in a photo. I always start with a sketch and gradually add colour, shadows and decoration. The further I go in my illustration, the more I have a clear idea of what I want to express. This is my favorite part, this transition from a vague idea to something unique. I leave a lot of room for change in my artistic process because that's often how I get a satisfying result. Je dirais qu'au début je suis le plus souvent attirée par un comportement généralement trouvé sur une photo. Je commence toujours par une esquisse et petit à petit je rajoute la couleur, les ombres et le décor. Plus j'avance dans mon illustration, plus j'ai une idée précise de ce que je souhaite exprimer. C'est ma partie préférée, cette transition entre une idée vague jusqu'à en tirer quelque chose d'unique. Je laisse une grande place au hasard dans mon processus artistique car c'est souvent comme ça que j'arrive à un résultat satisfaisant.
5. Who and/or what inspires your work?
My work is directly inspired by femininity, I find it in certain details or in personalities that challenge me. The moments of everyday life are another source of inspiration, I like to contemplate the present and transcribe it in my own way. The world is so full of influence that you can find it on every street corner! Mon travail est directement inspiré par la féminité, je la retrouve dans certains détails ou dans des personnalités qui m'interpellent. Les moments du quotidien sont une autre source d'inspiration, j'aime contempler le présent et le retranscrire à ma manière. Le monde est tellement rempli d'influence que l'on peut la trouver à chaque coin de rue !
6. What role does art play in your life? How does it change the way you view the world?
Art has always had a central place in my life, I have always been completely absorbed by this universe so rich and unique in its kind. I find that art is everywhere, in a face, an expression, a design, an atmosphere. I try to practice every day to see what touches me, bothers me or intrigues me. I would say that this allows me to live fully in the present. L'art a toujours eu une place centrale dans ma vie, depuis toujours je suis complètement absorbée par cet univers si riche et unique en son genre. Je trouve que l'art est partout, dans un visage, une expression, un design, une ambiance. J'essaie au quotidien de m'exercer à voir ce qui me touche, me gêne ou m'intrigue. Je dirais que cela me permet de vivre pleinement dans le présent.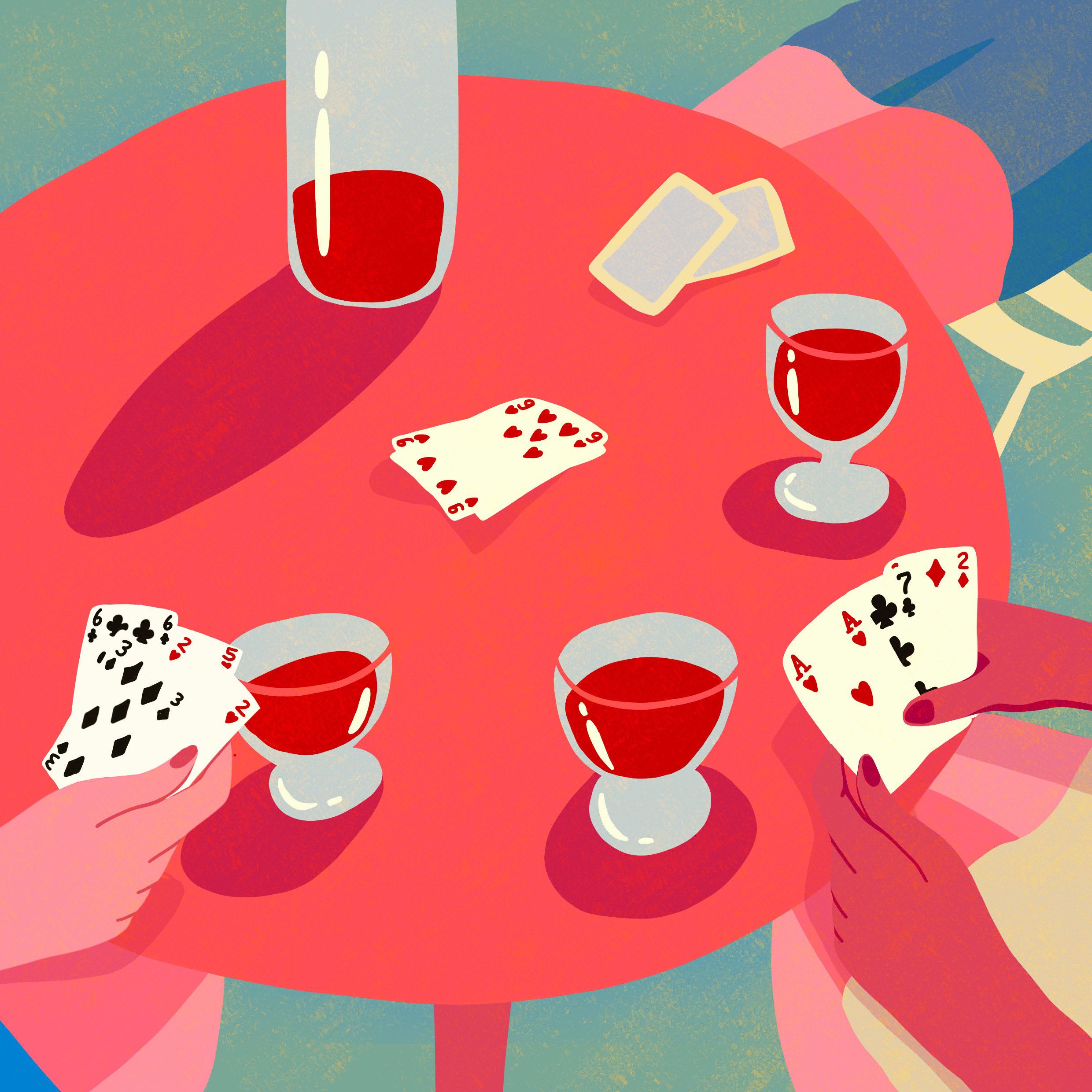 7. Where did you study?
I left my campaign to study for a degree in plastic arts in Bordeaux, I came out a little lost and without conviction of a professional project. Wanting a little something new, I found myself studying psychology for a year in the north of France. As a result, I chose to take a year off to find my way. That's the year I was enormously productive, from sketchbooks, painting, embroidery and then digital illustration. Today I'm just starting to get started, and I hope to have a bright future ahead of me! J'ai quitté ma campagne pour faire une licence d'arts-plastique à Bordeaux, j'en suis sortie un peu perdue et sans conviction d'un projet professionnel. Ayant envie d'un peu de nouveauté je me suis retrouvée à étudier la psychologie durant une année dans le nord de la France. À la suite de cela j'ai choisi de prendre une année de césure pour trouver ma voie. C'est cette année là où j'ai été énormément productive, en passant par les carnets de croquis, la peinture, la broderie et ensuite l'illustration digitale. Aujourd'hui je commence tout juste à me lancer, et j'espère avoir un bel avenir devant moi!
8. Where do you see yourself in five years?
I hope to have realized many illustration projects with other artists. I could see myself living off my passion in the Netherlands. For me, it is a country that has a very inspiring culture because of its open-mindedness, whether on a human, artistic, architectural or another level. J'espère avoir réalisé de nombreux projets d'illustration avec d'autres artistes. Je me verrais bien vivre de ma passion au Pays-Bas. Pour moi c'est un pays qui a une culture très inspirante de part son ouverture d'esprit, que ce soit sur le plan humain, artistique, architectural, etc.
9. What about in ten?
I hope I will be a successful and happy illustrator in my work. J'espère que je serai une illustratrice épanouie et heureuse dans mon travail.
10. What do you hope to achieve with your art?
I want my work to give people a new perspective on the simple moments of everyday life. And to represent the diversification of women, to celebrate the beauty of each of them and to highlight their places in society. Je veux que mon travail permettent aux gens de voir d'un nouvel œil les simples moments de vie du quotidien. Et de représenter la diversification des femmes, de célébrer la beauté de chacune d'entre elles et de mettre en avant leurs places au sein de la société.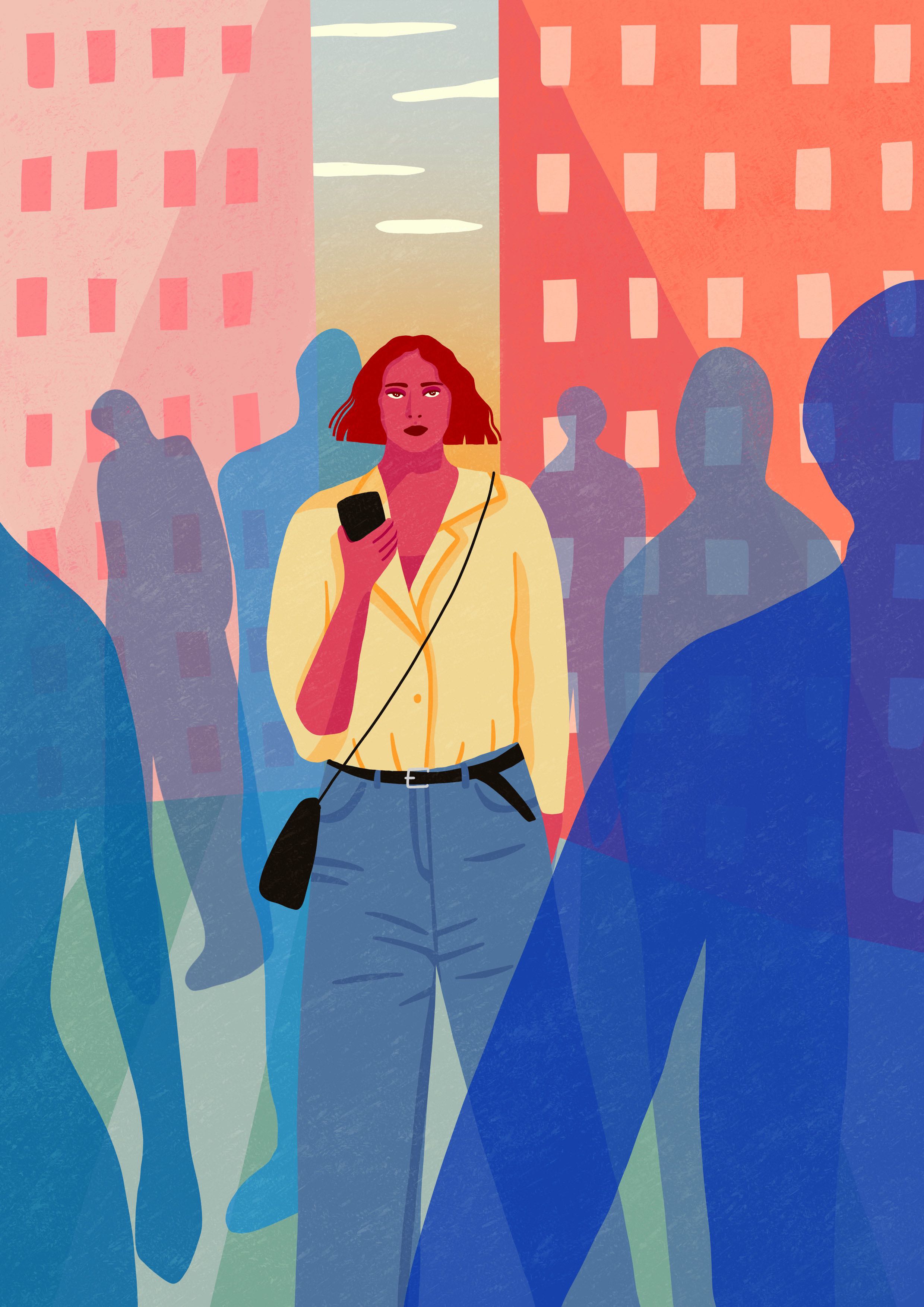 11. Now, tell us a little more about you as a person: what is your favourite food?
I am a very greedy person so I am not very complicated when it comes to food, I love to try new flavours! I would say that I have rather preferred taste combinations, such as the must-have tomato mozzarella, spinach goat cheese, curry carrots. Je suis une personne très gourmande donc je ne suis pas très compliquée en matière de nourriture, j'adore tester de nouvelles saveurs ! Je dirais que j'ai plutôt des associations de goûts préférés, comme l'incontournable tomates-mozzarella, chèvre-épinard, carottes-curry.
12. Favourite book?
My favorite free textbook is Hugh Howey's SILO. I discovered this novel during a trip to Spain with my parents, I enjoyed reading it enormously. It is a post-apocalyptic universe where the characters live in an underground silo where there is a mysterious dictatorship that prevents them from knowing the reality of the outside world. I highly recommend it if you are fond of dystopic fiction! Mon libre préféré est SILO de Hugh Howey. J'ai découvert ce roman lors d'un voyage en Espagne avec mes parents, j'ai pris énormément de plaisir à le lire. C'est un univers postapocalyptique où les personnages vivent enfermés dans un silo souterrain où il y règne une dictature mystérieuse qui les empêchent de connaître la réalité sur le monde extérieur. Je vous le recommande vivement si vous êtes friands de fiction dystopique !
13. Favourite genre of music?
What I like most is experimental music, especially when it is rock or electro. Ce qui me plaît le plus est la musique expérimentale, surtout lorsqu'elle est rock ou électro.
14. What are your hobbies?
Apart from drawing, I do a lot of running, I also like cooking and walks in the city or in the countryside, nothing very exciting! Hormis le dessin je fais beaucoup de course à pied, j'aime aussi cuisiner et les balades en ville ou à la campagne, rien de bien excitant !
15. If you weren't an artist, what would you be?
I would probably be a psychologist or another profession that has to do with understanding the human being. It's something I've always liked and I find it very rewarding. Je serais probablement psychologue ou une autre profession qui a un rapport avec la compréhension de l'humain. C'est quelque chose qui m'a toujours plu et je trouve ça très enrichissant.