Instagram:
@efeu_illustration
Tumblr:
fitzroi.tumblr.com
Carbonmade:
efeu.carbonmade.com
1. What's your story? Where are you from?
I come from a small village in south Germany (with cows and everything). Since there wasn't much going on, I started drawing and writing at an early age. Because I liked making pictures so much, I went on to study communication design, but never specialized in illustration, because "you can't earn money with that". Only after a scholarship in Istanbul I realized what I really wanted to do.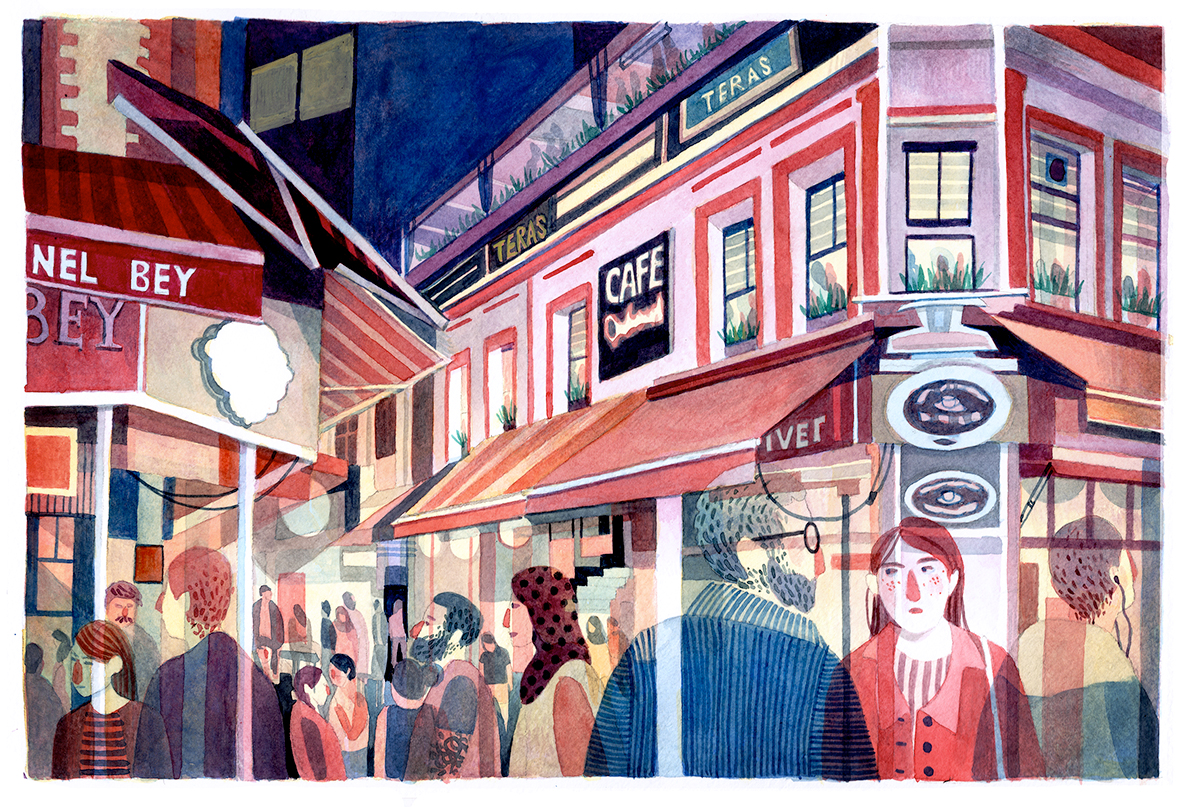 2. Tell us about your aesthetic.
This is a really hard question for me, since I vary between a clean, graphic, dramatic style and a lighter, colourful, transparent one. There's this contradiciton that I have yet to solve. However, my illustrations are always quite detailed and maybe a bit surreal. Lately, ghost like people are a recurring theme, and now I see ghosts everywhere.
3. What is your favourite medium and why?
I love liquid paint, such as ink and watercolour, because they allow for very exact painting. Black ink is so dramatic and graphic, I love how deep it looks. My other favorite medium is watercolour since it's transparent and allows me to layer colours on top of each other.
4. What is your artistic process like?
When I am walking around town I always take pictures with my mobile phone of places and people that spike my interest. At home, I manipulate these images with photoshop until I have the kind of composition I want. Then I recreate the picture with watercolour or ink. Since I am a bit of a control freak I love making exact paintings with very small brushes, which takes a lot of time, and I often forget to eat (or socialize).
5. Who and/or what inspires your work?
Since I am basically a farmer inside, I am constantly amazed at the cities that surround me. I'm often inspired by public spaces, especially shops, cafes and parks. Some places just make me think of the stories that could happen there, the memories, dreams, etc. I think interiors are very interesting as well. Also, people! People are so weird and cool.
6. What role does art play in your life? How does it change the way you view the world?
Hm. I think what fascinated me the most in the beginning is that I could MAKE something, you know? And then it exists. Later I discovered that this is also a way to show other people what is going on in my head, or how I look at the world… Pictures have so much power. That's still pretty amazing to me.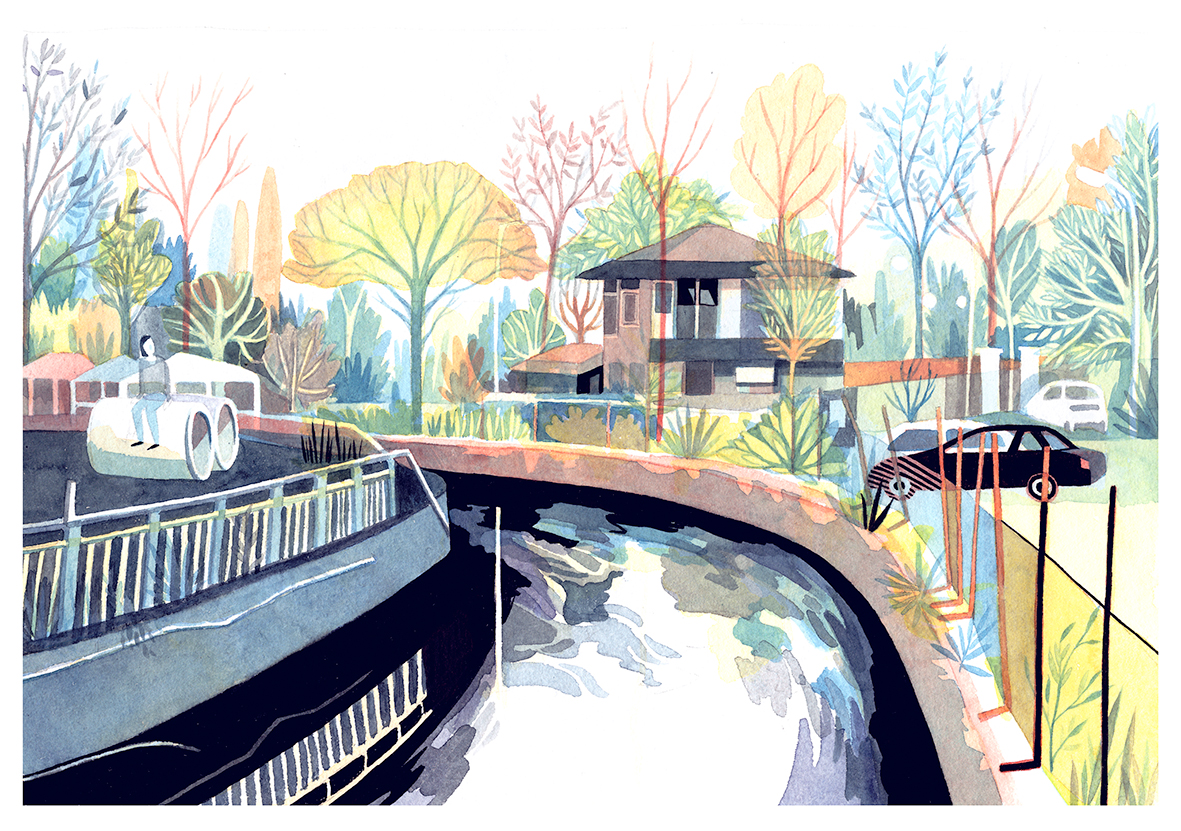 7. Where did you study?
I studied communication design at Burg Giebichenstein Universtiy of Art and Design and Universitiy of Applied Sciences, Mainz. Both are in Germany.
8. Where do you see yourself in five years? Working in an agency?
Since I am technically a graphic designer, I might be working in an agency, but I'd rather continue to work as a freelance illustrator, living between different cities. I also see myself doing another art residency like the one I did in Istanbul. That's one of my goals after I finish studying.
9. What about in ten?
I'd love to have my own business together with creative friends, running an online magazine, political activism… Who knows? And if I ever decide to settle down somewhere I hope to adopt at least one cat.
10. What do you hope to achieve with your art?
I want to reach out to other people on an emotional level.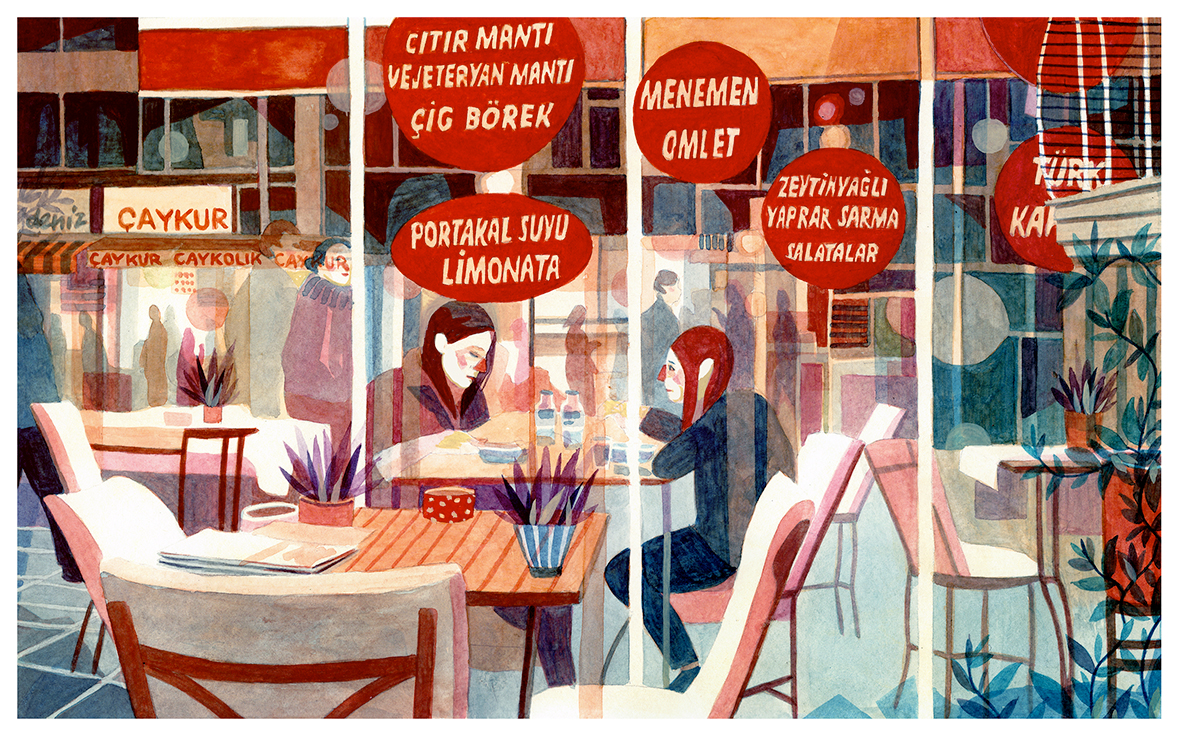 11. Now, tell us a little more about you as a person: what is your favourite food?
I love oatmeal. My diet consists almost entirely of oatmeal, apples, rice, eggs, and instant coffee.
12. Favourite book?
For the risk of sounding pretentious, I love books to much to settle on one.
13. Favourite genre of music?
I'm into indie, rock, 80ies underground / wave, synthie pop, r'n'b, and 80ies french pop. I love music and listen to the same vaguely embarrassing songs over and over when I work.
14. What are your hobbies?
Being an all-around feminist killjoy, flying on a broomstick, sacrificing children, etc.
15. If you weren't an artist, what would you be?
I think I might have studied languages or psychology and tried to become a university professor. Or maybe a professional witch.