Instagram:
@eldibujo
Website:
www.eldibujo.com
1. What's your story? Where are you from?
My name is Daniel, but I am known as 'El Dibujo'. I am 24 years old and I am a painter, illustrator and photographer. I was born in a small coastal town in Murcia, Spain. I grew up near the sea, between fishermen, solitude, color pencils and papers.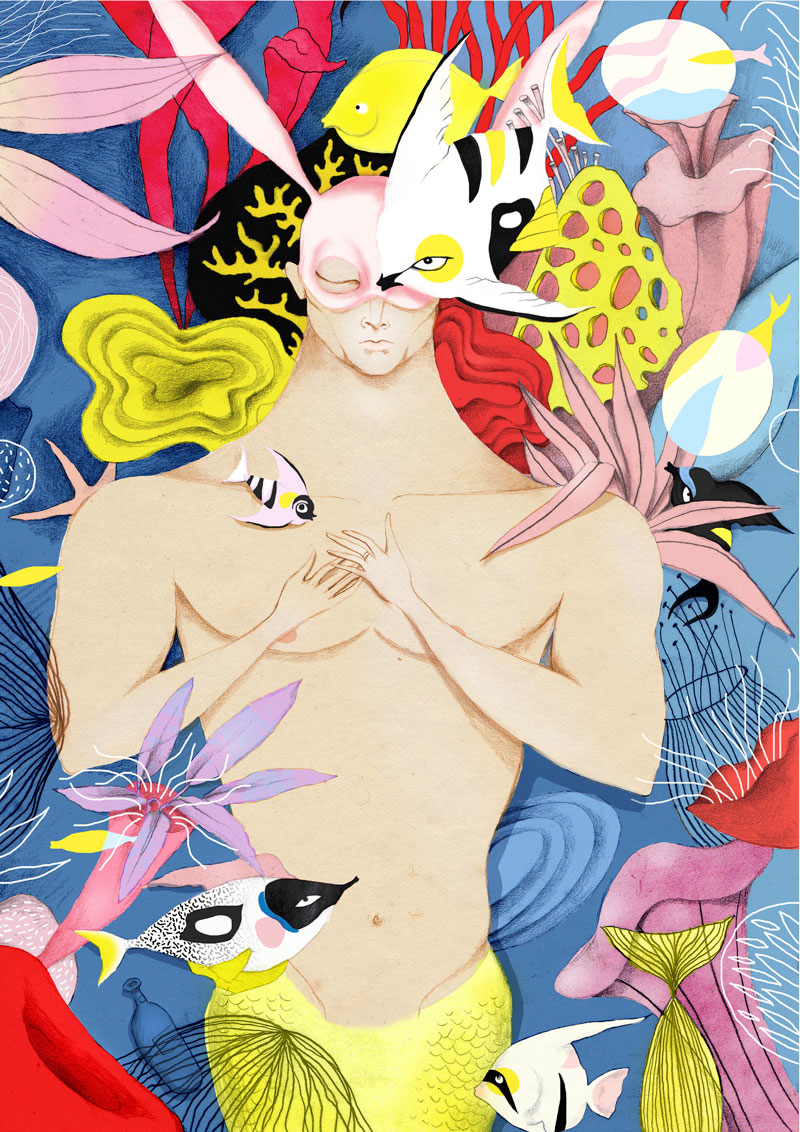 2. Tell us about your aesthetic.
When I used to draw at school, my drawing technique was realistic and classical. Step by step, my technique evolved at the same time than me, and became each time less realistic and naif. I enjoy a lot the color, combining pale colors with another more intense. My works talk most of the times about the masculinity universe as I perceive it. I use my own and personal symbology that maybe sometimes can only be understood by the ones that really know me.
3. What is your favourite medium and why?
What I use the most know is acrylic painting on different media such as paper, cardboard, wood or canvas. I enjoy more painting than using pencils as I like to play with color and textures.
4. What is your artistic process like?
I just can draw on sunlight, I don't like it by night. I need to be surrounded by my things, my organized desktop, my music and something to drink.
5. Who and/or what inspires your work?
My work goes around man, sexuality and his environment. For so, I use my own experience, or I invent some. I like to create characters and a story behind them. Painting is my very own way to describe and tell others' and my own life. I get inspired by music and art from unknown illustrators. I am inspired by sadness, and just a really few by happiness.
6. What role does art play in your life? How does it change the way you view the world?
Art is the way in which I better can express myself, rather than language. I used to draw all I didn't talk, and it's like that until today.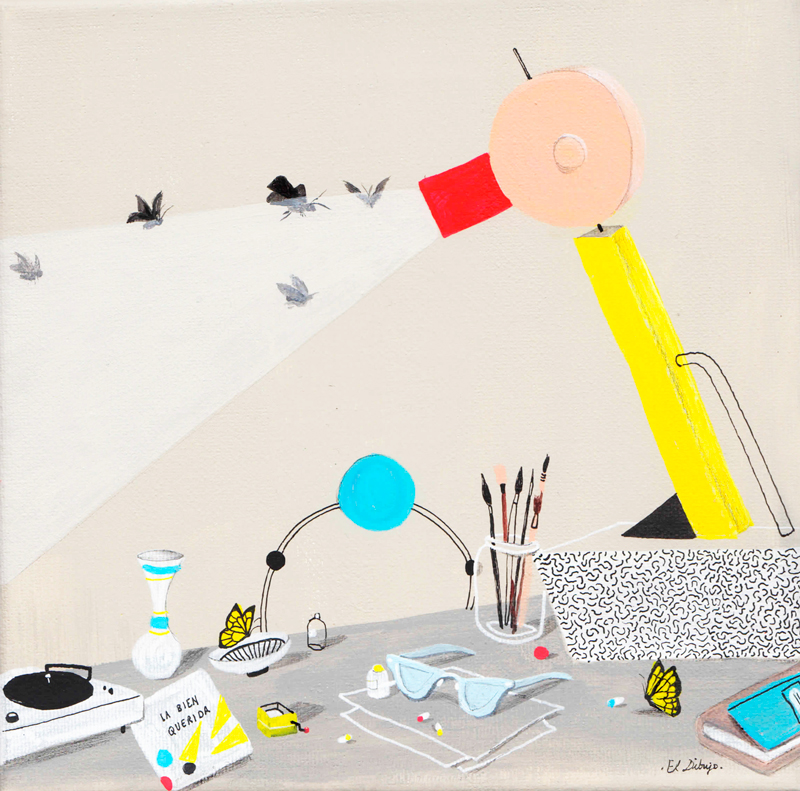 7. Where did you study?
I studied Illustration and Design in Plastic Arts at the Art School of Murcia, a public school in the south of Spain.
8. Where do you see yourself in five years? Working in an agency?
I don't know even where I will be in a week. I'd like to keep on working in the only thing I like, painting by my own choice, without a boss. I would like to collaborate with publishers and some company, but I don't like working for anybody else.
9. What about in ten?
Maybe dead. Who knows… I don't make plans, they never turn out to be what I expected.
10. What do you hope to achieve with your art?
To feel in peace with myself. Even if it sounds arrogant, I don't paint for anybody, I just do it for me. Because I need it and because it is my way to express myself to the world and give sense to my life.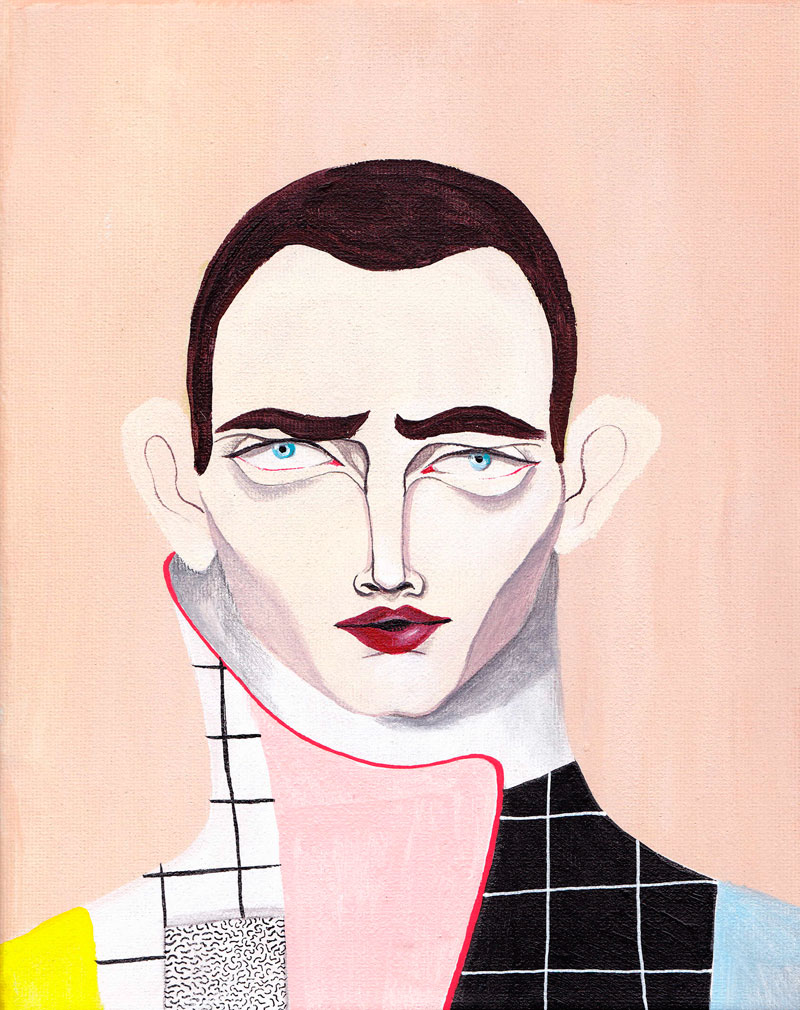 11. Now, tell us a little more about you as a person: what is your favourite food?
I really enjoy food, and my weakness is cheese, potatoes, and all that is salty.
12. Favourite book?
It could be La Casa de los amores imposibles, by Cristina López Barrio.
13. Favourite genre of music?
My musical taste is really wide. Lately I listen to flamenco really often. I do love Silvia Pérez Cruz and Rosalía. I also enjoy Spanish indie music, such as La Bien Querida, Tulsa, or McEnroe, or even libanese music like Mashrou' Leila.
14. What are your hobbies?
Aside from painting, I love movies, especially the ones by Hitchcock and alternative cinema. I am also into decoration, heat sources in winter and queer art about music, image or cinema. I like masculinity and drinking coffee on the sunlight just checking my mobile phone.
15. If you weren't an artist, what would you be?
If I was not an artist I would be a blind, deaf and dumb person, and I wouldn't like that. I am not interested in the world seen through the eyes of a person who doesn't express or understand himself in any artistic way.