Instagram:
@elisabeth_aranda_luque
Website:
www.elisabetharandaluque.com
1.What's your story? Where are you from?
I was born in Zaragoza, a city which is half way between Madrid and Barcelona. But, I live in Madrid since 2006. I have worked as a graphic and textile designer for all this time.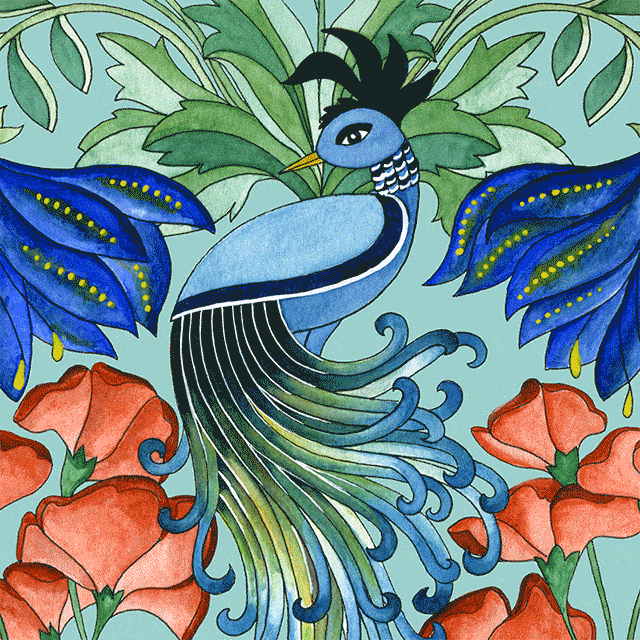 2. Tell us about your aesthetic.
I enjoy drawing organic and living shapes. Nature is usually present in my work in different scales, from small flowers and delicate leaves compositions, to wild ones in which I immerse myself in universes which are full of lush vegetation, plants that sprout and grow like a powerful jungle. Animals are part of this universe which is sometimes completed with young and strong ladies. Orient, of course, an Oriental aesthetic exists in my work. I love the Oriental world.
3. What is your favourite medium and why?
At present, I feel really comfortable working with watercolour due to its immediate result. But oil painting is my favourite pictorial art because it is very malleable.
4. What is your artistic process like?
I start drawing many sketches and I use vellum paper because it allows to work with layers as in photoshop, but in a handmade way. So, I can easily move the different elements from one place to another and it also allows me to make patterns. When I get my favourite composition, I copy the drawing in a new paper to paint it. When I am working with patterns, I paint them in different parts and later I make a digital assembly.
5. Who and/or what inspires your work?
Maybe I am influenced by the Oriental art softness and I am fascinated by the folk fabrics of every culture because they transmit me beauty and tradition. From my point of view, handicrafts are very important because they add value to things. I am also inspired by many different artists, but I could highlight Sonia Delaunay because she achieves the harmony between art, design and fashion, Raoul Dufy's fabrics and Matisse`s paintings.
6. What role does art play in your life? How does it change the way you view the world?
Art is culture, it is in our lives in one way or another. I couldn`t understand the world without art.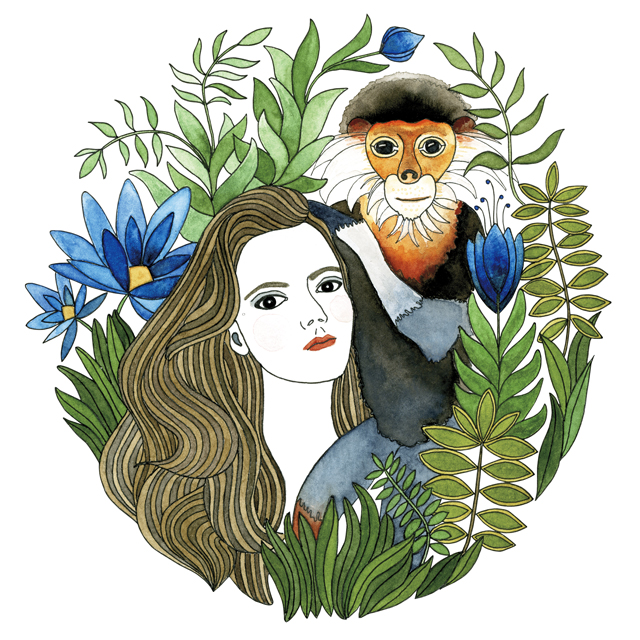 7. Where did you study?
I studied Fine Arts in Cuenca, a small city in Castilla La Mancha. I also took several graphic design courses in Zaragoza and a textile design and surfaces Master in Madrid.
8. Where do you see yourself in five years? Working in an agency?
I don´t know! I suppose that working in an agency makes things easier. Time is of the essence and drawing all the time is more productive than combining drawing and looking for projects. I would really love working with some editorial and illustrating books.
9. What about in ten?
Pufff, no idea! Who knows? Ha ha ha. I really love textile design and I hope to find my own designs in fashion or decorative elements. It would be the most! I can see myself in my own studio developing artistic projects. But… When I grow up I would like to be a painter!
10. What do you hope to achieve with your art?
To inspire and arose emotions in people. I would like that my designs and drawings would bring back this feeling in other people either through an object, a piece of clothing or an artistic work.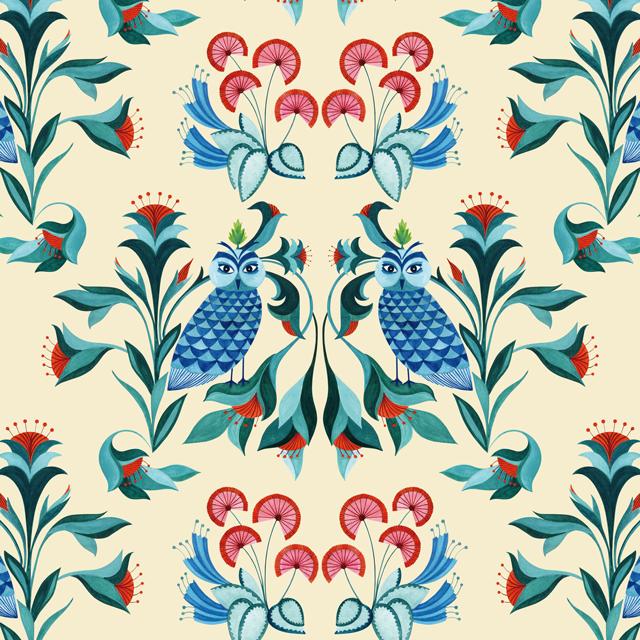 11. Now, tell us a little more about you as a person: what is your favourite food?
What a difficult question! I like every food! But I think I couldn´t live without olive oil, bread, tomatoes and Spanish ham. And I really love salmon in all its varieties: raw, cooked, smoked...
12. Favourite book?
I don`t have any favourite book. But if had to recommend one, I would recommend "El mundo bajo los párpados", which was written by Jacobo Siruela. You penetrate deep into the world of dreams.
13. Favourite genre of music?
If I have to choose an only music genre, it would be the music of the 80s, but I listen to all kind of music.
14. What are your hobbies?
I try to go to the Pyrenees several times a year. Going on excursions with my family and discovering spectacular places in nature are very inspiring experiences. They give me inner peace. I also enjoy experimenting in the kitchen, cooking and tasting new foods. And, of course, my plants. I love taking care of my plants and cactus. I´d really love to have a garden.
15. If you weren't an artist, what would you be?
A dancer. To transmit and communicate with your body is something wonderful.