Instagram:
@elizabetholwen
Twitter:
@elizabetholwen
Pinterest:
@elizabetholwenx
Facebook:
www.facebook.com/ElizabethOlwenSurfaceDesign
Website:
www.elizabetholwen.com
1. What's your story? Where are you from?
I'm a surface designer and sometimes illustrator from Toronto. But before this, I was a graphic designer doing a lot of soul searching. I worked in the design and advertising industry for years before realizing that something was missing, that my gut was telling me I wasn't doing what I was meant to do. I had always adored patterns — I had been sewing my own clothes from an early age, and was obsessed with wallpaper. I decided to take a creative sabbatical in Berlin, to give myself the time to play around and see what happened. A few months later I returned to Toronto with a portfolio of patterns and a fire in my heart. Now, I create patterns and illustrations and license them out for all sorts of different products, like bedding, rugs, pillows, aprons, floor tiles, stationery, fabric and so much more. That's one of the things I love most about what I do — I never know what new kind of product collaboration is around the corner.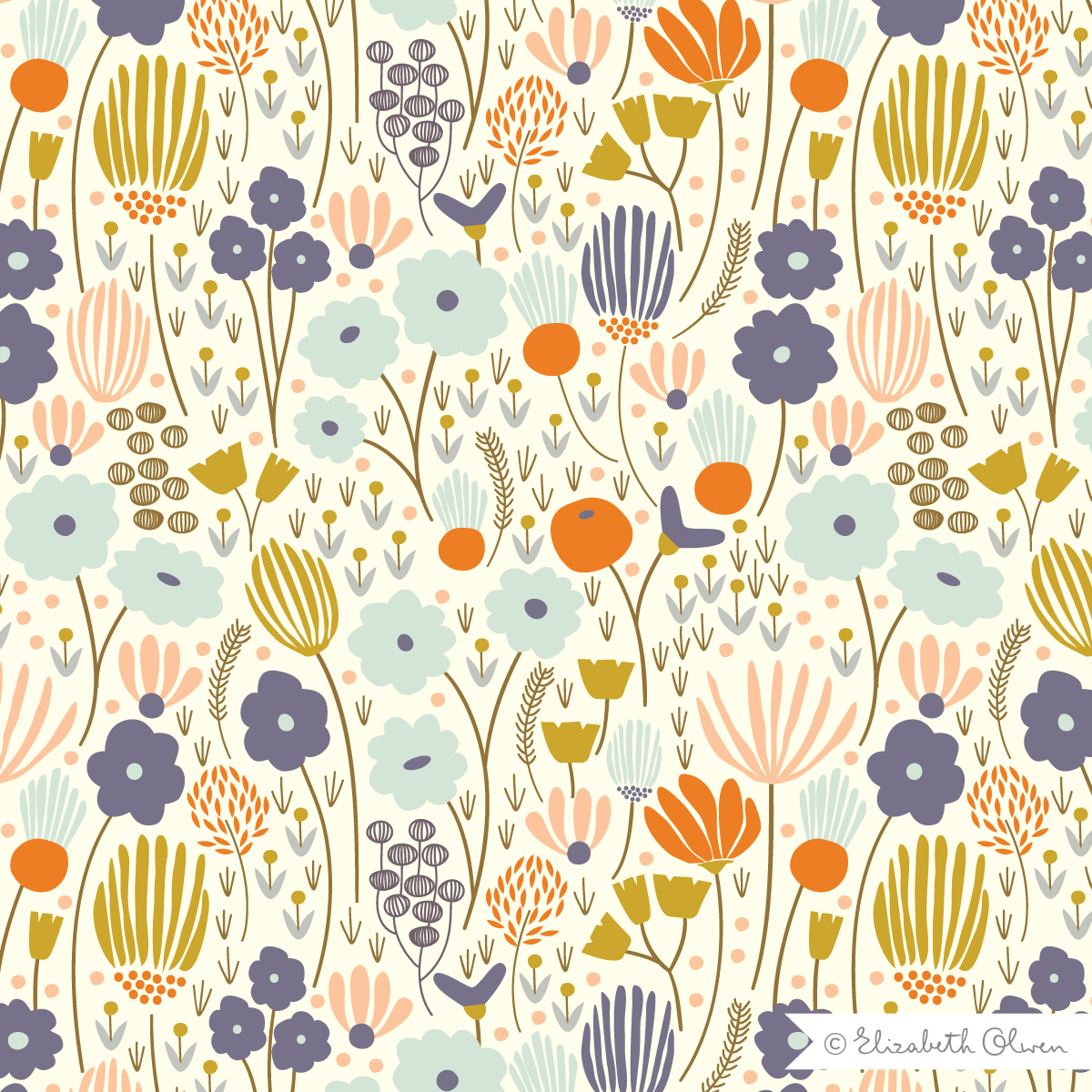 2. Tell us about your aesthetic.
I would describe my work as fresh, whimsical, organic yet graphic, graceful and modern, with a nod to days gone by. They're often floral or based on nature, a celebration of the strange and beautiful world we live in. Sometimes my work is incredibly minimal and simple, other times, quite complex — I like to bury little hidden treasures in my work, little details that you only notice when you've taken time to really look at them.
3. What is your favourite medium and why?
I love to draw on paper, and those drawings get digitized and manipulated in Illustrator — so my final medium is digital artwork. I love it because it's highly flexible and allows me to play endlessly with colour and form and see how things can look very quickly… it satisfies my curious, impatient spirit!
4. What is your artistic process like?
I try to be as free as possible with the development stage and really try and preserve a sense of play. I try not to think too hard or try to force a concept. I try to draw in my evenings or first thing in the morning, when I'm free from the pressures of the day. I just play and draw and eventually I start to see that certain elements would work nicely together… I start piecing them together and see what happens. I usually start out by drawing with a felt-tipped black pen and my favourite block of paper. I then take a pic of those designs to start the process of digitizing. I have an iPad pro and apple pencil which are currently seeming like an extension of my being — there are some great drawing apps, and I'll trace my pen drawings that way. Or I'll go straight onto my computer, and use my Wacom tablet. Ultimately, all my patterns are lovingly assembled and fine-tuned in Adobe Illustrator.
5. Who and/or what inspires your work?
I find inspiration everywhere I look… I think it's important to always have your eyes really truly open to what's around you. I'm inspired by my city — Toronto is an amazing city with a pulsing creative energy, and I have lots of talented friends here! Sometimes it's the pattern on an old mattress waiting for trash collection, or the shape of a leaf in my neighbour's garden. I love used book shops and flea markets, and pick up things to bring home to my studio — I think it's important to surround yourself with beautiful things. I take a lot of pictures when I'm out and about and somehow all of those images culminate in my brain and come out when I'm doodling. And I'm endlessly inspired by nature so I try and escape the city and get out into it when I can. Travel is also a huge inspiration for me — the inspiration from those adventures constantly fuels my work.
6. What role does art play in your life? How does it change the way you view the world?
Art has always been very important in my life, but I find it even more so now that I'm constantly creating. It inspires me, makes me think about the world in new and different ways. I have always been so interested in knowing peoples' stories, what makes them tick, their background, their beliefs, their successes and struggles — and art is the expression of those things. It can be so personal and intimate. Art is creation, and art has the potential to really move people, and therefore, I find art is full of hope. And on a far more superficial level, art just brings beauty to the everyday… and I feel we need that now more than ever.
7. Where did you study?
I studied graphic design at university, which was really beneficial when I decided to pursue pattern design. But when it comes to patterns, I am self-taught. It was a whole lot of trial and error, and I eventually figured out what worked for me. I would study the work of my design heroes like William Morris and and collected old fabrics and wallpapers. All of this filtered into my style development. When it came to the business side of licensing artwork I was a bit lost, so I signed up for an online course called The Art & Business of Surface Design (http://dowhatyouloveforlife.com/pattern/) and learned a lot about the industry and that really propelled my work forward too. I didn't find there were a ton of resources for me when I was learning – so now, I teach pattern design classes on Skillshare for anyone interested in learning how to design repeat patterns, pattern collections or how to bring their work to life on products.
8. Where do you see yourself in five years? Working in an agency?
No thanks! Haha. I came from the agency world and have discovered that I absolutely love working for myself, managing a business and being my own boss. I love that I get out what I put in… that the success of my business depends solely on my own hard work. So in five years, I hope to be doing the same! I would love to continue to grow my brand around the world. I have a few great clients in Japan but would love to grow my business in Asia as well as in Europe.
9. What about in ten?
In a dream world, I'd be a household name, like Orla Kiely — another hero of mine. I'd love to follow in her footsteps.
10. What do you hope to achieve with your art?
I just want to leave the world a more beautiful place than how I found it. Life can be so ugly sometimes… and I think it's important to counteract that, to be surrounded by beauty. To create hope. So if I can contribute in some way to that, I'll have achieved success.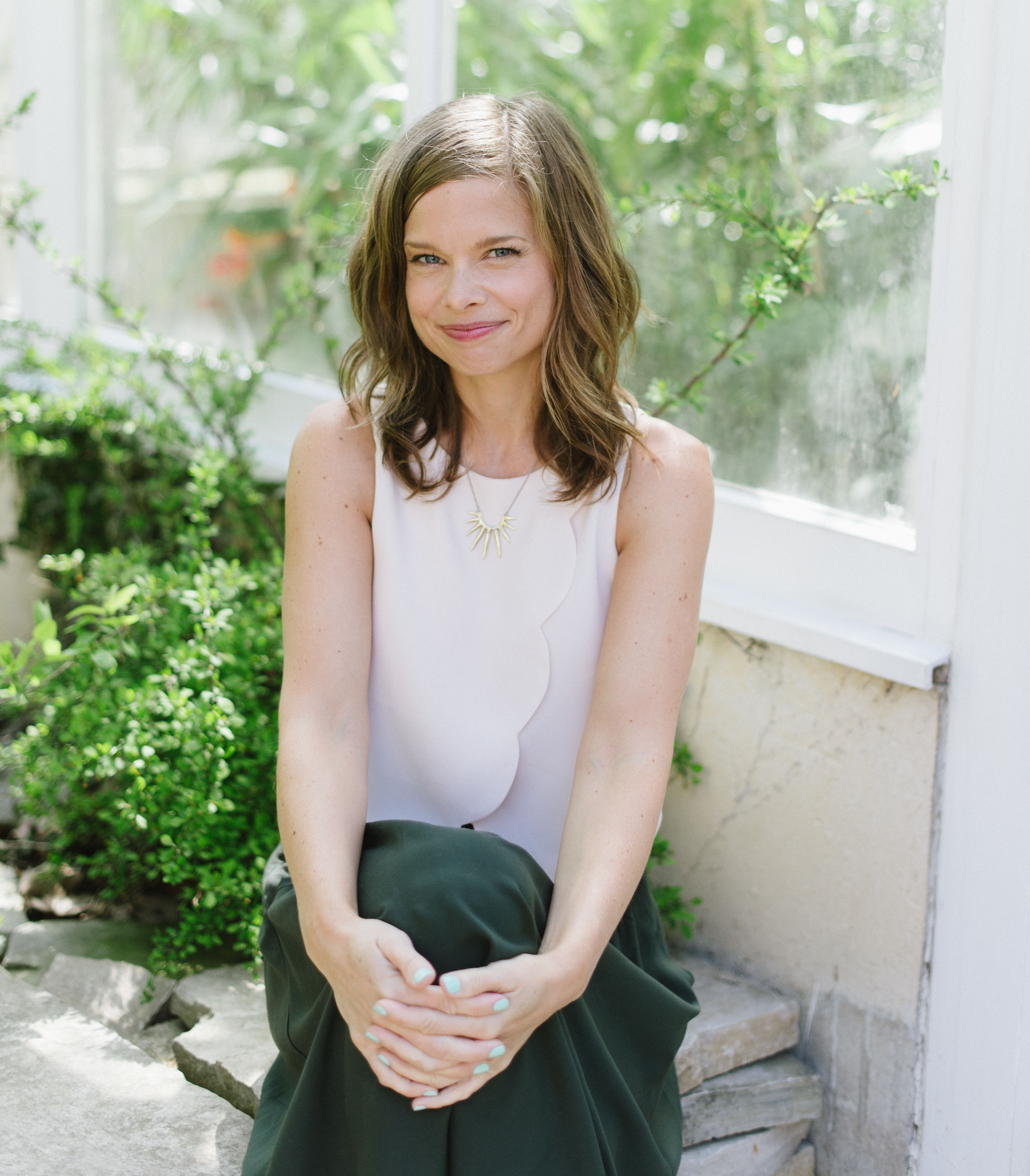 11. Now, tell us a little more about you as a person: what is your favourite food?
Well, I love food so this is a tough question to answer. But currently, I'd say a slice of fresh sourdough bread slathered with beautiful salted butter from Quebec.
12. Favourite book?
I just finished The Bell Jar by Sylvia Plath and it really stuck with me.
13. Favourite genre of music?
Dream pop
14. What are your hobbies?
Travel, getting out in the sunshine, going to galleries, checking out the amazing food scene here in Toronto, and trying out new creative mediums (I just finished a weaving course and am currently taking a life drawing class).
15. If you weren't an artist, what would you be?
I'd love to be a florist! I consider myself a sort of 'digital florist' so it might be a natural transition for me!