Instagram:
@ell_violet
Website:
www.ellviolet.com
1. What's your story? Where are you from?
My name is Eloise, or Ell/El for short. I have a number of other nicknames that people have given me over the years that I won't list, it seems barely anyone actually uses my 'real' name any more haha! I currently live in Wellington New Zealand, but am originally from a small town called Warkworth which is where I grew up.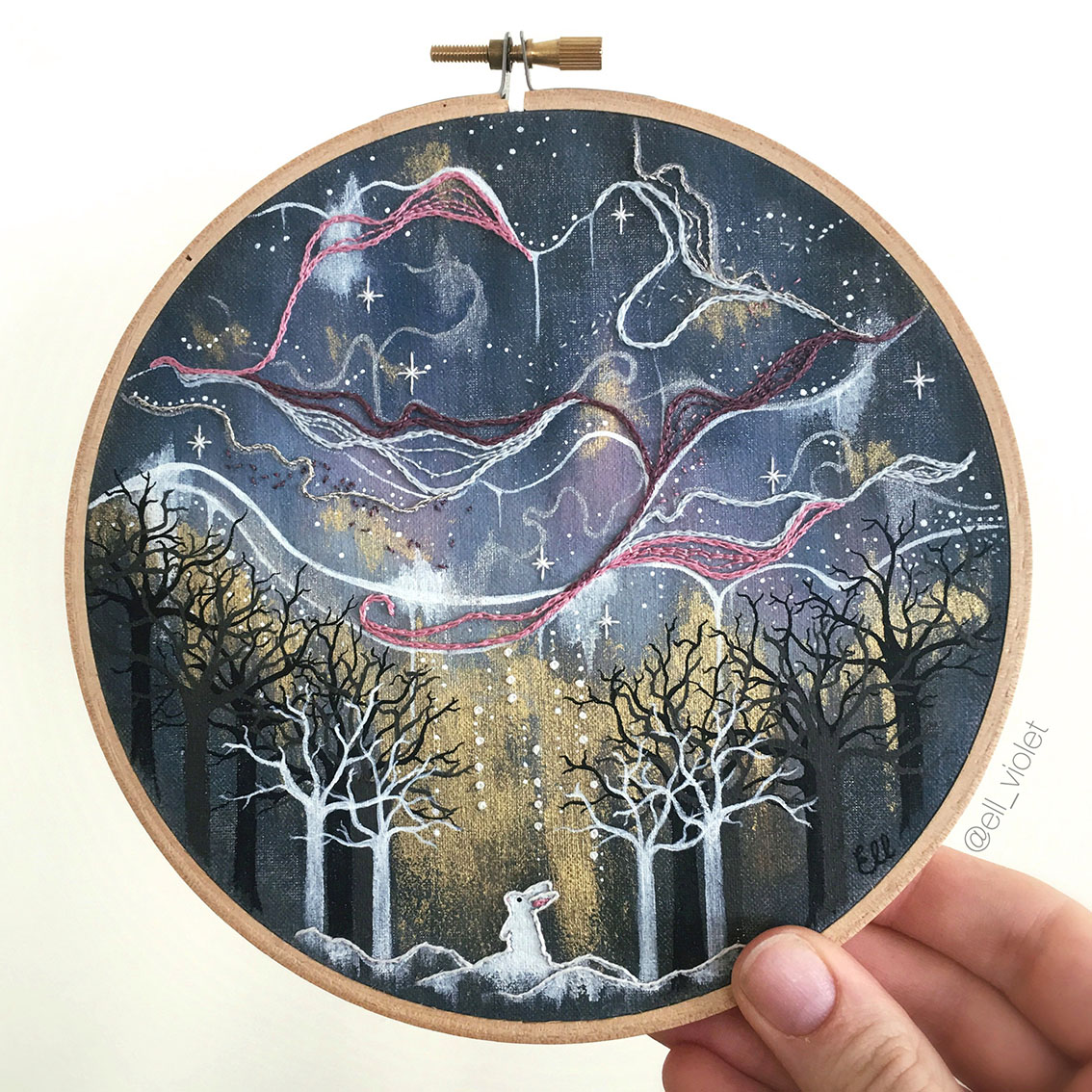 2. Tell us about your aesthetic.
My work has heavy emphasis on textural details and mixes aspects of realism and whimsy. My aim is to create pieces that are both mysterious and beautiful, giving life to a world that had previously only existed in imagination. I like to push the boundaries of how we typically perceive embroidery, while still holding on to the intricate details and high level of workmanship that makes it so special.
3. What is your favourite medium and why?
I use all sorts of different mediums in my work, including oils, acrylic, thread, beading, sequins and fabric. Combining all of these mediums into a cohesive piece is both challenging and exciting for me. However, if I had to narrow it down to only one medium as being my favourite, it would have to be embroidery floss. I love the different textures and effects that you can accomplish with something so simple.
4. What is your artistic process like?
My work process is very unplanned and intuitive, I just go with what feels 'right' when creating my pieces and am not afraid to change things as I go. I'm the type of person who hates following instructions and I feel this translates in to how I like to work.
5. Who and/or what inspires your work?
My main inspiration for my work, like many people, is both animals and nature. I find it so easy to be inspired by the beautiful creatures and scenery that we have in this world (I am very much spoilt by scenery living in NZ!). As for artists, it was seeing the amazing mixed media work of Ana Barboza that first inspired me to make my own fibre art. Andy Kehoe is also another artist that I draw a lot of inspiration from - his pieces are truly magical.
6. What role does art play in your life? How does it change the way you view the world?
My first thought when reading this question is that it makes me a hoarder haha! I can very easily envision a use for materials and end up keeping a lot of stuff that I should probably throw out... Art is a huge part of my life and I can't see myself doing anything else, it is hard to explain how important it is to me. I honestly think I would feel so unfulfilled without it.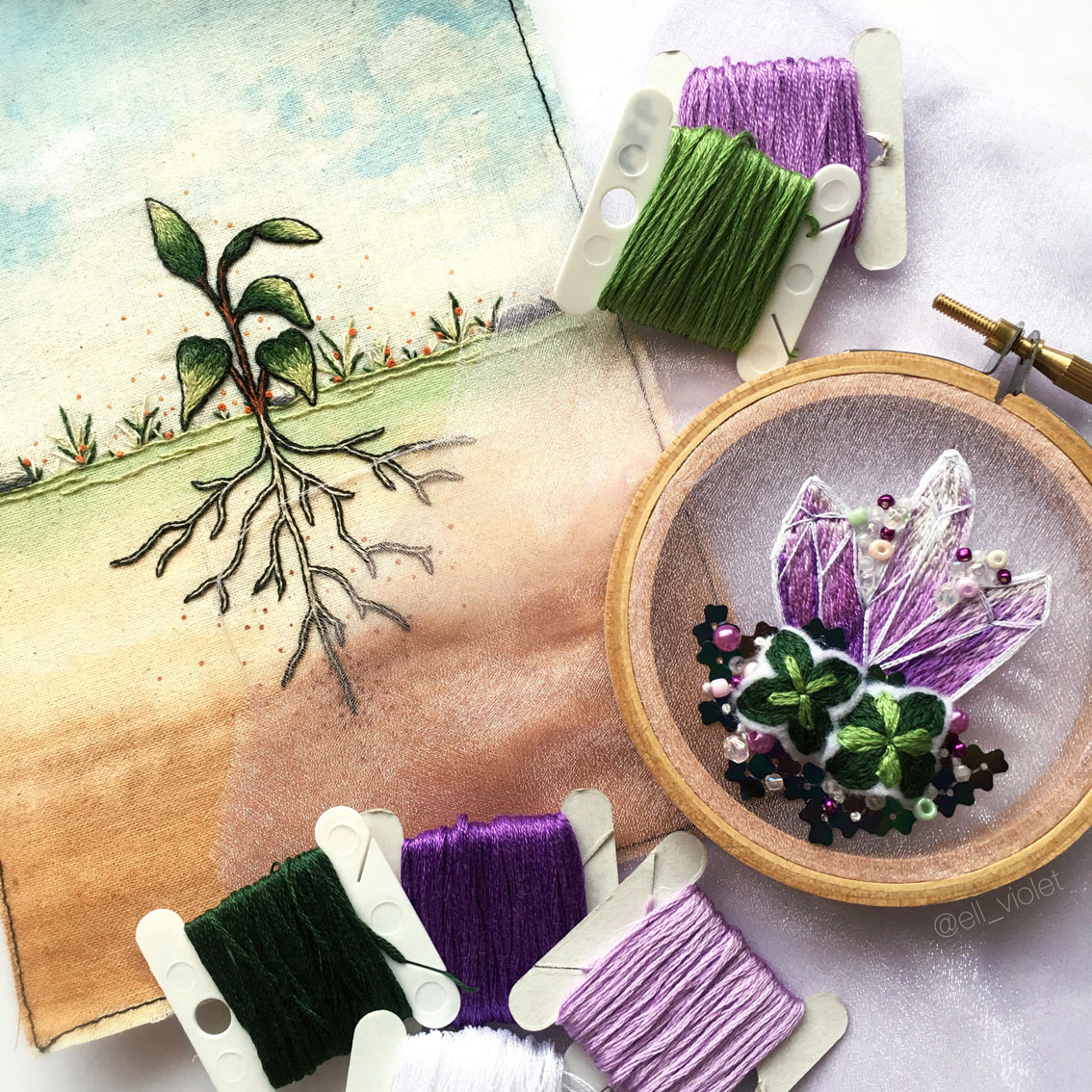 7. Where did you study?
I am a Visual Communication Design graduate from Massey University, majoring in Advertising. While advertising may seem like a weird choice, it was surprisingly enlightening. It opened up a whole new way of thinking and pushing the boundaries of what is expected. It encouraged me to analyse things from different perspectives and be empathetic towards others thoughts and feelings; something I feel has been a really positive addition to my life.
8. Where do you see yourself in five years?
I am still in the position where I need to work a 'regular' job to support myself, so in five years it would be great if I was able to become a full time artist. I have always wanted to work for myself rather than someone else.
9. What about in ten?
Ten years seems so far away, but I'm sure it will creep up on me quickly! What I want most is to still be creating, had the opportunity to travel and most importantly be happy and content with my life.
10. What do you hope to achieve with your art?
On a personal level, I want to create things that I am proud of. I am very much a perfectionist and find it hard not to scrutinise my work too much. It was a huge step for me to just start an Instagram account, let alone my own website - I thought people would hate everything..! As for those who view or own my art, I hope that it brings them happiness and gives them something beautiful to look at.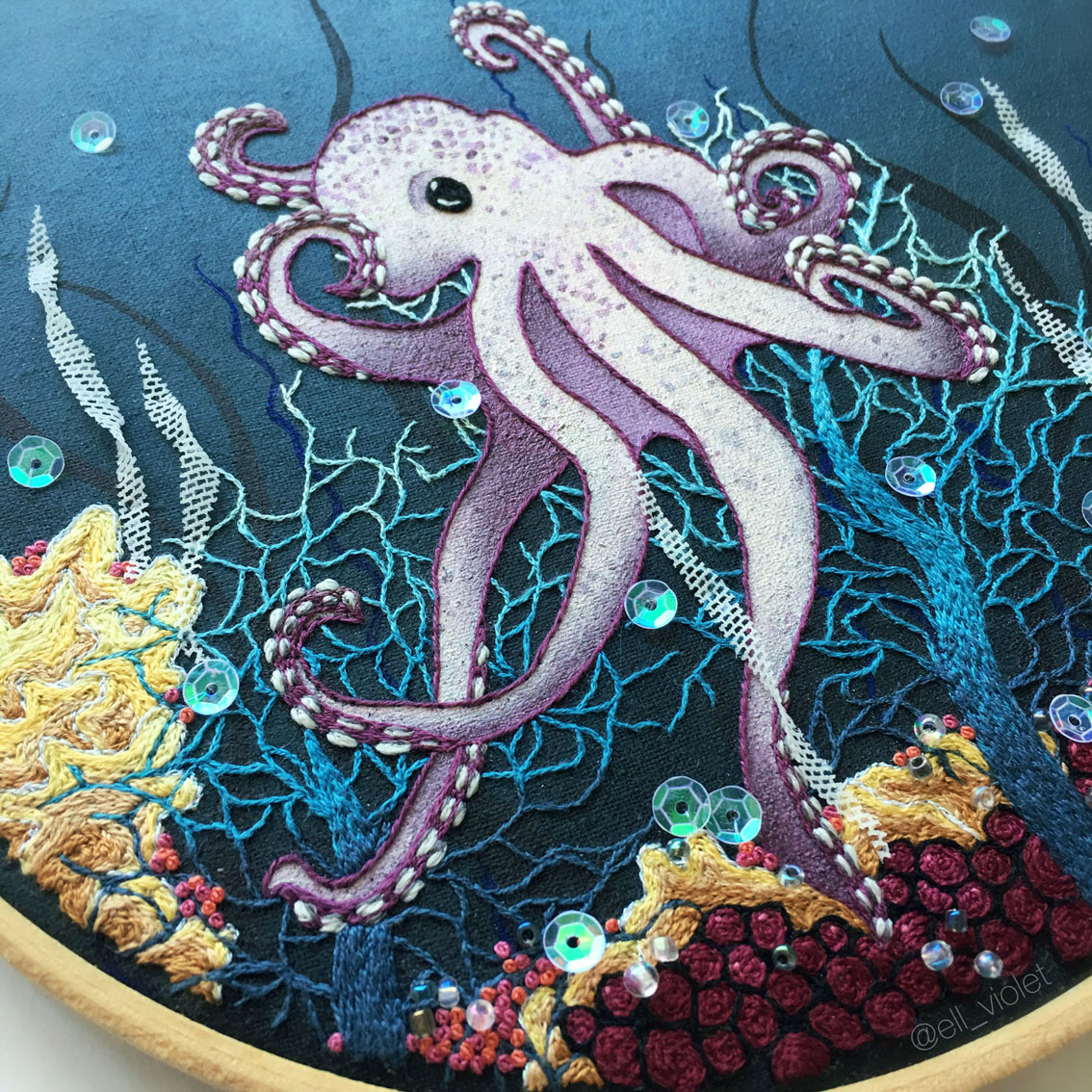 11. Now, tell us a little more about you as a person: what is your favourite food?
Ahhh, it is so hard to choose! I am going to choose the easy way out and just say Maltesers, seeing as I have a bag of them right next to me at the moment.
12. Favourite book?
Roald Dahl's books were one I re-read over and over again as a child. "Matilda" stands out as being one of my favourite books of his.
13. Favourite genre of music?
Korn is my favourite band by far. I have way too many Korn t-shirts and they dominate my Itunes playlist, it's almost embarrassing. So going by that I would have to say Nu-Metal. I cry a little inside knowing that it is unlikely they'll ever come to New Zealand.
14. What are your hobbies?
Apart from embroidery, I like to go to the beach and look at the dogs - does that count as a hobby?? I creep around the pet stores and look at the bunnies. There is also a cute cat that lives a few doors down who likes to flop on the ground on front of me, so I pat him whenever I can. (I'm not allowed a pet in the place I am renting, so feel very deprived of animal cuddles).
15. If you weren't an artist, what would you be?
When applying to university, my back up option was studying Criminology, so maybe something to do with that?! It seems weird to imagine myself doing anything else though!