Instagram: @elliejsampson
Website: www.elliesampson.co.uk
1. What's your story? Where are you from?
I was born and raised in Haringey, North London and so far I've never lived outside of the city. The fact that I'm now a model-maker adds up when I think about my hobbies as a kid. I had a phase of making figures of famous people using empty loo rolls (John Lennon and Gareth Southgate come to mind) and when I first saw a computer, I tried to recreate it with cereal boxes.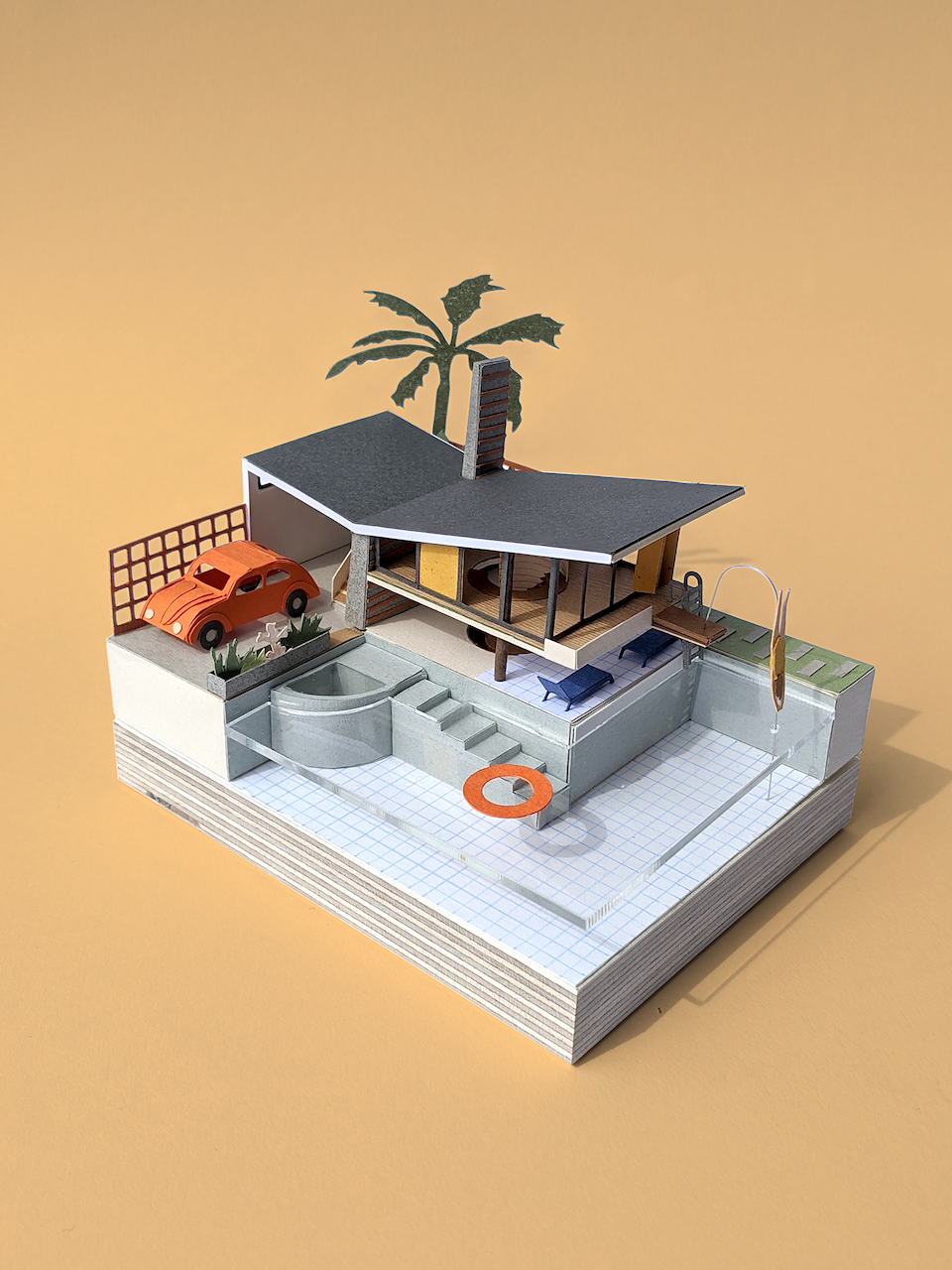 2. Tell us about your aesthetic.
No matter the type of model I'm making I try and simplify the subject matter into a series of satisfying forms and then pick out the interesting and often relatable details I see. Whether it be the pattern of paving slabs in a cityscape or the inclusion of aerials, clothes lines or hanging baskets in a re-creation of somebody's house. I always aim to avoid stripping my models of the relatability of everyday bits and bobs.
3. What is your favourite medium and why?
I mainly use paper and card in my models because it's so easy to manipulate. It can be scored, folded and basically bent to your will. Also, once you know where to look you can find papers with such a variety of textures, colours and patterns- sometimes being an obsessive magpie for paper pays off as the specific use of it in a model can make the piece ten times better. I found this terracotta coloured crosshatched paper which so perfectly represents the bright red brick of the Edwardian terraced houses you often see in North London- its running quite low at the moment in my stash so I think it's about time I tried to make my own papers!
4. What is your artistic process like?
There's lots of stages in my paper modelling process, but ultimately, I unpeel the layers of 3D forms digitally in order to piece them all together again by hand. I build a model using CAD software. This allows me to sort of sculpt and tweak the base forms of the model or scene. I then flatten out and design the 2D nets of all the individual pieces. After this I cut out these nets (using a vinyl cutter, laser cutter or by hand- whatever is best) and then, by hand, I assemble all the individual forms like an intricate 3D puzzle.
It sounds like a long process, and often it is, but it is also a satisfying chain of digital and physical model-making. Creatively, each stage has its fulfilling or frustrating moments, but as soon as I have the designed pieces out in the 'real world' ready to assemble the final composition, it's completely worth it.
5. Who and/or what inspires your work?
Films, comics, sculptures, architecture- countless things inspire my work. I have also found seeing other artists and designers on Instagram doing and making incredible things has been really encouraging when approaching my own work: I love work by @olicolmanstudio @c.izundu.draws @kellyfrankart @dougjohnmiller @thisisaliceskinner @elizahopwell @archmongers and loads more. I find film sets and miniatures made for animation studios like Aardman and Laika always motivate me to think about composing miniature model scenes or including significant details in the right places. I remember watching the film 'Chicken Run' when I was little and I was just amazed that the chickens (or human set designers, whatever you prefer) made this whole world in their hutches with things cast off by the farmers. The detail included blew my mind and still does. I particularly remember the characters in the film making a miniature catapult out of household objects like spoons and garden tools and I was just wide eyed with amazement- like 'how can I do this?!' I don't think my attitude has changed that much to be honest!
6. What role does art play in your life? How does it change the way you view the world?
It'll sound dramatic, but art in one form or another has defined the way I view the world. At architecture school, my tutors often said my work looked like those old Dorling Kindersley illustrations peeling back the layers of Roman temples or Victorian houses, revealing the activity inside. This was a big compliment to me because my interest with architecture, art, design and, ultimately, architectural models, overlaps significantly with history and its relationship to our present experience of art and design. I always want to try creatively tapping into the stories that surround us. It sounds quite full-on for someone that just tries to recreate buildings and scenes in model form, but I'm fascinated with the idea that our built environment traps all these otherwise forgotten narratives. I think that's why it's so fun to try and immortalize people's homes with paper models. You are sort of preserving the experience of someone's home for them out of a material which is so fragile and, to some, insubstantial. Films, books or the buildings I pass every day, often have this domino effect for me which leads me to want to make things; to take them out of my head or memories and shape them in the real world.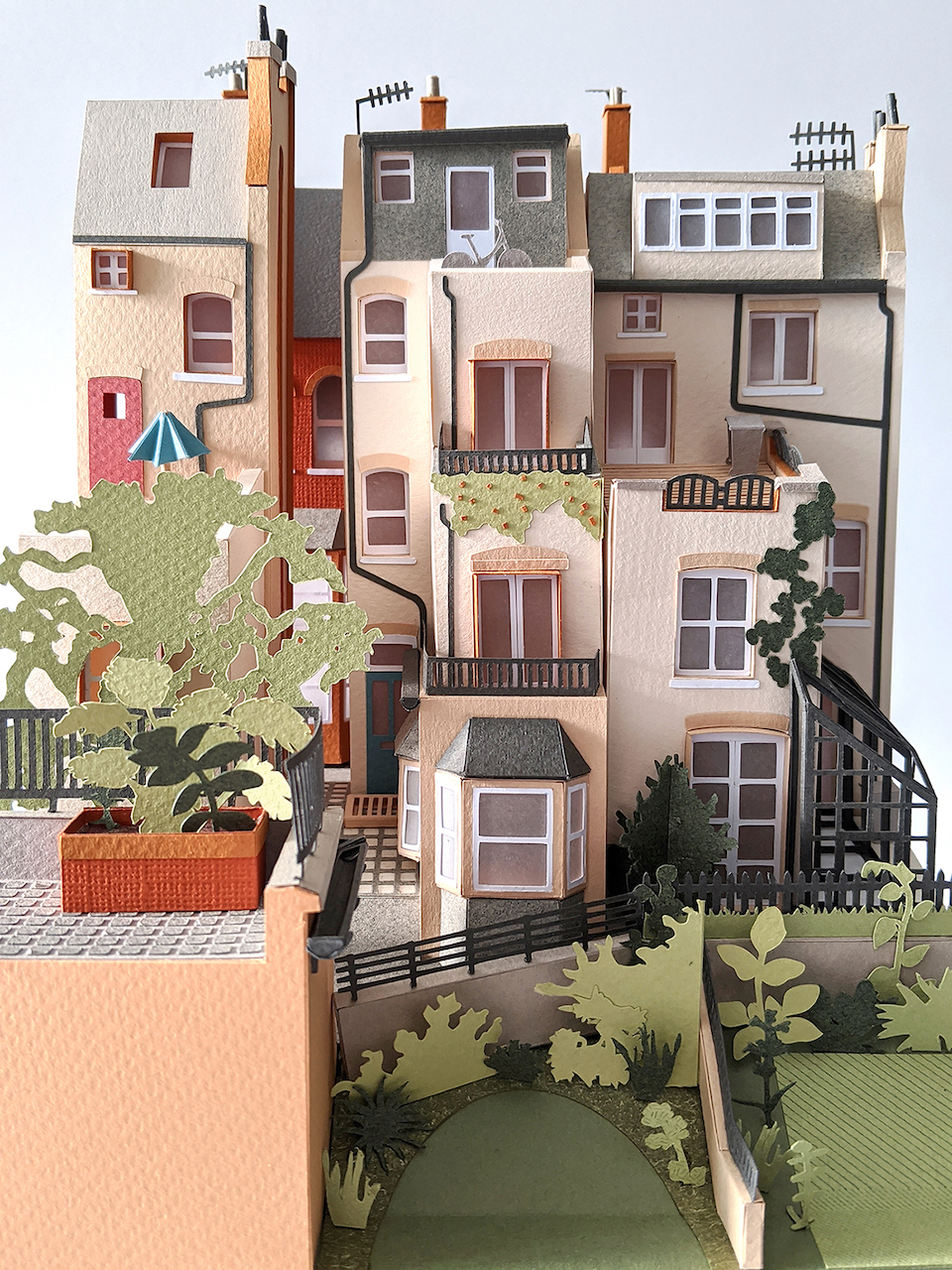 7. Where did you study?
When I was 18 I did an art foundation at Chelsea College of Art, part of University of the Arts London. Then I studied architecture at the Bartlett School of Architecture, I did my parts 1 and 2 there. I'm lucky that both of these places, plus the art department at my secondary school Highgate Wood, let students have a go at lots of different types of making- from installations to textiles, they encouraged what you we enthusiastic about.
8. Where do you see yourself in five years?
I hope I'd still have the opportunity to make both my paper models and architectural models- I'm currently the model maker at Haworth Tompkins, an architecture practice based in North London. I enjoy the challenge of working at a wide variety of scales and I'm very happy when I'm in a workshop. I would also love to be using paper and card for some more challenging scenes or set pieces. I like the idea of making models for editorial commissions. Also, if it's possible to squeeze something else in, I'd love to do some teaching. I have done model-making workshops at universities and I love discussing making methods with students.
9. What about in ten?
More of the same hopefully! With each project getting more ambitious. Also, I've never lived outside of London, I think it'll be a difficult place to leave, but I would like to try living elsewhere. As London is such an expensive place to live, its unsurprising that a lot of people, including those working in creative disciplines, find it tricky to settle here permanently. I'd like to find new places with new creative spaces and communities to explore.
10. What do you hope to achieve with your art?
I think I want to try and make something or contribute to something which evokes as much wonder and excitement as those 'Chicken Run' hutches conjured up for me as a kid. I think people have an inherent interest in models and miniatures as a way to relate to buildings or settings. I like the idea that what I do encourages others to try making things too.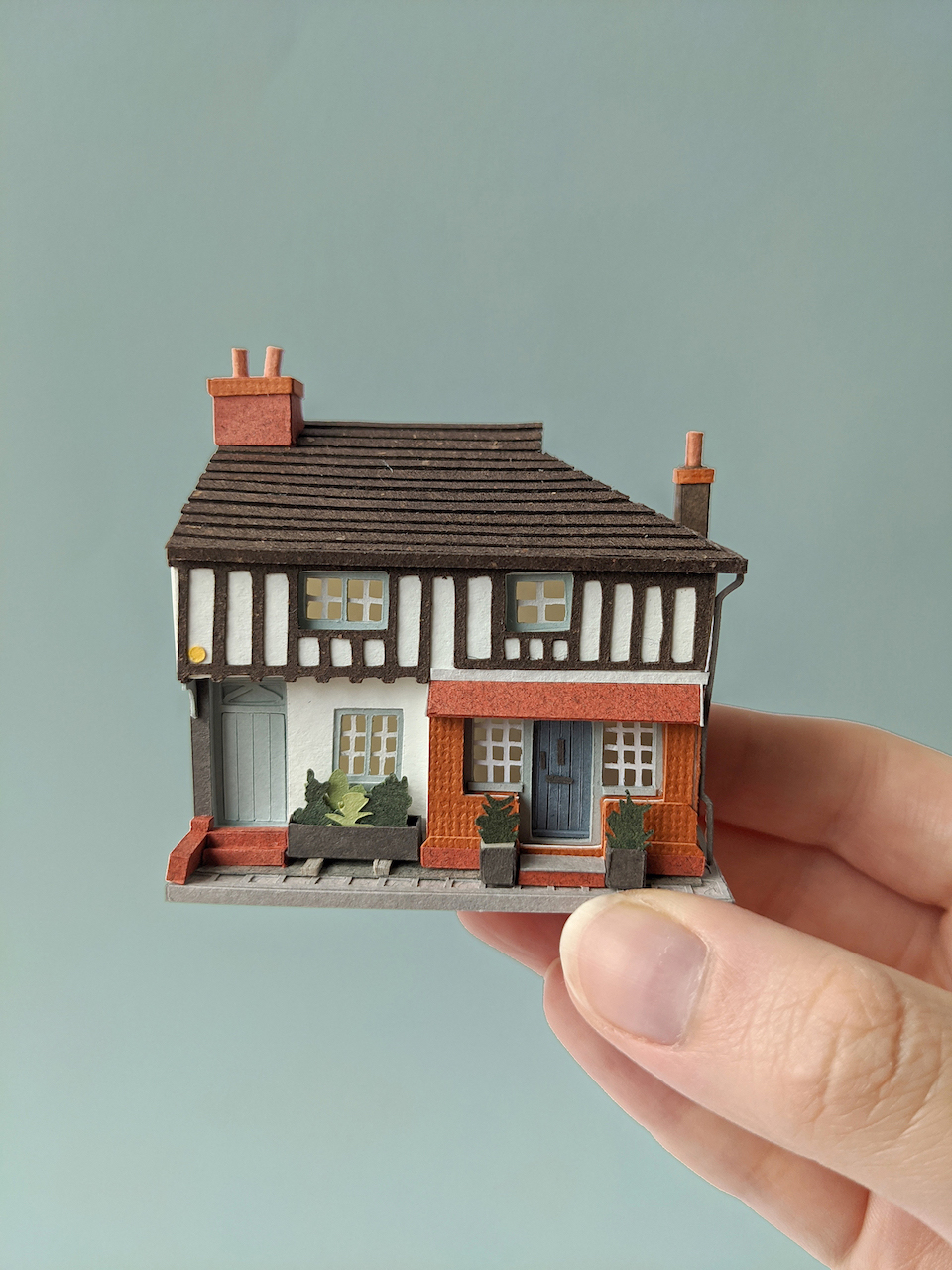 11. Now, tell us a little more about you as a person: what is your favourite food?
This is one of the hardest questions on this list, as I don't think there's a food I won't try and won't enjoy. I'm saying this as a caveat for my answer because I think it'll make me seem like I don't care about being adventurous with food at all. My favourite is a baked potato, especially those made by my mum, with beans and cheese, but I melt marmite and butter on the potato first (dontknockittillyouvetriedit).
12. Favourite book?
A book with mainly words: Life and Times of the Thunderbolt Kid by Bill Bryson. A book with mainly pictures that I really enjoyed recently: Fake Love Letters, Forged Telegrams and Prison Escape Maps by Annie Atkins
13. Favourite genre of music?
I don't think it counts as a genre, but I can't not listen to film soundtracks, particularly when I'm working- anything by Thomas Newman, Hans Zimmer or Trent Reznor and Atticus Ross will be playing in my headphones. And then the rest of the time I'll probably be listening to anything a lil' bit trashy or a lil' bit funky.
14. What are your hobbies?
Cooking for friends, I make things other than baked potatoes; walking around new places with my boyfriend and pretending we could one day own the houses we point at, visiting flea markets or junk shops and going to the pub with family and friends.
15. If you weren't an artist, what would you be?
I'd probably be carrying on with my training as an architect, which is a fantastic job, but just not for me in the long run!