Instagram:
@ellievsbear
Twitter:
@ellievsbear
Website:
www.ellievsbear.com
1. What's your story? Where are you from?
I'm from Brussels Belgium, a tiny country in Europe. My imagination has always played a big part in my life. I started writing short stories as soon as I learned how to write. I remember being bored in school and to pass the time I would either be reading or doodling, and it slowly evolved into something more.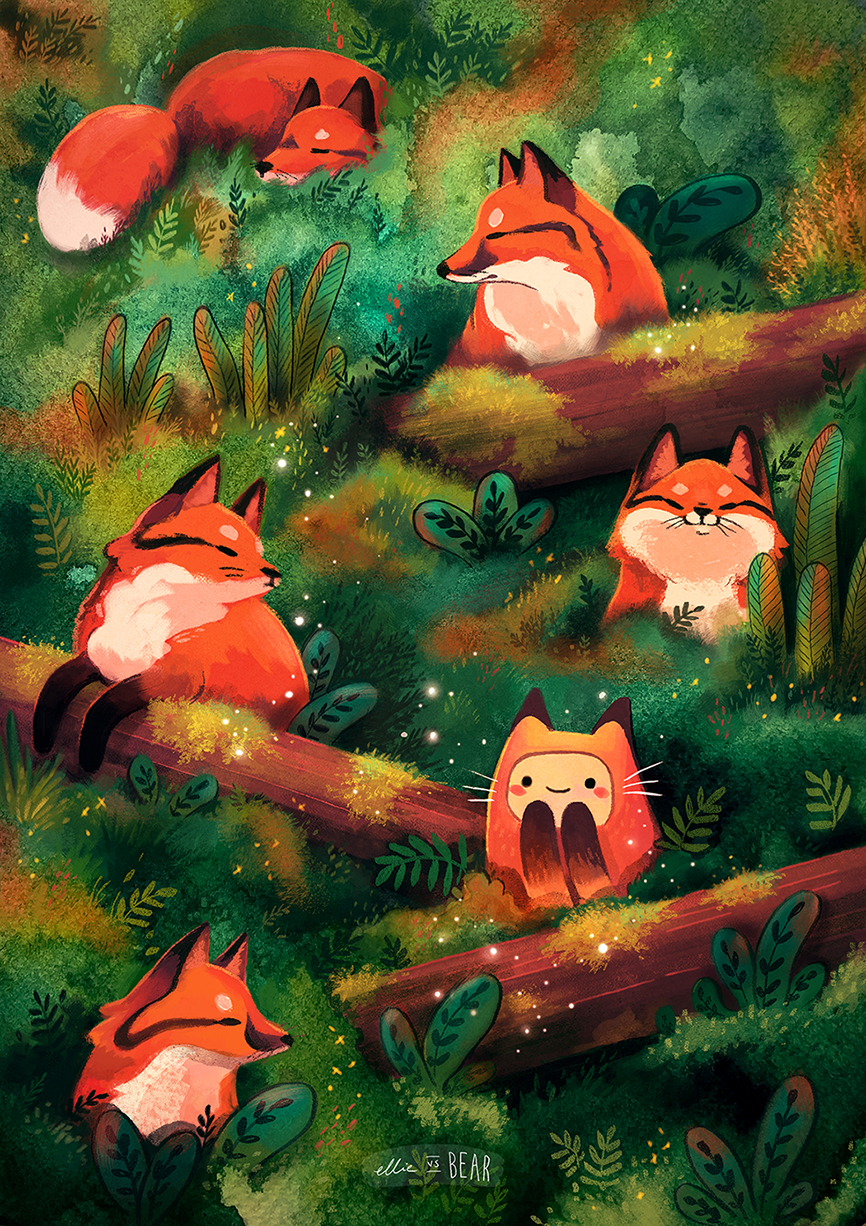 2. Tell us about your aesthetic.
I love creating cute characters and colourful worlds with a cozy and cheery vibe. More often than not, animals will be present in my illustrations. They fascinate me and are one of my favourite subjects to draw. I want my art to convey happiness and peace, that's why many of my characters are smiling or taking a nap.
3. What is your favourite medium and why?
Digital, hands down! It's the most convenient to use and the most forgiving when experimenting. And less of a hassle when revisions are needed. I usually have soft textures included in my digital illustrations, such as watercolour washes or paper textures. When it comes to studies and sketches I still use pencils 100% of the time.
4. What is your artistic process like?
I almost always start by thumbnailing my illustrations on paper, even for digital artwork. This is how I work out composition and quickly get ideas from my mind down on paper. I keep an illustration cooking for a good while in my head before I start painting, and by then I have the colours already figured out. So when painting digitally, I mostly use shapes and colours to define the illustration, rather than working on a very clean linework.
5. Who and/or what inspires your work?
Books, movies and animation, in particular, have a big impact on my art. Walking in nature and being curious about everything,... And every day, I find inspiration in the works of all the talented artists posting online. I'm so happy to be part of this lovely community and strive to inspire others in return.
6. What role does art play in your life? How does it change the way you view the world?
Art is an outlet for all the noise inside my mind. It helps me connect with myself and with other people. It keeps me thinking about everything I see and experience, finding ideas in the tiniest and most mundane details of life.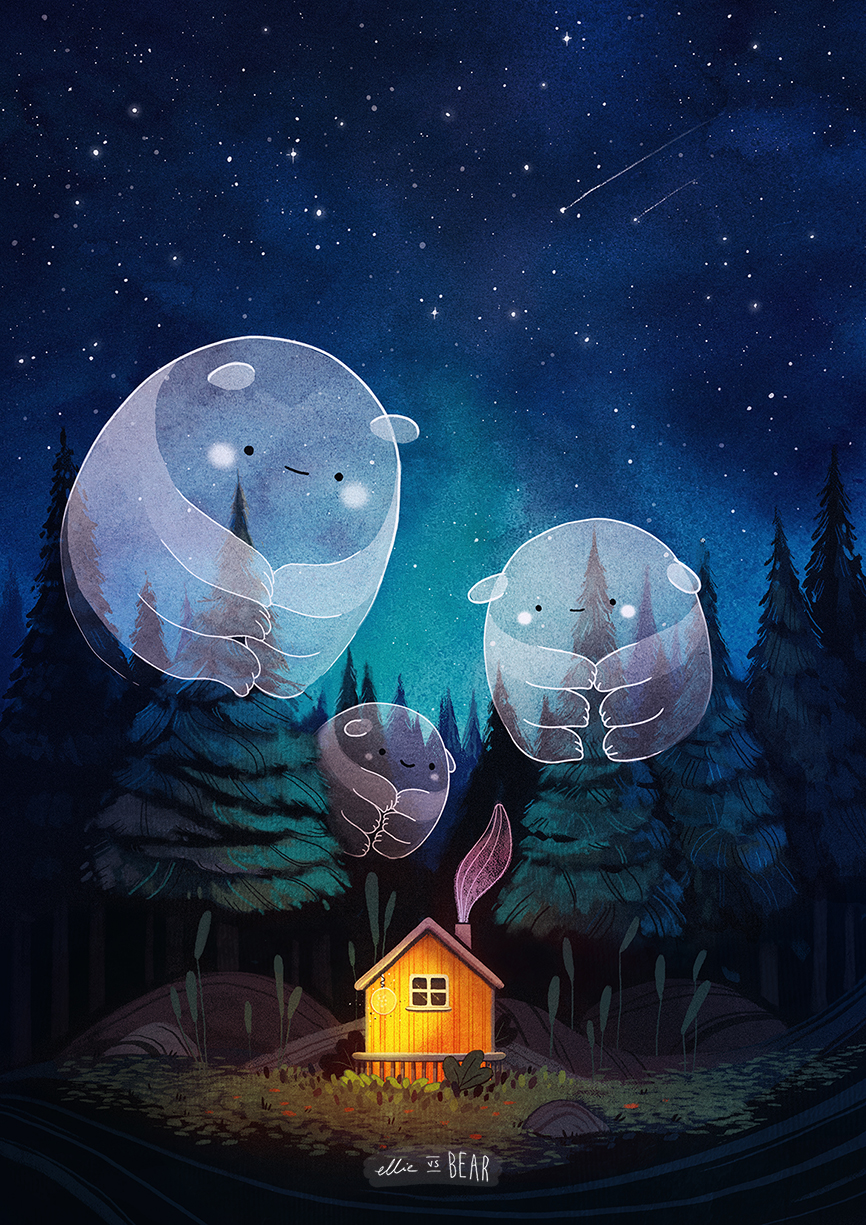 7. Where did you study?
If we're talking about art, then in my bedroom mostly. I didn't go to art school, I have a master's degree in advertising and started my career working in that field. You never know where life will take you. I am grateful for all the learning resources, in books or online, that still today help me grow as an artist.
8. Where do you see yourself in five years?
I'd like to have a solo show in my city and to bring my own storybook into the world. More than anything, I'd like to grow my artistic network and meet fellow artists, possibly collaborating on amazing projects. I enjoy working with a team.
9. What about in ten?
The artistic career is so full of unknowns, I don't have a set path in mind and my goals keep evolving, that's the fun of it all. I stay open to new opportunities and I am curious about what I'll have learned and achieved by then. I'd be happy if I were living abroad and experiencing a new culture.
10. What do you hope to achieve with your art?
To make people smile, and to inspire others.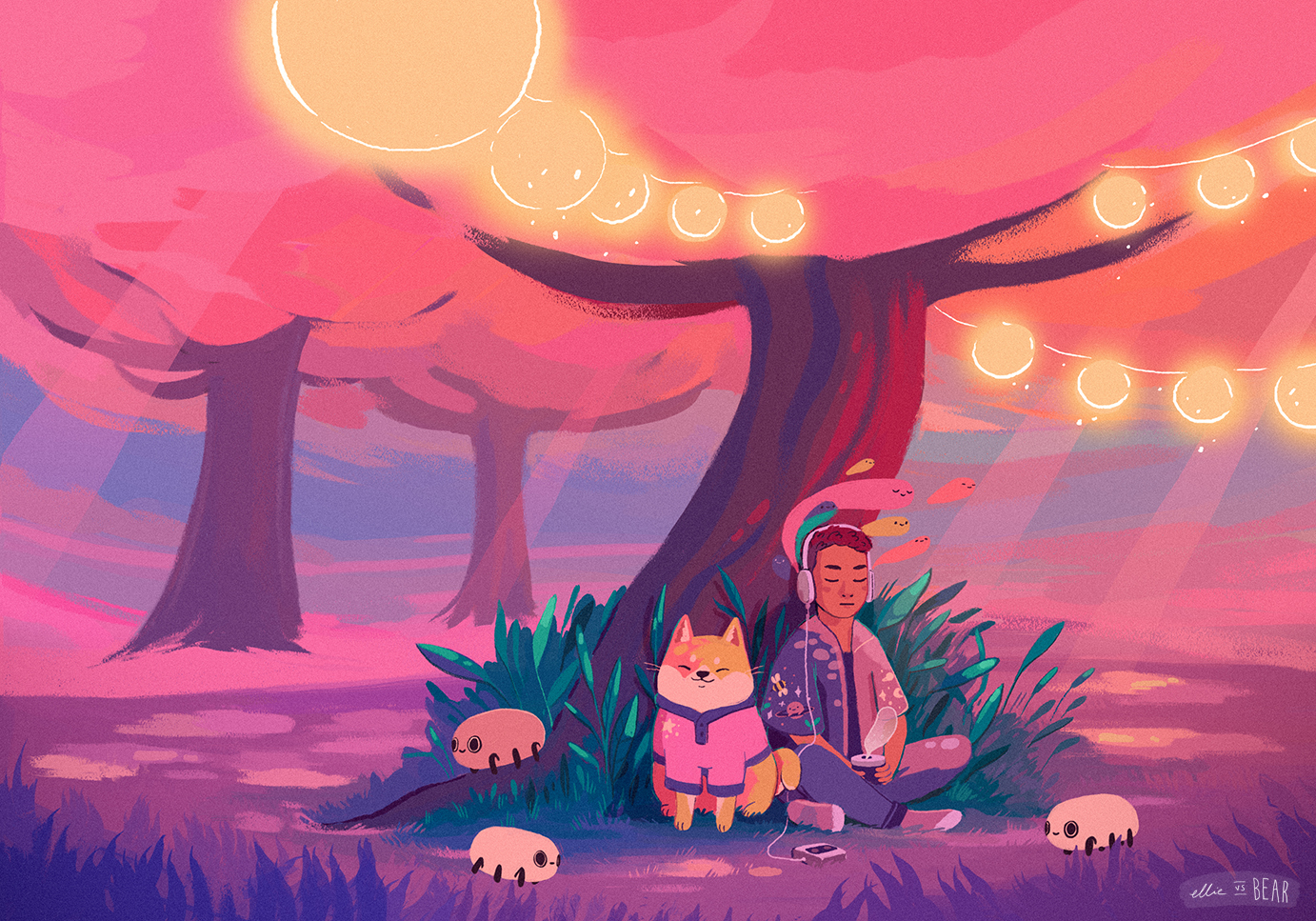 11. Now, tell us a little more about you as a person: what is your favourite food?
Italian or Mexican food! Well, anything that has melted cheese in it really. I also have a dangerous addiction to chocolate.
12. Favourite book?
I have read The Dark Tower by Stephen King too many times. And I love getting lost in The Hitchhiker's Guide to the Galaxy (by Douglas Adams) for a good laugh.
13. Favourite genre of music?
I don't know much about music, I'm listening to the latest album by The National right now, what genre is that?
14. What are your hobbies?
Apart from drawing, anything that involves storytelling: movies, books or video games. Even better if it's while enjoying a good cup of tea. Taking care of my indoor garden is very relaxing. I love nature and I hike with my dog a lot, it always feeds my inspiration.
15. If you weren't an artist, what would you be?
A park ranger or something that brings me into nature, living in a fire lookout seems like an amazing experience. I wouldn't be able to stop creating though.