Instagram: @emeline.magenta
1. What's your story? Where are you from?
I'm Emeline, I'm an illustrator/designer born and raised in France. After having studied graphic & web design, I moved to London where I worked as a web designer. Today, I'm back in France and also to my very first passion : Illustration.
Je suis Emeline, une graphiste/illustratrice et j'ai grandi en France. Après avoir fait des études de graphisme et de web design, je me suis installée à Londres où j'ai travaillé comme web designer. Aujourd'hui, je suis de retour en France et aussi à ma première vraie passion : L'illustration.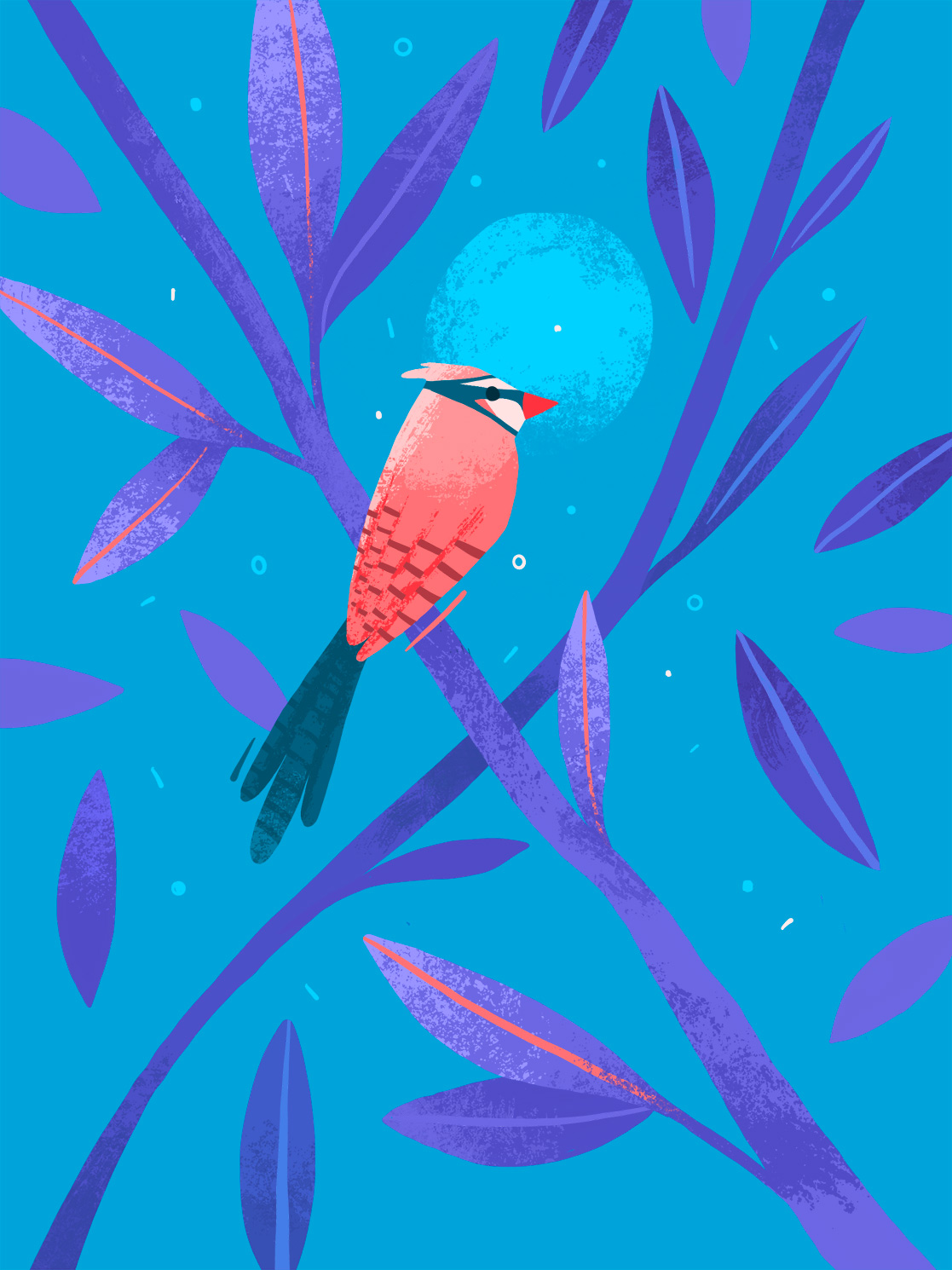 2. Tell us about your aesthetic.
Bright palettes, muses, nature and a bit of poetry is really what characterise my illustrations. I also love to draw animals and to associate them with my female figures to represent a tight relationship human/animal.
Des palettes vibrantes, des muses, la nature et un peu de poésie caractérisent mes illustrations. J'adore dessiner les animaux et les associer à mes figures féminines pour représenter un lien étroit humain / animal
3. What is your favourite medium and why?
I'm quite addicted to my tablet and to my design softwares. I also draw and paint, but digital gives so much freedom, options of colorization, composition and the whole platform is such a winner in terms of time efficiency!

Je suis très accro à ma tablette et mes logiciels de design. J'ai un peu délaissé la peinture et le dessin car l'outil digital donne beaucoup de liberté, des options de colorisation, et c'est un véritable winner en terme d'efficacité.
4. What is your artistic process like?
I always start from a detailed handmade drawing that I polish, shape and colorise on my iPad. I always put a big focus on the color palette. I can spend hours picking colours, changing my mind, modifying them... (it's my little obsession!)
Je pars toujours d'un dessin détaillé à la main que je perfectionne et colorise sur mon iPad. Je m'investis beaucoup sur la palette de couleurs. Je peux passer plusieurs heures à sélectionner les couleurs, changer d'avis et les ré-agencer... (c'est ma petite obsession)
5. Who and/or what inspires your work?
I'm very inspired with art history, that's why there are a lot of muses and naked women in my drawings. I love Matisse, Klimt, Ingres, the orientalism wave and ancient greek art. Cinema is also another source of creativity for my work : The picture, the composition, atmosphere and emotion it drives is so inspirational.

Je suis très inspirée par l'histoire de l'art. C'est pourquoi il y a souvent des muses et des femmes nues dans mes dessins. J'adore Matisse, Klimt, Ingres, le courant orientaliste et l'art grec ancien. Le cinéma est aussi une autre source de création pour mon travail : L'image, le cadre, l'atmosphère et les émotions qu'il transmet m'inspirent beaucoup.
6. What role does art play in your life? How does it change the way you view the world?
Drawing is entirely part of my life since I'm little. Since then, I always unconsciously kept myself inspired, and even more after having studied design. Today, I like to think all arts are connected : cinema, music, photography, dance, literature, ... It really gives a great range of inspiration to my daily life.
Dessiner a toujours fait partie de ma vie depuis la petite enfance. Depuis, je me suis toujours inspirée inconsciemment, et davantage après mes études de design. Aujourd'hui j'aime penser que les arts sont tous connectés : Cinéma, Musique, Photo, Danse, Littérature, .... Cela me donne un vrai panel d'inspiration dans ma vie de tous les jours.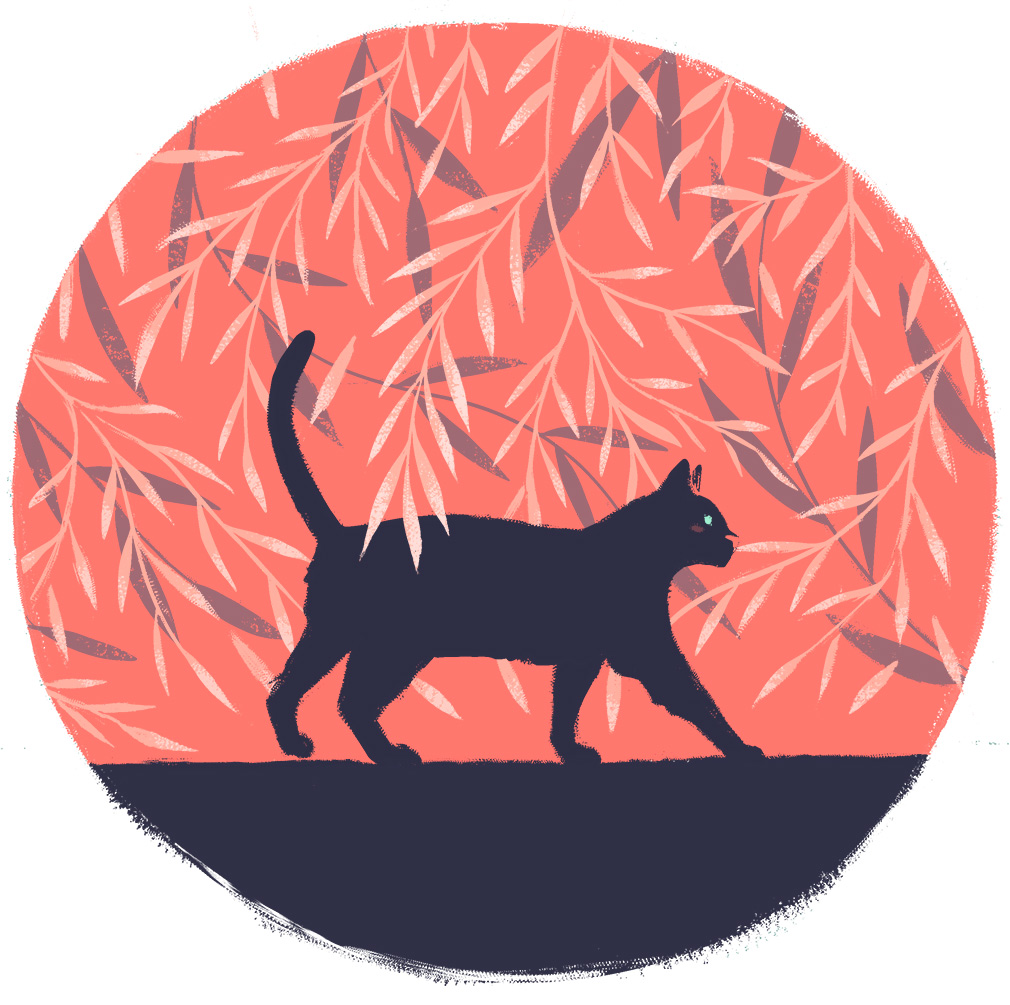 7. Where did you study?
I studied graphic design in a design school. Then, I joined a technical year in web design, to learn to develop websites/apps. At the end, I worked as a web designer but I quickly realised my job was only enjoyable when illustrations and icon productions were required in my projects.
J'ai étudié le graphisme dans une école de design, puis j'ai effectué une année technique dans le web design pour apprendre à développer et construire sites internet et applications. J'ai ensuite travaillé comme web designer mais je me suis vite rendu compte que la seule partie fun de mon job était de faire les illustrations et l'iconographie de mes projets.
8. Where do you see yourself in five years?
Work-wise, I'd like to carry on making a living from great causes projects. This year, I've been lucky enough to work for an environmental startup and for a naturopath's new project. I'm very grateful as lots of people don't always manage to join their work with their ethical vision.

Location-wise, I don't know and wanna be surprised. France is a great country to live in, but I always had a big passion for Latin America, and I hope I can live there a few times one day.
Sur le plan professionnel, j'aimerai continuer de travailler pour des projets aux causes nobles. Cette année, j'ai eu la chance de travailler pour une startup sur le thème environnemental et pour le nouveau projet d'une naturopathe. Je me sens chanceuse car ce n'est jamais évident de pouvoir joindre son travail à ses valeurs éthiques.

Sur le plan géographique, je ne sais pas et j'aimerai être surprise ! J'adore vivre en France mais j'ai aussi une grosse passion pour l'Amérique Latine et j'espère un jour vivre quelques temps là-bas.
9. What about in ten?
Same answer as #8
Même réponse que #8
10. What do you hope to achieve with your art?
Working as an illustrator is already a great achievement. But the icing on the cake would be to see people enjoying my aesthetic, it'll be fantastic! .
Travailler dans l'illustration, c'est déjà une super réussite. Mais la cerise sur le gâteau serait que les gens prennent plaisir à voir mes réalisations. Ce serait fantastique!
11. Now, tell us a little more about you as a person: what is your favourite food?
Pizzas (except the Hawaiian which is not a pizza! ) Pasta, and great ice cream. In others words, I should have been born in Italy.
Les pizzas (sauf l'Hawaïenne qui n'est pas une pizza ), les pâtes et les bonnes glaces. En d'autres mots, j'aurais dû naître en Italie.
12. Favourite book?
Lately, I read "My Brilliant Friend" with a lot of enthusiasm. I really enjoy the books from Bernard Werber which are novels mixing scientific and historical facts with a supernatural touch.
Dernièrement, j'ai dévoré "l'amie prodigieuse". J'apprécie beaucoup aussi les livres de Bernard Werber qui mixent des faits scientifiques et historiques et un peu de surnaturel.
13. Favourite genre of music?
I have a big range of music tastes. I love plenty of rock styles, electronic music, some good old school hip hop, salsa + latino music, without forgetting some French classics. And I'm also an enthusiastic opera listener.
J'ai un grand panel de goûts musicaux. J'aime pleins de styles de rock, de musique electro, un peu de hip hop old school, de la salsa et des rythmes latinos, sans oublier les vieux classiques français. Je suis aussi une fan d'opéra.
14. What are your hobbies?
When I'm not drawing, I practice yoga, I hike and I travel
Quand je ne dessine pas, je pratique le yoga, je fais de la randonnée et je voyage.
15. If you weren't an artist, what would you be?
I would have loved working as an art restorer, a pastry chef or as a journalist for a travel guide such as Lonely Planet.
J'aurai adoré travailler comme une restauratrice d'art, une chef pâtissière ou une journaliste pour un guide de voyage comme Lonely Planet.