Instagram:
@emily_eldridge_art
Twitter:
@emily_eldridge
Facebook:
www.facebook.com/emily.eldridge.illustration
Website:
www.emilyeldridge.com
1. What's your story? Where are you from?
That's a story long enough ... Haha I'm originally from Michigan in the United States, but I lived in Hong Kong for the past 10+ years, until I moved to Barcelona, Spain this past September to study a Master's. I hope to be here for awhile longer, but let's see how things pan out.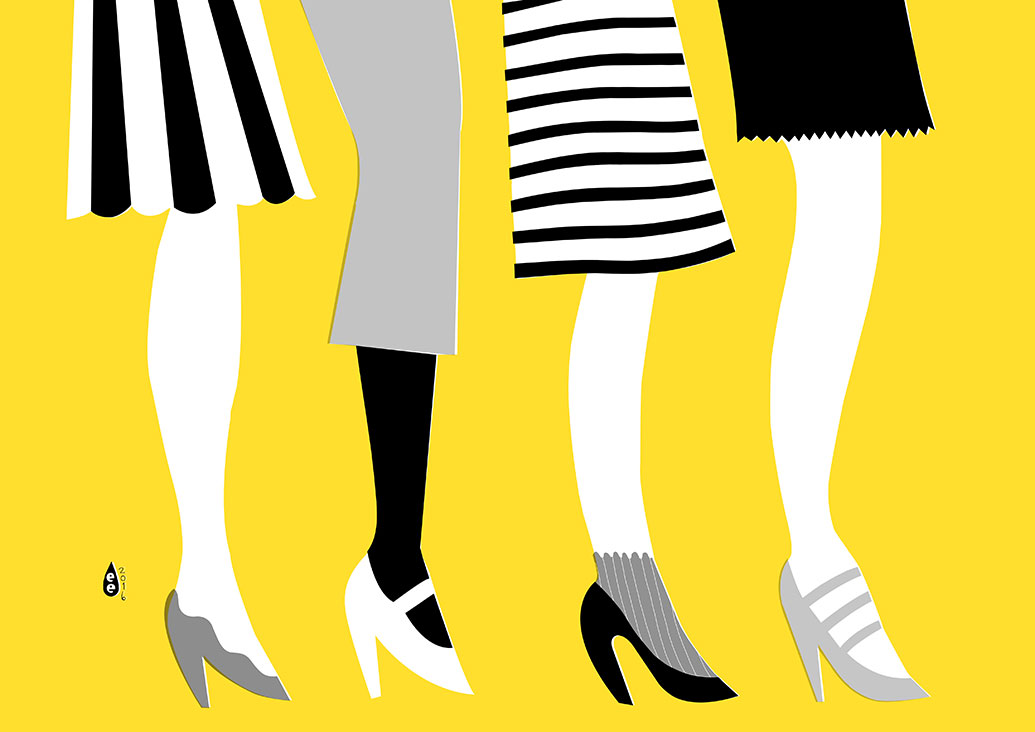 2. Tell us about your aesthetic.
My work is really flat and I use a lot of bright colors. I love experimenting with how colors work together and interact with one another. Recently I've been enjoying neons juxtaposed with more toned down hues. I also paint a lot of female figures, and like to add elements of humor and wit to my work; I try to make my illustrations playful and fun.
3. What is your favourite medium and why?
For me, it's between digital work and acrylics. Working digitally is great because it's so much easier to change colors, play around with textures, experiment with layers and transparency, etc., but there's also something really nice about working with your hands and physically painting something. And for me, nothing beats working at a large scale and painting a huge wall! It's the best feeling.
4. What is your artistic process like?
Normally when I start a project, I usually make a lot of little thumbnail sketches with colored pencils to be able to easily experiment with color palettes. From a crappy sketch I can generally have a clear idea in my head of how the final image will turn out. Depending on whether it's a painting or digital work, I'll either scan a thumbnail sketch and begin drawing over it in Photoshop or illustrator, or if it's a painting I'll use my little sketch as the starting point for drawing directly on my canvas or whatever I'm painting on. From there, the process moves quite quickly. The hardest part is coming up with the initial idea and being satisfied with that enough to move forward.
5. Who and/or what inspires your work?
I'm a big fan of contemporary art as well as contemporary illustration and street art. I look at so much stuff all the time (online, in the street, etc.) and I guess this forms a subconscious inspiration. In Barcelona specifically, there are so many great artists - I love the work of Zosen Bandido & Mina Hamada, Nacho Eterno, Sawe Barcelona, Egle Zvirbyte, & Amaia Arrazola, to name a few... In Hong Kong - Xeme, Wais1, StartFromZero, ParentsParents...
6. What role does art play in your life? How does it change the way you view the world?
I think I could safely say that I'm a little obsessed with art and design. Every day I look at something art or design related, be it online, like on Instagram or Pinterest for inspiration, or in art magazines like Juxtapoz, or just walking around the city looking at street art or cool signs. Art does change the way you view the world - you get excited by dumb things like color combinations, bits of interesting trash, someone's t-shirt, cool furniture, a billboard, a lamp at a cafe... Everything becomes visual. It's an obsession and it all feeds into your work somehow.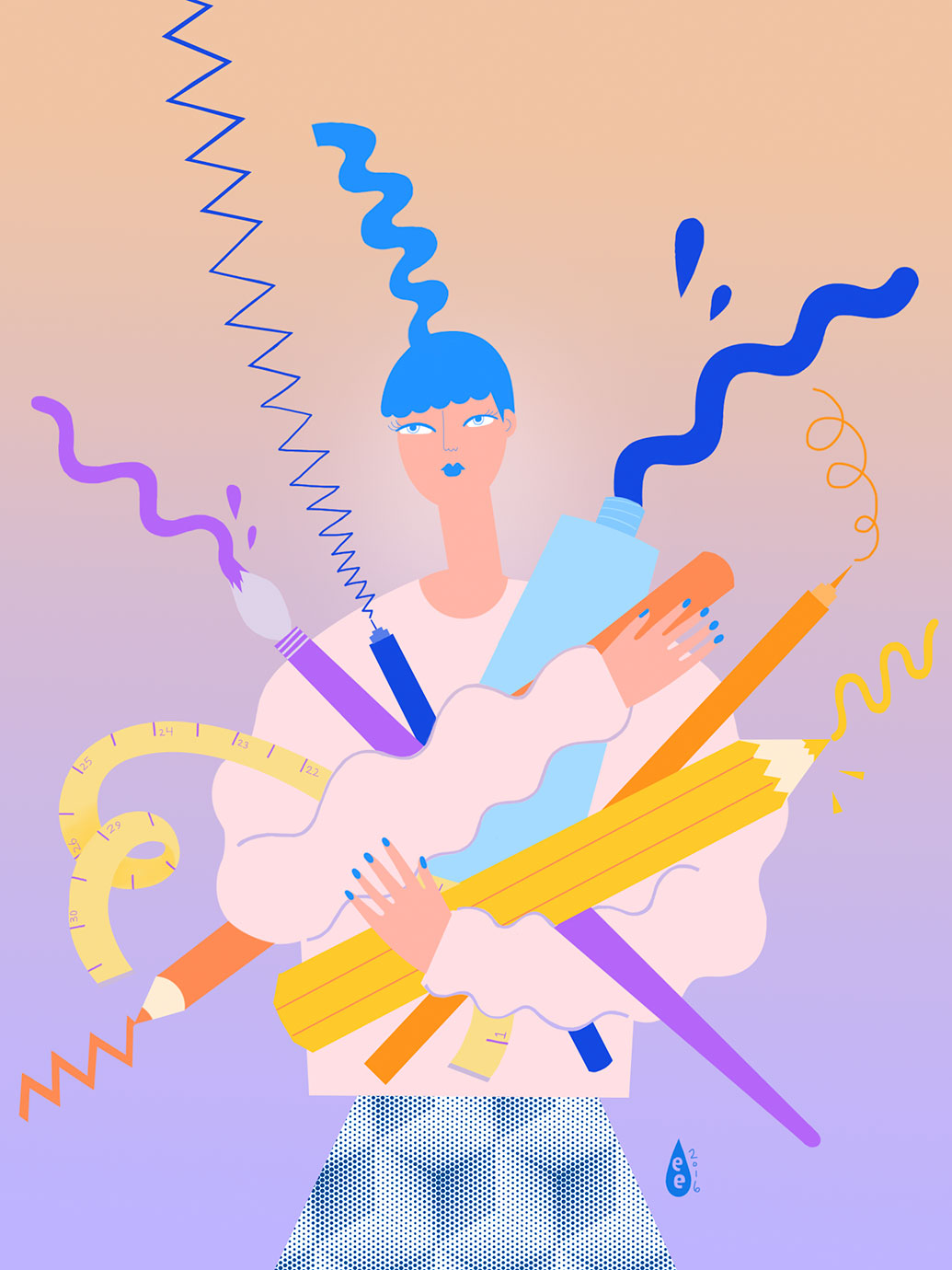 7. Where did you study?
I did a BFA (Bachelor of Fine Arts) in Illustration at SCAD (The Savannah College of Art & Design) in the United States (quite a few years ago! haha). Now I'm studying a Master's in Creative Illustration at BAU Escola Superior de Disseny in Barcelona. I'll finish the course this summer.
8. Where do you see yourself in five years? Working in an agency?
Well, one of my dreams has come true as I've just signed with Agency Rush in the UK. I really hope to move forward in my career as a freelancer and work with more clients internationally. I'd also love to be doing more murals and street art. I've painted murals for quite awhile, but have only just recently been experimenting with spray paint and I really love it. Hopefully in 5 years I won't suck as much! haha
9. What about in ten?
In 10 years I would definitely have hoped to make a name for myself in the illustration scene, or at least to find myself a contemporary among a group of artists I like and admire. There are also a few artists and clients that it would be a dream to work with, fingers crossed. And finally, I would love to be doing more large-scale murals; a building-sized one would be pretty cool.
10. What do you hope to achieve with your art?
I love making something that's eye catching, that people enjoy. I think illustration is cool because it has the ability to reach everyone; it's really something that the general public can easily appreciate. So if I make work that people like, I feel like I've been successful.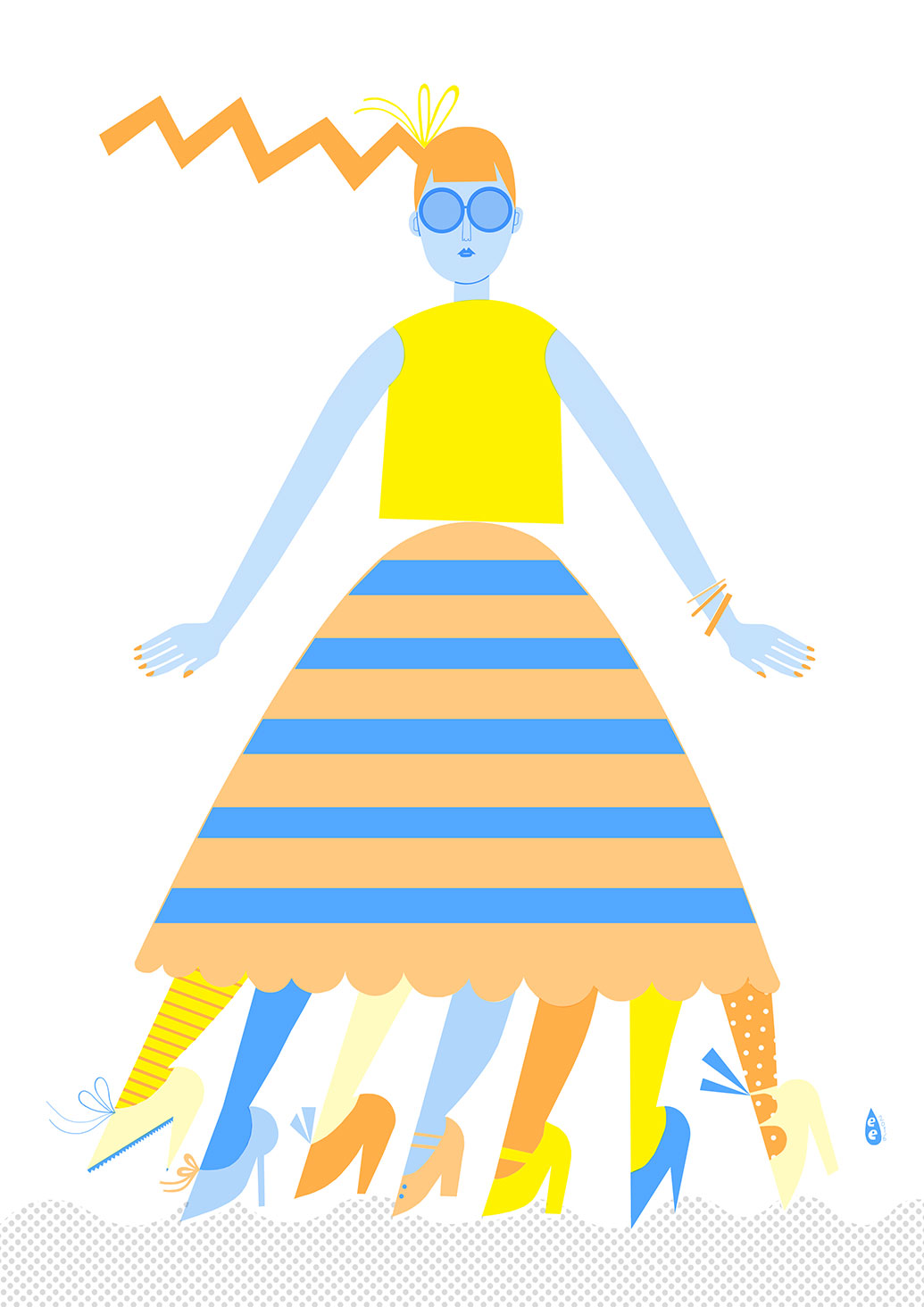 11. Now, tell us a little more about you as a person: what is your favourite food?
Tie between tacos, ramen, or Thai pork neck salad! And tacos or Thai food as spicy as possible.
12. Favourite book?
When I was a kid, "Mrs. Frisby & The Rats of NIMH" was a favorite; but recently I've been enjoying Malcolm Gladwell quite a bit. "The Tipping Point" is genius!
13. Favourite genre of music?
Ohhh, such a tough question! I like a lot of different stuff; it depends on my mood. I guess electronic music is on my playlist most regularly; but I also love 90s alternative, classic Motown (Detroit represent!), or jazz, classic rock, and hip hop.
14. What are your hobbies?
I go crazy for tacos, love bike riding, watching Broad City, Master of None or Seinfeld reruns, hanging out with friends and drinking beer in Barcelona's placas, and of course, traveling. Travel always inspires.
15. If you weren't an artist, what would you be?
I wish I knew how to fix vintage cars; that would be fun. But in reality, I always thought I would learn to be a hairstylist or makeup artist if art didn't pan out.