Instagram:
@estaaarts
Twitter:
@estaaarts
Tumblr:
estheraarts.tumblr.com
Website:
www.estheraarts.nl
1. What's your story? Where are you from?
My name is Esther Aarts and I'm an illustrator in Nijmegen, the Netherlands.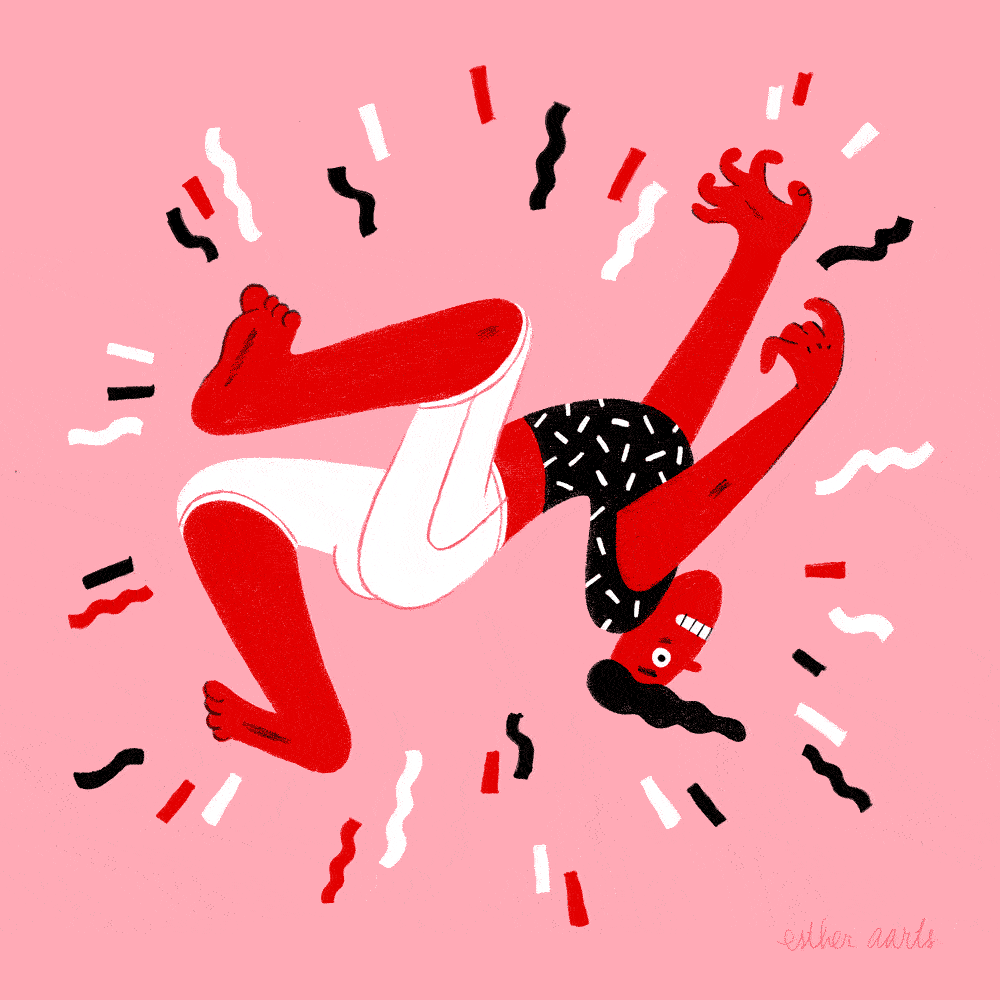 2. Tell us about your aesthetic.
I like using bold colours in a limited colour palette.
3. What is your favourite medium and why?
I really like print, especially riso-print with the bright saturated colours and the tiny errors in the process. The process of riso often informs my illustration approach.
4. What is your artistic process like?
I doodle a lot in pencil and use those loose sketches often as a basis for a more elaborate illustration. I work up most of my work in photoshop, but the root of an illustration is almost always made by pencil on paper.
5. Who and/or what inspires your work?
Recently I realised that almost all my work somehow deals with people in motion. I really like looking at people and the way the carry themselves. I'm currently looking into doing more (gif) animations, as a natural extention to that.
6. What role does art play in your life? How does it change the way you view the world?
One of the magic things of art is that it gives us the opportunity to experience the world through other peoples senses and visions. I enjoy that intensely.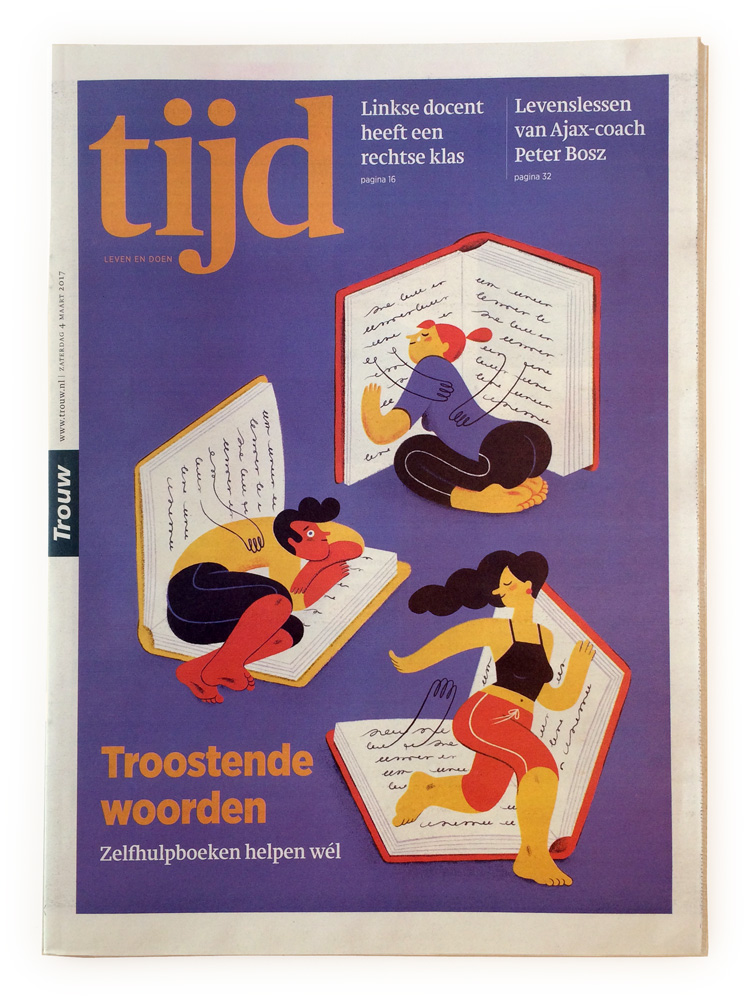 7. Where did you study?
I didn't study illustration, I grew into that by making flyers for my monthly drum&bass event in a local club.
8. Where do you see yourself in five years?
I'll be making pretty books, magazine illustrations and animations, while living in a nice house with a veggie garden and chickens.
9. What about in ten?
The same as in five years time, but with more chickens and perhaps a goat.
10. What do you hope to achieve with your art?
To make the world a little bit more beautiful.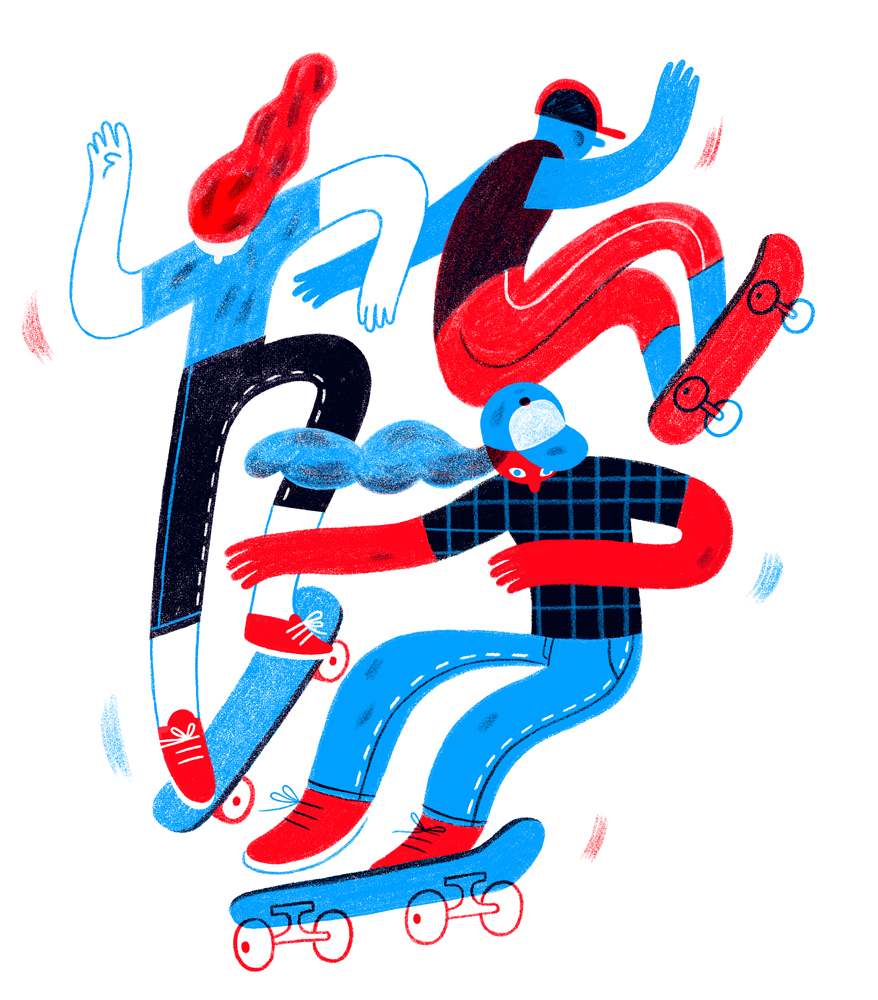 11. Now, tell us a little more about you as a person: what is your favourite food?
I like spicey food. I often make curries.
12. Favourite book?
I read a lot of novels, so it's kind of hard to pick out just one as a favorite. So I'll pick a book that I've reread a few times over the last few years: "Trying not to Try" - by Edward Slingerland. It deals with subject that is relevant to all artist and makers: How to cultivate the paradoxical art of spontaneity. The book links the chinese philosophical concept of Wu-Wei (Not-Trying) with current insights about the workings of our brain. It explains how the more we try to will things into manifesting, the more elusive they become. Great read for getting unstuck in your art.
13. Favourite genre of music?
Since I used to be a drum & bass DJ, most people assume that's my favourite genre, but my music collection is a lot wider than that. I gravitate towards rhythm/groove oriented music and listen to funk, reggae, hip-hop, african music and so on. At work, I'm often tuned in on radio FIP.
14. What are your hobbies?
Trampolining, hoopdancing, being outdoors. I need to move my body a lot to keep it happy. Also, I just love food; eating out, cooking, having BBQs with friends, it's all good.
15. If you weren't an artist, what would you be?
I'd probably be a cook or a gardener. I prefer working with my hands over office work.