Instagram: @eszter_chen
Website: www.eszterchen.com
1. What's your story? Where are you from?
My name is Eszter Chen, I was born in Taipei, raised and studied in the US. Now I'm a freelance illustrator/ painter based in Taipei city living with my family (hubby, baby girl and two italian greyhounds). I used to work at my studio, doing commissioned work, painting, ceramics, surface pattern design, and embroidery, pretty much anything in creative that I want to try. Now, I work from home during my second maternity period.
My city Taipei is multicultural where you can find people from all over the world who want to experience Mandarin speaking society and relaxing Asian life.
When I was little, I loved handmade things and all kinds of hand-craft projects for myself. I really enjoyed imagining and creating things so I chose to be an artist as my path after graduating from high school.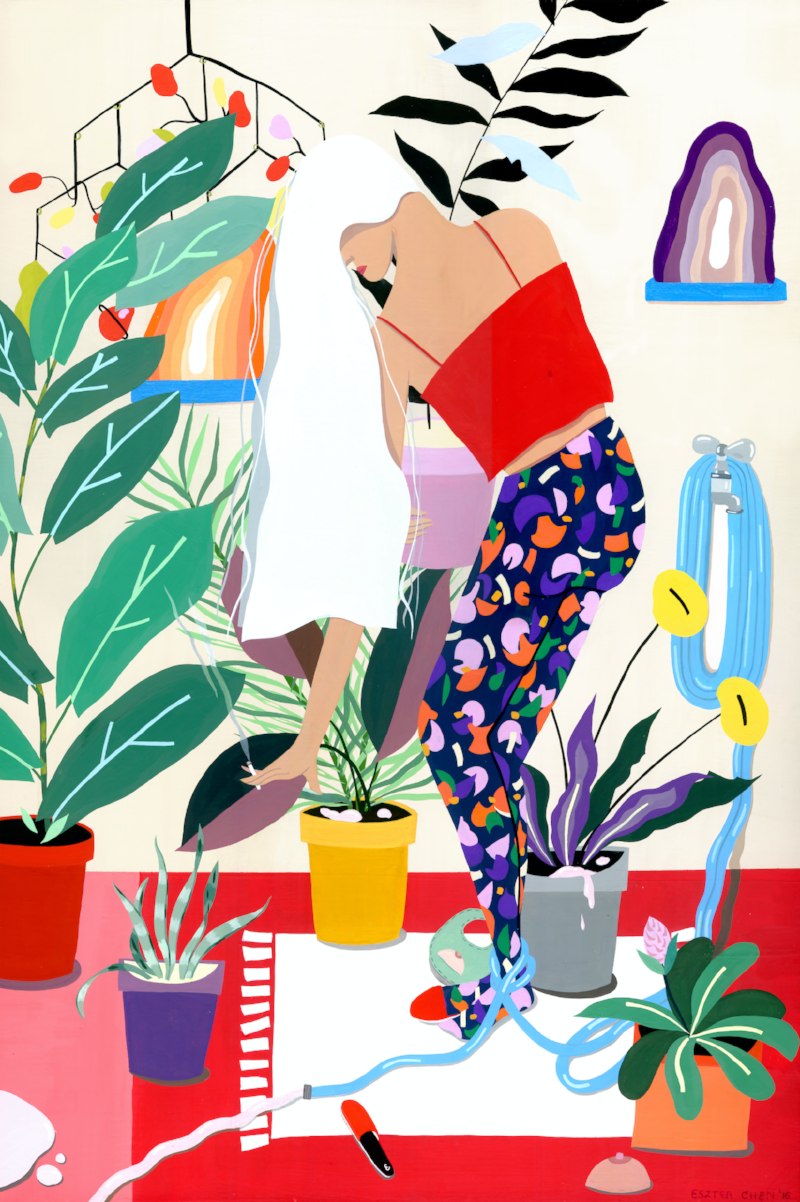 2. Tell us about your aesthetic.
I was fascinated by Japanese packaging design and magazines when I was a kid where I could find joy and stimulation visually from their pop color combinations.
I was inspired by modern art and 80's designs when I studied about modernism. I like to play with shapes from things I observed. I use strong and bold color combinations to simplify the image which my art is basically formed by these basic elements.
I also like to create patterns into my paintings and artwork, using repeat patterns to enrich a shape.
3. What is your favourite medium and why?
My favorite mediums are Acrylic gouache from Holbein Acryla series and prisma color pencils. Acryla paints can create very beautiful matte finished surfaces, clean and sharp color palettes. Moreover,it can be as flexible as you want by adding water for watercolor effect or adding thick layers for vector effect. The colors can be layered up without making it dirty and chaotic.
4. What is your artistic process like?
I usually write down keywords and descriptions when there are ideas come up and a list of things I want to make art. To start a painting I first sketch my rough idea on my sketchbook. I also research references and images to look at for better translation visually of what I want to present in my art. Then I take my rough idea line drawing into an iPad with procreate app to sketch and refine the line work digitally. I next try to fill colors with different palettes on my line drawing like a coloring book in procreate for final mock up. And I will print out my sketch mockup in 1:1 ratio size as my painting surface and use transfer paper to transfer my line drawing on the surface (usually paper and wood panel). I start painting with acrylic gouache paints and fill all the colors.
5. Who and/or what inspires your work?
I was inspired by the surrealist masterpiece when I started my art education, I looked at many lowbrow paintings as well. They opened my eyes in imaginations and my boundary of drawing. Later I do get a lot of inspiration from feminism and portrait art. Women and still lives have always been subjects of my work. I like to describe the posture and attitude of women. I'm also interested in interior design, home decoration and objects put in a space because I like static moments and scenes to tell a story, everything in the background or even an empty spot can be part of the story.
6. What role does art play in your life? How does it change the way you view the world?
Art is the way I look at my life and how I make choices. I feel like the option of being an artist has been set up since I was born. As a kid, I got excited and was sensitive to the visual art world, I would have the desire to create images from my imagination and handmade stuff. And this passion never went away when I grew up. When I grew up and became more mature, the way I think and the philosophy I believe are all inspired by art or artistic theory including how I see people, how I maintain my relationship in marriage, how I raise my children and how I choose things I want to put at home.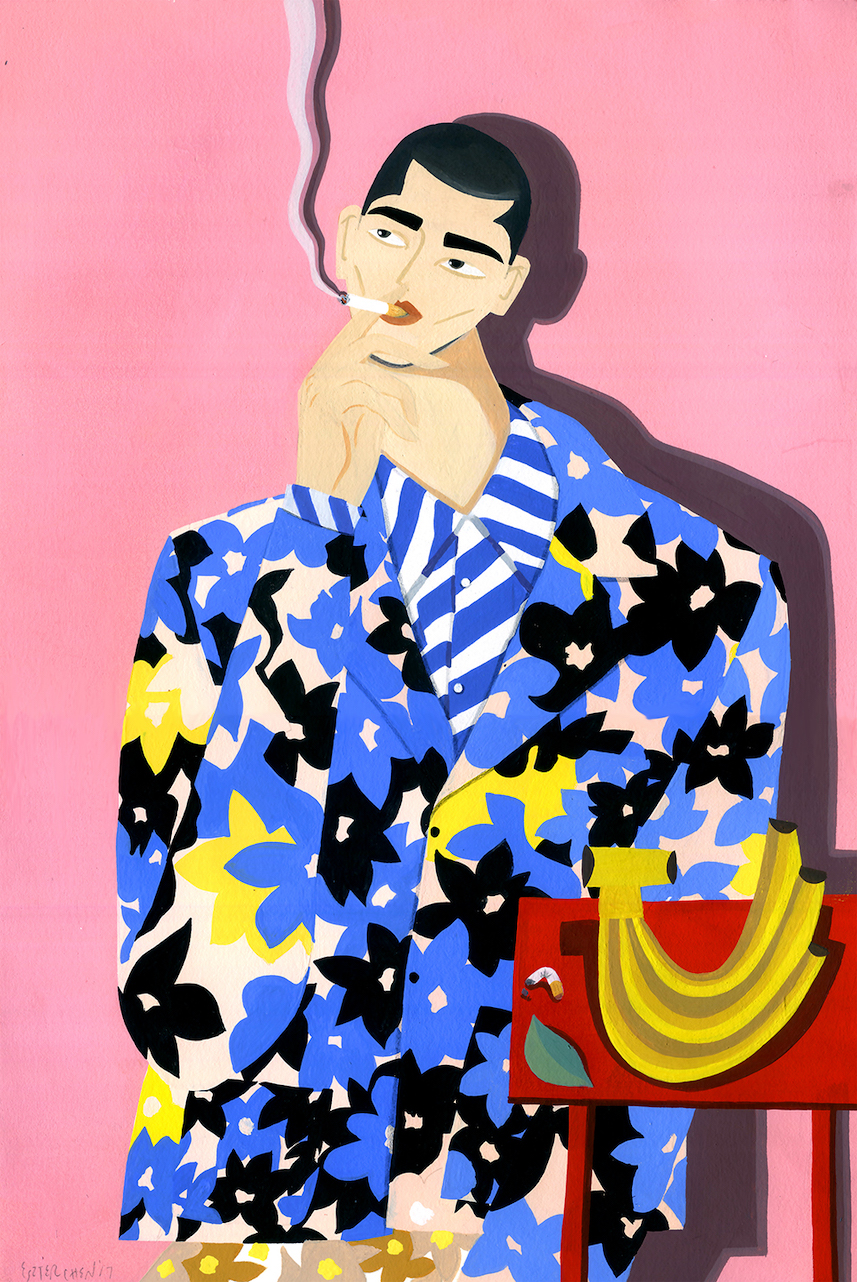 7. Where did you study?
I studied illustration design in Art Center college of design Pasadena, US and received a BFA.
8. Where do you see yourself in five years?
I think I will still live in Taipei and be a freelance illustrator but moved into a bigger house with great sunlight and studio space.
9. What about in ten?
I wish I could own a small shop selling select good home decor and designs from all over the world, and earn some more money. I will be the best friends of my children.
10. What do you hope to achieve with your art?
As for my personal goals, I hope I will finish the series of paintings that I've been working on and have a great exhibition of them; making a children's book based on the stories I want to tell; to grow my surface pattern label and make good products out of it. As a freelancer's goals for commissioned jobs, I wish I would reach more international clients and bigger brands and companies to collaborate with. I'm working on finding an agent which I can fit in their artists' group. I hope I will be lucky enough to work on some awesome projects globally and attend some of the world competition. There are many things I want to work hard on and the list keeps adding on, even though there are only a few I crossed out by the end of the year, but listing down my goals brings my motivation to move forward. Besides these practical achievements, I hope to be an example and teach my children to think freely as a creative, be independent, and plan things well when they work on something. Even if they enter some other profession, we can respect and learn from each other.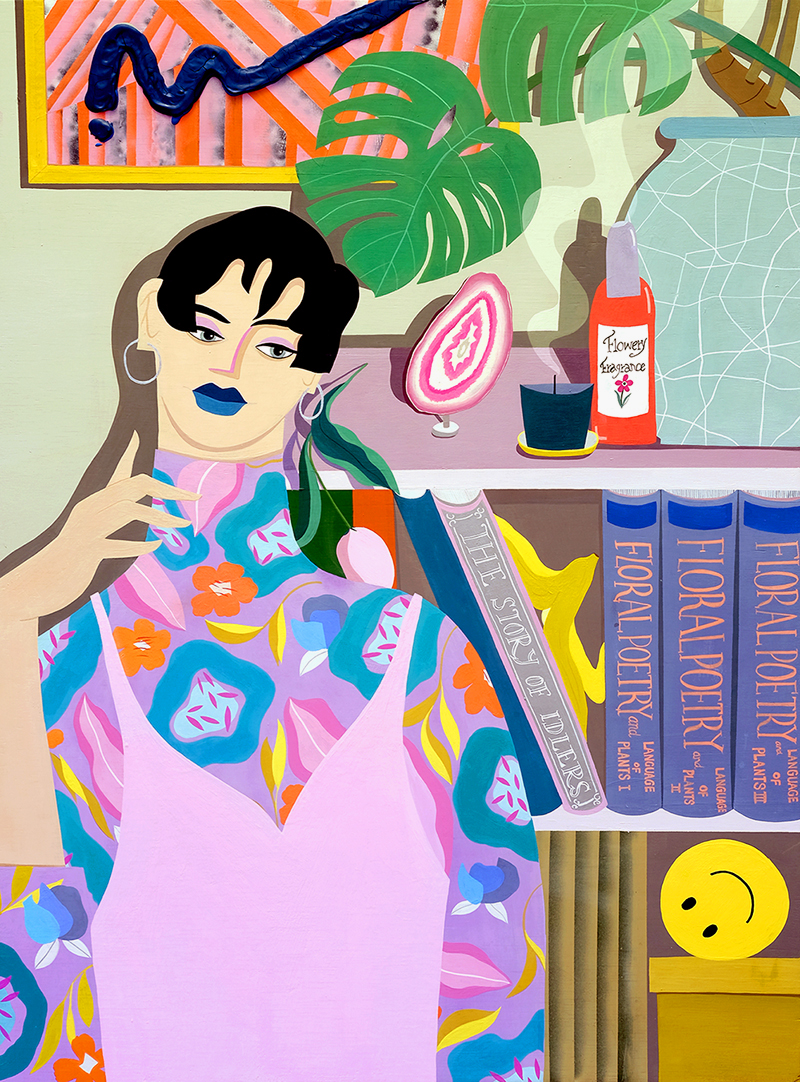 11. Now, tell us a little more about you as a person: what is your favourite food?
French Fries!!
12. Favourite book?
Recently my girl and my favorite picture is " There was an old lady who swallowed a fly" a children's rhyme and nonsense song, we read together every night XD
13. Favourite genre of music?
Electronic, chillwave, trip-hop
14. What are your hobbies?
I'm a big fan of tidying things up and organizing so I like to find ways to organize my space and finding good containers.
15. If you weren't an artist, what would you be?
Maybe a dog trainer, a home decor/ organize advisor, florist.... who knows