Instagram:
@evanfelino
Facebook:
www.facebook.com/evanfelino
Tumblr:
evanfelino.tumblr.com
Behance:
www.behance.net/evanfelino
1. What's your story? Where are you from?
Hi! I'm Evangelina. I'm an artist and graphic designer. I was born in Tucuman a province in Northen Argentina but I'm currently living in Mexico with my boyfriend and our cat Bubu. I'm passionate about cats, drawing them, studying them and specially squeezing them. Hola! Me llamo Evangelina. Soy artista y diseñadora gráfica. Nací en Tucumán, una provincia del norte de Argentina, pero actualmente estoy viviendo en México con mi novio y nuestra gata Bubu. Me apasionan los gatos, dibujarlos, estudiarlos y apretarlos.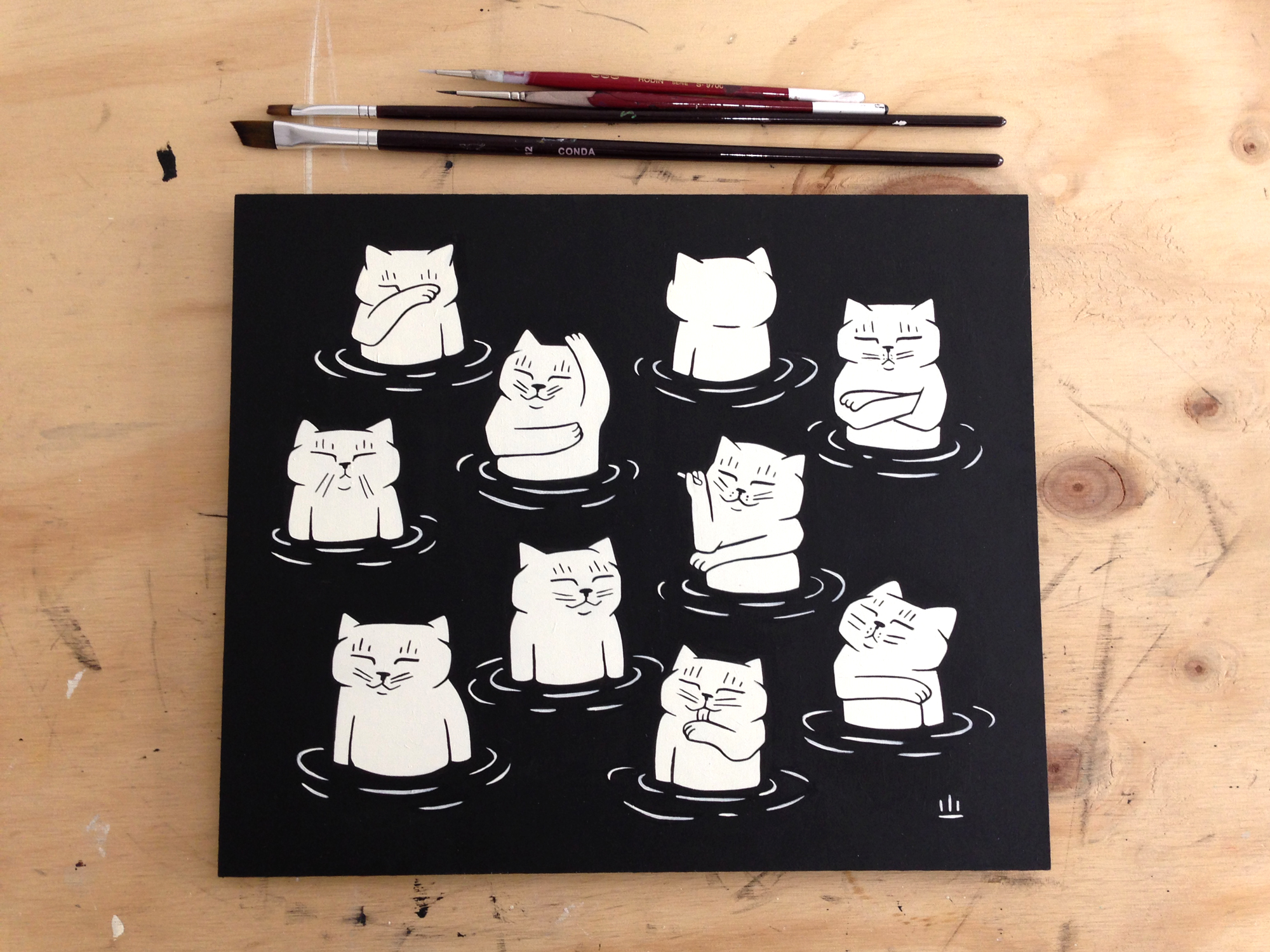 2. Tell us about your aesthetic.
All my art and designs are based on cats, so I like to play with their different poses and movements, trying to imagine them in some particular situations and representing them. I slightly use color, my lines are clean and my compositions are simple. Todo mi arte se basa en los gatos, así que me gusta jugar con sus diferentes poses y movimientos, imaginarlos en alguna situación y representarlos. Utilizo pocos colores, mis lineas son limpias y las composiciones simples.
3. What is your favourite medium and why?
Lately, I enjoy painting with acrylic and brushes over wood but I also love doing digital illustrations on photoshop Ultimamente me gusta pintar con acrílico y pincel sobre madera. Pero también me encanta hacer digitales mis ilustraciones en photoshop.
4. What is your artistic process like?
Sometimes I got an idea in my head and some others I just star drawing every cat I see. In both cases the first thing I do is a draft/sketch on my sketchbook. Then I take a picture of it with my computer's camera, I take it to photoshop and I digitalize them with my tablet. I like to digitalize all my sketches so I can try different colors, easily change their shapes and backgrounds. A veces tengo una idea en mi cabeza y otras veces simplemente comienzo a dibujar todos los gatos que veo. En ambos casos lo primero que hago es bocetar en mi cuaderno. Luego le tomo una foto con la cámara de mi computadora, lo traslado a photoshop, y lo digitalizo con mi tableta. Me gusta hacer digitales todos mis bocetos porque puedo probarle colores, cambiar muy fácilmente sus formas y fondos.
5. Who and/or what inspires your work?
In general everything inspires me! Anything can happen that can lead me to an idea that I'll try channel into cats. But are cats who inspire my work, specially my cat Bubu and the old cat friends I had as a child. On the other hand I love the Japanese cats of Utagawa Kuniyoshi and I think that's my main influence. I'm also inspired by Mariano Orell, he is my partner, he's a graphic designer, obsessive and perfectionist which makes my work to be more meticulous every day. En general todo me inspira! Puede suceder cualquier cosa que me lleve a tener una idea y volcarla a los gatos. Pero son los gatos quienes inspiran mi trabajo, en especial mi gata Bubu y mis amigos gatos que tuve desde niña. Por otro lado me encantan los gatos japoneses de Utagawa Kuniyoshi y creo que esa es mi principal influencia. También me inspira Mariano Orell, él es mi pareja y compañero, es diseñador gráfico, obsesivo y perfeccionista, lo que hace que mi trabajo sea mas meticuloso cada día.
6. What role does art play in your life? How does it change the way you view the world?
I believe art lead me to be a more sensitive person and to observe and pay attention to everything around me. I definitely appreciate a lot more my surroundings and nature. Creo que el arte me llevo a ser una persona mas sensible y observadora, a prestar atención a todo lo que me rodea. definitivamente aprecio más mi entorno y la naturaleza.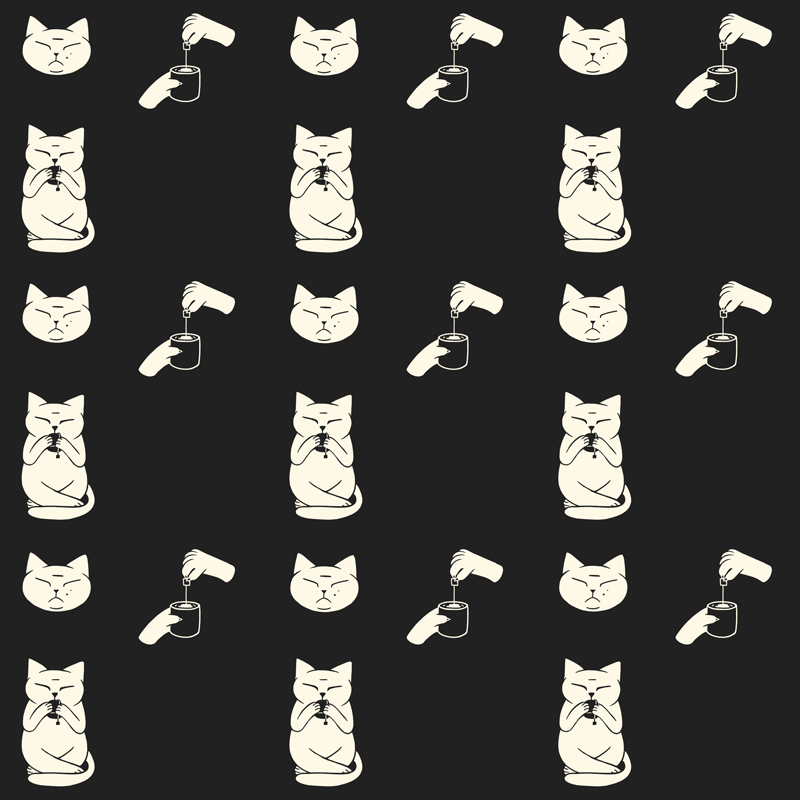 7. Where did you study?
I studied graphic design at a university in Tucumán, Argentina called "UNSTA". With design i learnt about creative processes, composition and the use of colors. But my knowledge about illustrations are Self-taught Estudie Diseño Gráfico en la UNSTA, una universidad en Tucumán, Argentina. Con el diseño aprendí sobre procesos creativos, composición y uso de colores, pero mis conocimientos sobre ilustración son autodidactas.
8. Where do you see yourself in five years?
I hope in 5 years I've grown as an artist, that my art has reached more people and that I can still live of what I like Espero que en cinco años haya crecido como artista, que mi arte haya llegado a más personas y poder seguir viviendo de lo que me gusta.
9. What about in ten?
Surrounded by cats!!!! Rodeada de gatitos!
10. What do you hope to achieve with your art?
I enjoy a lot drawing cats and thinking that those drawings could generate some kind of reaction in people seems incredible to me. I hope I can create a connection between cats and whoever sees my pieces. Disfruto mucho dibujando gatos y pensar que esos dibujos pueden provocar algún tipo de reacción en la gente me parece increíble. Espero lograr una conexión entre los gatos y quienes vean mis obras.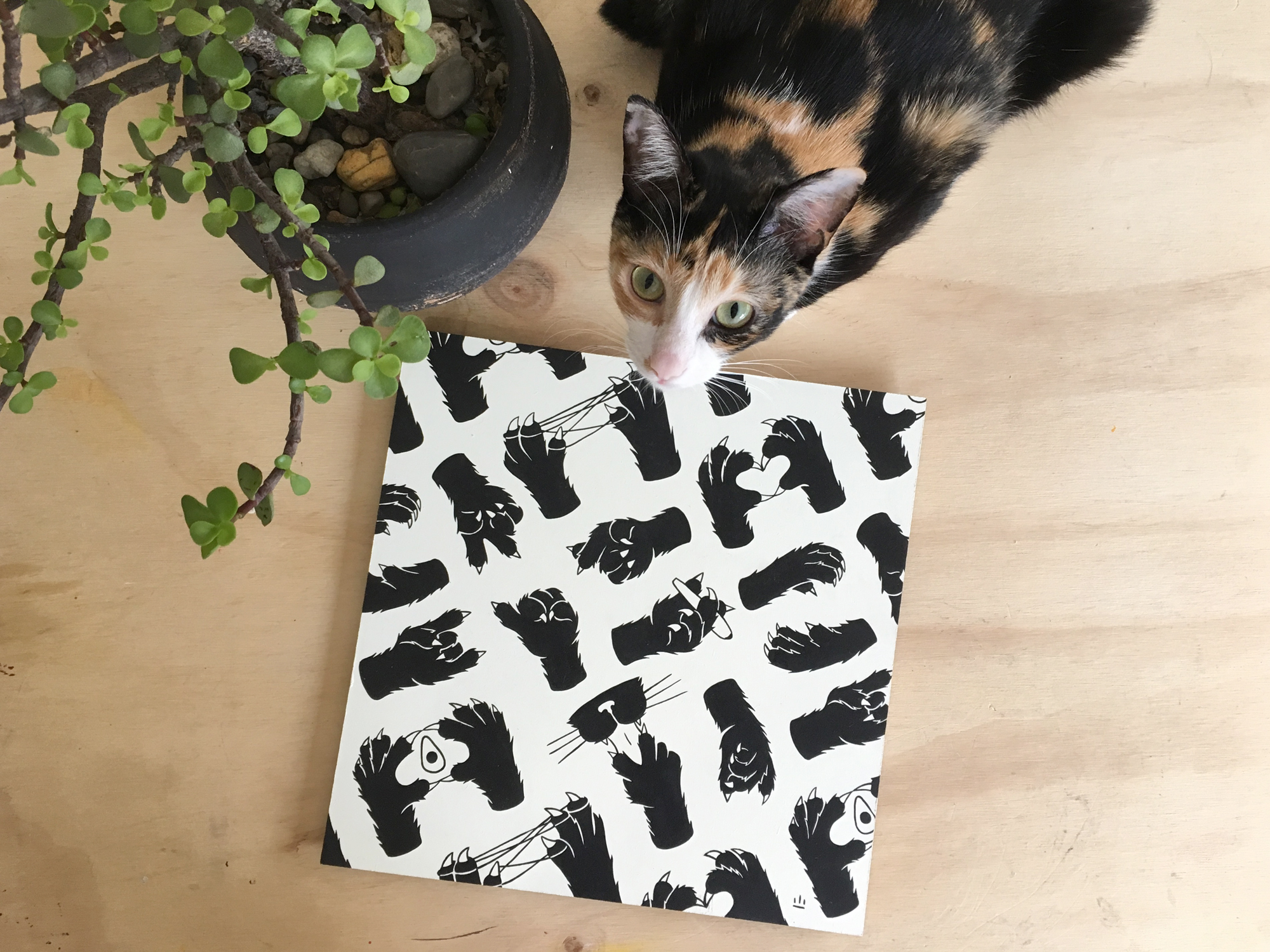 11. Now, tell us a little more about you as a person: what is your favourite food?
My favourite food is "Humita", a tradicional food from my city. And here in Mexico I like "Tlacoyos de haba" and "Mole de Oaxaca". Meat is murder Mi comida favorita es la Humita, es una comida típica de mi ciudad. Y de México, mi comida favorita son los Tlacoyos de haba y el Mole de Oaxaca. Meat is murder.
12. Favourite book?
My favourite book is Black hole by charles Burns and all his graphic novels!! I also like Aldous huxley's novels Mi libro favorito es Black Hole de Charles Burns y todas sus novelas gráficas! También me gustan las novelas de Aldous Huxley
13. Favourite genre of music?
To be honest my musical tastes are totally influenced by my parter. We listen to a lot of 90's rap and some Indie rock. Sinceramente mis gustos musicales se ven totalmente influenciados por mi pareja. Escuchamos mucho rap de los noventa, y algo de Indie rock.
14. What are your hobbies?
I love doing gymnastics and practicing yoga, they free my mind! Me gusta mucho hacer gimnasia y practicar yoga; ambas cosas liberan mi mente!
15. If you weren't an artist, what would you be?
I'd surely be something related to animals. Seguramente seria algo relacionado con los animales.