Instagram: @eve.gentilhomme
Website: www.eve-gentilhomme.com
1. What's your story? Where are you from?
My name is Ève Gentilhomme, I am 31 years old and I am an illustrator. I am French and I have lived around Paris for 8 years.
Je m'appelle Ève Gentilhomme, j'ai 31 ans et je suis illustratrice. Je vis depuis 8 ans autour de Paris. Je suis passionnée d'illustrations, d'arts, de motifs, et de couleurs. Je travaille principalement pour l'édition, mais aussi en collaborations avec des marques ou des projets culturels comme des festivals de musique ou des concerts. J'illustre également des livres pour enfants.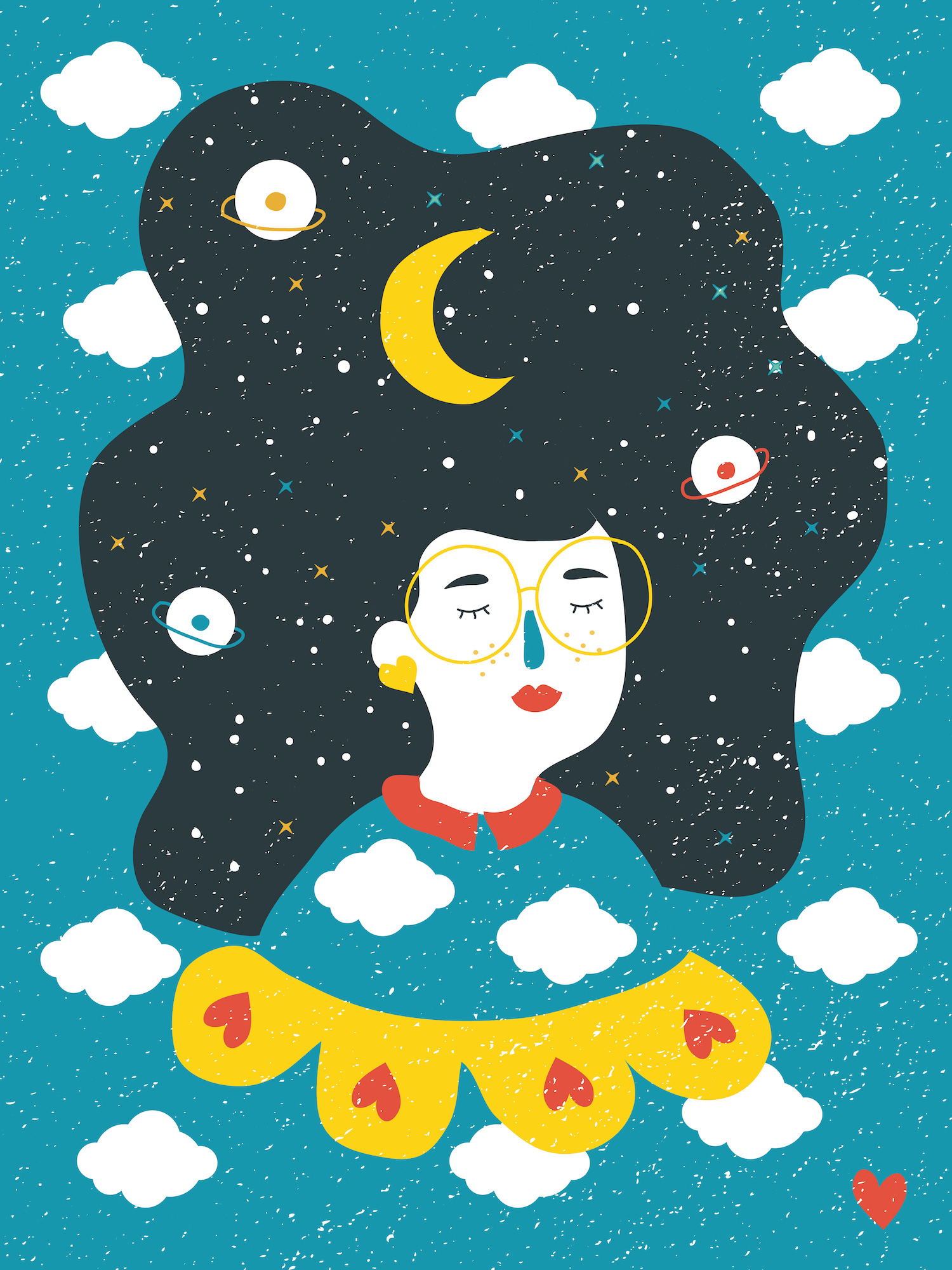 2. Tell us about your aesthetic.
I'm often told that my aesthetic is poetic, colorful with a dreamlike universe. I'm kinda okay with that, I think my style is raw and simple too. I like to play with shapes, universes, patterns, lines.
On me dit souvent que mon style est poétique, coloré avec un univers onirique. Je suis plutôt d'accord avec ça, je pense aussi qu'il est aussi brut et simple. J'aime jouer avec les formes, les univers, les motifs, les lignes.
3. What is your favourite medium and why?
Most of the time my work is digital. I draw with my graphics tablet, mostly in solid colors.
I have tested a lot of different techniques and I especially like this one, I feel comfortable with the speed of the process. I also draw with felt-tip pen or acrylic or gouache but less so, at the moment I like it when the results appear quickly.
Le plus souvent mon travail est numérique. Je dessine avec ma tablette graphique, en aplat de couleurs le plus souvent. J'ai testé pleins de techniques différentes et j'aime particulièrement celle-ci , je me sens à l'aise avec la rapidité du processus. Je dessine aussi au feutre ou à l'acrylique ou la gouache mais moins. Pour l'instant j'aime quand le résultat apparaît rapidement.
4. What is your artistic process like?
Something inspires me and so I do a quick sketch on a piece of paper, or a notebook. I start by finding a palette of colors, never too big and then I go. I use Adobe illustrator, I like to leave imperfections like shapes that look like cut paper. I realize that this software is often used to make logos and perfectly round shapes or graphics, but I like to use it differently, with the pencil tool. A bit like a canvas after all.
Quelque chose m'inspire et alors je fais un crayonné rapide sur un morceau de feuille, ou un carnet. Je commence par trouver une palette de couleurs, jamais trop grande et puis c'est partie. Je dessine sur Illustrator, j'aime l'utiliser et me l'approprier pour dessiner j'aime laisser des imperfections comme des formes qui ressemblent à du papier découpé. J'ai conscience qu'on utilise souvent ce logiciel pour faire des logos et des formes parfaitement rondes ou graphiques mais j'aime bien l'utiliser autrement, avec l'outil crayon. Un peu comme une toile finalement.
5. Who and/or what inspires your work?
Literally everything. A music, a book, colors, a phrase, an emotion. It often starts from something that I want to say differently with my own colors and my universe. I am also inspired by Modern Art as well as Art Brut. I like instinctive and sensitive works.
Littéralement tout. Une musique, un livre, des couleurs, une phrase, une émotion. Ça part souvent de quelque chose que j'ai envie de dire autrement avec mes propres couleurs et mon univers. Je m'inspire aussi de l'art moderne ainsi que de l'art brut. J'aime les œuvres instinctives et sensibles.
6. What role does art play in your life? How does it change the way you view the world?
Art has always played a big part in my life. And mine is my job now, what I like to do every day. Drawing, creating has come out of bad times a lot.
L'art a toujours joué un grand rôle dans ma vie. Et le mien y est aujourd'hui au centre, c'est mon métier, ce que j'aime faire chaque jours. Dessiner, créer m'a pas mal de fois sorti de mauvaises passes.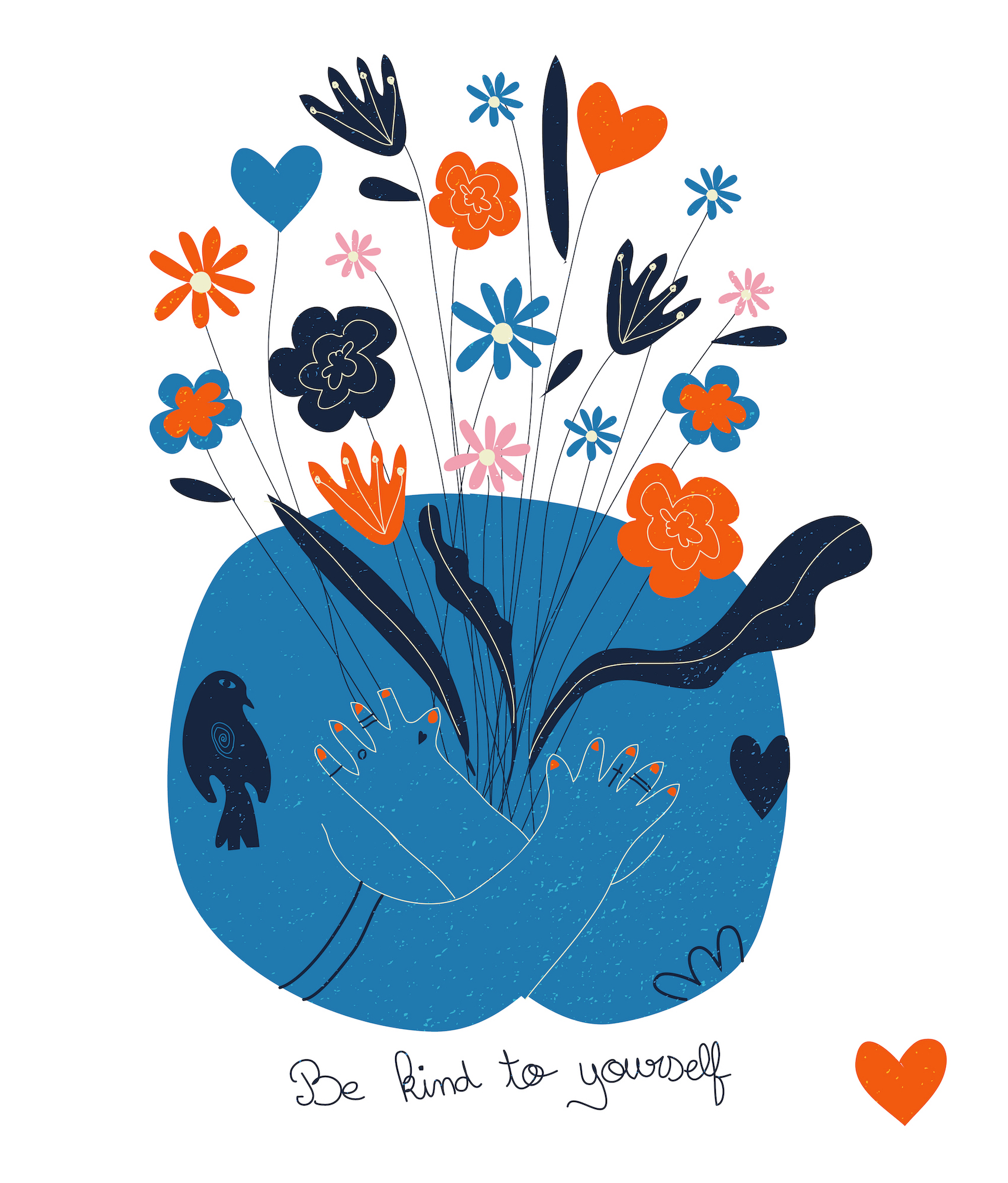 7. Where did you study?
I went to 3 different art schools after college. 3 years in a graphic design school in the small French town of Blois, then two years in Fine Arts in Bretagne, to finish with a Master's degree in Art Direction in Paris.
J'ai fait 3 écoles d'art différentes après mon Bac L. Trois années dans une école de graphisme dans une petite ville française, Blois, puis deux ans aux beaux arts en Bretagne, pour terminer par un master en direction artistique à Paris.
8. Where do you see yourself in five years?
I hope illustrator will always be my profession, I hope I will have illustrated many more books. For the children and for the older ones, I hope I will still have many desires. Perhaps I see myself in another country, in another city with a desire to create new things.
J'espère que l'illustration sera toujours mon métier, j'espère que j'aurai illustré encore pleins de livres. Pour les enfants et pour les plus grands, j'espère que j'aurai encore pleins d'envies. Je me vois peut-être dans un autre pays, dans une autre ville avec des envies de créer de nouvelles choses.
9. What about in ten?
Same but with lots of additional experiences, a large bright workshop. I always see myself getting up in the morning to create and answer to orders, which is what will always thrill me.
Pareil mais avec pleins d'expériences en plus, un grand atelier lumineux. Je me vois toujours me lever le matin pour créer répondre à des commandes, c'est ce qui me fera toujours vibrer.
10. What do you hope to achieve with your art?
I don't pretend to achieve a lot with my art, but if I manage to convey emotions, to make people understand some things differently then I win it all. I try to represent everyone, be inclusive as much as possible in my projects.
Je n'ai pas la prétention de réaliser énormément de choses avec mon art, mais si je réussi à faire passer des émotions, faire comprendre certaines choses différemment alors j'ai tout gagné. J'essaye aussi de représenter tout le monde, être inclusive au maximum dans mes projets et commandes.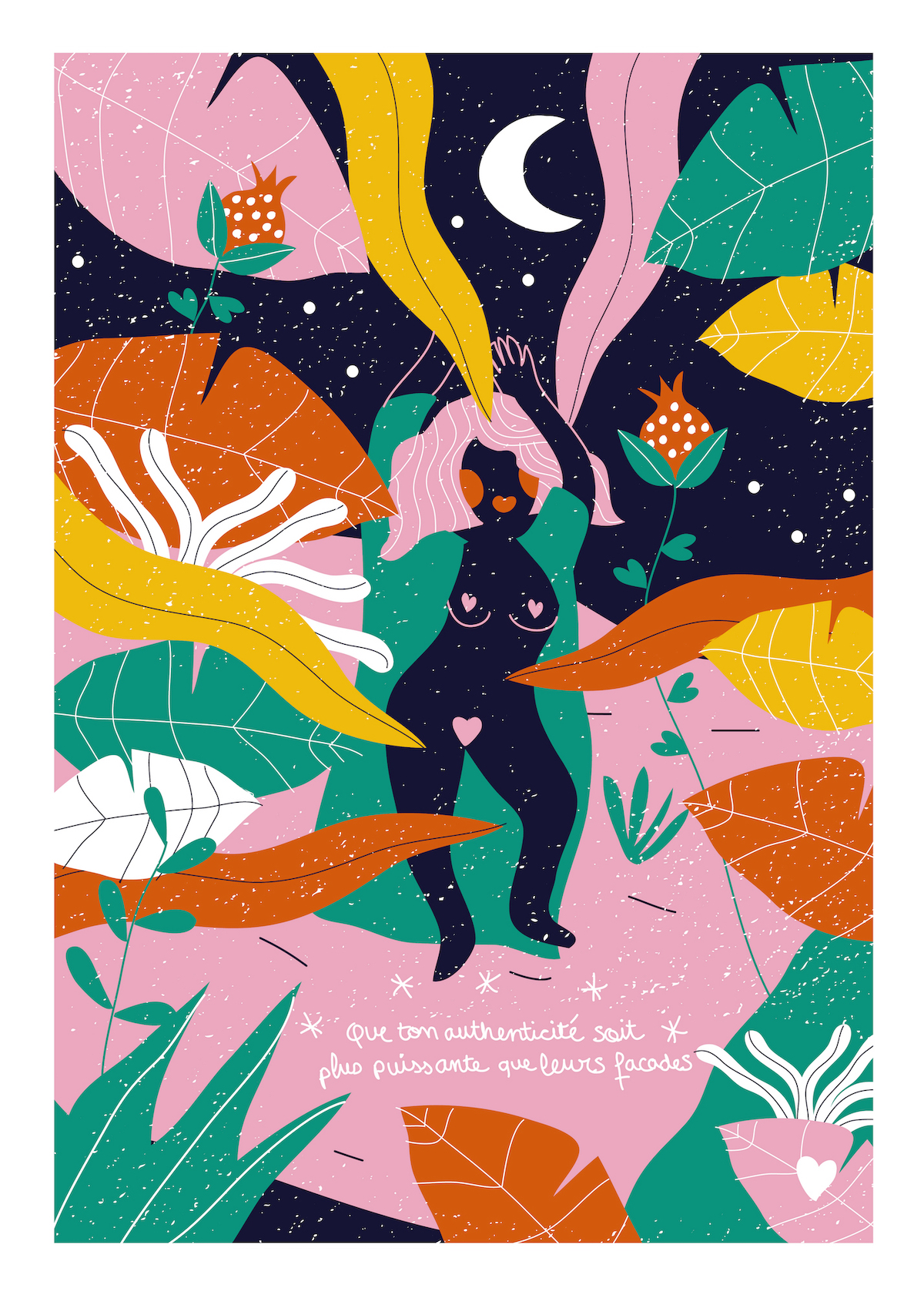 11. Now, tell us a little more about you as a person: what is your favourite food?
I love French food, Italian food and japanese food. I prefer mostly salt food than sugar.
J'aime la nourriture Française, la nourriture Italienne et japonaise. Je suis plutôt salée que sucrée la plupart du temps.
12. Favourite book?
Maybe King kong theory from Virginie Despentes.
J'hésite mais je dirais King Kong théorie de Virginie Despentes.
13. Favourite genre of music?
I really listen to everything, as long as it speaks to me, moves me or transports me. Rock music, especially 70's, 80's, 90's.
J'écoute vraiment de tout, du moment que ça me parle, m'émeut ou me transporte. Mais c'est principalement de rock, celui des années 70, 80 et 90.
14. What are your hobbies?
Drawing off course, seeing movies, cooking and sometimes reading. I am a very introverted person.
Dessiner évidemment, regarder des films, cuisiner et parfois lire. Je suis plutôt de nature introvertie.
15. If you weren't an artist, what would you be?
If I were not an illustrator I would necessarily be in the art world, maybe a writer or a director. And if that wasn't an option I would be working in social.
Si je n'étais pas illustratrice je serai forcément de loin ou de près dans le monde de l'art, peut être écrivaine ou réalisatrice. Et si ce n'était pas une option je pense que je travaillerais dans le social.