Instagram: @evergreenpaperie
Website: www.evergreenpaperie.wixsite.com
1. What's your story? Where are you from?
My name is Abby Farley. I am from California, in the Los Angeles area. I grew up in Goodyear, Arizona which is close to Phoenix (super hot), so I definitely have loved the amazing weather we get year-round in California! I have tried just about every art form you've heard of - photography, dance, music, clay, sewing, and graphic design, but illustration is my favorite. I come from a very creative based family. I have a brother who is an actor, another brother who is studying to be a history professor, and parents who are insanely crafty and can do basically anything. Each of my brothers have dabbled in painting and other art forms as well. They are all so supportive of me and my art. I don't think I would be able to survive the creative ruts without them!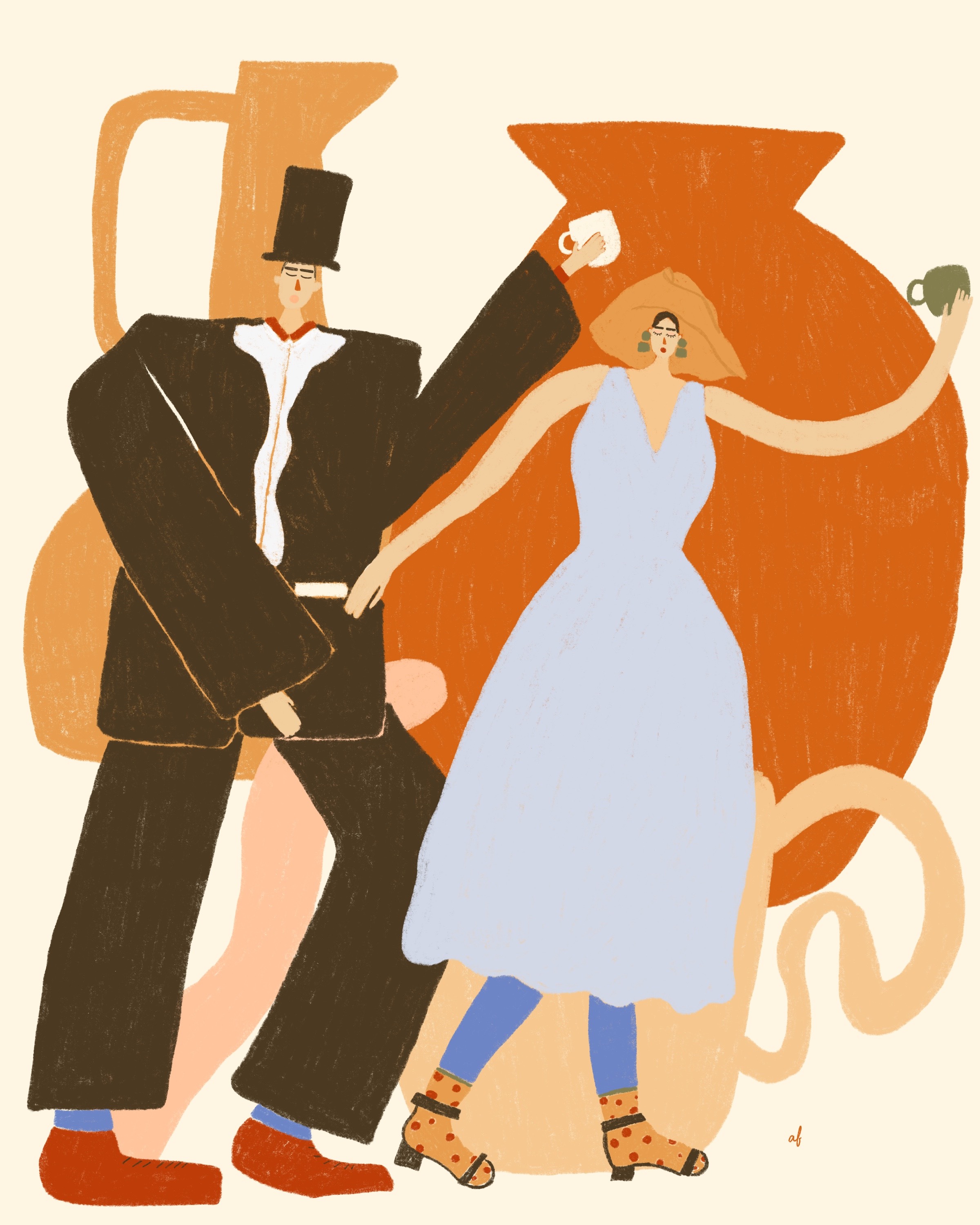 2. Tell us about your aesthetic.
My aesthetic is always changing even if it doesn't exactly look like it from the eye of my audience. Currently, it is very vibrant, earth-like colors, abstract fashion and unrealistically shaped people, some blobs here and there, haha! I like to illustrate with colors that I feel like I would want to wear. A lot of my art portrays scenes that I fantasize over.
3. What is your favourite medium and why?
My favorite medium is digital illustration using my iPad! This is the medium I started my art shop with. I love it because you're able to be as intricate as possible and can easily erase or undo a mistake. It's very convenient that I'm able to print the digital file of any painting as many times as I need to, and in any form. Lately, I have also been playing around with acrylic paint on mixed medium paper. I hadn't given it much of a try until recently and fell in love with the peace it brings me. It feels so good to just be alone with your thoughts and your paint.
4. What is your artistic process like?
I usually spot something on Pinterest or in a movie that gets my ideas flowing. Then I roughly sketch out the idea on my iPad to layout the scene and decide how I want it to look. I color it all in with various pencils and brushes on procreate! Some artworks take hours to make, especially for custom work. Others can take an hour or less, usually when it's an idea that comes to me easily and needs to be jot down right away.
5. Who and/or what inspires your work?
There are so many! Some fellow artists that have inspired me since the beginning are Henri Matisse, Codie O'Connor, and Alja Horvat. As I've grown, I've also discovered Rosie McGuinness, Rachel Saunders (a ceramicist), and Jordan Barton as some favorites. My art is heavily influenced by vintage films like An American In Paris, Vertigo, and It's Always Fair Weather, just to name a few. The colors and costumes get my creativity running!
6. What role does art play in your life? How does it change the way you view the world?
Art has always been my go-to for self expression. I've found that it's the best suited way for me to let out my emotions, ideas, hopes and dreams. I love how well it has taught me about color and composition. In my everyday life, I now notice the way colors work together in fashion, architecture, nature, and even photography. This part of being an artist is so special to me. I've become so much more appreciative of the little details around me each day.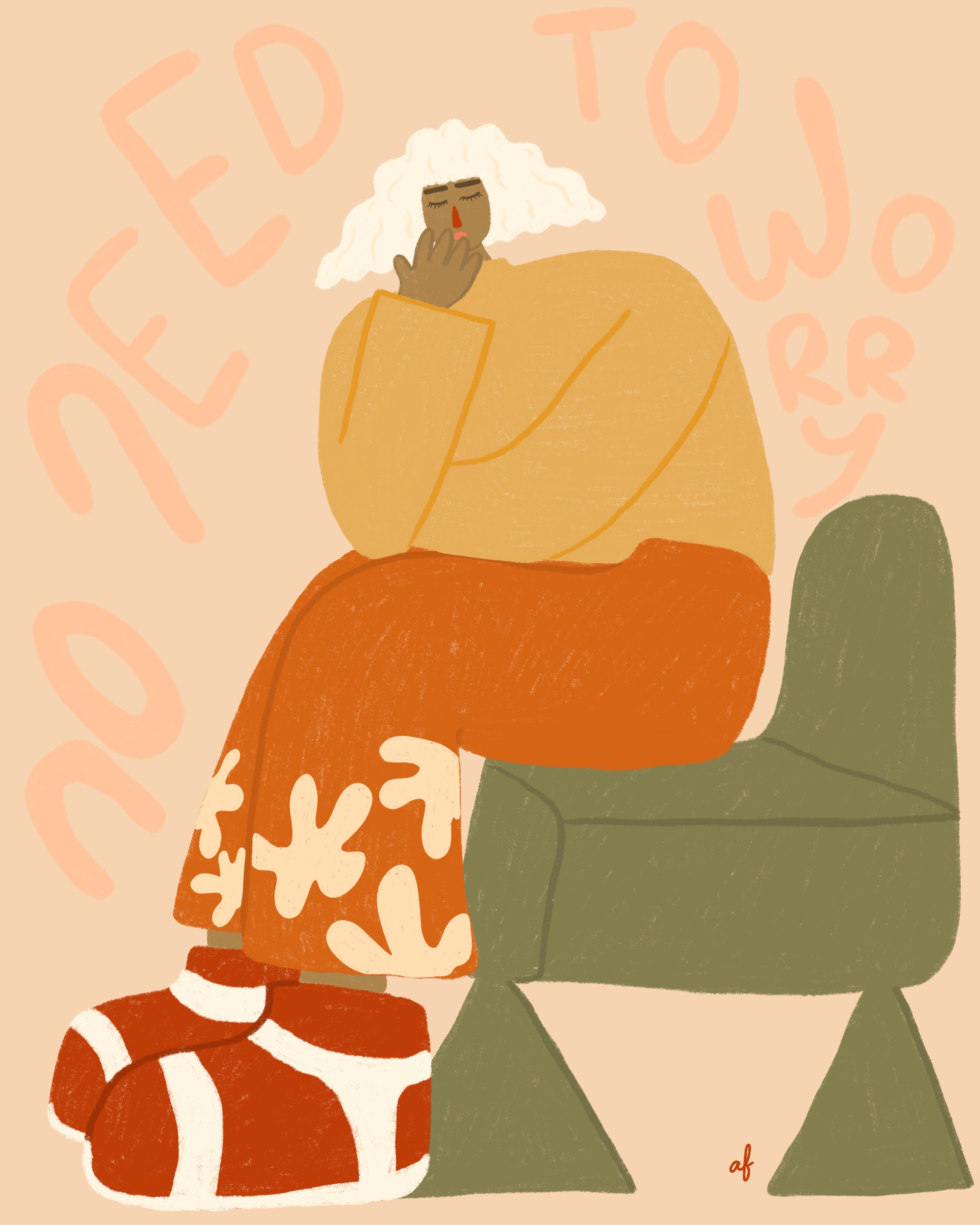 7. Where did you study?
I studied at Brigham Young University - Idaho for a few semesters. During my third semester, I realized I felt like I wasn't really progressing or feeling inspired while being there. That's when I decided to take a break to let myself explore other opportunities. I came home from that semester and quarantine had begun, so this is when I really expanded my artistic skills and started illustrating something new every single day. I am now working towards spending a semester in China in the Spring of 2021, where I will be volunteering as an English teacher to children. I am excited for the inspiration I will gather from the different culture and scenery. I can't wait to see what art concepts I come up with while I'm there!
8. Where do you see yourself in five years?
In five years I will have traveled outside of the United States, and I'll be happily married in a cute little home, with a newly started art gallery! My dream is to open up a local creative space that features up and coming artists, but with a little twist. I already have some plans in the works for this so I can't share too much, but I can say that it won't be your typical art gallery! I cannot wait to see it come to life.
9. What about in ten?
In ten years, I'll be 30, which is so strange to think about! At this point in my life I see myself starting a family and continuing my art gallery, as well as my own art. By then, I want to really branch out from digital art and try more traditional paint and ceramics in a space that is meant for exactly that.
10. What do you hope to achieve with your art?
I hope to inspire others to express themselves in what form makes them the happiest! As I have grown as an artist, I've learned that although I'm not currently in school for art or have a degree, there is no reason to not pursue it anyway. I used to think that I would never be as good as the artists I looked up to if I didn't follow their exact footsteps, but I've discovered that truly anyone can be what they want to be, no matter how you get there. I want people to feel comfort in my little community, and feel inspired to just GO FOR IT - do that thing you've been dying to try rather than holding back and wondering if you would be good enough! This just got cheesy but it's so true. Everyone is worthy of their biggest dreams!
11. Now, tell us a little more about you as a person: what is your favourite food?
My number one choice will always be Italian food. I'm all about a nice bowl of chicken fettuccini alfredo with garlic bread, or that perfect sandwich and salad combo. It gets me every time.
12. Favourite book?
I have to be honest, I have never loved reading, but lately I've been more open to it. I enjoy books that add something meaningful to who I am like self-help or how-to books. But right now I am reading a sweet, lighthearted romance called Summer At Lake Haven by RaeAnne Thayne. It's been so nice to drift off into another world while learning about the love story of these characters. When I'm not reading books, I love listening to podcasts! I tend to be drawn to topics that are about small businesses and how they came to life. The Sauce Boss podcast is a perfect example of this! Another favorite of mine for those days when I just want a feel-good, easy listen is What We Said podcast.
13. Favourite genre of music?
I love slower, jazz music from the 40s through 60s era - Louis Armstrong, Nat King Cole, Frank Sinatra... I also love movie soundtracks! Some classics for me are Singing In The Rain, Once Upon a Time in Hollywood, La La Land, Breakfast at Tiffany's - these are like happiness playlists for me!
14. What are your hobbies?
A regular day hobby for me is spending each evening on a walk in the neighborhood with my family. I always look forward to this time to wind down and look at the beautiful trees and hills around me. It gives me a really good boost of positive energy and clears my mind on the overwhelming days. When I'm not working on art, usually all I want to do is be with my family, but if this isn't the case on some days, I really love film photography, piano, and ukulele. These are things I've been doing for much longer than art and I feel like they are vital to who I am.
15. If you weren't an artist, what would you be?
Although I think art fits me better than anything, there are several other professions that fascinate me! I've always wondered what a day in the life of a fashion designer, travel photographer, or magazine editor would be like. If I weren't an artist, I would love to experiment with something along those lines.