Instagram: @eynonjones
1. What's your story? Where are you from?
Hello , my name is Eynon Jones and I'm from London.
I originally started out studying History of Art at university but reality dawned in my first lecture when I realised the sheer volume of essays required wasn't going to be the best fit for a lifelong dyslexic such as myself! I met my friend in the student bar and he told me about his course - Visual Communications and Marketing. The course sounded much more 'me' and I went straight from the pub to the Graphics department and asked to transfer. They amazingly said YES and the very next day I was in the graphic school. A decision that would change my life as this is where I met my wife and best friends. It also opened my eyes to type, illustration, advertising and film and everything in between that I love about visual arts.
After graduating, I worked as a Graphic Designer at some great studios in London and ended up on the freelance game. I always admired illustrators and dabbled a little in my free time but in all honesty my focus was on surviving the 9-5 and making the most of my 20s in London. And then 2020 happened. Lockdown. I was sent home from my freelance gig and felt baffled by the world. I was at home twiddling my thumbs watching the dystopian news developing. I had been given the gift of 'Time', something I had never had before. Time to try something. Maybe time to try something I loved. In order to keep myself sane, I grabbed my laptop and started illustrating. It was a way to switch off from current affairs. My illustrations were a creative outlet that took me somewhere joyful during such an oddball year.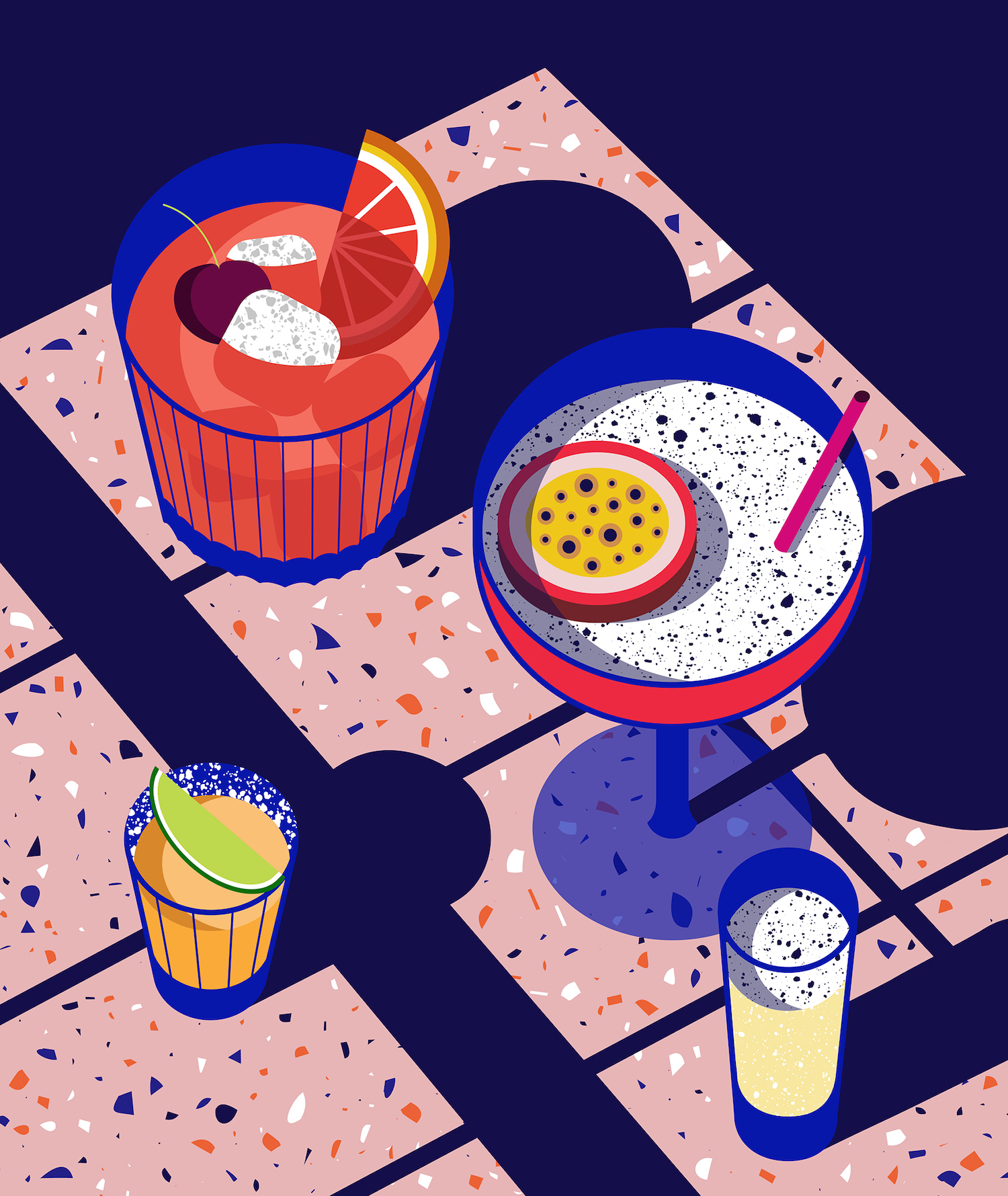 2. Tell us about your aesthetic.
I love simplicity, refinement, pattern and strong colour combinations. The most crucial aspect is that my aesthetic has to feel upbeat and evoke positivity. If it doesn't I can quickly lose interest. The same if it becomes too realistic or technical.
3. What is your favourite medium and why?
Illustrator on my MacBook is my jam.
4. What is your artistic process like?
Sounds odd but you did ask. I largely sketch in my head. When I am not illustrating I collect ideas for illustrations and start planning layouts in there. This part of the process is just as important as illustrating. Then when I open the laptop I have a basic version to follow. Ideas come from anywhere and I store them as reserves in my mental filing cabinet. It can be a bit messy in there.
5. Who and/or what inspires your work?
I guess I love so many artists and illustrators from all over the world - but I largely see them all coming from the area that was created by pop art. I have a Patrick Caulfield book on my desk right now - so he must be a big deal to me.
6. What role does art play in your life? How does it change the way you view the world?
My illustrations are a form of therapy in terms of dealing with lockdown life. I have realised that doing them has become crucial to getting through 2020. To put simply they make me feel good and if anyone else likes them or even wants to buy one that is a bonus. I would rather worry about not cracking an illustration than worry about the relentless news.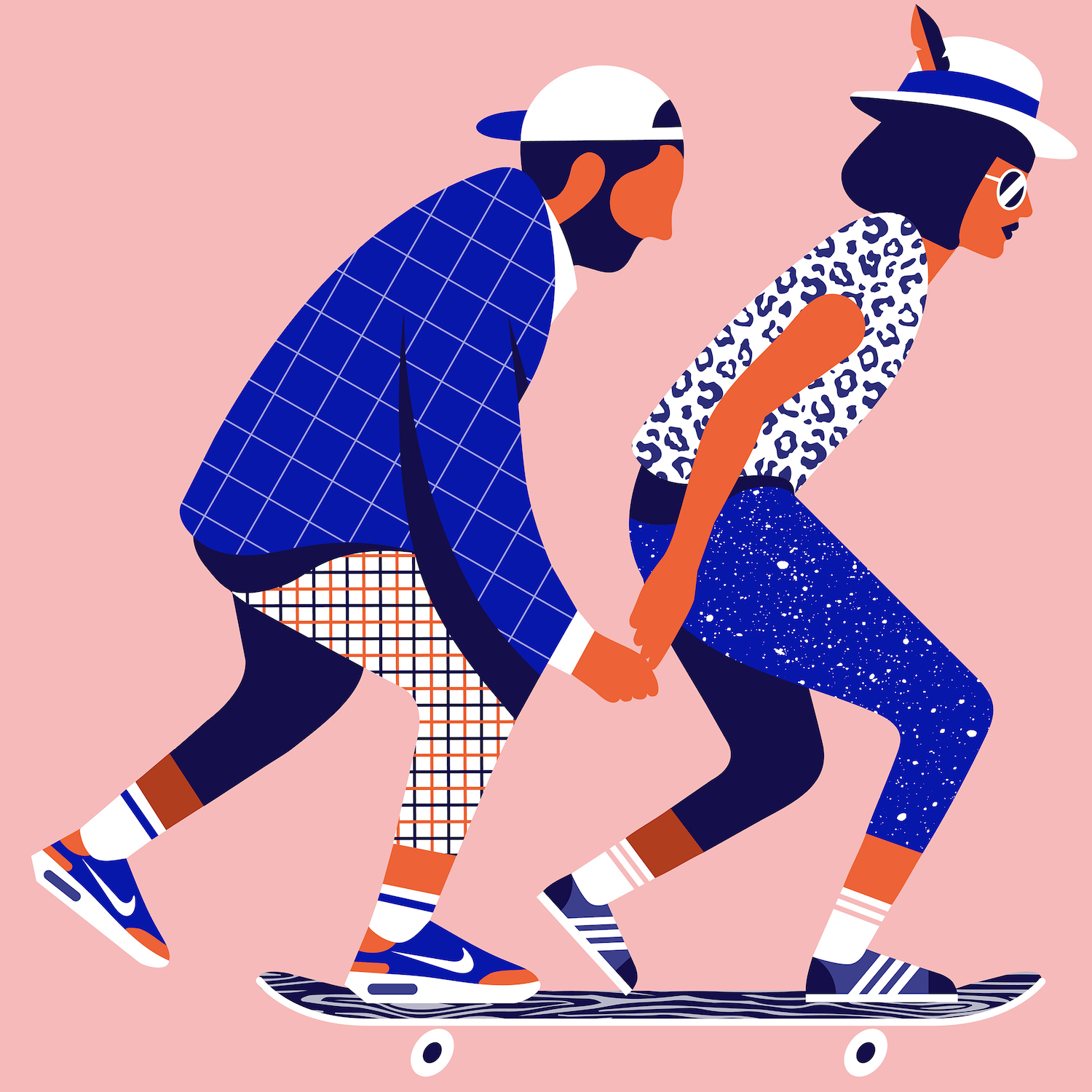 7. Where did you study?
Leeds university -see question 1 for a turbulent start.
8. Where do you see yourself in five years?
I would love to work on exciting creative briefs and Ideally push for more illustration commissions. To balance this while enjoying my time with family and friends is all I can ask for.
9. What about in ten?
Hopefully I'll still have my hair.
10. What do you hope to achieve with your art?
I aim to feel good when I am illustrating. If it makes me feel a creative tingle or makes me feel like dancing then I know I have finished my illustration. If anyone else finds them uplifting then that's cool too.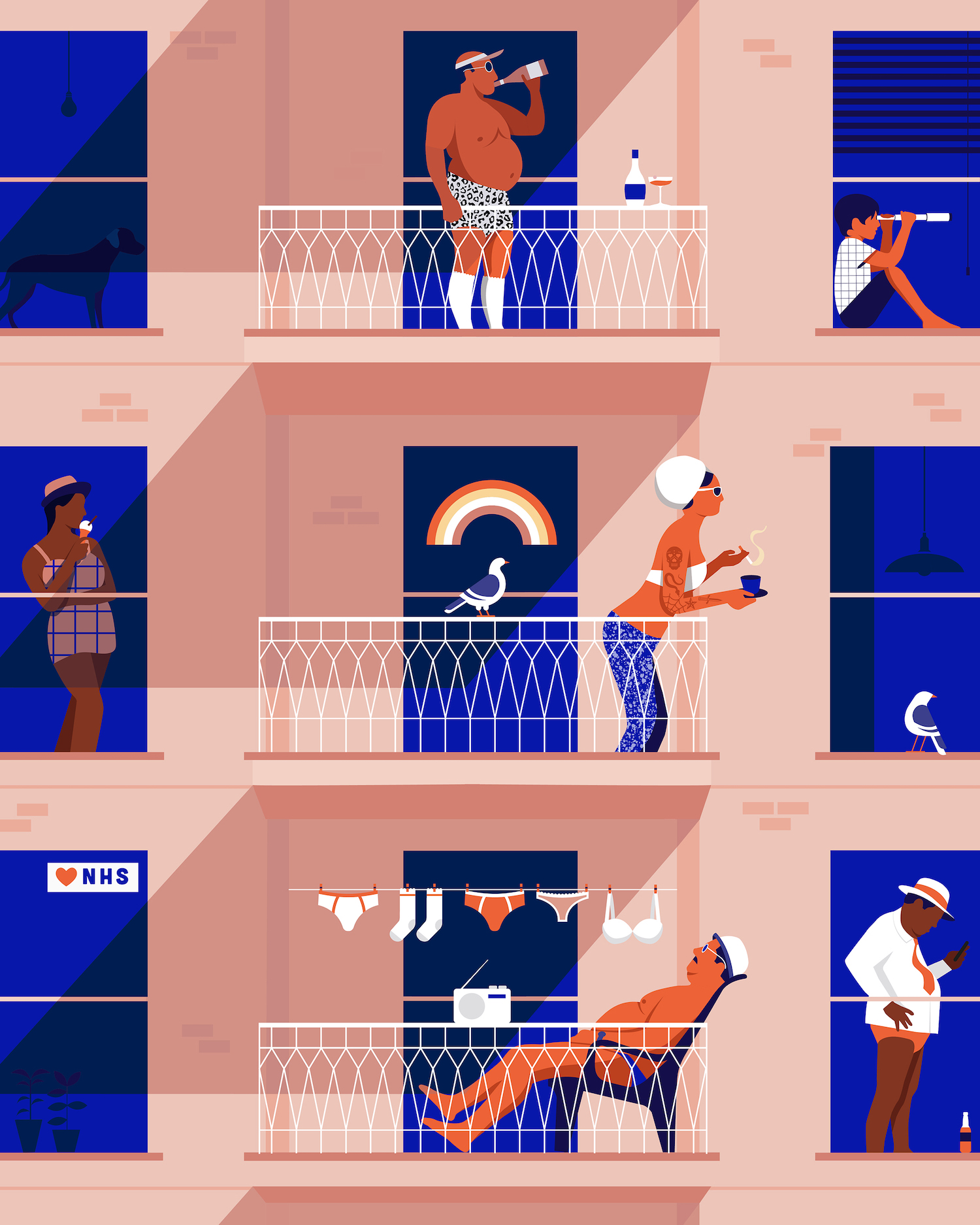 11. Now, tell us a little more about you as a person: what is your favourite food?
Just ate noodles half an hour ago from our local Taiwanese takeaway and it was mighty good -let's say that. Dan-Dan Mian and Scallion pancake rolls. Major yummy.
12. Favourite book?
Last book I read was Louis Theroux Gotta get Theroux this (great title) -fascinated by the quirky I guess!
13. Favourite genre of music?
I wish I could say something really pretentious and obscure like Synthwave Liquid Funk but I'd be lying if I didn't say entry level indie.
14. What are your hobbies?
I live on the edge of east London and Epping forest. So I can start my Saturday tramping through the woods pretending I am Bear Grylls with my family in tow. Then in the evening I can then pop into Walthamstow to pretend to be an East End London hipster while eating a 'Yard Sale Pizza' and sipping on an unusual lager produced in car park brewery.
15. If you weren't an artist, what would you be?
High level competitive eating definitely appealing but pretty sure that would knock years off my life so I'm going to say teacher - I would like to encourage the underdog.