Instagram:
@fabien_gouby
Behance:
www.behance.net/fabiengouby
Dribbble:
www.dribbble.com/Fabien_Gouby
Vimeo:
www.vimeo.com/fabiengouby
1. What's your story? Where are you from?
I m french, from the Burgundy area. I spent 5 years in Australia and now I live in the UK. My parents saw that I was good at drawing at an early age so they pushed me to go into an art club (I hated it :)) but I thank them now. Art and drawing wasn't my priority during my youth, but when I had to choose a university, I chose graphic design as I had the most interest in that. I have been working in different ad agencies after, doing mostly graphic design, web design and animation. But art and Illustration was always something personal that I do on the side. I like the freedom of creating something I want, no brief, no deadline, just for fun. Just an expression of myself.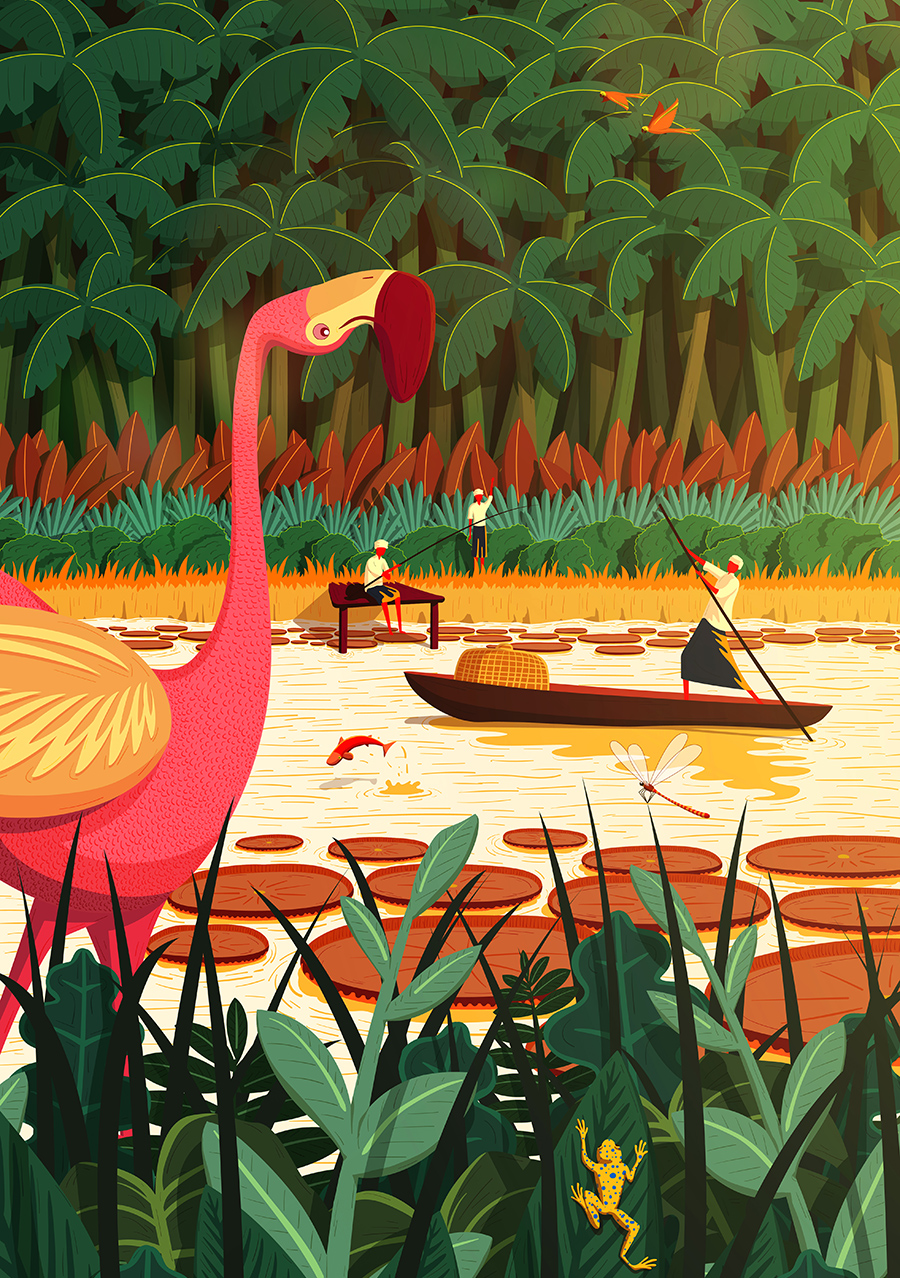 2. Tell us about your aesthetic.
I like something that is realistic and easily recognizable. Abstract never was my cup of tea.
3. What is your favourite medium and why?
Big fan of digital. I love it because you can make a lot of mistakes quickly without wasting too much time and material. You learn faster. For me, doing art is learning and trying new things every time.
4. What is your artistic process like?
I usually have a vision of a specific image or mood or situation. Then I roughly sketch it so it's real on paper. Then I refine the sketch to a more detailed one (sometime using references). After that it's tracing and colours (I usually search for references of great colour combinations).
5. Who and/or what inspires your work?
I get inspired by nature (nothing is out of place in nature). I really like extreme sports and people who put themselves in crazy situations braving nature. I try to capture that.
6. What role does art play in your life? How does it change the way you view the world?
I use art to keep my mind sharp, stay creative. My biggest fear is being passive or inactive. I think the moment you stop creating and exploring new things, it's the moment we start dying. So I guess, art keeps me healthy and sharp mentally.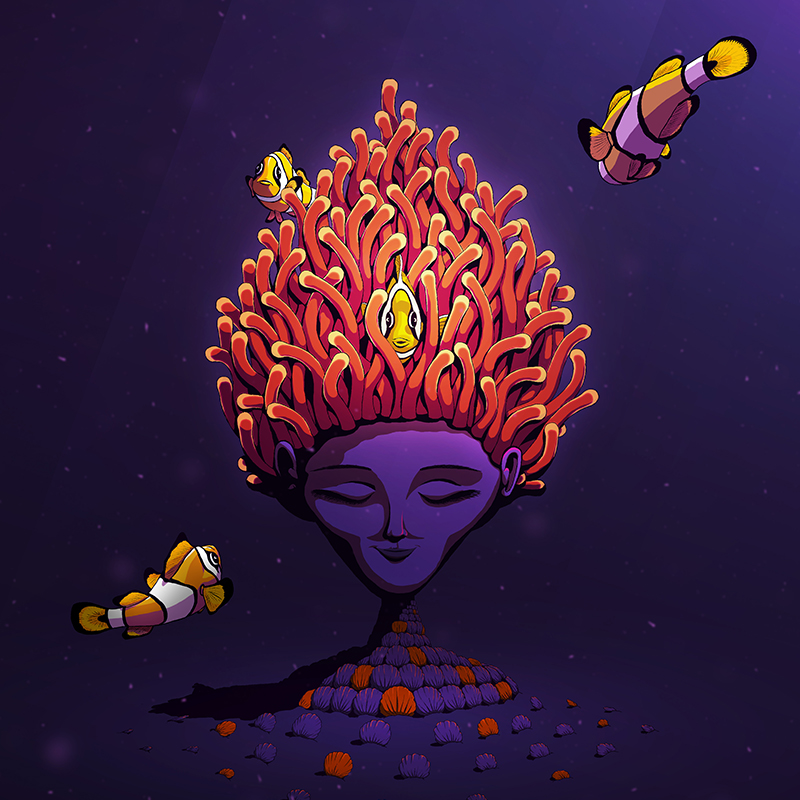 7. Where did you study?
Study in France, but I found studies to be a bit useless, Youtube was my teacher, with a lot of practice.
8. Where do you see yourself in five years? Working in an agency?
After 10 year working in agencies, I finally decided to go freelance. Love it so far. Love the fact that I am taking responsibility for everything now. A bit like doing art. You make the choices that you think are right for you and you deal with the consequences (colours, shapes, style...). I think it's a great way to live your life.
9. What about in ten?
I hope I won't be doing the same things. I hope I will discover new grounds, new things to explore. So I don't know what I would do in 10 years and I like that.
10. What do you hope to achieve with your art?
I want my art to be a true expression of myself. I don't want to copy or get trap into trends. I actually want to block every influences (almost impossible) and just create from inside. And if I can touch people along the way, it's a bonus.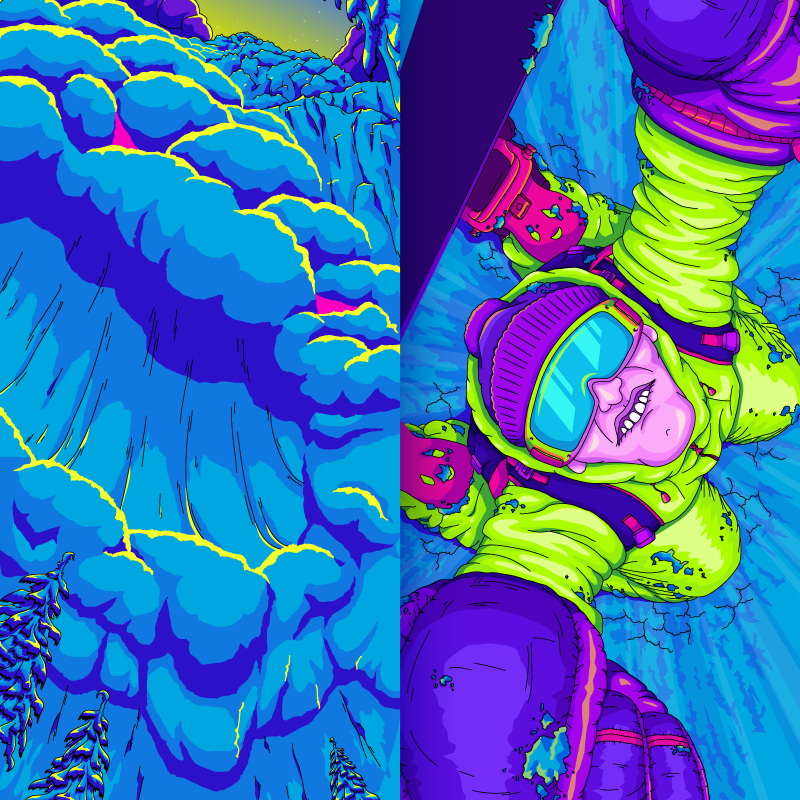 11. Now, tell us a little more about you as a person: what is your favourite food?
Any food that is made with love and food that is raw, straight from a tree or from the ground.
12. Favourite book?
'Quiet' by Susan Cain.
13. Favourite genre of music?
Not really into music. I like it sometimes.
14. What are your hobbies?
Love a bit of adventures (surfing, hiking, wild camping...)
15. If you weren't an artist, what would you be?
An Explorer.