Instagram:
@federicadelproposto
1. What's your story? Where are you from?
I was born in Rome, Italy. I grew up in a family of nurses and doctors, but I've always been interested in something else: drawing. When I was a kid, drawing was my favorite game, I even drawn my own toys, as the simplest way to have all the toys I wanted! But I struggled for many years with seeing drawing as anything other than my passion – it felt weird to think that it could also be a commercial route. Besides, I didn't want to go to art school because I was a very rebellious teenager and classic Italian art schools were too old-fashioned for the younger me. I chose to study Architecture. I've worked as an intern architect for many years, publishing my early drawings, mostly little comics, with some Italian and international publishers during my free time. I continued to work as an architect, eventually getting a scholarship in France and I finally became a professional illustrator few years ago in Paris, during 2013, when I felt it was time to just focus on my art.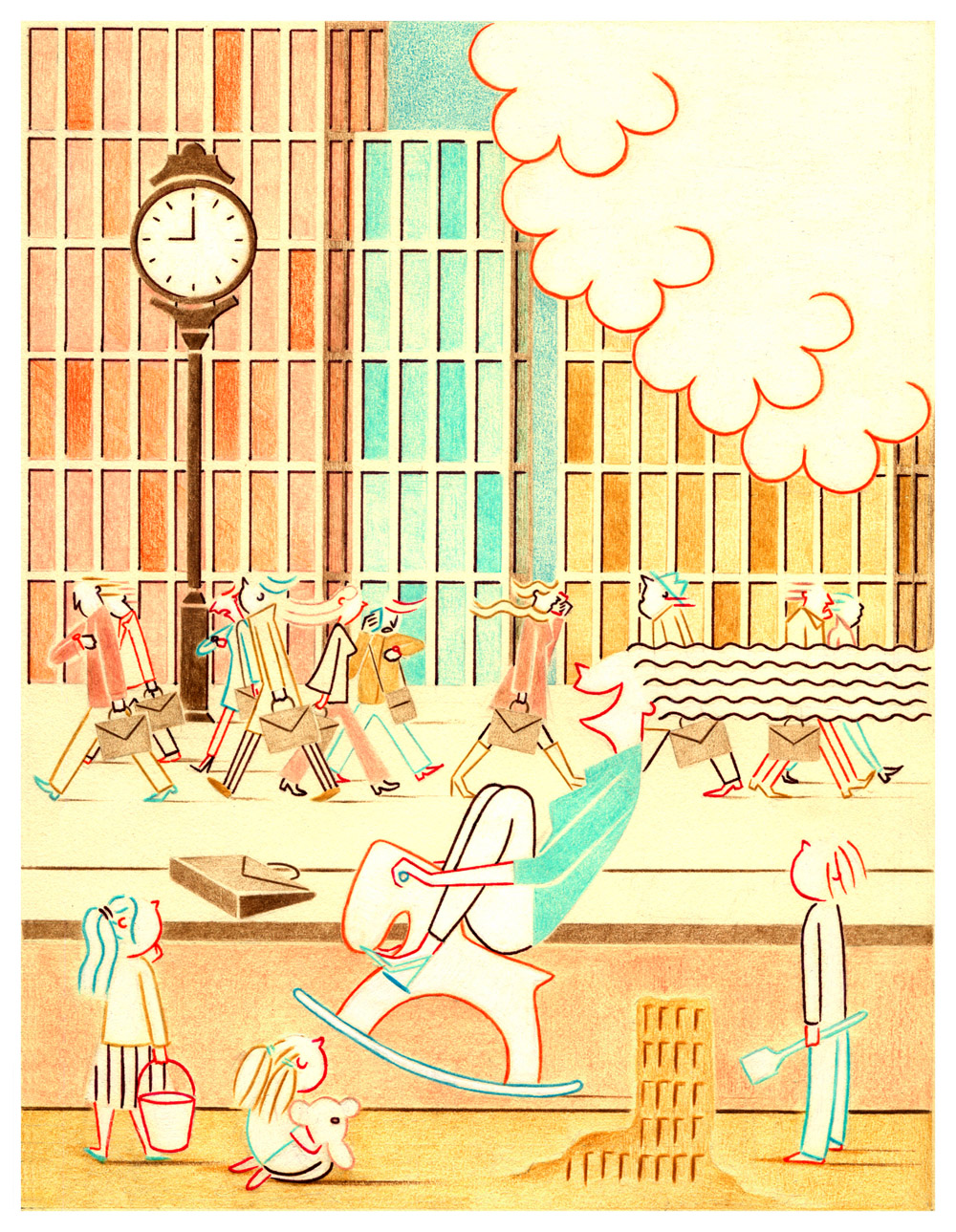 2. Tell us about your aesthetic.
My architectural background and my early experiences in the comics world gave me a particular approach to art: I am very precise, I like clean images and I draw with care and accuracy. I've slowly become softer and more instinctive, but I've always retained my love for clean lines and clean work. Moreover, my illustrations are often designed like an on-stage action: the set, the architecture and the narrative parts, are very important. I like to play with the characters's presence in their illustrated world, that eventually turn out in relationships or accidents.
3. What is your favourite medium and why?
Pencils. I love them because they demand patience. I like make things harder, otherwise I get bored
4. What is your artistic process like?
Sketching is the first step. I re-draw the approved sketch with a pencil on good drawing paper, using a light box. I draw just the lines and when the crayon drawing is over, I erase everything with a putty rubber, in this way most of the graphite is gone, but I still can see the drawing. For coloration I mostly use colored pencils and fineliners. Finally, it's scanning and postproduction. I clean the drawing and I balance brightness for the file version of my original artwork. Sometimes I change the file a bit, adding or erasing colors on Photoshop, when I want to play a bit more. I'll probably try digital illustration in the incoming future, but I have a lot fun with the traditional process. I still haven't felt that big need to change.
5. Who and/or what inspires your work?
I enjoy watching everyday life and how different characters, people plants or objects, are living the same reality/scene, sometimes crossing their own different paths. I love stories. My main areas of interest consist of urban stories, mangas, architecture, design, fashion, pop culture and a bit of classic literature.
6. What role does art play in your life? How does it change the way you view the world?
I mostly live in a world of my own. I like to stay home, drawing and see human life from a window. I'm very thankful that this solitary attitude of mine didn't stop me to have a lot of friends, a beloved family and boyfriend, and to be able to get out of my own head, occasionally.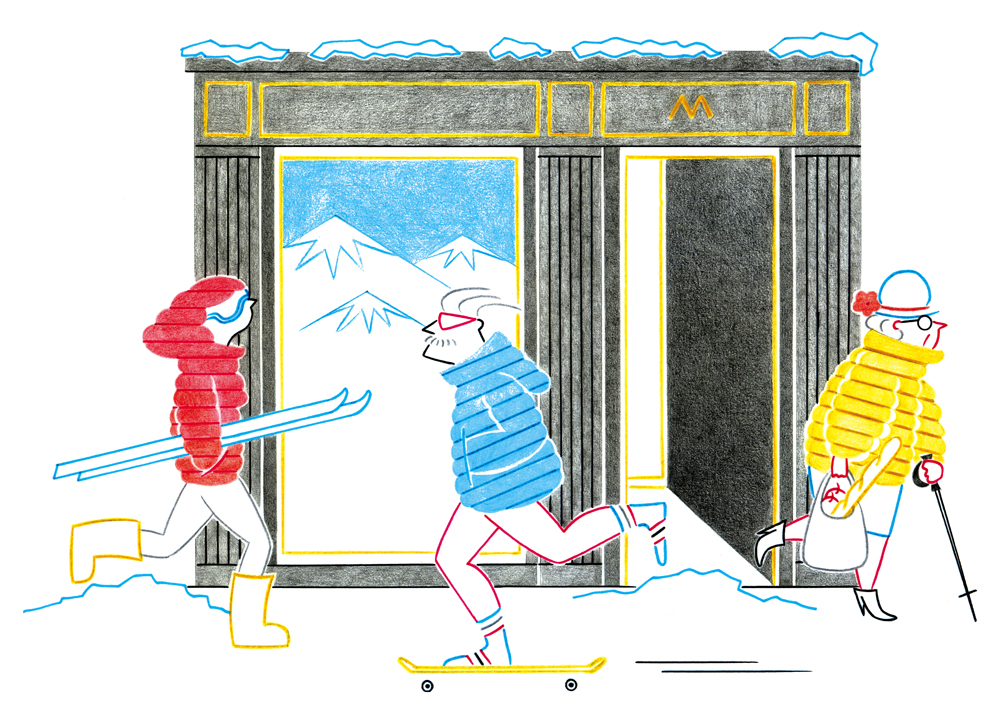 7. Where did you study?
In Illustration I'm totally an autodidact. I've studied Architecture in the University of Rome 3, graduate with a score of 110/110 and highest honors with a dissertation on "Reusing abandoned military Fortifications" (I like remember that!)
8. Where do you see yourself in five years? Working in an agency?
I love the Illustration world, so I'd like to stay here for a bit. But I'm not afraid of change, I've already changed my life a lot and already worked in teams, too. Working in an agency? Maybe, why not.
9. What about in ten?
That's too far into the future! Impossible to me to imagine. We live in times where one only year feel like 5 years. I'm able to answer just the previous question!
10. What do you hope to achieve with your art?
Constant curiosity and improvement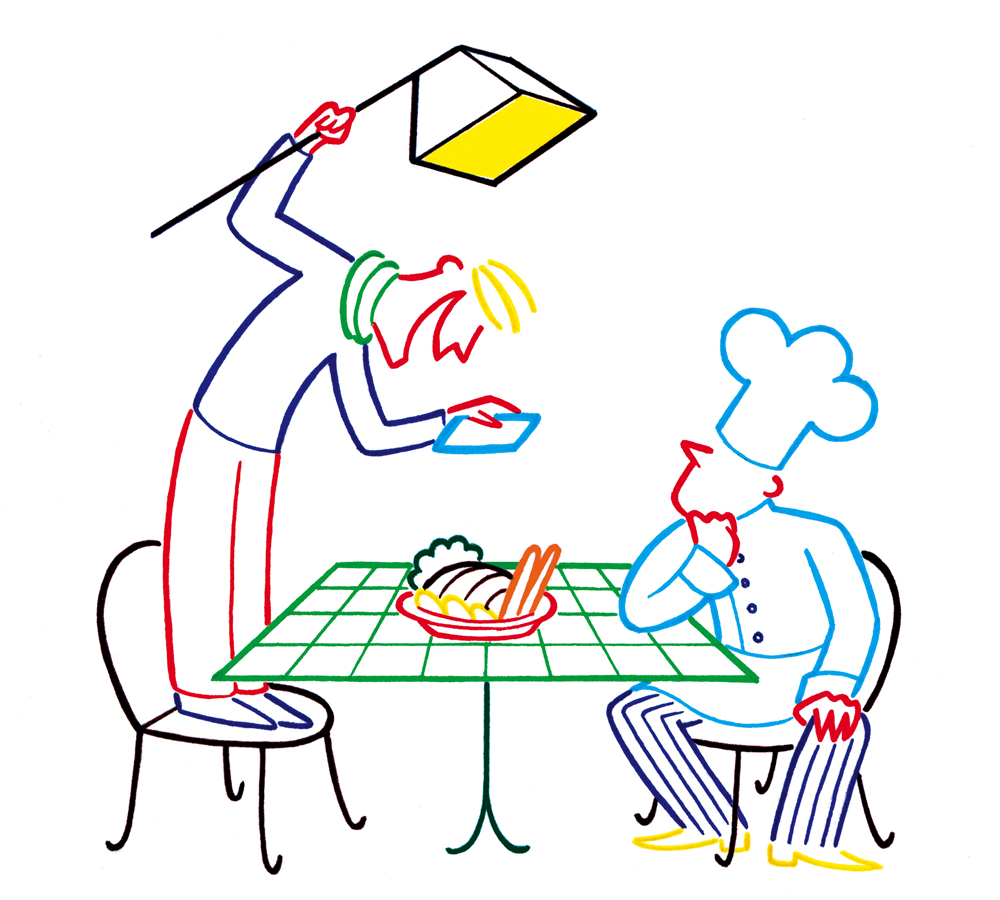 11. Now, tell us a little more about you as a person: what is your favourite food?
Spaghetti alla Gricia. It's like an Amatriciana pasta, without tomato sauce.
12. Favourite book?
A Room of One's Own, Virginia Woolf.
13. Favourite genre of music?
Alternative Rock, Lo-Fi and New Wave
14. What are your hobbies?
Currently I'm into martial arts… but I don't know how long it will last!
15. If you weren't an artist, what would you be?
A pianist