Instagram:
@fer_i_desfer
1. What's your story? Where are you from?
My name is Fernando, Fer i desfer, it's a play on words between my name and a Valencian expression that means to do and to undo. I'm from Spain. I was born in Valencia but my parents are from the south of Spain, so I spent most of my childhood summers between Granada and Sevilla in my parents villages with my grandparents in a more rural environment. I mention it because somehow this influences my illustrations. I still live in Valencia. I do artwork and graphic design as a freelancer. Me llamo Fernando, Fer i desfer, es un juego de palabras entre mi nombre y una expresión valenciana que significa hacer y deshacer. Soy de España. Nací en Valencia pero mis padres son del sur, así que pasé gran parte de los veranos de mi infancia entre Granada y Sevilla, en los pueblos de mis padres con mis abuelos, en un ambiente más rural. Hablo de ello porque de alguna forma esto influye en mis ilustraciones. Sigo viviendo en Valencia. Hago trabajos de ilustración y diseño gráfico como freelance.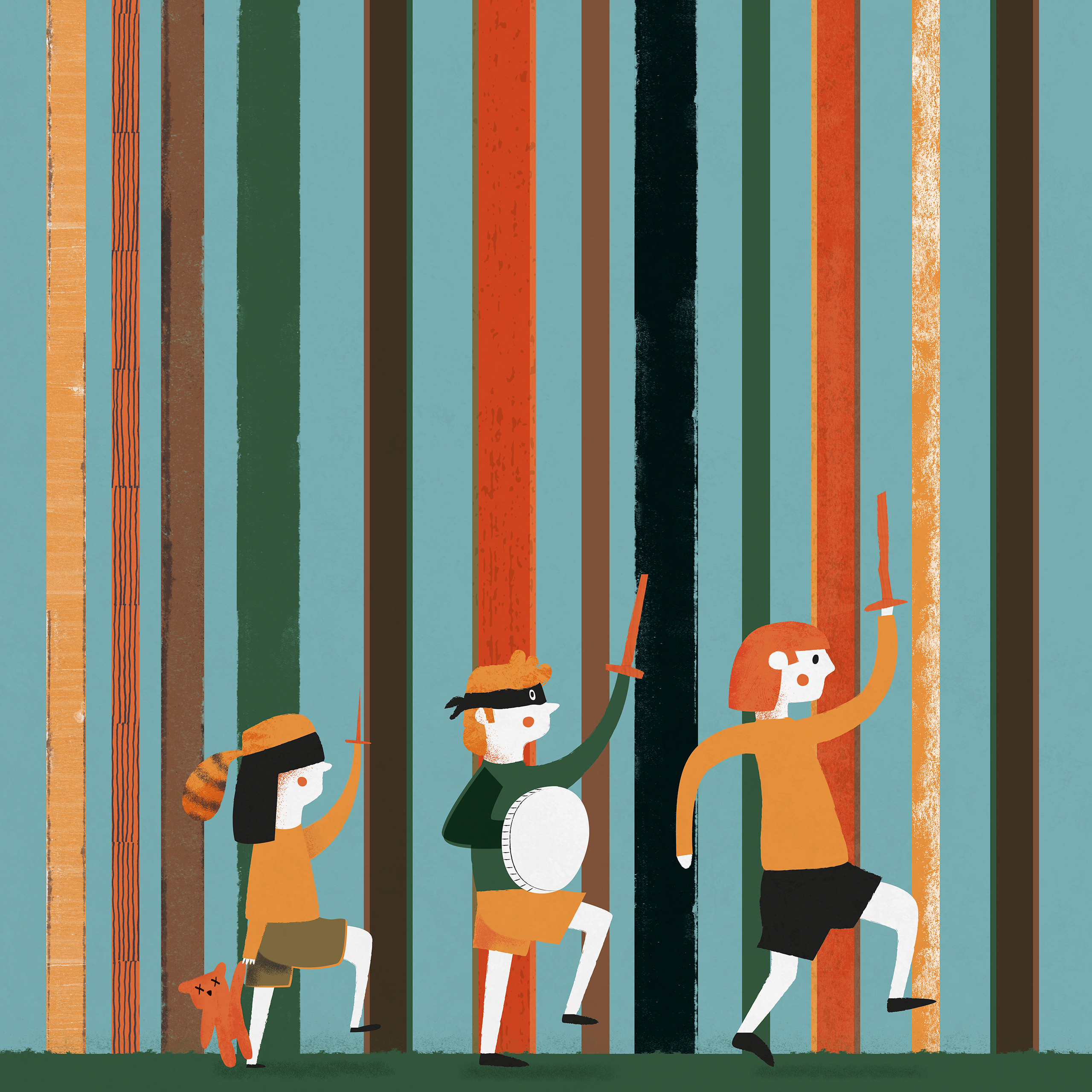 2. Tell us about your aesthetic.
In general, childish or naive, with a humorous touch… and colourful. Well, I actually use few colors, usually just palettes of 3 or 4, but they are normally bright colors, I like the strength of bright colors. En general infantil o naive, con un toque de humor y colorida. En realidad, suelo utilizar pocos colores, paletas de 3 o 4 colores, pero suelen ser colores brillantes, me gusta la fuerza de los colores brillantes.
3. What is your favourite medium and why?
Currently digital, I use Illustrator to draw and Photoshop for textures and details. I feel comfortable working in this way, I am amused to see how the initial sketch takes shape and experiment with different colours, textures, brushes ... When I work with other techniques normally it is more difficult to find the final result that I am looking for. Actualmente digital, uso Illustrator para dibujar y Photoshop para texturas y detalles. Me siento cómodo trabajando de esta manera, me divierte ver como el boceto inicial va tomando forma e ir probando diferentes colores, texturas, pinceles… Cuando trabajo con otras técnicas normalmente me resulta más complicado encontrar el resultado final que busco.
4. What is your artistic process like?
It depends on what the illustration is for, but generally, I search for information on the subject: photographs, texts, etc. Then I always make sketches on paper, when I'm happy with the drawing, I scan it or photograph it and I start working on Illustrator and later I focus on the details and textures in Photoshop. Depende de para que sea la ilustración, pero en general suelo buscar información sobre el tema: fotografías, textos… Después siempre hago bocetos en papel, cuando estoy contento con el dibujo, lo escaneo o fotografío y empiezo a trabajar en Illustrator y finalmente los detalles y texturas en Photoshop.
5. Who and/or what inspires your work?
Memories of my childhood, illustrated classics I read when I was a kid such as "The Little Prince" or "Where the wild things are", comics, 80's cartoons, Studio Ghibli films, music, traveling, illustrated books that I buy when I travel... I guess a strange mixture of everything. Recuerdos de mi infancia, clásicos ilustrados que leía de pequeño como El Principito o Donde viven los monstruos, cómics, dibujos animados de los 80, las películas del Studio Ghibli, la música, viajar, libros ilustrados que compro cuando viajo (siempre antes de viajar a algún sitio investigo sobre editoriales locales de libros ilustrados y una vez allí intento comprar algunos libros)… Supongo que una extraña mezcla de todo.
6. What role does art play in your life? How does it change the way you view the world?
Drawing connects me with my childhood, when there were no big worries, it relaxes me, puts me in a good mood, somehow it makes me happy. Dibujar me conecta con mi infancia, cuando no había grandes preocupaciones, me relaja, me pone de buen humor, de alguna forma, me hace feliz.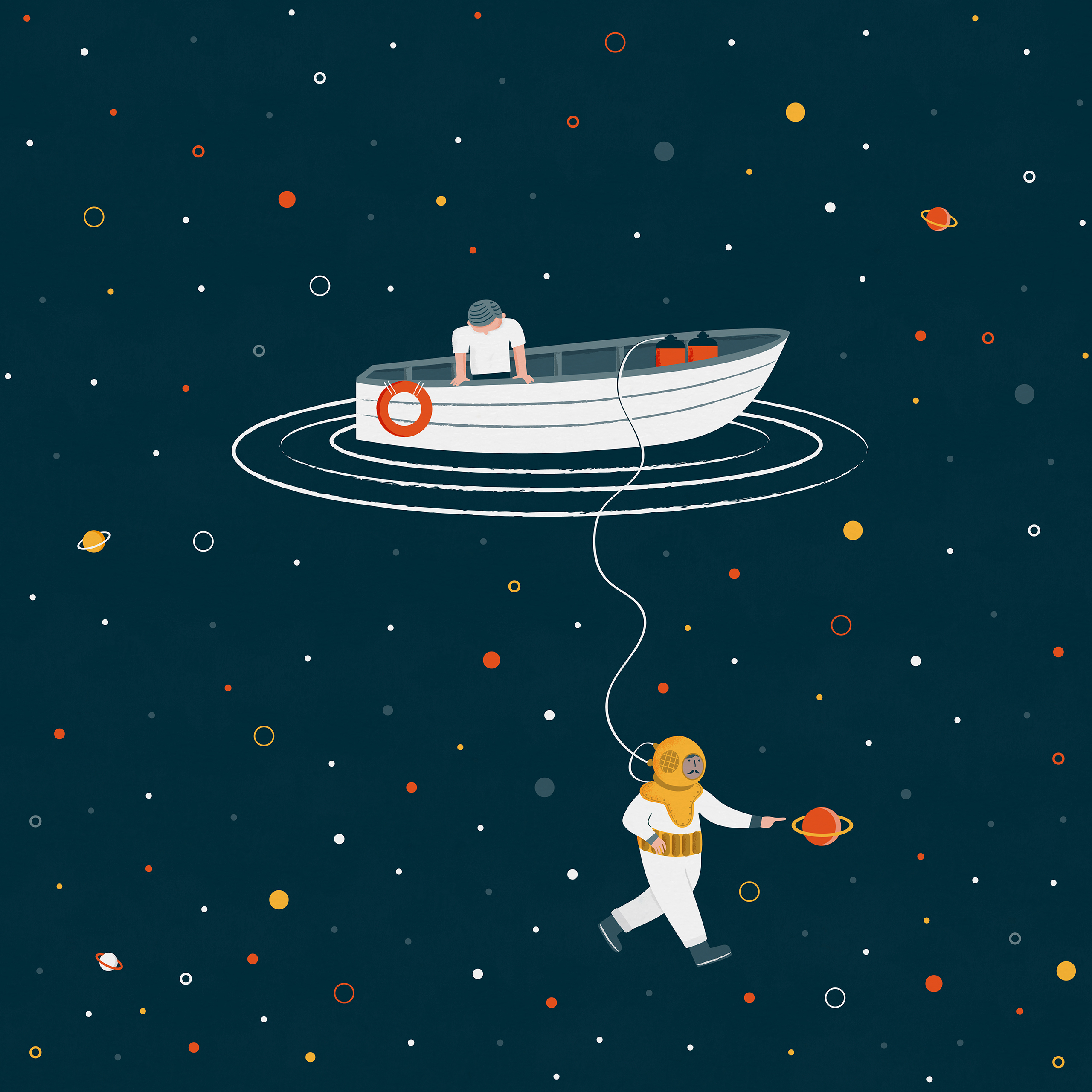 7. Where did you study?
I studied audiovisual communication at the University of Valencia. Later I began to study graphic design in the EASD (Escola d'Art i Superior de Disseny de Valencia), but I had give up because it was incompatible with my job at that time. I continue to take some design and illustration courses. Estudié comunicación audiovisual en la Universitat de Valencia. Después empecé a estudiar diseño gráfico en la EASD de Valencia, pero tuve que dejarlo por ser incompatible con mi trabajo de entonces. He seguido haciendo algunos cursos de diseño e ilustración.
8. Where do you see yourself in five years?
I don't usually think that far ahead, it makes me feel dizzy! But in any time that I do try to imagine the future, for sure, illustration is a big part of my life. No suelo pensar tan a largo plazo, me da vértigo. Pero en cualquier futuro que imagino la ilustración está presente en mi vida.
9. What about in ten?
I'm feeling dizzy right now. Me está dando vértigo.
10. What do you hope to achieve with your art?
That it puts some colour in people's lives or, at least in mine. Poner un poco de color en la vida de la gente o, al menos en la mía.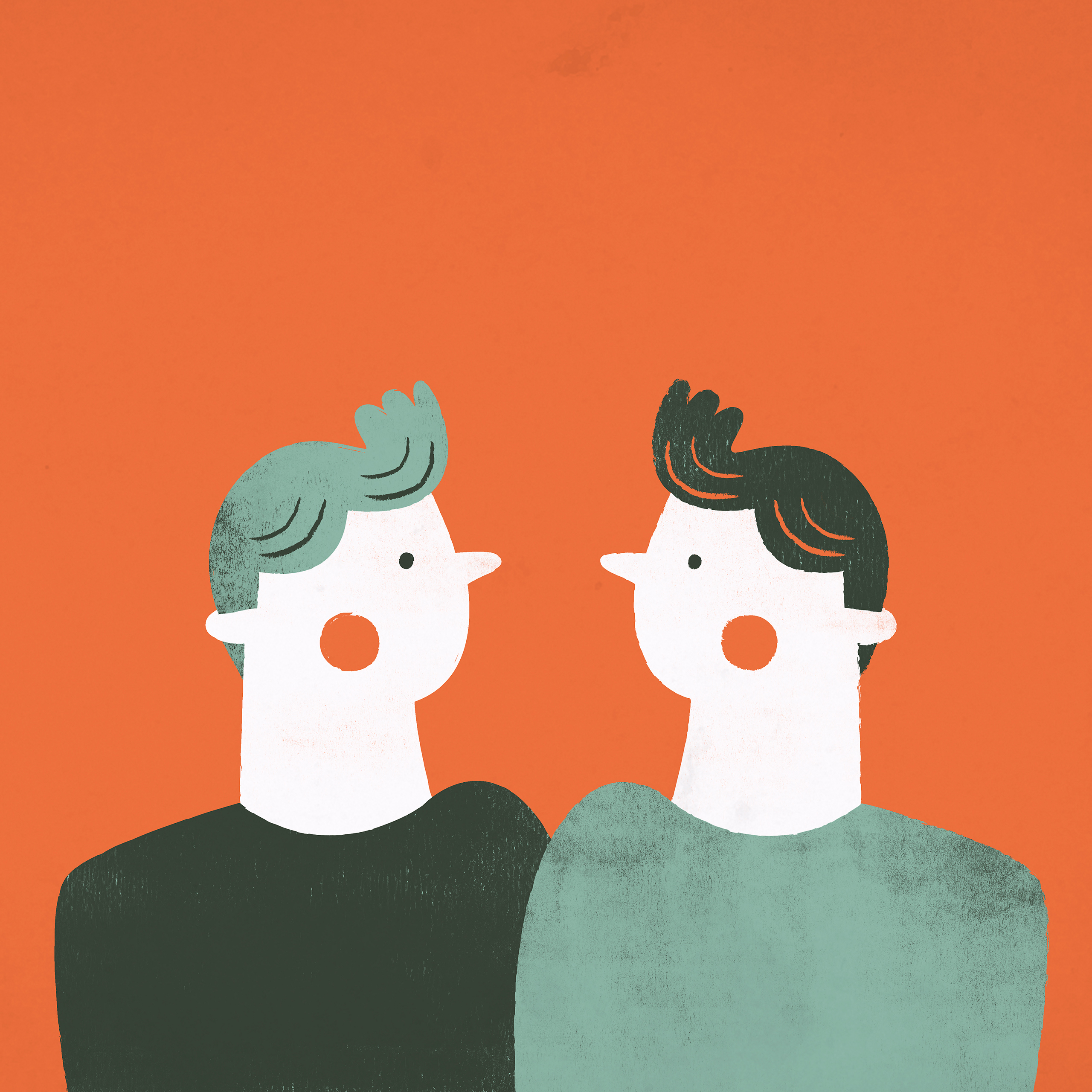 11. Now, tell us a little more about you as a person: what is your favourite food?
Asian food. I love Japanese, Thai, Nepalese ... the spicier the better! La comida asiática. Me encanta la cocina japonesa, tailandesa, nepalí... cuanto más picante mejor.
12. Favourite book?
100 years of solitude by Gabriel García Marquez, seems perfect to me. 100 años de soledad de Gabriel García Marquez, me parece perfecto.
13. Favourite genre of music?
Music is really important in life, I listen to music all the time. It's hard to choose a single genre, I guess it depends on my current mood, but if I have to choose I'd say indie music... La música es realmente importante en vida, escucho música a todas horas. Es difícil elegir un solo género, supongo que depende de mi estado de ánimo en cada momento, pero si tengo que elegir diría que música indie…
14. What are your hobbies?
Drawing is still a hobby for me, listening to music, traveling, hanging out with friends and having some beers, movies, whatching TV shows... Dibujar sigue siendo un hobby para mí, escuchar música, viajar, quedar con mis amigos para tomar unas cañas, el cine, ver series…
15. If you weren't an artist, what would you be?
Sometimes I fantasize about being a travel journalist, I love the idea of discovering new places and cultures and getting paid for it, this sounds like a great job to me. A veces fantaseo con ser periodista de viajes, me encanta la idea de descubrir nuevos sitios y culturas y que te paguen por ello, me parece un gran trabajo.