Instagram:
@fernandaperalta_ilustracao
Website: www.fernandaperalta.com
1. What's your story? Where are you from?
I was born in São Paulo, in the southeast region of Brazil. I've been drawing since I can remember, and was always fascinated by illustrated books, animated movies, cartoons, magazines' and newspapers' illustrations. I was also fortunate enough to have a family that encouraged that in me. Art and Art History classes were among my favorites in school, and when the time came for me to choose a career to follow, I ended up graduating in Architecture & Urbanism. However, illustration has never left my life, and it helps me express things I don't find any other way of doing.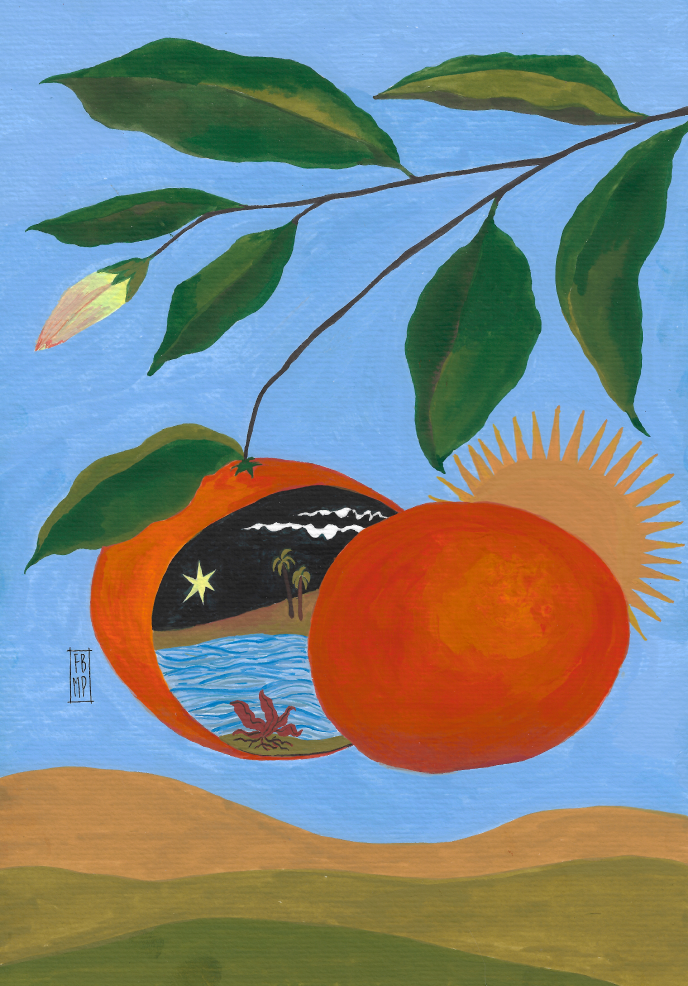 2. Tell us about your aesthetic.
I guess I never thought of my own aesthetic in terms of defining it. But I draw the world as my imagination sees it, and you will find that my human figures (mostly women) are very fluid, almost always in motion. My landscapes are open and wide, full of green hills, fruits, plants, trees, oceans and rivers. I love painting elements of nature, but I also bring in some human-made elements (my favorites are windows, vases, houses and chairs). I like imagining the people that left those objects there, and what this could mean. Windows and doors are always indicative of possibilities and new paths to me.
3. What is your favourite medium and why?
I love using gouache on paper as a medium to express my ideas. It allows me just the right balance of depth and dimension, that I think are right for my works. I love mixing the colors to get to that specific hue I look for, and that process of mixing, diluting, testing on paper, making a mistake, having to work around it, and just experimenting is an integral part of my work, and part of why I love using non-digital media. When I paint, I like having to deal with my mistakes as they happen. You have to accept them and understand they are part of your process now, as it happens in life.
4. What is your artistic process like?
I usually try to come up with a theme or a story, to make a small series of paintings. It can be something that's been on my mind for a long time, or an idea that I had while reading a book. I sometimes even dream with a concept for an illustration! After I have a theme or initial idea, I try to make small studies, very rough sketches and then proceed to draw on my final paper, already thinking of the colors I am going to use, checking the composition, etc. Last part of the process is the final painting that comes to life after I gather brushes, paints, water and sketches, and sit down at my table. I am usually listening to some music, tuning in to my work. It is very therapeutic for me, and a moment in which I am truly focused and don't even notice time passing by.
5. Who and/or what inspires your work?
Lately, I've been drawing inspiration from the books I read, the films I watch and the music I hear. I look for that unsettling feeling we sometimes get when we read/hear something that speaks to us, but in a manner we can't quite explain yet. I also like to take inspiration from the things I see everyday around me. I notice people's faces and hair features, their clothes, how they walk. I look at the buildings and the architecture, the colors of the walls, the plants, the objects, everything. Sometimes that helps me build an idea for something, and even if I still don't know exactly what that is just yet, I know that the seed of something is there.
6. What role does art play in your life? How does it change the way you view the world?
Painting allows me to express things I have no other way of expressing. The same way only a movie can express things the way the medium allows it to, art, to me, is the way I let out things I have inside of me that wouldn't come out otherwise.I think art in general helps us cope with the world around us, and perhaps understand things from our own particular universe. A piece of art is never the same thing to two people, and I think that's part of its magic.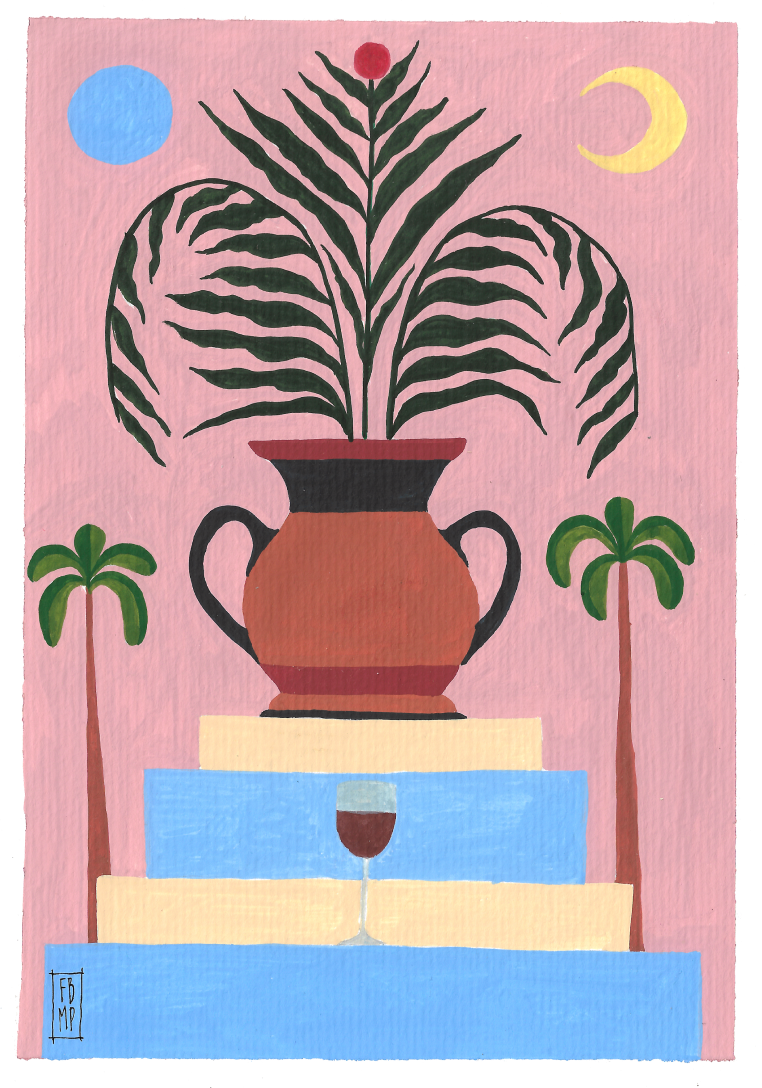 7. Where did you study?
I graduated in Architecture & Urbanism, a six-year course in the University of São Paulo, in Brazil. I took some drawing and painting lessons along the way too.
8. Where do you see yourself in five years?
I would love to still be painting and making art. Illustration is not the only thing I do: I am also a Product Designer and even though I also love what I do for a living, I would like to know that in 5 years I still can conciliate both of my activities. As I said, art is an important part of my life and a way with which I express myself.
9. What about in ten?
In ten years, I would perhaps like to be recognized for my art. I want to keep perfecting my style and my techniques, travel more, spend more time with my friends (since this happened so rarely during the pandemic) and just keep growing as an artist.
10. What do you hope to achieve with your art?
Art can be different things to different people, and mean so many things. Art can even change its meaning throughout the course of one's life. I hope to instigate people to see things in a different way with my art. I try to invite people to look at the world around them and think about everyday objects and landscapes in a more fantastical and imaginative way: what if there was something else behind that window? What if inside a simple fruit there was another reality? I would love to know that people project themselves in my landscapes and allow themselves to be in those fantastical places, even if for just a moment.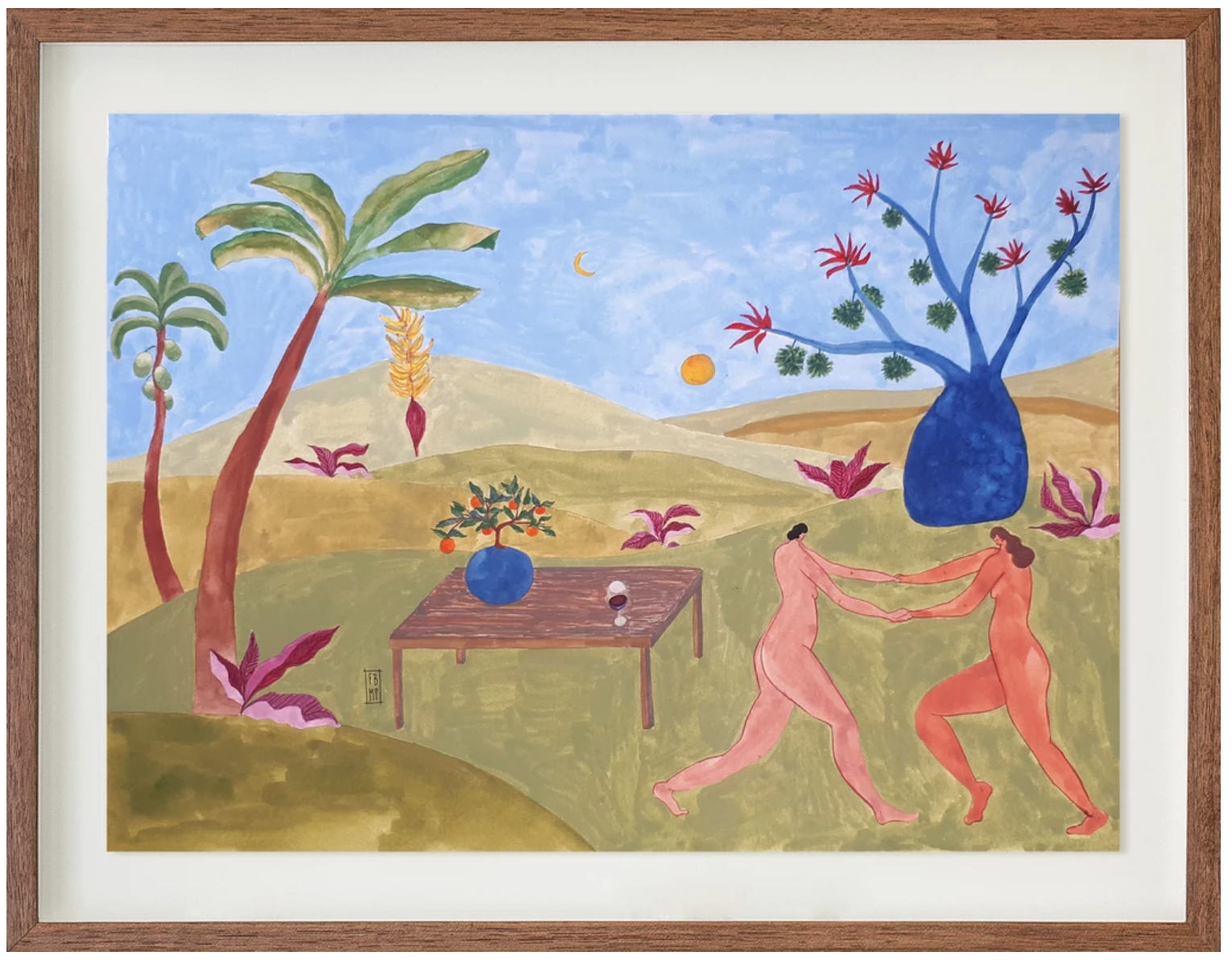 11. Now, tell us a little more about you as a person: what is your favourite food?
Wow, I can think of many foods that are favourites of mine, but lately I've been enjoying a spinach green pasta with cheese dish that my family cooks, and a typical Brazilian dish called Baião de Dois, made with rice, green beans and lots of coriander. It's amazing and very tasty!
12. Favourite book?

 It has to be One Hundred Years of Solitude, from Colombian writer Gabriel García Márquez. Magic realism is my favorite genre of books, and also a source of inspiration for my work. And this one is just one of the most beautiful stories there is. I read it at least once a year I think!
13. Favourite genre of music?
This one is a little harder, I think I tend to listen to a wide range of music genres. Lately, I've been listening to lots of female voices from Latin America, from the 1960s and the 1970s: names like Mercedes Sosa, Violeta Parra and Chavela Vargas. I also listen to a lot of Brazilian music, of course (Luedji Luna is always playing). If I could name one English-speaking artist that I have been listening to lately, it would be Jacob Collier.
14. What are your hobbies?
I love playing video games, spending time with friends and family and loved ones. Me and some friends have a litte movie discussion club going on for over a year now: we all watch the same movie and discuss it at the end of the week, and I love it. I have two cats, Manteiga and Torrada (which translate to Butter and Toast), and I love spending time with them. Cooking can be a hobby, sometimes, when I have the time. And I love listening to podcasts!
15. If you weren't an artist, what would you be?
I guess I would need some type of art in my life, no discussion: if I weren't an illustrator, I guess I would love to study to be a singer or a
musicist of some kind.