Instagram:
@firesidethreads
1. What's your story? Where are you from?
I am originally from Massachusetts and worked as a farmer there throughout my college years. After a year post-graduation on the farm, I decided I needed to leave the east coast. Not sure where I was going, I drove first south, then west, WWOOFing my way across the country as well as visiting friends and family. I made it to Colorado, where I decided to stay. The Rocky Mountains and the culture felt like home. It is the mountains that inspire me, as is clear in my work as an artist. I began embroidering mountain scenes after deciding to part with farming but still feeling the urge to use my hands to create and craving long stretches of silence to think or listen to music and podcasts. As a child, I used the embroidery floss to make intricate friendship bracelets with my siblings and friends. Picking it back up to embroider felt natural and lovely. I feel rich among all the deep, earthy colors; the same way I feel in the valleys of the Rocky Mountains, gazing awestruck at the beautiful monsters thrusting toward the sky.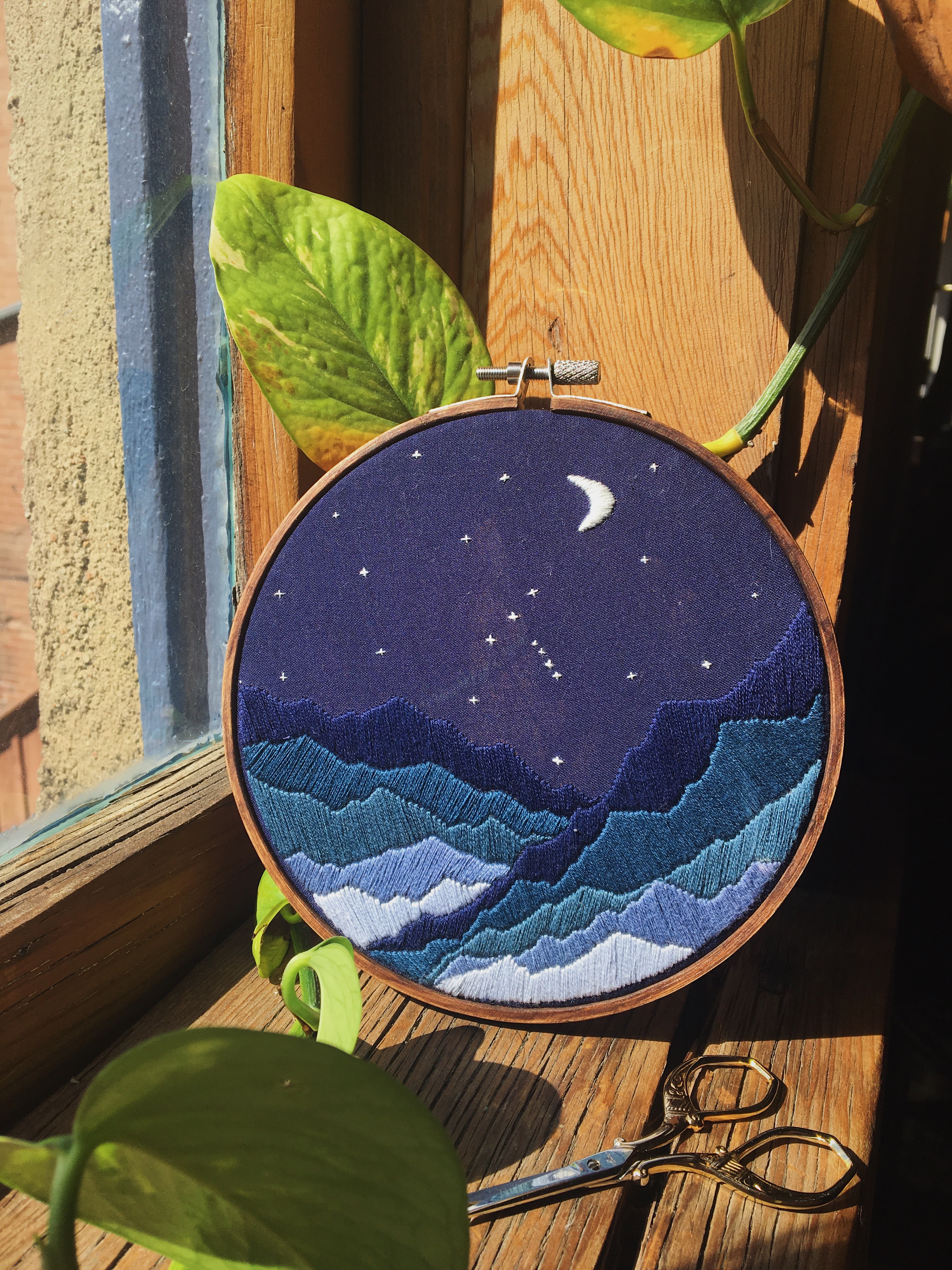 2. Tell us about your aesthetic.
My pieces are rather simple; focusing on color and shapes to create feeling while bowing to our natural world for inspiration and flare.
3. What is your favourite medium and why?
My favorite medium right now is fiber. While I have always drawn and painted, I am currently enjoying playing with materials like cotton and embroidery floss to see what textures and emotions come through depending on style, colors, size, etc.
4. What is your artistic process like?
I move very quickly between pieces. Once I finish a piece, I often pick up another hoop and start right back up. I go with whatever colors feel right at that moment and begin. I do not typically trace out my designs before, but rather let the mountains reveal themselves to me.
5. Who and/or what inspires your work?
Our beautiful mother earth. She is always there. I like to think that my pieces bring a little bit of her magic indoors to remind us of that.
6. What role does art play in your life? How does it change the way you view the world?
Art for me is a way to stillness and acceptance. It is easy to get caught up in whirlwinds of activity. Art is something to come home to; a safe place where I can be still and quiet, knowing that these times of introspection will branch out into the world with each piece I send off.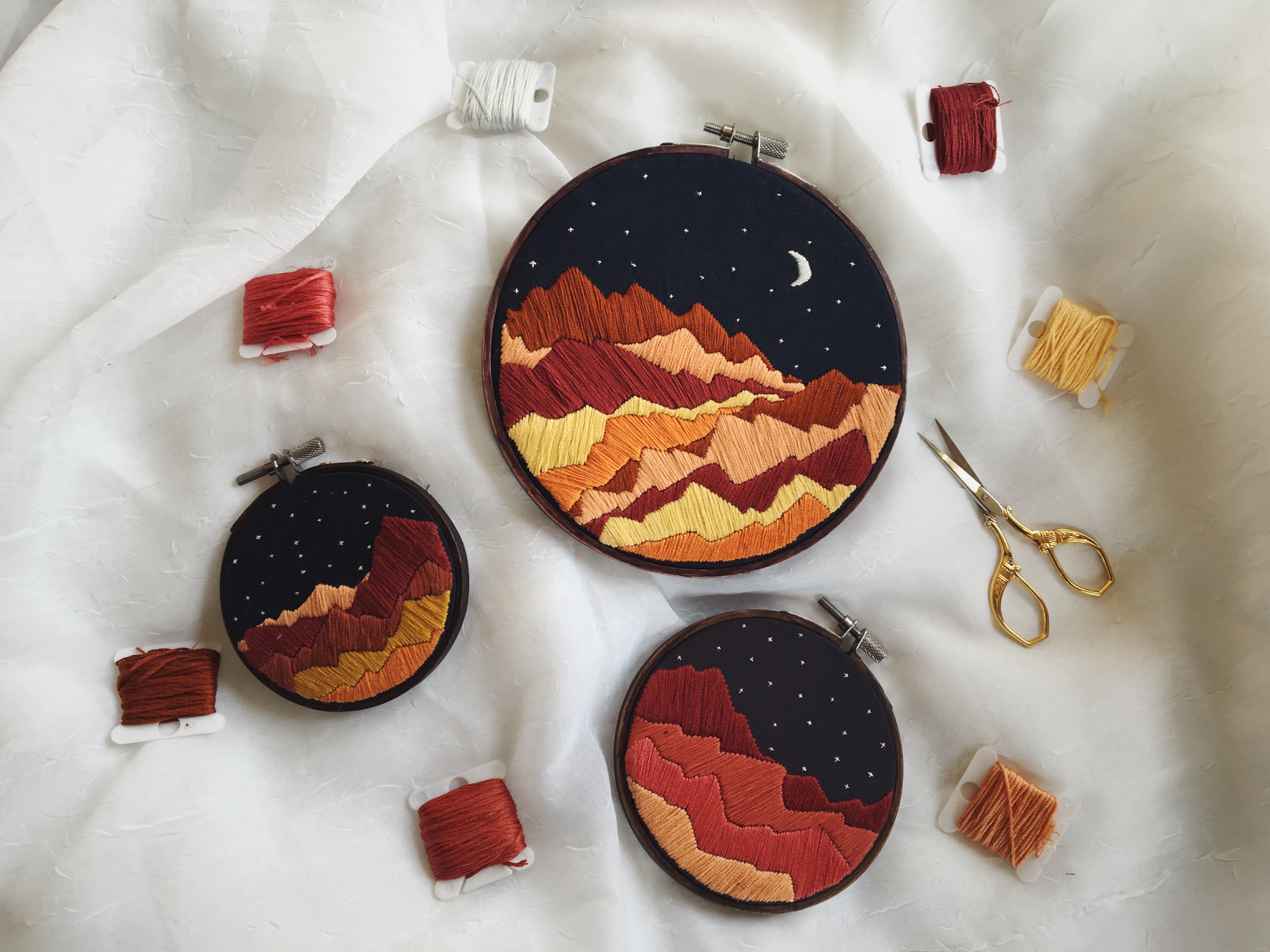 7. Where did you study?
I studied at Bard College in New York for two years before transferring to the University of Massachusetts Amherst and graduating with a degree in Political Science.
8. Where do you see yourself in five years?
I have no idea.
9. What about in ten?
See above + debt free.
10. What do you hope to achieve with your art?
I hope to bring nature and peace to peoples' homes and hearts, as well as to remind people how important art is to healing and progress as individuals and collectives.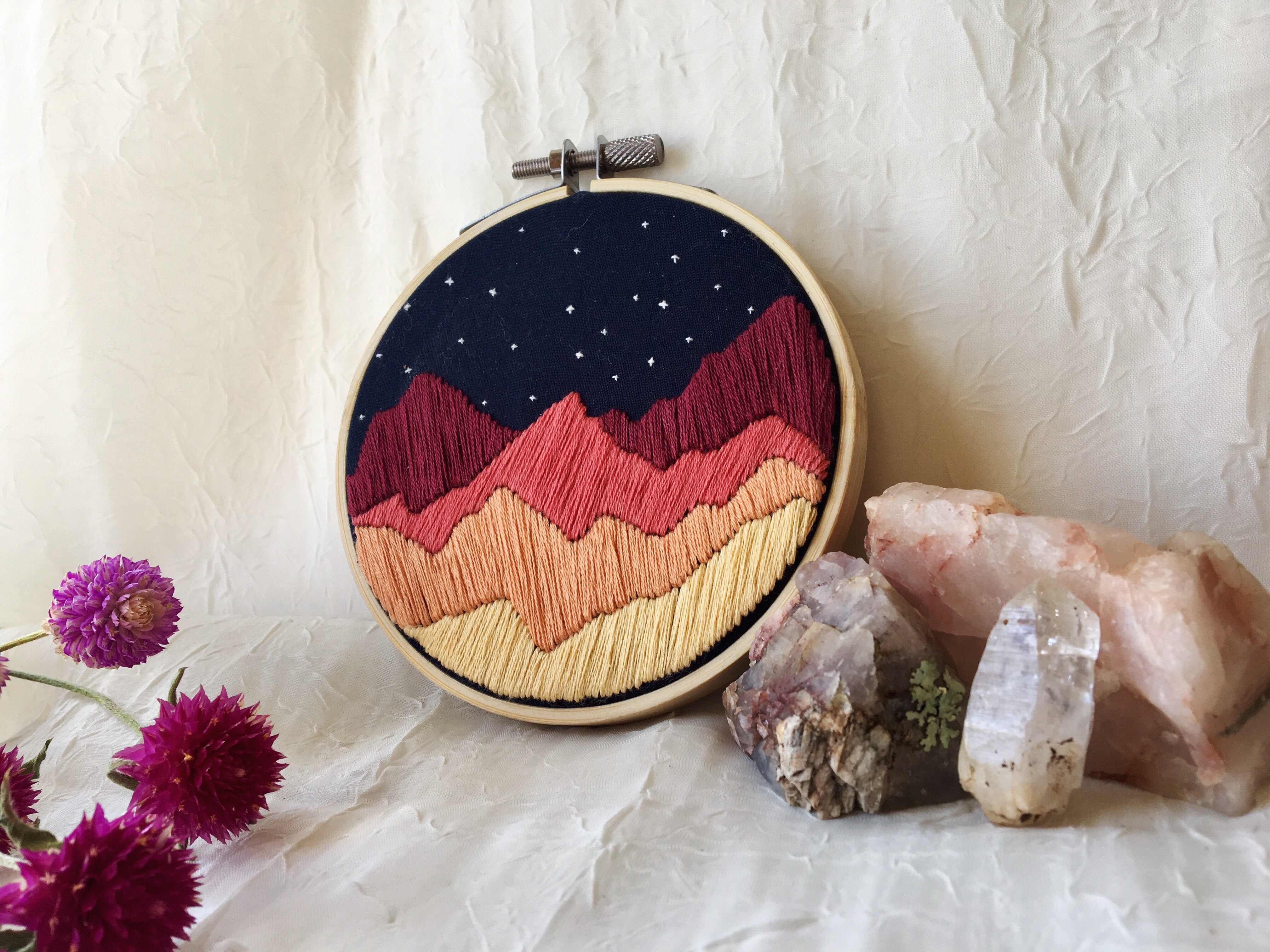 11. Now, tell us a little more about you as a person: what is your favourite food?
Tough question! I love all seasonal, local food but am a sucker for sushi.
12. Favourite book?
Ahab's Wife, by Sena Jeter Naslund.
13. Favourite genre of music?
Musicals. Just kidding. I love all types of music but I really love a good musical.
14. What are your hobbies?
Yoga, reading, hiking, herbalism, camping, dogs, window shopping, thrifting, and Instagram.
15. If you weren't an artist, what would you be?
A lawyer.