Instagram:
@florifama
Society6:
www.society6.com/florifama
Website:
www.florifama.com
1. What's your story? Where are you from?
Hola, my name is Flori Fama. I'm a freelance graphic designer and illustrator from Buenos Aires, Argentina who is in love with flowers and color palettes. I have developed a strong interest in patterns and I also have a passion for letters. As you can tell, I'm a person with lots of interests and throughout the years I've learned to embrace that as a part of my personality and make the most of it. Liking too many different things hasn't been negative in my career. Rather, it has let me explore and loosen up, helping me find what I'm better at and what I would like to improve.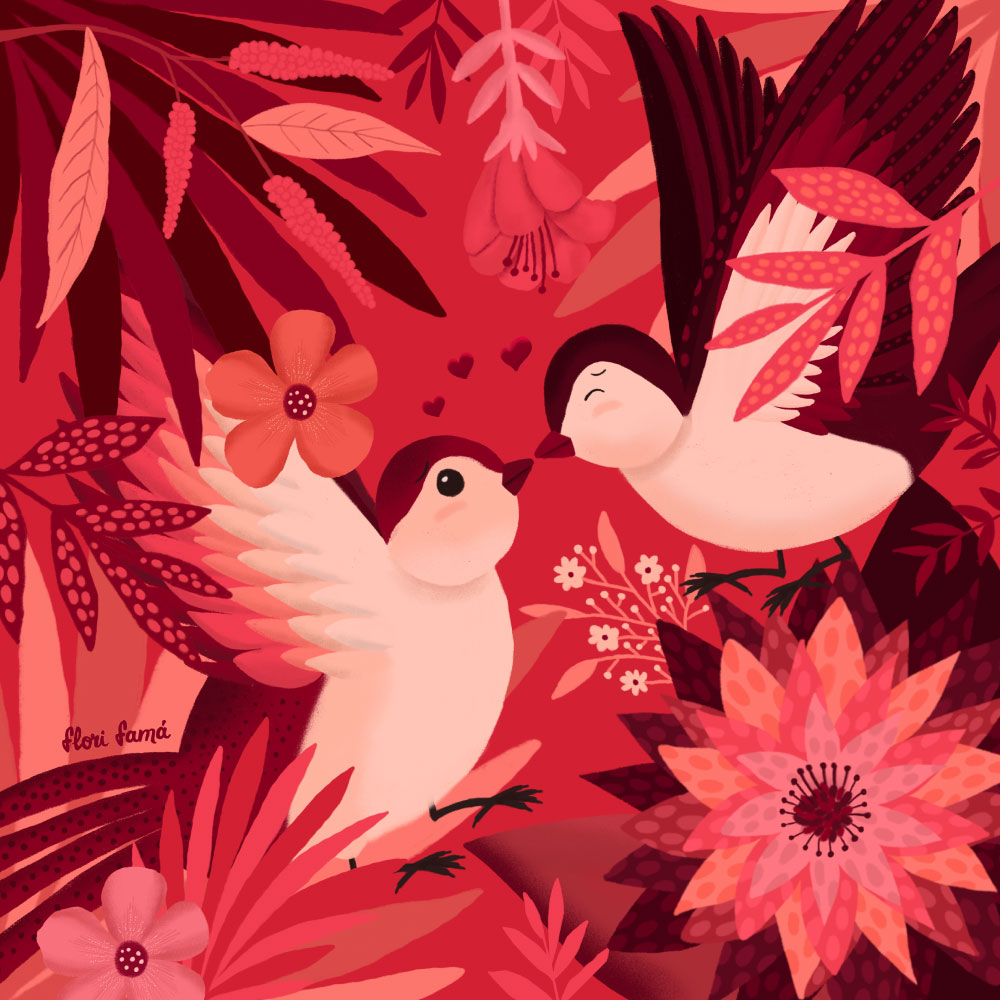 2. Tell us about your aesthetic.
My aesthetic right now is divided into two main themes, which I would label as childhood and adolescence/adulthood. Some of my artworks have a cute component and presumably could be used in products by a younger audience. Other pieces of art I've worked on recently have a cooler look and appealing color palette that could be used by adults on products such as scarves, tote bags or even dresses. I've been developing this sense of trying to think of my work on products instead of just picturing it as art that could be framed. It's more interesting for me to visualize what use my artwork could offer and it's exciting to think of my creations being part of the world, taking as many different forms as possible. It also invites a more challenging creative process where I have to design a piece for a specific use. This is where my skills as a designer come into play.
3. What is your favourite medium and why?
At the moment, I love working on my iPad Pro. It's a huge investment that I made at the beginning of this year and I couldn't be happier. Don't get me wrong, there's nothing like paper and pencil, but that could be so time-consuming. The only way I can add color and textures to my art in a satisfactory way is with my iPad. I've tried many different techniques and have come to realize that digital work is my thing. I love the fact that I get to still use a "pencil" that mimics old school style but I also get to enjoy the practicality of having a final piece, ready to be printed or to use digitally. I do understand that pixel art has its disadvantages, but there are some very important upsides to it that I could never give up just for the sake of having infinite quality as I would with vectors. There's a more sensitive side of me that needs to come out through more organic and non-exact shapes, so to speak.
4. What is your artistic process like?
I feel like I'm always reshaping my style, but I've found an aesthetic that I want to spend some more time working on that involves a few steps. First, I use either a sketchbook or loose pages (I'm the kind of person who loves buying sketchbooks but is afraid of using them because I wouldn't want to ruin them) and a pencil to get my very first ideas down on paper. These usually look extremely simplistic--I wouldn't want to show them to anyone. Depending on what my idea is about, I google both real and artistic references of the object/subject I want to create and spend some time browsing images. It helps me to remember the shapes of the thing/animal or whatever it might be and it gives me more ideas of what I would prefer it to look like. Next, after sketching up a few thumbnails, and when I find the one that makes the most sense to me in terms of weights and composition, I move on to a more final and complex sketch of the piece. Then, I take a photo of it and open it on Procreate, so I can start to work digitally on it. I first choose a color palette that is relevant to my IG feed. I don't enjoy using predetermined color palettes so I create them myself after all the inspiration I collected when I browsed images in google. Then I simply trace the basic lines in my sketch using a textured brush with a color that's easy on my eyes. Then, I mask my layers and assign colors to each shape making sure I make the piece balanced and attractive, and I work on shading as the final step.
5. Who and/or what inspires your work?
I've come to realize that I draw most of my inspiration from my personal experiences: trips around the world, interacting with different cultures, speaking two languages, watching thought-provoking movies, listening to music that moves me and talking to interesting people about deep topics. I'm a very introspective person who's fascinated with psychology (so much so that I was invited by my university to be a TA in the psychology on design class). So I tend to analyze stuff more than other people would and this allows me to see interesting aspects of very mundane experiences and things. There's a psychological process called sublimation where artists subconsciously channel their problems and convert them into art or intellectually relevant research. I like to think that my art is the voice for my inner self and that it's the best way I've found to express myself. I'm very introverted but through my art I feel free and confident being loud and catching people's eyes. As you can see I'm into creating colorful and intricate pieces. Other sources of inspiration are IG challenges, collabs and other art in general. I tend to make the mistake of comparing myself to other artists who are in more advanced stages of their career and that bums me out a bit. But with time, I know I'll become more used to focusing on my work and what I can do to improve my own path and what I feel most passionate about.
6. What role does art play in your life? How does it change the way you view the world?
Looking back at my pieces of art, I see that I can find the beauty in very ordinary things. I can create interesting stories with animals, for example. They are my favorite thing to draw and have been since I was a kid. I'm not very good at drawing people but I'm very eager to practice and get better at it. I've also noticed that mood has a huge impact on the color palette I decide to create. Art has helped me see the world from a more positive point of view; it has helped me understand that building a strong foundation is important and even though it'll be hard, it's worth it to be patient in a world where people post new and cool images every second. We all have something to say and each perspective is important. I can reach out and communicate through my art with more people in the world than I could have ever imagined. How amazing is that?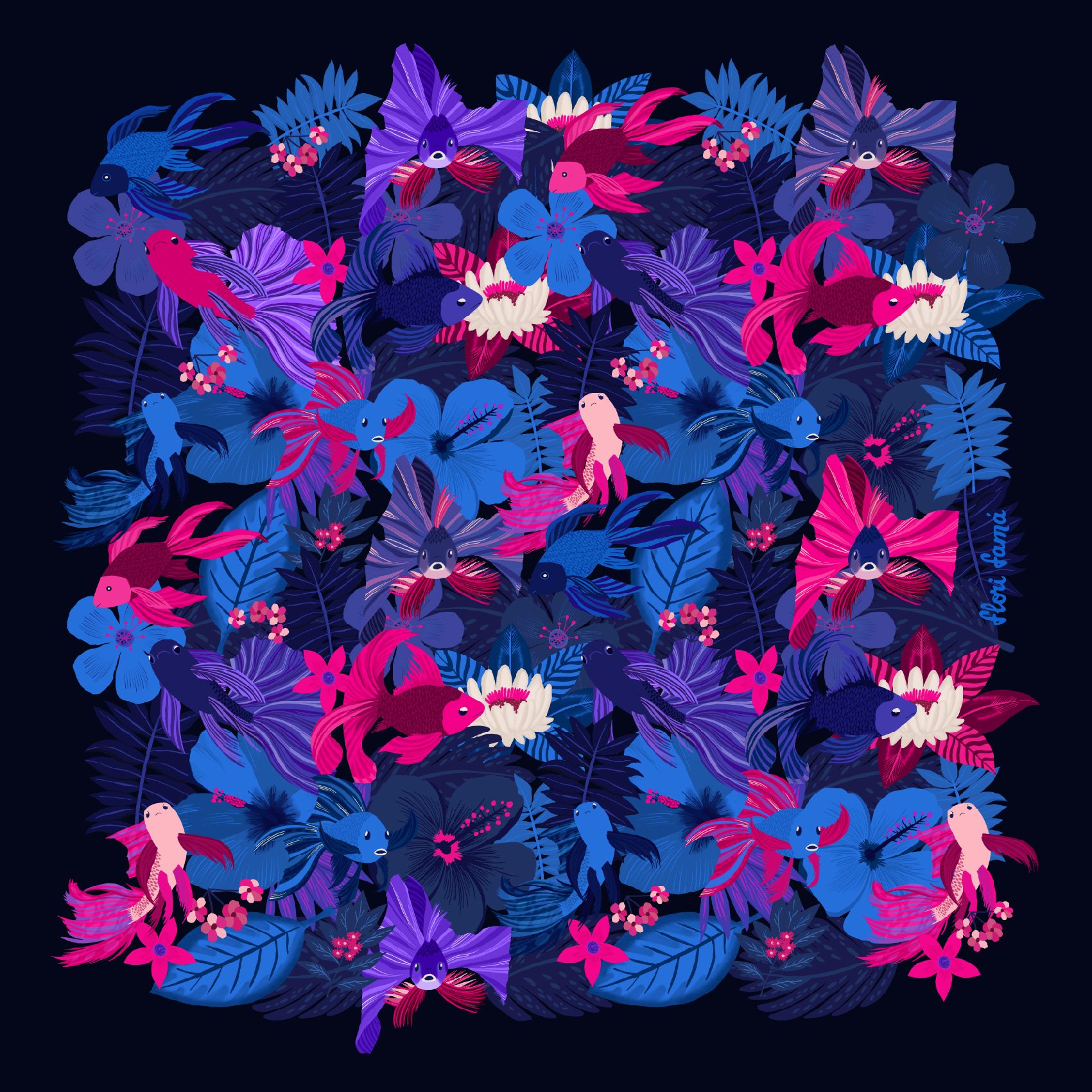 7. Where did you study?
I studied graphic design in FADU (Faculty of Architecture, Design and Urban Planning) in the University of Buenos Aires. Interestingly enough, I decided to do that degree course because I enjoyed drawing. Doing it, I realized it had very little to do with that but I learned how wide the range of its applications can be. Graphic design surprised me in multiple and very positive ways in a personal and professional sense. And even though I'm now focusing on the more artistic side of my career, I apply my design knowledge to everything I create, giving it cohesion and a conceptual foundation. Courses and workshops are my addiction. I'm keen on learning new things all the time and exploring every method related to design I can find. Among others I've done courses on: lettering, illustration, pattern design, screen printing, sublimation, web design, book binding, calligraphy, etc. Even though I don't apply all these techniques all the time, I do think it's important to understand things you're gonna be dealing with from close experience. For example, I don't do web design but sometimes I work with web designers and having a background in that helps me design better pieces for them to implement on a website.
8. Where do you see yourself in five years?
There's a funny thing I do every year, which is instead of coming up with resolutions that I'll most probably drop by the end of the first week of the year, I write a letter to myself listing all the goals I hope to achieve by the end of the year. I'll try to do something similar for this answer but 5 years ahead. - I hope I'll have a successful brand where I'll work independently doing what I love and not following someone else's orders. - Publishing an illustration book for children. - I hope I'll have painted a mural or designed one that could be painted by other people. I would love to see my art on a large-scale. - Most importantly, I hope I'll be valued for the art and work that I make and I won't have to take jobs just for the sake of earning money.
9. What about in ten?
- Get ever closer to realizing the ideal image I have in my head when I come up with an idea. When I started my path as an illustrator, I used to get ideas that I thought I would never be able to put down on paper or digitally. It used to be very frustrating to not have the skills to bring my ideas to life. They never seemed to look like I had imagined them. Now I see myself getting closer to that, little by little. - I hope I'll have an established style which people can recognize me for but also I wouldn't like to forget about that playful side I always like to interact with, where I try different tools, techniques and media so that I don't become too comfortable with what I'm doing and I don't miss out on opportunities that could help me improve aspects of my work. I want to keep my curiosity growing. - Being good at animation and bringing my art to life through short films.
10. What do you hope to achieve with your art?
I wanna inspire emotions and creativity in other people the same way artists I admire have inspired me. It's very enjoyable to receive feedback from people who appreciate my art and tell me why that is. I don't want to aim to make my art just pretty but for it to have a deeper meaning. Hopefully, my colorful and somewhat intricate art can make people smile more and lift up their moods.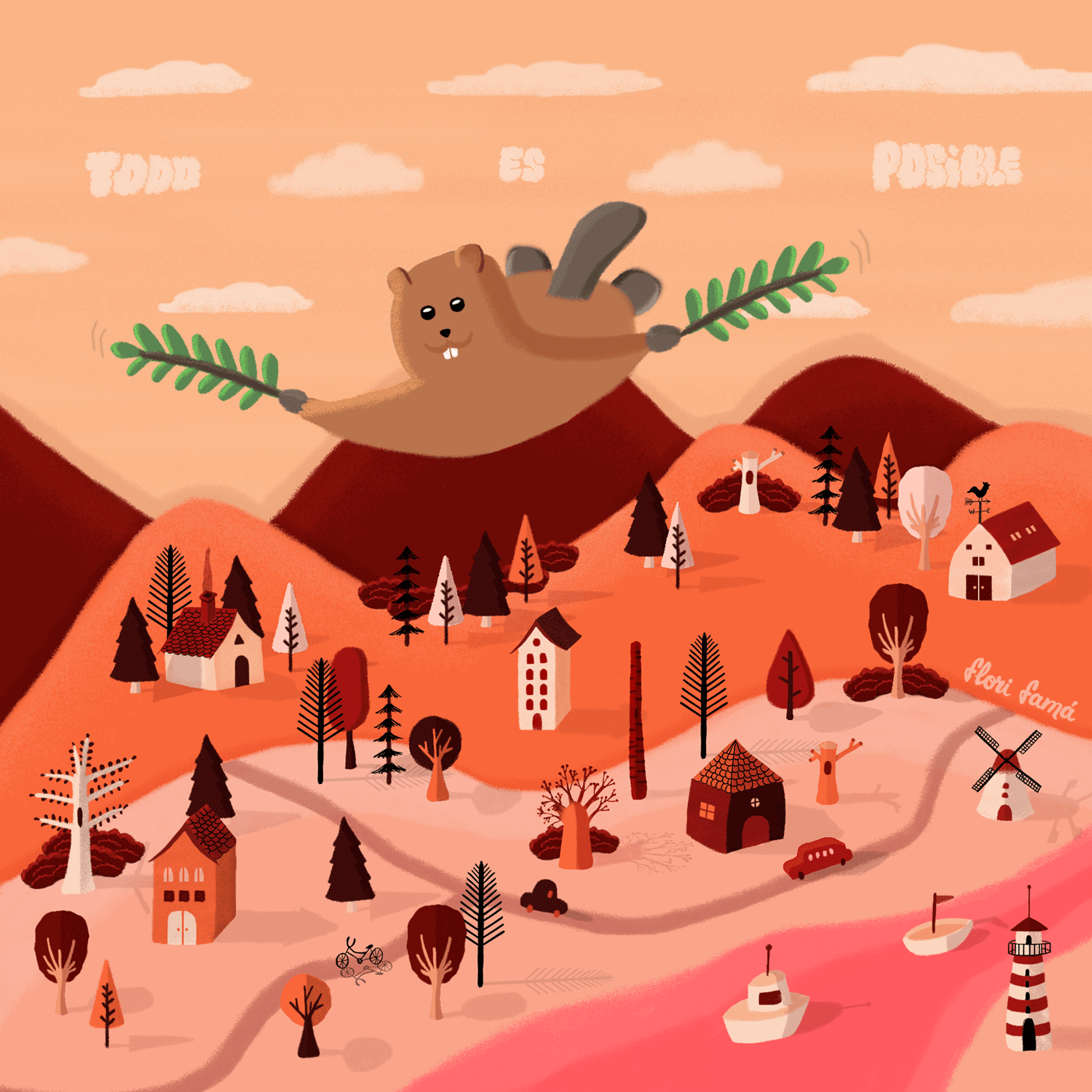 11. Now, tell us a little more about you as a person: what is your favourite food?
My favorite foods are milanesas a la napolitana (breaded veal parmesan) and alfajores (a caramel treat which you should google and also try when you get the chance). Yes, I have a very intense sweet tooth. I could also eat pasta and sandwiches every day and I wouldn't get bored.
12. Favourite book?
It's hard for me to pick one because many parts of different books have affected me positively throughout my life. "Haunted" by Chuck Palahniuk was as interesting as it was graphic. "On writing" by Stephen King has been enlightening and inspiring. "The fault in our stars" by John Green was heartbreakingly beautiful. And "Brave new world" by Aldous Huxley has been eye-opening and probably the most thought-provoking book I've ever read.
13. Favourite genre of music?
I choose music depending on my mood or if I want to change it. In general, I like listening to music with darker vibes when I'm sad, for example, "Do I wanna know?" by Arctic Monkeys or "Playground Love" by AIR. Music that brings a sense of nostalgia makes me feel comfort and fuzziness inside. This is deeply ingrained in me and it depends on my personal story--it doesn't really have any specific genre, but I find a great connection with music that transports me back to very happy moments in life.
14. What are your hobbies?
Going to art supply stores, going on walks with my boyfriend, traveling the world, binging on movies or TV series on Netflix especially during weekends or rainy days, learning new things, dancing.
15. If you weren't an artist, what would you be?
I would probably be a travel blogger, a photographer, an interior designer, a florist or a translator.