Instagram:
@foodgreedstruggle
Twitter:
@olgazalite
Behance:
www.behance.net/zalite
Dribble:
www.dribbble.com/zalite
1. What's your story? Where are you from?
I was born in a small town next to Saint Petersburg, Russia. Ever since I was little, I was exposed to different forms of creativity. My mother who's a pianist and a teacher taught me to appreciate art and express myself through music and drawing. My illustrations were never proportionally right and often looked quite silly but I found a lot of joy in making them since there was always some story behind. After graduating from a Mathematical-Technical Lyceum and Music School, I entered Peter the Great St. Petersburg Polytechnic University and got my bachelor's degree in Applied IT and Design. It was as close as I could get to Visual arts without having any prior education in drawing. After graduating, I've been mainly working with grids and interfaces more than actual graphics. This year though I decided to change it and focus on doing what I actually love and want: illustration.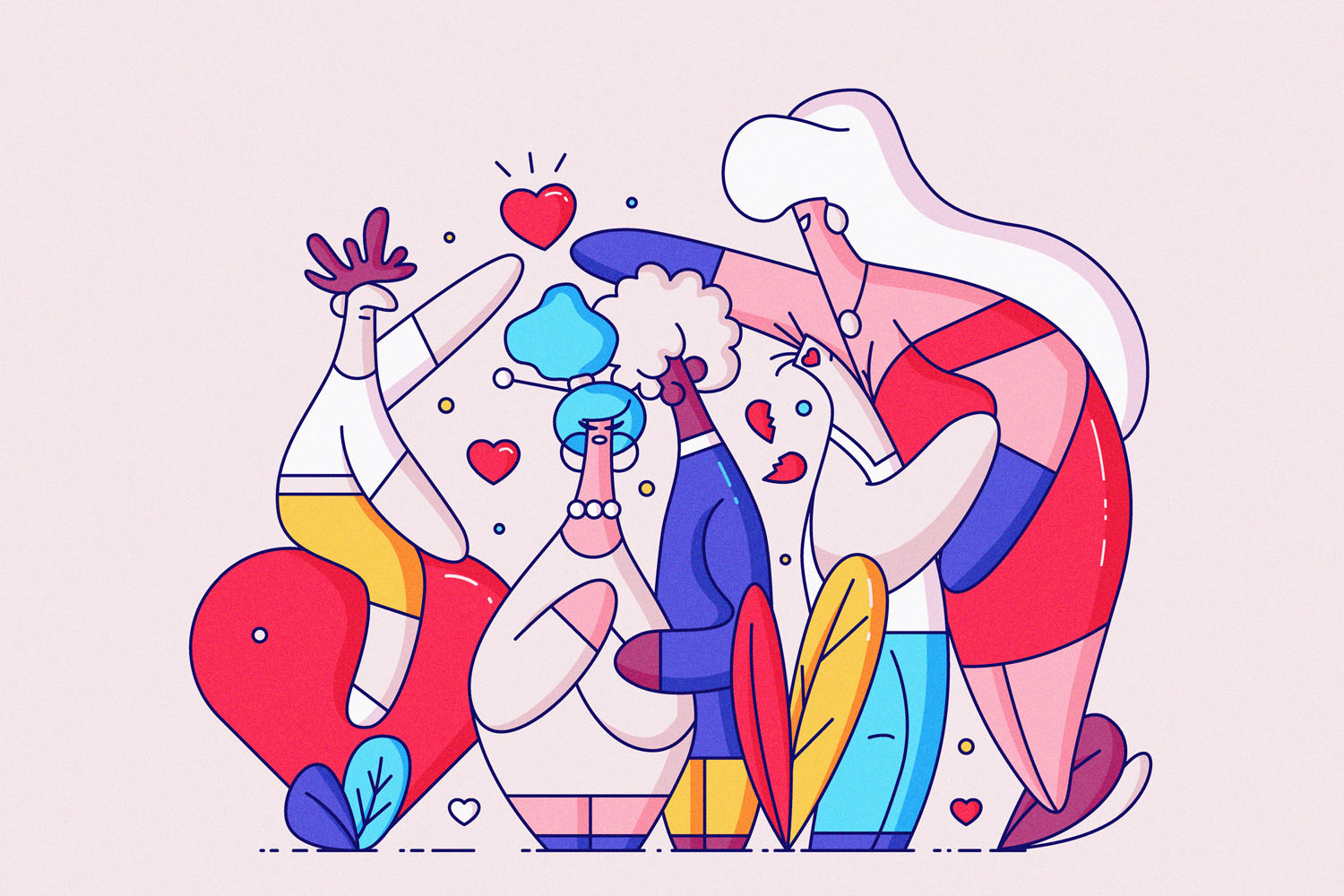 2. Tell us about your aesthetic.
My illustrations tell stories about greed. Greed for love, food, attention, recognition, sex, knowledge and other things. They're about hedonism and things we're often ashamed of. Like, being enslaved by a donut or not willing to work the hell out of our bodies before the summer season starts. They're hilarious and simple, and so are the characters. I exaggerate certain details on purpose like making arms significantly longer in order to intensify the feeling of greed when they're trying to reach for something. And yet I try to make them look natural in their imperfections. And bright. I really love bright vibrant colors.
3. What is your favourite medium and why?
I like all things digital and vector. Adobe Illustrator and a scanner used to be my best friends. I would make a rough sketch as the first step, then scan it and transform it into a vector illustration afterwards. Things changed last month when my fiancé gifted me iPad Pro with the pencil. Now I use Procreate for sketches and Affinity Designer for outlining. I still prefer to work with color in Illustrator because of its "Live Paint" tool. But the iPad does make the process much easier and more enjoyable.
4. What is your artistic process like?
It all starts with an idea or a problem. I never think about what I am going to draw precisely. The idea for my "Chefs for Equality" illustration, for example, was born when I was walking around the city listening to "The Racist Sandwich" podcast. There was an episode where a female chef was talking about gender inequality in the restaurant industry. I took it and transformed it into a drawing. Also, I often multitask when I draw because I'm just as greedy as my characters, and can't focus on just one thing. I like listening to audiobooks or watching Netflix and Youtube videos as a part of my process.
5. Who and/or what inspires your work?
Often those are situations from my own life, weird cravings, my fiancé, new things I learn. Sometimes other artists and metaphors behind their works. For example, Four chars. She transforms words, sayings and proverbs into cool drawings which are often funny and surprising. Also, Ukrainian studio Tubik. I really love the way they work with colors.
6. What role does art play in your life? How does it change the way you view the world?
To me, it's about self-expression which is necessary for my individual happiness and balance. Plus, it's a great way to get rid of toxic emotions in a beautiful form. No wonder many people think of art as of therapy, it really is. As for its influence, I can't say it changes the way I see the world. Rather the way I see the world adds spice and humor to my art.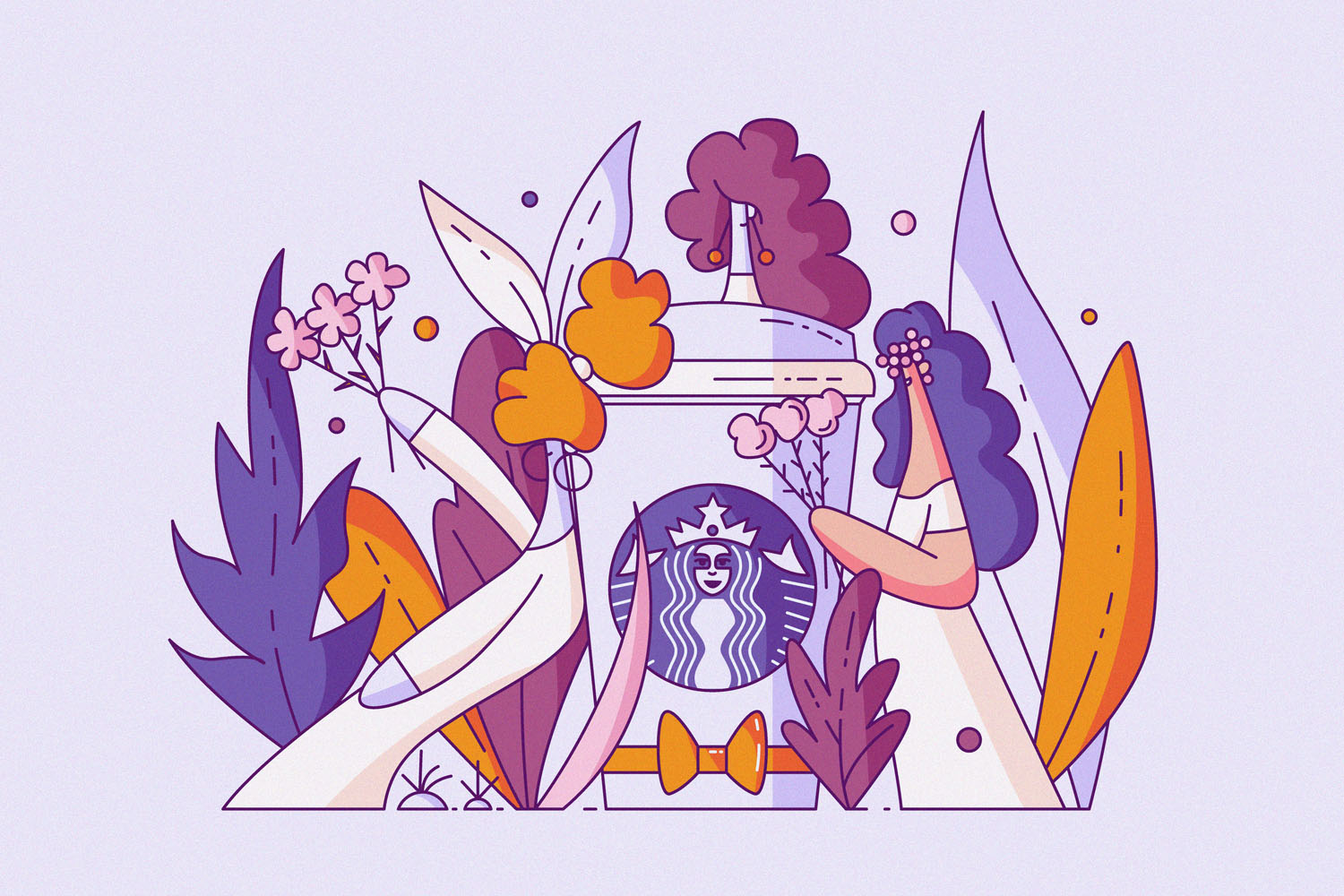 7. Where did you study?
I studied Applied IT and Design at Peter the Great St. Petersburg Polytechnic University.
8. Where do you see yourself in five years?
I see myself with my husband, a child and a dog named Tom Sawyer in a small apartment in California or somewhere in Europe. That apartment has a corner which I call "The Studio", where I draw my heart out and continue making illustrations, book and CD covers, logos, wrapping paper patterns and other cool things.
9. What about in ten?
My second book comes out. It will probably be a satire based on my eventful life. Or maybe it will be about psychopaths, who knows.
10. What do you hope to achieve with your art?
I want people who look at it to relax and smile. To forget about "shoulds" and "musts" and choose to do what feels good at least once in a while.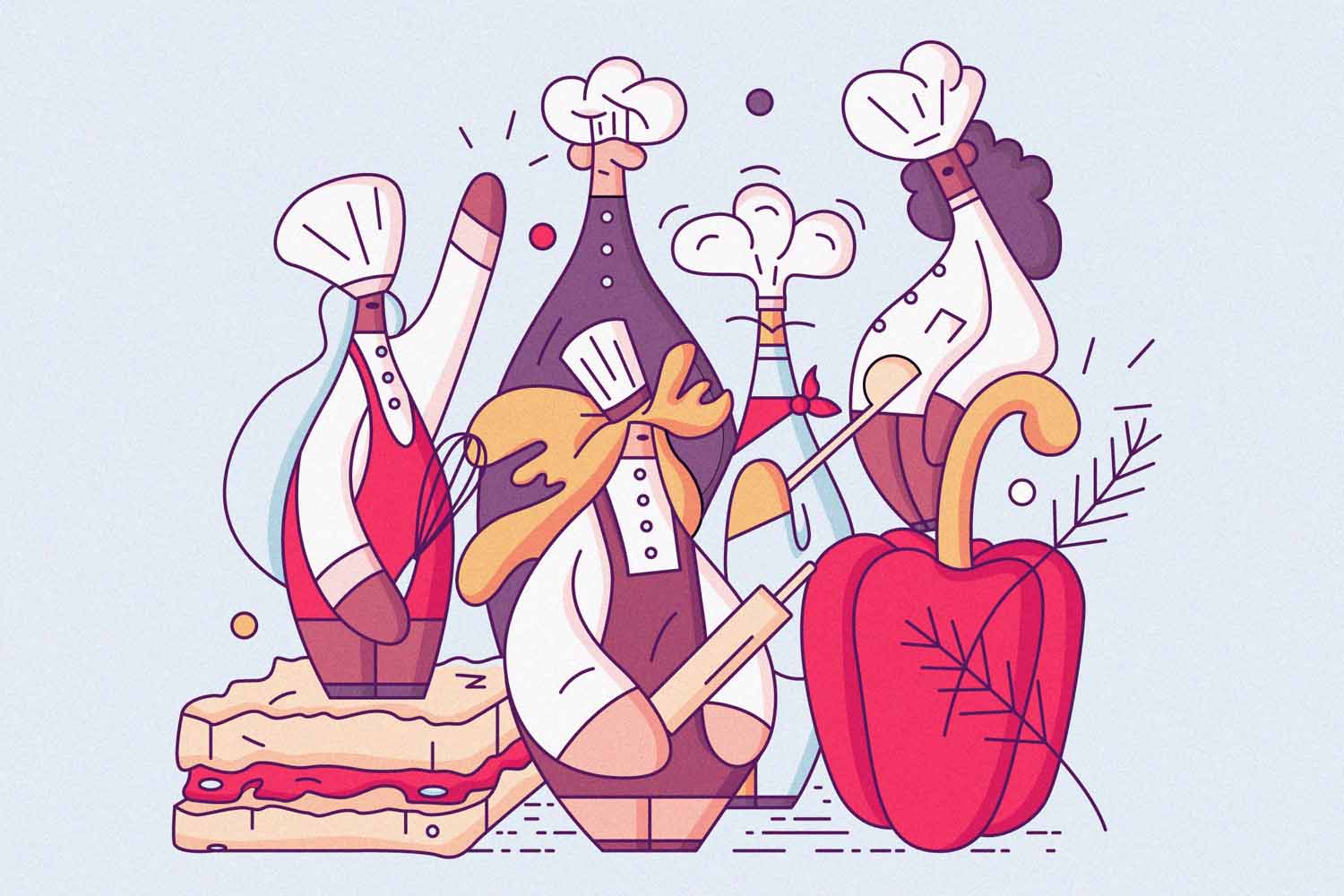 11. Now, tell us a little more about you as a person: what is your favourite food?
It's a difficult question for a hedonist. My whole world is basically spinning around all things hot and cheesy, lemony, crunchy, chocolate and spicy. I'm adventurous and I like trying international cuisines when given a chance. Some of my favorites are Italian, Korean, Indian, Mexican, and I like certain dishes from French and Swiss ones. Like fondue and raclette, for example. Also, I honestly think that McD's cheeseburger is the best and that nuggets + BBQ sauce is a significantly better combination than their standard one. Lemon meringue pie is to die for and so is chocolate from Neuhaus. And a lava cake! Sweet Jesus…
12. Favourite book?
I read 30 books a year so there's no chance in hell I can name just a few. But my absolute favorites are "Letters from the Earth: Uncensored Writings" by Mark Twain, "Invitation to a Beheading" by Vladimir Nabokov, "Songs of Innocence and of Experience" by William Blake, "Theater" by W. Somerset Maugham, "The Star Rover" by Jack London, "The Angry Chef: Bad Science and the Truth about Healthy Eating" by Anthony Warner, "Sapiens: A Brief History of Humankind" by Yuval Harari, "Three Comrades" by Erich Maria Remarque and short stories by Anton Chekhov.
13. Favourite genre of music?
I listen to pretty much everything but classical music and jazz have a special spot in my heart.
14. What are your hobbies?
I like learning about different cultures and places, therefore, I read a lot. I'm good with foreign languages and I enjoy learning new ones as well as practicing the ones I already know when I travel. I like writing in my native language and going out for food and live music events. Sometimes I play Hearthstone and miss WoW.
15. If you weren't an artist, what would you be?
Either a writer either a diplomat.