Instagram:
@forestfibers
1. What's your story? Where are you from?
I'm Jackie, I grew up and live in Texas but I was born in Cincinnati (my brothers would cry if I didn't mention that). I've always loved doing anything creative and crafty, anything that was hands-on and let me use my imagination. I started diving into the world of fiber arts last year, and now I'm just seeing what doors it will open for me going forward into my 20s.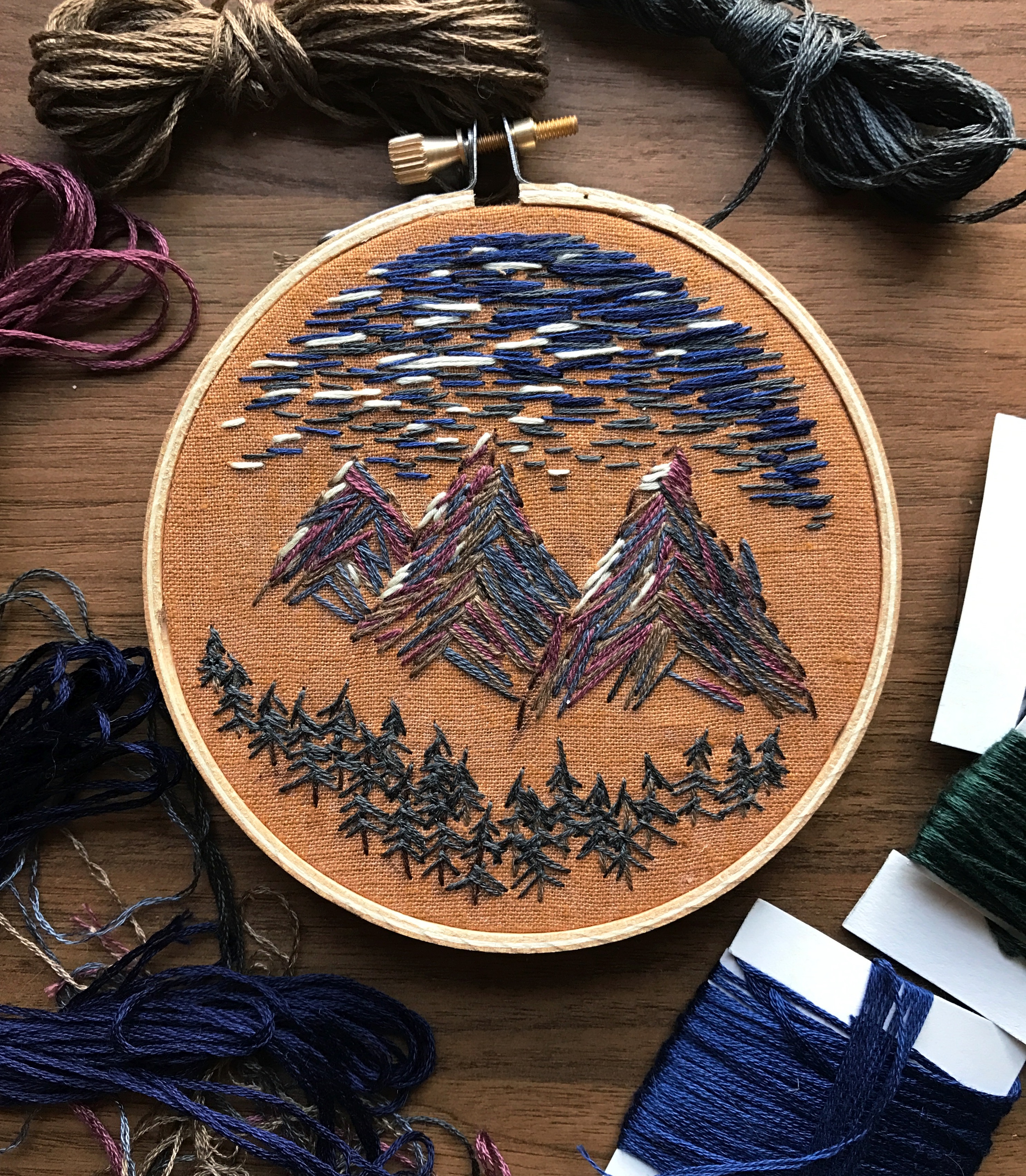 2. Tell us about your aesthetic.
My work leans towards woodsy, somewhat folkish imagery. I get "story-bookish" a lot from my peers. I love playing around with colors, mixing bright vibrant colors with more neutral tones. My tiny trees have been a big motif for me lately. I love putting tiny details into my work, little stitches that look like they took forever to do.
3. What is your favourite medium and why?
Definitely embroidery. It's everything I've ever liked about art making rolled into one medium. It's such a tactile experience, unwinding the thread and getting to play with different fibers. But it also gives me a lot of creative freedom. I can use it to stitch out an illustration, something more precise. But I can also combine it with other mediums like watercolor and create abstract compositions and landscapes that are more free-flowing and spontaneous.
4. What is your artistic process like?
When an idea comes up, I'll typically do a couple of quick sketches to make sure it won't look awful. I don't spend much time planning a piece out, but kind of figure it out as I go. If I have an idea in my head for a new little mountain piece, I'll start by picking out my materials first. I grab something from my fabric stash, dig through my mess of embroidery floss for an interesting color palette, and then just see what happens from there. If I'm working on something conceptual I'll spend more time ideating and thinking, but otherwise I just like to give myself room to see what my possibilities are.
5. Who and/or what inspires your work?
For the longest time, I was obsessed with Maurice Sendak's illustrations. "Where the Wild Things Are" pretty much ruled my life throughout high school. I think his influence still shows in some of my work today. Nature has always been a big part of my work too. I've been stuck in the suburbs all my life, but I can kind of escape and experience these beautiful places I've never been through drawing and stitching them. Music also helps put me in a certain mood too when I'm working. I jam to Sigur Ros A LOT.
6. What role does art play in your life? How does it change the way you view the world?
I don't want to say art is everything to me, but it's been one of the only constants in my 21 years of life. So many other things and opportunities have come and gone but the presence of creativity to me has never changed. It's all exciting to me, and so very rewarding. I believe creativity is empowering. Art definitely helps me see the world more positively. I can choose to focus on the beauty, or I can find solutions to problems. It's also such a great way for people to tell their stories and create connections too. I feel like you can learn a lot about a person by looking at their work and what they put into it.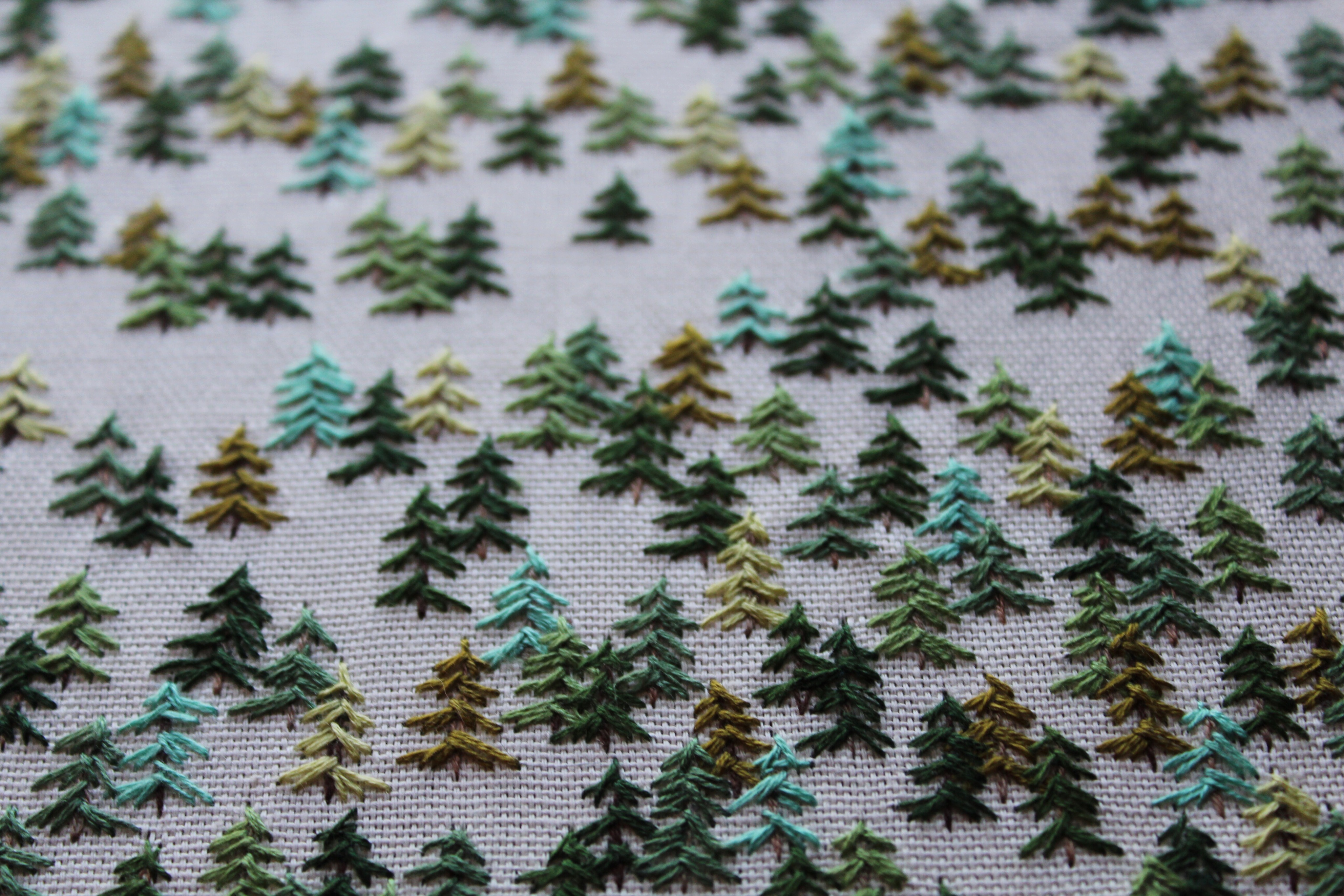 7. Where did you study?
I'm actually still studying! I'm getting my bachelors at the University of North Texas in Denton, TX. My life in Denton has been really influential in my whole life as an artist. So many people here just do their own thing and run their own little businesses and I love it. Being my own boss sounds really nice.
8. Where do you see yourself in five years? Working in an agency?
I hope I'll still be running my small business, Forest Fibers, selling my embroidery work. I hope it's expanded into something bigger by then, with more products and lovely things!
9. What about in ten?
Oh gosh, I don't even know. All I know is that I'll be 31, and that's it. I'll probably still be making art. Hopefully I'll live somewhere cool and beautiful with mountains and forests. We'll see what kind of adventures pop up along the way!
10. What do you hope to achieve with your art?
I want to bring beautiful things into people's lives. I never want to stop growing in my work or exploring new methods of art making. I just hope someone can look at my work and perhaps be inspired by it.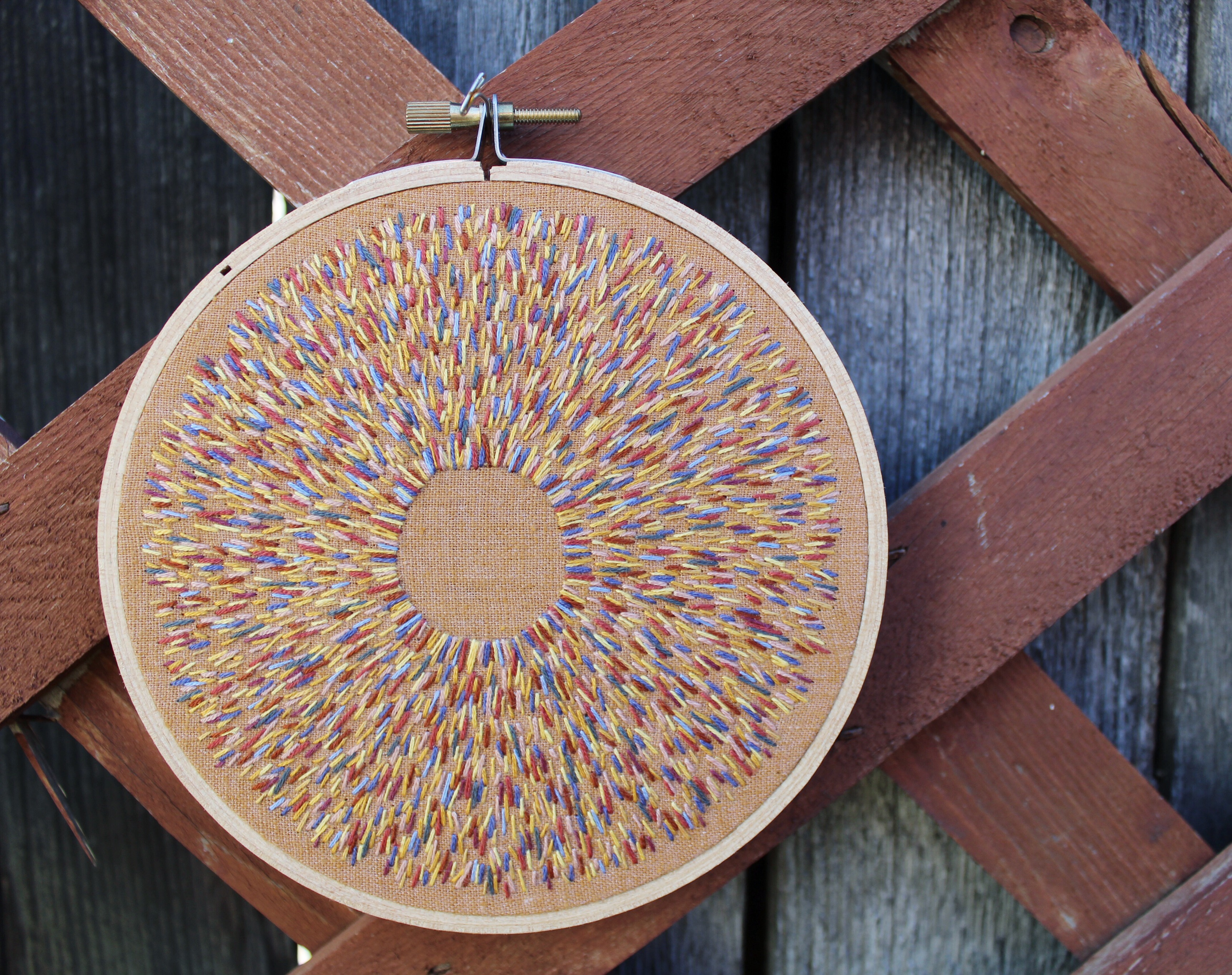 11. Now, tell us a little more about you as a person: what is your favourite food?
Does coffee count as food? If not, then at the moment it's definitely burritos!
12. Favourite book?
Unwind by Neal Schusterman has been my favorite for the last decade. Lately I've been more into Sci-Fi/Fantasy novels.
13. Favourite genre of music?
Alternative/Indie/Moody instrumental music.
14. What are your hobbies?
To get away from embroidery, I bake sweet things, play with cats, go running, drink coffee with friends, or watch all of Netflix's awesome original shows (Stranger Things, Black Mirror, The OA!!!)
15. If you weren't an artist, what would you be?
I've always thought in another life I could've been a Librarian. Not that I honestly read much, but apparently I give off a bookish vibe to people. Or I would've been a baker! Who knows.