Instagram:
@foxyn.art
1. What's your story? Where are you from?
Hi! My name is Cynthia, under the name Foxyn on social media and I am 26 years old. I was born and I live in Normandy, in France. As far as I can remember, I always loved to create with my hands, and my loved ones didn't see me evolve in any other field than that of art. Today i'm a graphic designer and illustrator, my adventure as a freelance started in July 2021!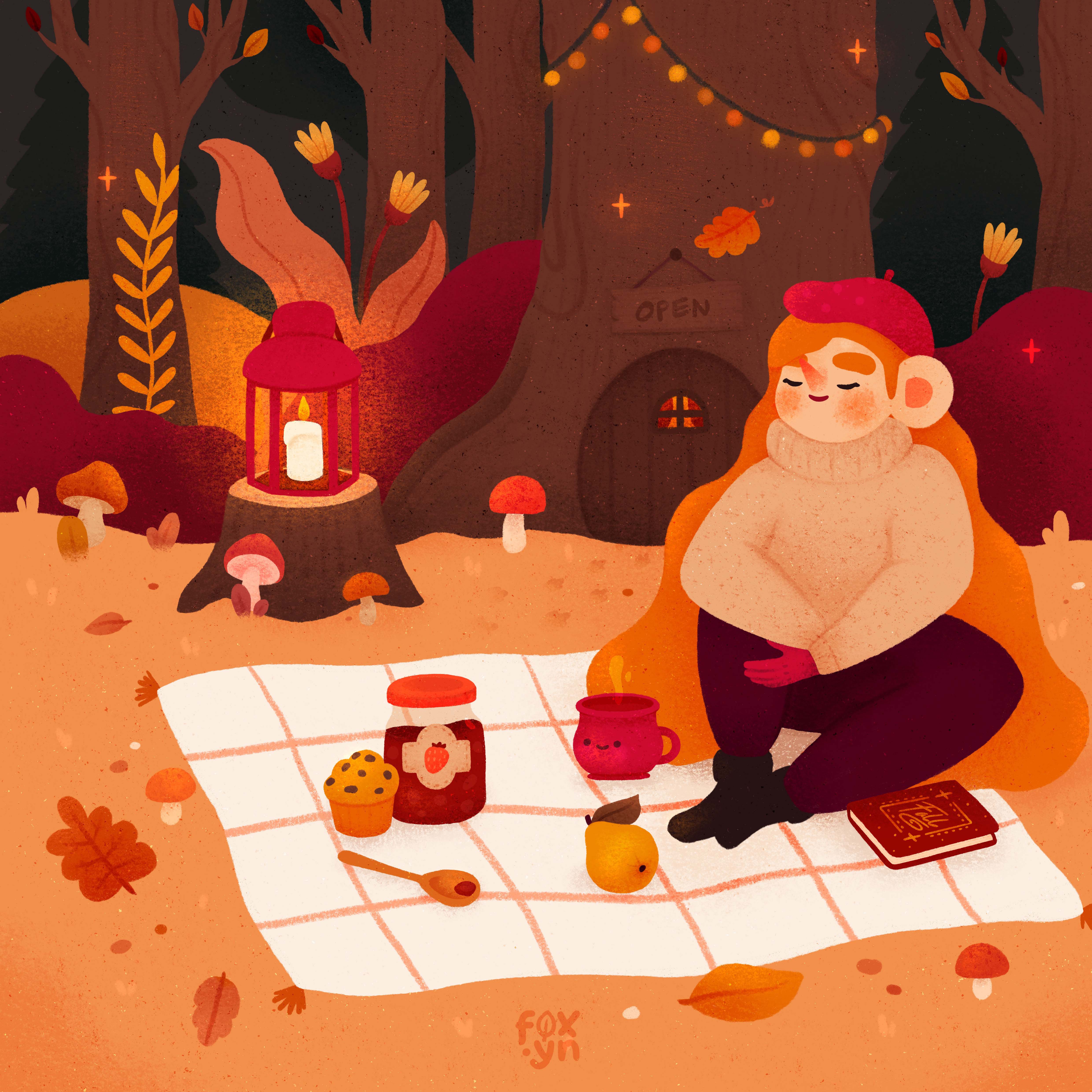 2. Tell us about your aesthetic.
I think that my aesthetic is constantly evolving, but I think I have found a style that I like and in which I thrive. Five years ago I only painted portraits of celebrities in black and white, today I make totally different illustrations that I will describe as "cute", "warm" and "childish". Above all, I want to create positive illustrations, which warm hearts and lead to daydreaming. If I can offer a small smile at the sight of my illustrations, then I have won everything.
3. What is your favourite medium and why?
A few years ago I was only drawing with paint and felt pens, but since I made the aquisition of an Ipad Pro, I can no longer do without drawing in digital. Especially with the Procreate drawing software, the possibilities are endless with colors, brushes and textures! And once you have the possibility to erase a line with a simple double tap on the screen, you can't do without it.
4. What is your artistic process like?
When an idea comes up, I make a sketch directly on my ipad, and I have to finish the illustration in the wake, at the risk of discouraging myself a few days later and giving up the idea. After the sketch I switch to colors and finally to textures! If I am lacking in inspiration, I take a little look on Pinterest which is a real gold mine of aesthetics.
5. Who and/or what inspires your work?
Hard to say, I think anything can be inspiring. Whether it's a movie I've seen, an image in a book, a music, a lived moment... and for the rest I let my imagination work! Autumn and its colors inspire me a lot. Also, many illustrators inspire me and make me want to persevere!
6. What role does art play in your life? How does it change the way you view the world?
Art is now a way for me to escape myself. I created my instagram account in 2018 on which I posted some rare illustrations, I worked in a communications agency for 2 years as a graphic designer, then the covid crisis hit and I found myself out of work. It was during the confinement that I slowly started to draw again, it allowed me to exteriorize and change my ideas. Then in October 2020 I motivated myself to participate in the Inktober (an artistic challenge that encourages to create every day from a theme, for one month), this challenge was a revelation: I realized how much I like to draw, and that's what I wanted to continue to do professionally. I haven't stopped since!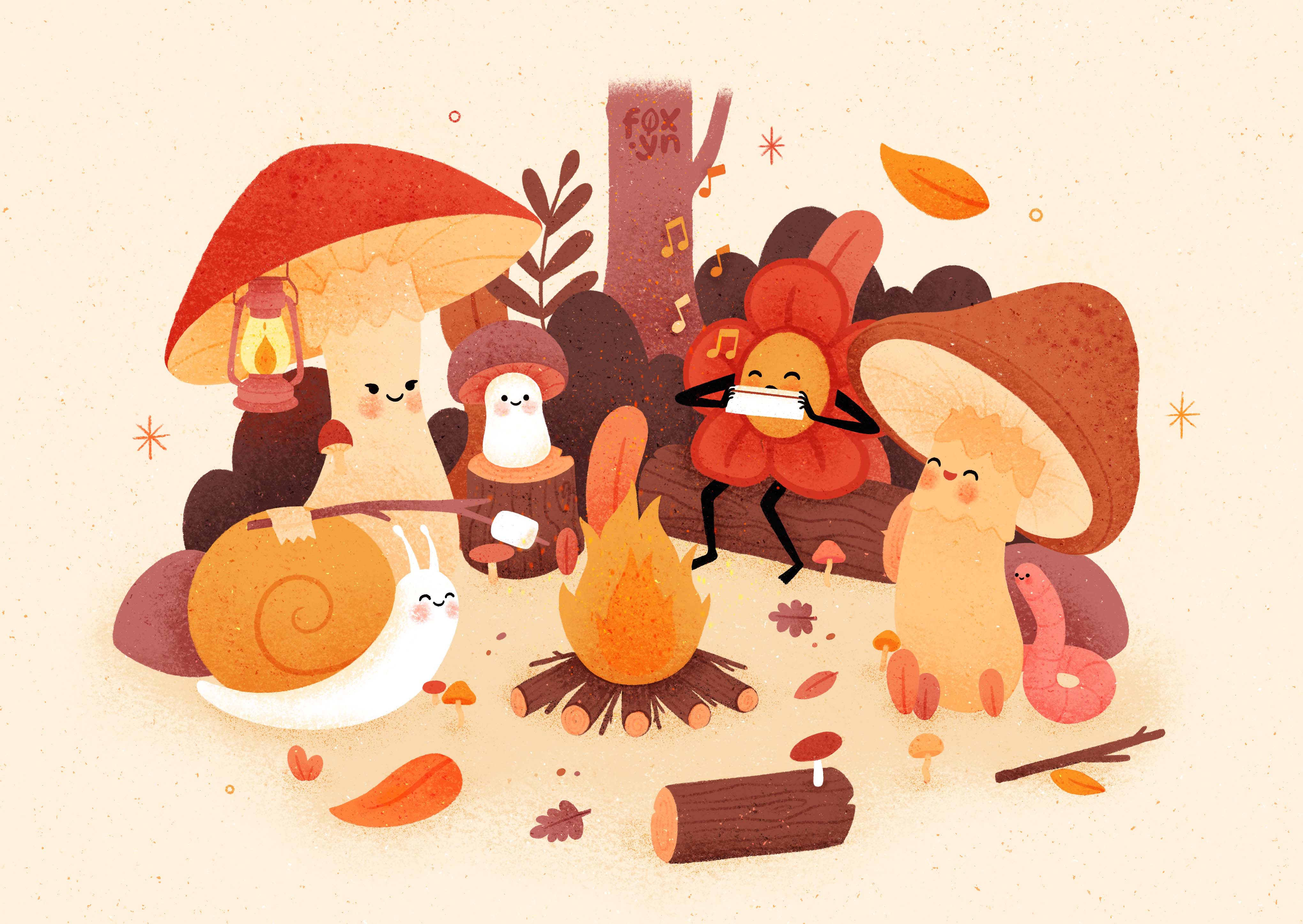 7. Where did you study?
I did all my schooling in France. From high school I turned to the specificity of visual arts. Afterwards I did a MANAA, Upgrade in Applied Arts, and then I studied graphic design in Normandy. Finally I did a year of license in techniques and activities of image and sound, in Burgundy.
8. Where do you see yourself in five years?
Wow! In 5 years... I still see myself working as a freelance illustrator and graphic designer. I would have managed to develop my clientele, which would allow me to live fully of my passion, without having to have a small job next door as is the case at the moment. I would very much like to have illustrated a children's book, a puzzle, participated in illustration markets and many other cool projects! I probably would have moved into a small house with my boyfriend and my cats with a large garden in which I could draw. And if I let myself dream away, I will have my small workshop in which I can work and exhibit/sell my creations!
9. What about in ten?
Difficult to say, maybe I would have completely changed course, who knows! Still, I don't think I would have totally stopped drawing. I see a family that has grown, children, but surely also other cats and a dog that I can take long walks with.
10. What do you hope to achieve with your art?
Simply continue to share positive waves and connect with people!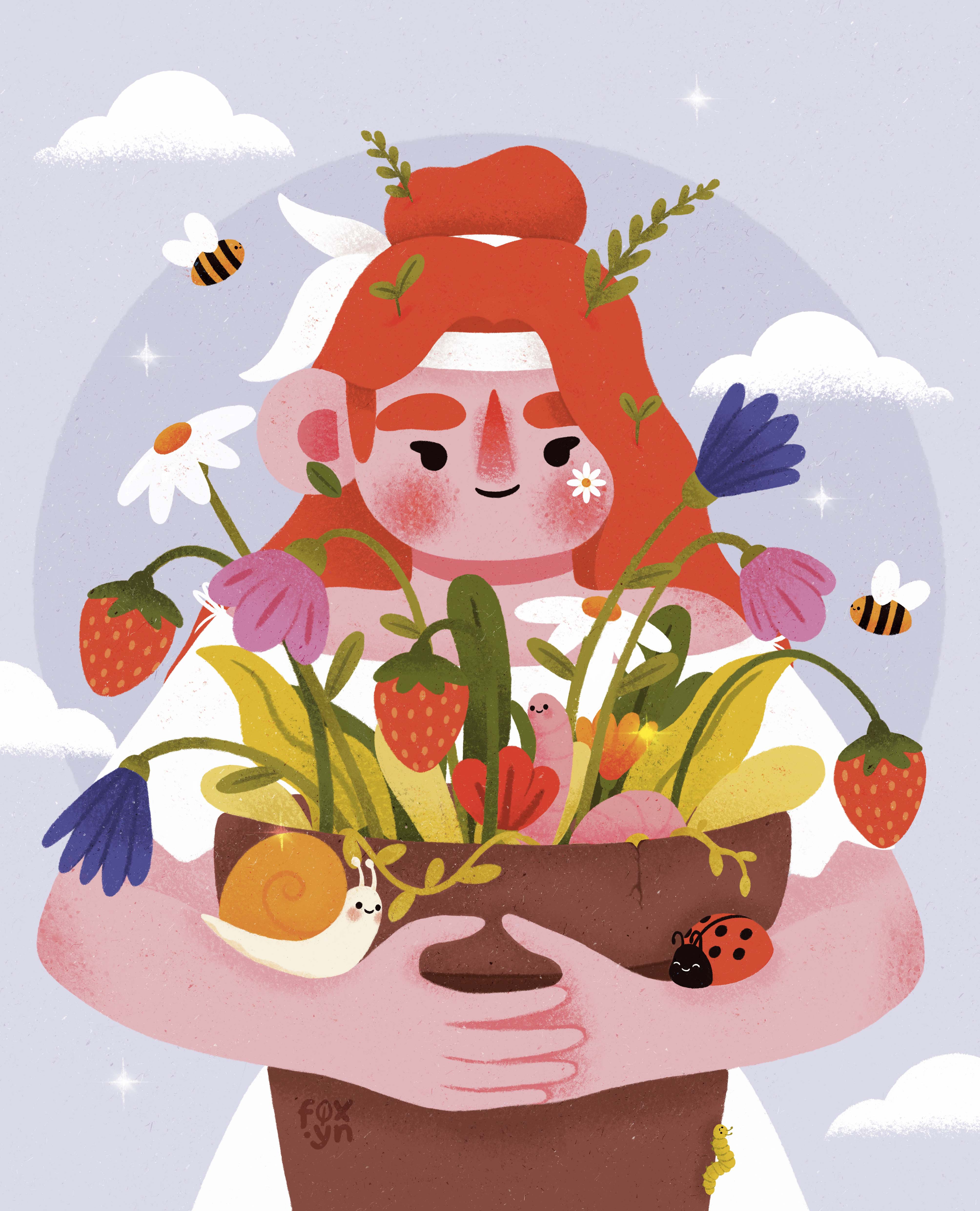 11. Now, tell us a little more about you as a person: what is your favourite food?
Ouchh difficult, I LOVE eating! I love french haute cuisine but I am also delighted with a burger of fast food or a simple mashed potatoes. Oh i'm also a big fan of sushi!
12. Favourite book?
I don't read a lot of books, I would love to, but I don't take the time to do it. But I really like to browse beautiful art books or graphic novels.
13. Favourite genre of music?
I love a lot of different music genres, I can go from jazz to rap, from electro to 80s on which I always have a mood! But if I had to make a real choice I am a fan of electro and Daft Punk are my absolute idols.
14. What are your hobbies?
I love playing video games as well as board games, with friends or family. I also like to discover new places, I hope to travel again very soon!
15. If you weren't an artist, what would you be?
I have long hesitated to leave my studies in the arts and turn to the psychology that I find so interesting! Maybe I'll see myself in that field. But to tell the truth, many other fields attract me, working in a museum, organizing concerts, making short films, or being a landscape artist... I hope to have enough lives to do everything hehe!