Instagram:
@frank_the_kook
1. What's your story? Where are you from?
Hi, I'm François Thevenet, a 25-year-old left-handed kid in a world made for the right-handed so I have always been struggling using a regular pair of scissors. I was raised in the Pyrenees mountains in Southern France between mountains and ocean, in a really small village where you can hear sheep's bells all day long before we eat them. But I currently live in the crazy city of Buenos Aires, Argentina.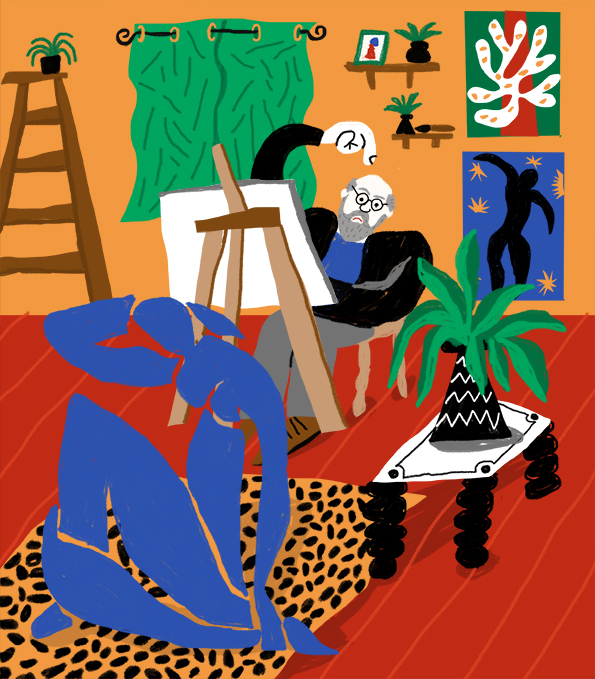 2. Tell us about your aesthetic.
I love bright colors. Energy, expression, and fun is what I am searching for with drawings. I don't want the illustration to be stuck, I want it to be moving and to tell something.
3. What is your favourite medium and why?
I think the pencil is what I use the most. I am always sketching with it or whatever I can draw with, and putting colors digitally! Otherwise, I am kind of paper cut addicted, and I am working a lot with it at the moment! Paper is awesome because the results are really expressive all the times I use it, and because I do it quite fast, I have to deal with mistakes and imprecisions. I will be releasing these new works soon!
4. What is your artistic process like?
I go to the cafe. I draw, whatever comes to mind, the dog I see at the corner, the waiter, a car, a character, or topics I like to draw. I ask myself questions like « What would be absurd? What would make me laugh? ». Everything is very instinctive, I don't really think about the property of the lines, or the correct scales and proportions, making mistakes is part of the process. The second step is choosing what I want to see « finished » between all the sketches I have, what can make sense, what can be visually interesting, funny, or make people think. I usually finalize the work digitally, but I never really know what the drawing is going to be like in the end, because while I am finalizing it another idea can come and add some new things to the illustration. The final result is always kind of a surprise and I like it.
5. Who and/or what inspires your work?
Picasso, Matisse, Basquiat, Stuart Davis, Todd James, Jonas Wood, Savignac, Villemot...These guys had a strong influence on how I draw. So many topics inspire me too: boxing, motorcycle, series B movie posters, traditional tattooing, sports… etc. And obviously my surroundings have inspired me so much too: the music, people, the place I live or my travels. Since I moved to Buenos Aires, which is a city full of information, people, and energy, my drawing approach has changed, and I guess I try to translate this energy into some visuals.
6. What role does art play in your life? How does it change the way you view the world?
Well, if I don't draw, I think about drawing or what I could draw, always searching for some inspiration in any kind of place. It is a true passion. So it is a major part of my life. Concerning my view of the world, well, I guess I am more sensitive to some details that would maybe seem uninteresting for other people. If something makes me laugh or calls my attention, I will probably try to draw it in a way.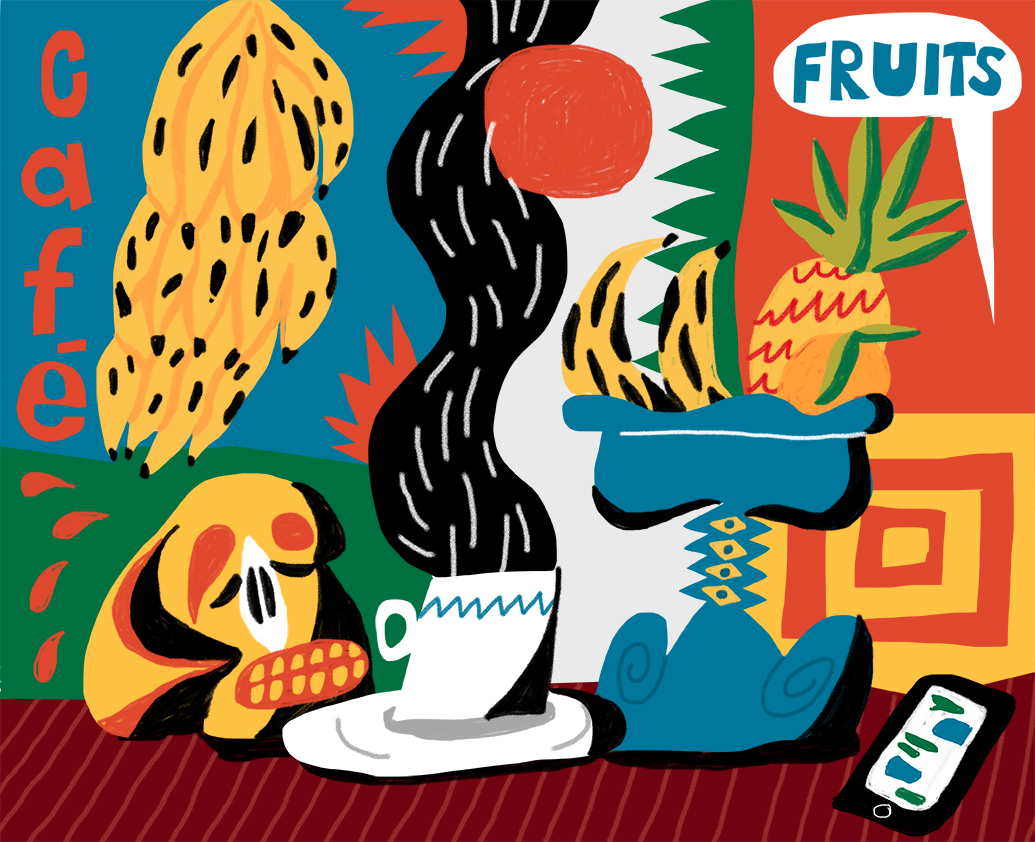 7. Where did you study?
I studied at La Martinière Diderot School in Lyon, France.
8. Where do you see yourself in five years?
Well, I have no idea what I will be doing next week so it is hard to tell you in 5 years haha! But I hope I will be living from my drawings, involved in cool projects with cool people in a cool place!
9. What about in ten?
In a galaxy, far, far away.
10. What do you hope to achieve with your art?
Share some good vibes and see smiles on people's faces!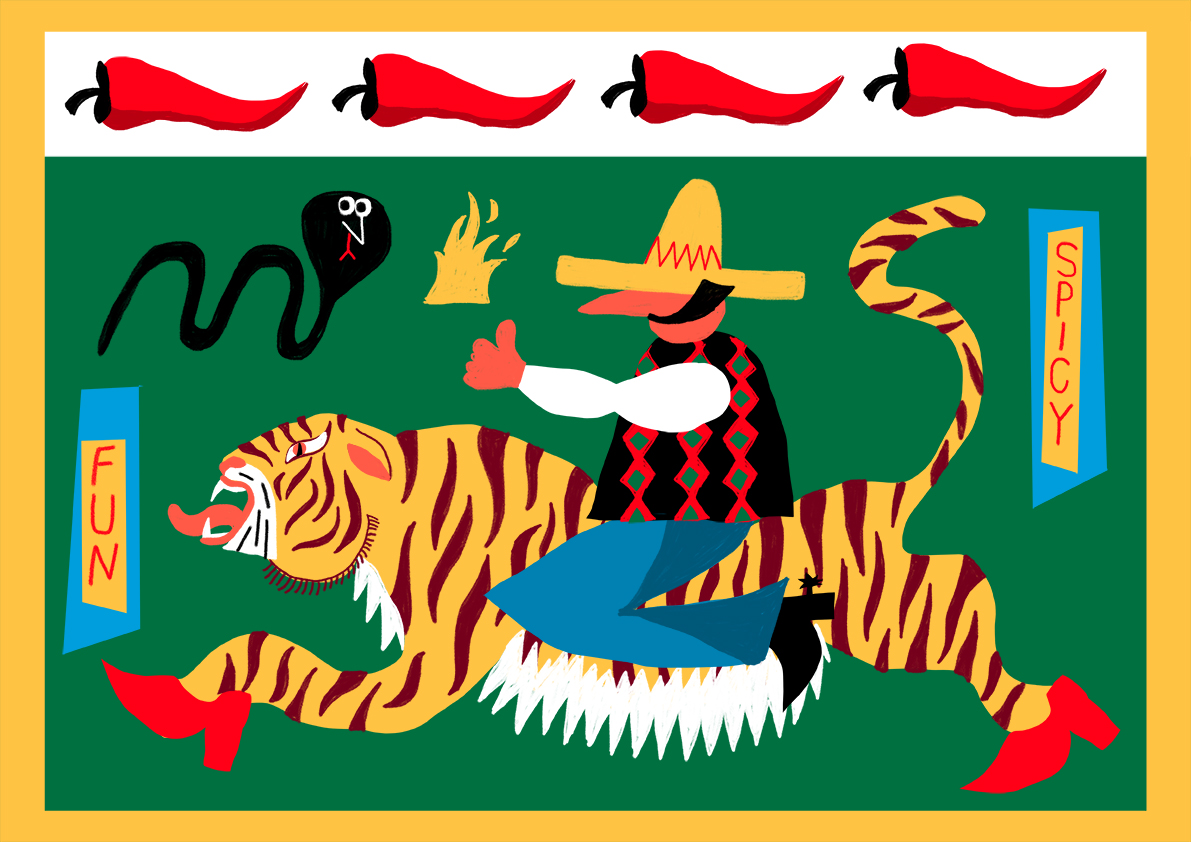 11. Now, tell us a little more about you as a person: what is your favourite food?
Duck breast on wood fire with some of grandma's potatoes. That's an orgasm for your mouth, no joke.
12. Favourite book?
I am not a big reader… I like books with visuals mostly, and the last one I fell in love with is The Bikeriders by Danny Lyon, telling stories of some members of the Chicago Outlaws Motorcycle Club with Danny Lyon's photo, so cool!
13. Favourite genre of music?
Whatever sounds good to my ears! Mostly Rock'n Roll I guess. I can't get enough of Chicago, The Doors, Black Lips or Lynyrd Skynyrd !
14. What are your hobbies?
I love to snowboard with my friend in my local resorts during the winter. I also enjoy hiking, traveling, good parties, and most of all, having fun.
15. If you weren't an artist, what would you be?
A bonobo monkey.