Instagramm:
@frederickstrascheillustration
Tumblr:
frederickstrascheillustration.tumblr.com
Facebook:
www.facebook.com/frederickstrascheillustration
Website:
www.frederickstrasche.de
1. What's your story? Where are you from?
My name is Frederick Strasche, illustrator and graphic designer based in Hamburg. I was born in the middle of the 80s and grew up in a smal village near Osnabrück in Germany. As a child i enjoy playing outside in the woods. Later i was a skater and liked it to draw and copy these cool Skateboardcompany logos. This brought me to do graffiti, which was my initial ignition to be interested in creative stuff and art.
2. Tell us about your aesthetic.
One of my favorite techniques is screen printing and my work is strongly influenced by that. I always try to keep forms bold, simple, but still playful. To create a charmingly analogous look, I work with different structures and overlapping colors.
3. What is your favourite medium and why?
Pencil and old crap paper. I like to sketch on old used paper because so it is easy to lose the respect of the white sheet. I also like felt pens, spraypaint and acrylics.
4. What is your artistic process like?
Commissioned projekts always start with reading and getting informations about the topic. After that and in the meantime, i scribble a lot of crap till i find a good idea. Then i work on this idea and do a sketch. For the final artwork I draw all elements by hand, scan and colour it digital.
5. Who and/or what inspires your work?
Many things. I love visiting all kinds of museums, looking at advertising. The normal life inspires me. I also like Picasso, Matisse, Keith Haring, David Hockney and many more.
6. What role does art play in your life? How does it change the way you view the world?
Art is a big Part of my life. Music, design, photgraphy, childrens drawing, all kind of art. It all makes me happy and helps me to come to new points of view.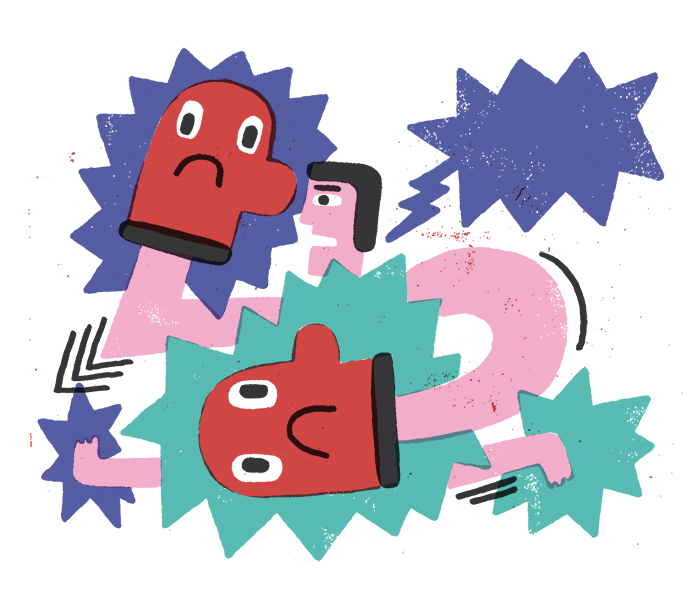 7. Where did you study?
I have a bachelor's degree in graphic design from HAWK Hildesheim. After concluding I moved to Hamburg to study Illustration at HAW.
8. Where do you see yourself in five years? Working in an agency?
I want to keep working as a freelance illustrator for magazines, books and advertising. I also want to realize my own projects like a Brand for art and handmade stuff.
9. What about in ten?
The same, but in a beautiful studio ideally located close to a river in a green and lonely forest.
10. What do you hope to achieve with your art?
I want to put a smile on the people´s face and make them happy.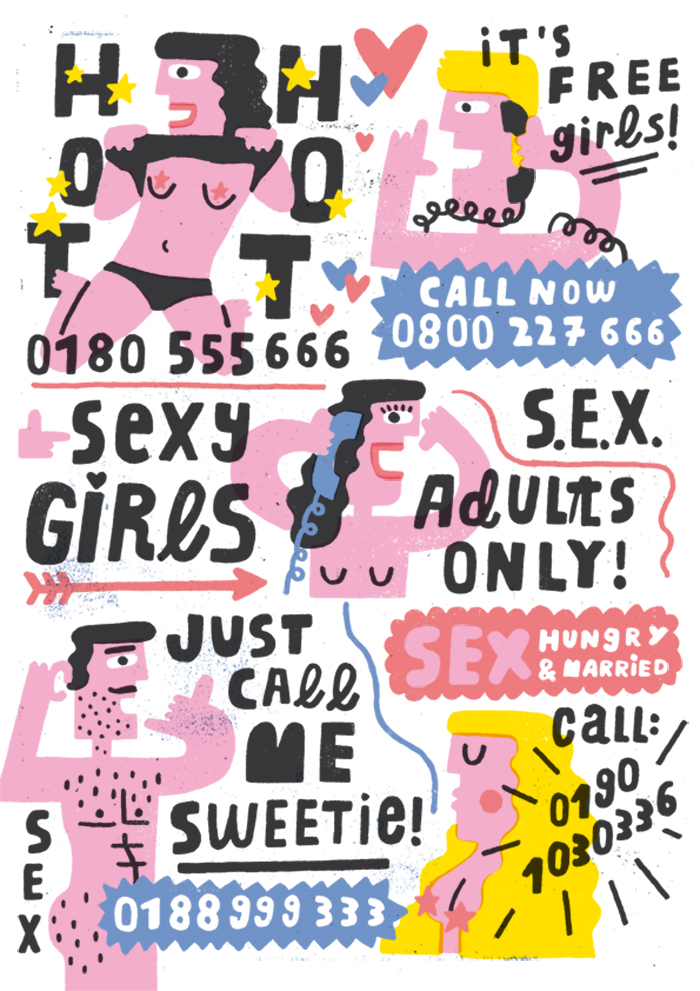 11. Now, tell us a little more about you as a person: what is your favourite food?
I like food. French fries with a lot of mayonnaise, asian stuff, chips, sushi.
12. Favourite book?
No specific one. I like reading non-fiction books.
13. Favourite genre of music?
Funk and soul, folk, blues, new wave, 80´s. Prince, Iggy Pop, the Smiths, Herbie Hancock,...
14. What are your hobbies?
I love to discover new parts of the city by bike, go climbing, cook and listen to music.
15. If you weren't an artist, what would you be?
As a child I wanted to be a detective. Nowadays I am more interested in other things, making ice cream for example. Maybe I open an ice cafe with a connected detective office.