Instagram:
@froufrouandsparrow
1. What's your story? Where are you from?
Hello! I'm Phuong :D I was born and bred in Melbourne, Australia with a Vietnamese heritage. I'm pretty sure my love for illustration and art began while watching cartoons like Sailor Moon and Captain Planet as a kid. And that's just naming a few cartoons! I was immersed in all the cartoons that aired on t.v before and after school. I was then and still am now and forever in awe of the colour and imagination of animation. I enjoyed art all through primary school and later in high school chose more specialised subjects in art and design, developing my skills and passion. I ended up studying Interior Design and though I didn't pursue that path, I still learnt a lot about how people and the world interact with space visually, mentally and emotionally.This helped steer me in the right direction drawing me towards creating more active and immersive spaces like working in set design & decoration, events styling (which I do from time to time) and visual merchandising. Eventually, with much courage and support, I found my way back to illustration and art. But even now, though I am sure this is what I want to do, I wouldn't really define myself as anything other than an all-round creative creature.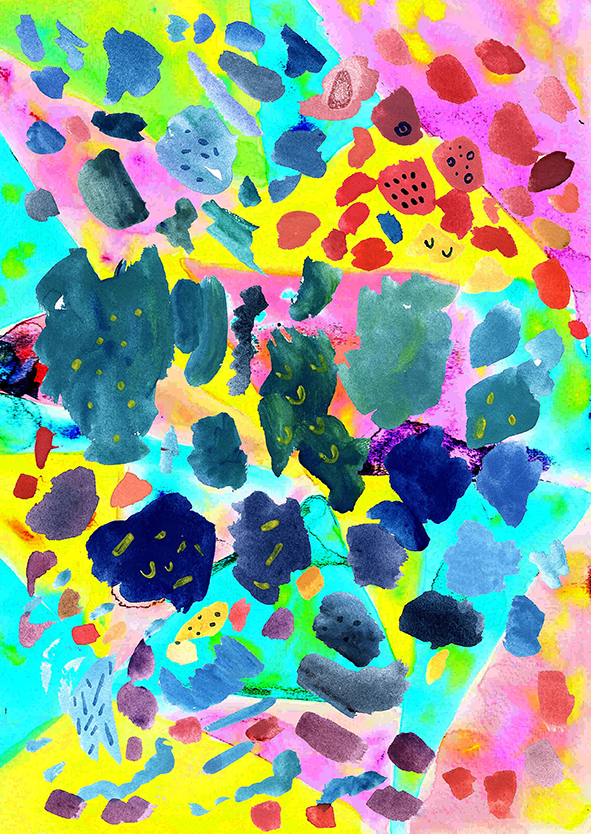 2. Tell us about your aesthetic.
I have always loved everything hand drawn. The natural and organic feel of hand drawings and illustrations convey a strong sense of freedom, imagination and creativity for me. When I started to experiment with watercolour and gouache, I found that I naturally applied the same idea, resulting in abstract pieces. So to describe my work in a few words, it would be: natural, organic, abstract and of course, colourful and vibrant.
3. What is your favourite medium and why?
Ink and watercolour come first place hand-in-hand with gouache as the runner up to my favourite and preferred mediums. It's funny because throughout kindergarten, primary school and high school, we were first given acrylic paints to use but that is the medium that I am working towards. Again, it is the freedom that ink and watercolour offer, that appeals to me most. I can often be indecisive and want to add in something half way or even towards the very end of something I'm working on so I feel that ink and watercolour allows me to do that. In a way, I think when I finally start using acrylic or more cementing mediums, it would mean I will have become more confident and sure of what I want to achieve. I am still very much in explore and experiment mode.
4. What is your artistic process like?
I have a huge list of ideas I want to explore but quite often, I will be inspired by something and go home and transfer the idea in my mind on to paper. This is the best part! When I get lost in experimenting with colours, shapes and composition. (It is also the messiest stage too.) I spend a few days experimenting with colours, contrast and composition before enhancing and layering it all digitally before finally refining it all.
5. Who and/or what inspires your work?
Colour and imagination are the two forces that drive my passion. I am still learning a lot about art but I have been in love with the work of Melbourne artist Barbara Kitallides and Melbourne textile artist Cassie Byrnes. The colours in their work are so beautiful and exciting and never fail to inspire and motivate me. For a boost in imagination, I need not look any further than the works of Melbourne illustrator Marc Martin or artist & illustrator Elise Hurst, also from Melbourne. I am a huge fan of their children's books often carrying them to the park on the weekend or when I go camping. I can easily go on forever about what inspires me but I will just add one last thing or two. All works of Studio Ghibli. And all the camping and day trips in the wilderness with my cousins and friends, and travel adventures with partner and little sister. The world is even more beautiful when you have someone beside you that can also see and share that beauty.
6. What role does art play in your life? How does it change the way you view the world?
Without my appreciation in art, the world would be a lot more dull. And not just aesthetically, but in every aspect! I notice and appreciate the smaller and less obvious things in everyday life compared to my friends. They often say they wish they could see through the eyes of a creative person. Which makes me feel very lucky I see the world the way I do.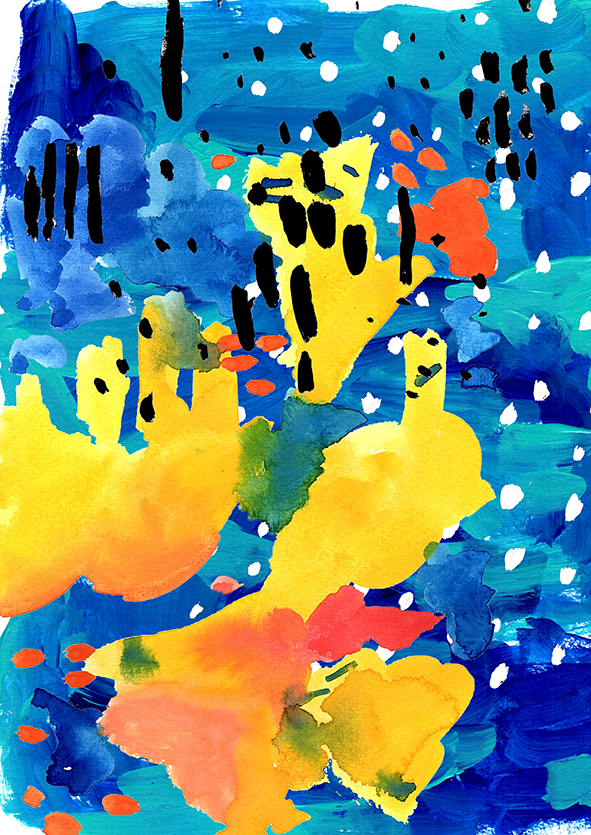 7. Where did you study?
I studied Interior Design, at the Royal Melbourne Institute of Technology. I didn't pursue a path in architecture and interior design but instead discovered my love for creating active spaces whilst working with Underground Cinema who bring to life live, immersive cinematic events. I worked on the set team sourcing and constructing the set and prop pieces. Similarly, I did some event styling on my own and found a pattern in my love for creating spaces and the little details that build the overall experience.
8. Where do you see yourself in five years? Working in an agency?
I would like in five years time to be working independently in my own studio producing more artwork and producing it onto paper goods, stationery and branching into textiles. While also still active in visual design projects if I can still manage to multi-task!
9. What about in ten?
The dream would be to have my own shop / studio with a family of my own, travelling the world when time permits and still living and breathing art and design.
10. What do you hope to achieve with your art?
Ultimately, spreading my love for colour and making someone's day in the process. And encouraging everyone else to face their fears and follow their dreams. Even if you'll being making peanuts for a while. Whoever said the road to success was easy?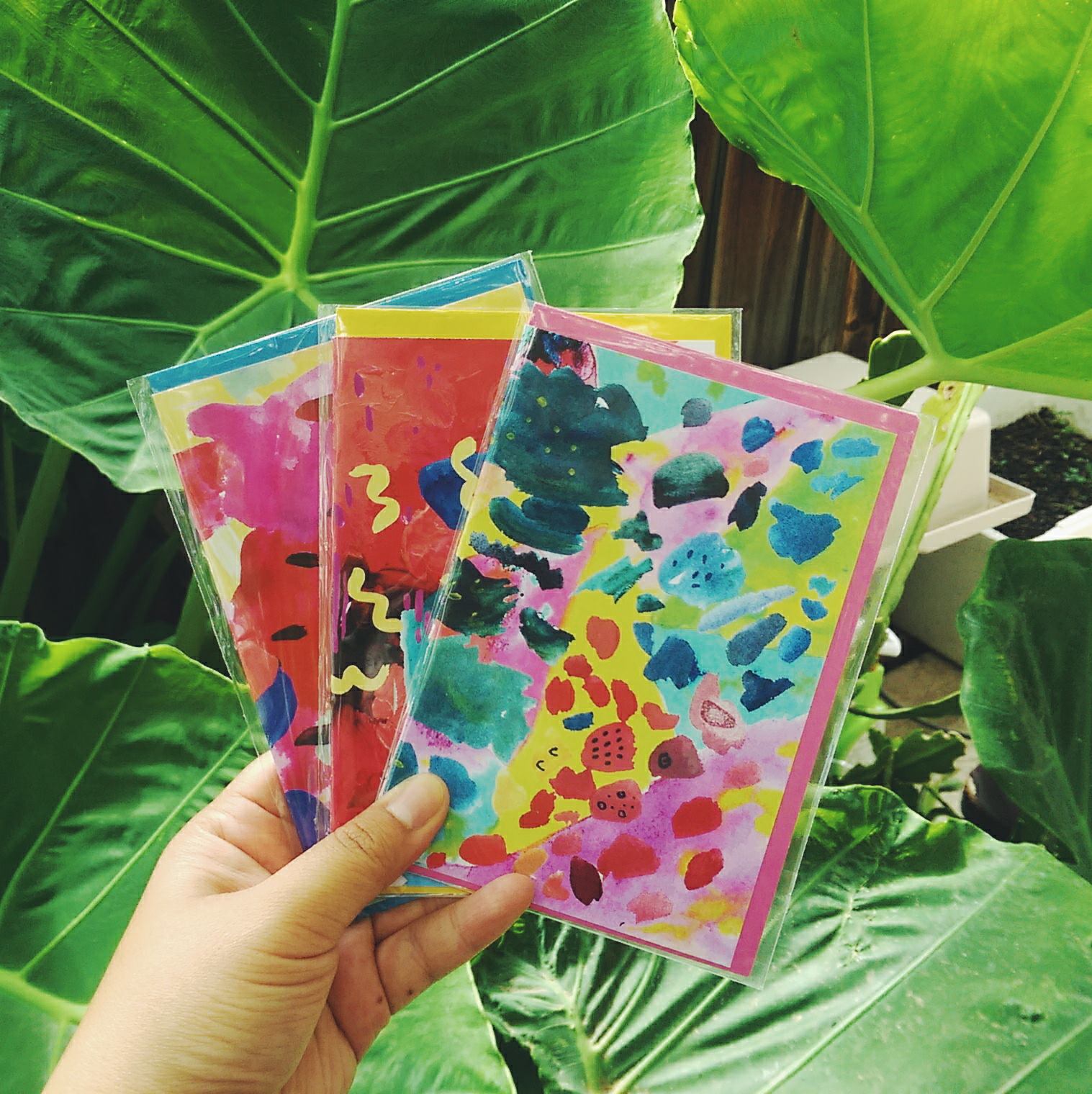 11. Now, tell us a little more about you as a person: what is your favourite food?
Vietnamese food! Have you ever tried banh xeo? It is a Vietnamese savoury crepe with pork, prawns and bean shoots, eaten with fresh veggies and dipped in a sweet and sour, garlic fish sauce. Google it. Now. My other weaknesses are anything corn related, all types of fritters/croquettes, the lychee, raspberry & rose custard donut from Cobb Lane and hot chips and a pot of cider on a hot day. I should mention that I am just as passionate about food as I am with art and design. Going out for dinner is no simple affair, it must always be eaten with people who love food, as Julia Child says, "People who love to eat are always the best people." Fact.
12. Favourite book?
At the moment, my two favourite books are 'Lots' by Marc Martin and 'Imagine A City' by Elise Hurst. One boasts of colour and adventure, whilst the other takes you into a whole new world with nothing but black and white illustrations. I can stare at a page as long as it takes someone else to read an entire chapter I think. 'A picture can tell a thousand words.'
13. Favourite genre of music?
If I was stuck on an island for the rest of my life, I would happily choose jazz. Jazz in the morning, jazz in the afternoon, and jazz in the moonlight.
14. What are your hobbies?
Seeking out amazing mountain views, all-day food hopping with friends, all-night food-hopping with friends, epic battles of Scrabble, Taboo or Risk or lying in bed watching Doctor Who or sci-fi fantasy movies.
15. If you weren't an artist, what would you be?
I would be a full time Set Designer, with the ultimate dream gig being head set designer for Game Of Thrones or Baz Luhrmann's next movie.