Instagram: @gabialmeida.co
1. What's your story? Where are you from?
My name is Gabriela, but you can call me Gabi, I'm 21 years old and I'm Brazilian. Very cliché, but I have always loved to draw, and I remember observing every detail, the line, the color palette in the cartoons, and even the fonts and graphic elements used, for example, in the opening of the Pink Panther (I loved it so much!!). I also had a lot of influence when I saw my mother working since I was little (she is an architect), and although it is not the same area, seeing her drawing, creating, designing with all the care in the world has always inspired me too much. I am very grateful to have had her full support. So I graduated in Graphic Design, and during college I took the opportunity to do all kinds of internships and see what I liked the most hahah. Also during college I participated in several art and illustration fairs in Curitiba, Sao Paulo and Florianópolis and it was really cool to be able to have more contact with people. In 2020, I started to work as a freelancer 100% of the time and it was the best choice I made.
Me chamo Gabriela, mas pode me chamar de Gabi, tenho 21 anos e sou brasileira. Bem clichê, mas sempre amei desenhar, e me lembro de observar cada detalhe, de traço, a paleta de cores nos desenhos animados, e até as fontes e elementos gráficos utilizados como por exemplo, na abertura da Pantera Cor de Rosa (amava demais!!). Também tive muita influência ao ver desde pequena, minha mãe trabalhando (ela é arquiteta), e apesar de não ser a mesma área, ver ela desenhando, criando, projetando com todo cuidado do mundo sempre me inspirou demais. Sou muito grata por ter tido todo o apoio dela. Então me formei em Design Gráfico, e durante o período da faculdade aproveitei para poder fazer todo tipo de estágio e ver o que gostava mais hahah. Também durante a faculdade participei de várias feiras de arte e ilustração em Curitiba, São Paulo e Florianópolis e foi muito legal para poder ter mais contato com as pessoas. Em 2020 começei a atuar como freelancer 100% do tempo e foi a melhor escolha que fiz.
2. Tell us about your aesthetic.
I really like vibrant colors and a palette with warm colors. I love exploring textures and shapes so as to create contrast and volume between the elements. I love to draw different types of bodies, plants and something that refers to Brazilianness.
Gosto muito de cores vibrantes, paleta com cores quentes. Amo muito explorar texturas e formas, de maneira a criar contraste e volume entre os elementos. Eu gosto muito de desenhar diferentes tipos de corpos, plantas e algo que remeta a brasilidade.
3. What is your favourite medium and why?
Procreate and Photoshop. Procreate because it is very intuitive and easy to use, has a very cool fidelity when making the line (mainly for sketches), and Photoshop for the infinite number of brushes and possibilities. Besides, I'm starting to paint with gouache and I'm already loving it.
Procreate e Photoshop. Procreate porque é muito intuitivo e fácil de usar, tem uma fidelidade muito legal na hora de fazer o traço (principalmente para esboços), e Photoshop pela infinidade de brushes e possibilidades. Além disso, estou começando a pintar com guache e já tô amando.
4. What is your artistic process like?
When it comes to a commercial project, I always start by asking myself what references I know about that subject, I write down everything I remember and that comes to my mind at first, without much criteria. Then, I start the research, both theoretical on the subject itself, and visual, for color palettes, elements, ways of representing, etc. And then I start the sketches by hand, then I refine them digitally, with more details and finally the best part: the coloring. Now, when it is a personal project, the process varies a lot haha, sometimes it is super complex and sometimes it is very experimental. But there are things that I always think like: "what message do I want to send? what does it mean to me?"
Quando é para um projeto comercial, eu sempre começo me perguntando quais as referências que sei sobre aquele assunto, anoto tudo que lembro e que me vem a cabeça num primeiro momento, sem muito critério. Depois, parto para pesquisa, tanto teórica sobre o assunto em si, quanto visual, para paletas de cores, elementos, formas de representar, etc. E aí começo os esboços a mão, em seguida os refino digitalmente, com mais detalhes e por fim a melhor parte: a coloração. Agora, quando é um projeto pessoal, o processo varia bastante haha as vezes é super complexo e às vezes é bem experimental. Mas tem coisas que sempre penso como: "que mensagem quero passar? o que isso significa para mim?"
5. Who and/or what inspires your work?
Places, people, music, podcasts, incredible projects, memories. Everything that touches me in some way inspires me to produce. The issues experienced by me and most other women, artists or not. Brazilian culture in general is also very important to me, I believe that Brazil is a visually rich and vast country, it makes me inspired and also very proud, with the desire to take it everywhere. Some incredible Brazilian artists: Maria Auxiliadora, Heitor dos Prazeres, Tarsila do Amaral, Rubem Valentim.
Lugares, pessoas, músicas, podcasts, projetos incríveis, memórias. Tudo que me toca de alguma maneira me inspira a produzir. As questões vivenciadas por mim e pela maioria das outras mulheres, artistas ou não. A cultura brasileira de um modo geral também é muito importante para mim, acredito que o Brasil é um país muito rico visualmente e vasto, isso me deixa inspirada e também muito orgulhosa, com vontade de levar isso pra todo lugar.
Alguns artistas brasileiros incríveis: Maria Auxiliadora, Heitor dos Prazeres, Tarsila do Amaral, Rubem Valentim.
6. What role does art play in your life? How does it change the way you view the world?
Art is a powerful communication tool. Being able to translate feelings, content, stories, information and more through the visuals is just incredible. It is through it that we can speak up, say something, and that message remains over the years. Art provides critical thinking about society and all the issues we experience (mainly being a designer and female artist), and instigates us to want to do something about what bothers us.
A arte é uma poderosa ferramenta de comunicação. Conseguir traduzir sentimentos, conteúdos, histórias, informações e muito mais através do visual é simplesmente incrível. É através dela que podemos nos manifestar, dizer algo, e essa mensagem permanecer no decorrer dos anos. A arte proporciona o pensar crítico sobre a sociedade e todas as questões que vivenciamos (principalmente sendo um designer e artista mulher), e instiga a querer fazer algo sobre o que nos incomoda.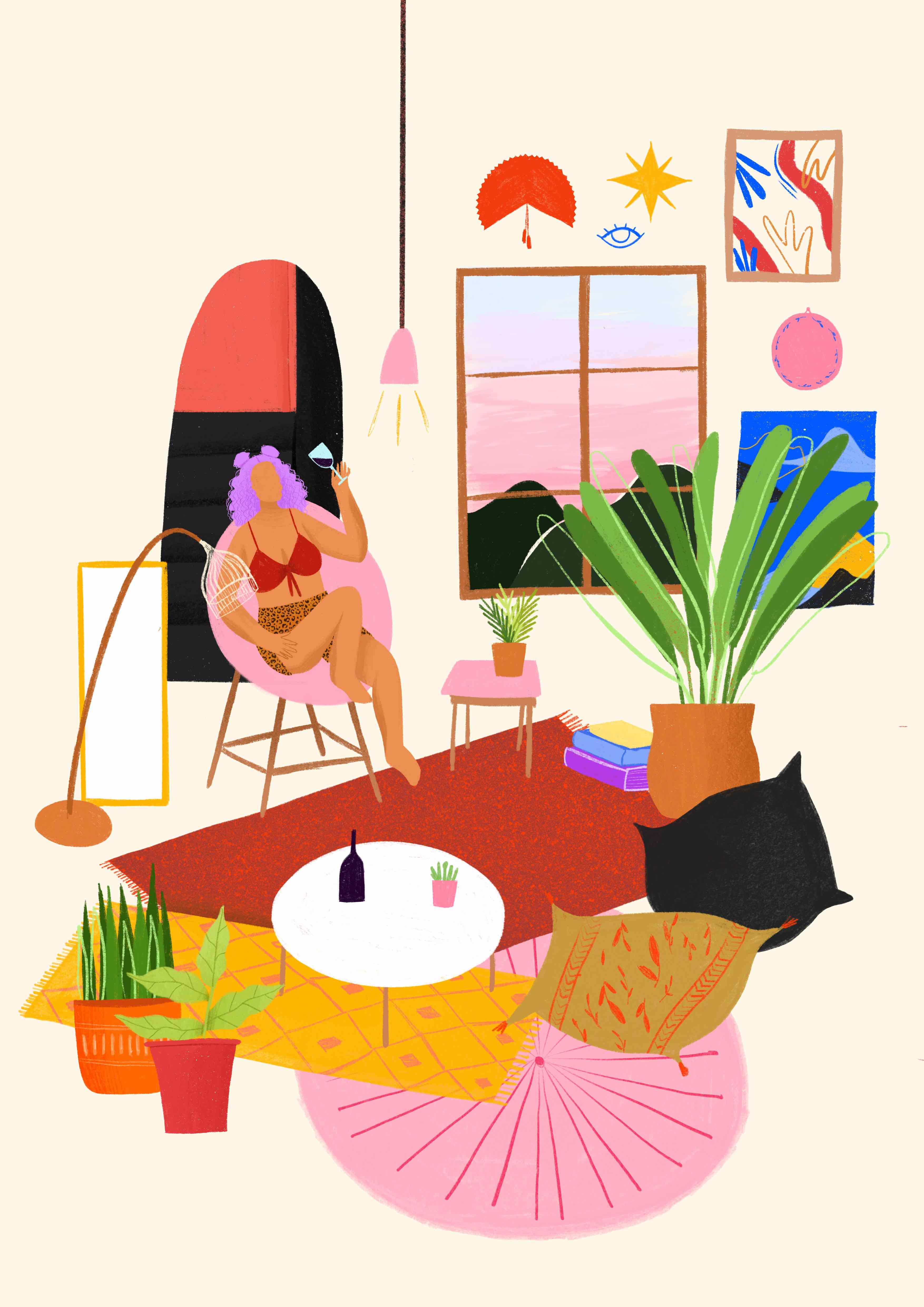 7. Where did you study?
I studied Graphic Design at Universidade Positivo in Curitiba.
Eu estudei Design Gráfico na Universidade Positivo em Curitiba.
8. Where do you see yourself in five years?
Being able to work while traveling, live in several different places, get to know different cities, countries, cultures and histories. Doing work like: picture books, printing for brands, and also incredible projects for big brands and people I admire. I really want to be able to take an illustration course in NYC and a post in Branding and / or Art Direction.
Podendo trabalhar enquanto viajo, morar em diversos locais diferentes, conhecer cidades, países, culturas e histórias diferentes. Fazer trabalhos como: livros ilustrados, estamparia para marcas, e também projetos incríveis para marcas grandes e pessoas que admiro. Quero muito poder fazer um curso de ilustração em NYC e uma pós de Branding e/ou Direção de Arte.
9. What about in ten?
Have my own design and illustration studio, being able to work in partnership with several other different illustrators and designers, building a large network and that in this studio could run events, workshops, fairs and shop, almost as a meeting point for creatives (dreaming big really, haha). Being able to manage time well for commercial and personal jobs, time to learn new hobbies and leisure time in life would be great. I see myself living in a super busy city, with several cultural events going on.
Ter meu próprio estúdio de design e ilustração, podendo trabalhar em parceria com várias outras ilustradoras e designers diferentes, construindo uma grande rede e que nesse estúdio possam rolar eventos, workshops, feiras e lojinha, quase como um ponto de encontro de criativos (sonhando alto mesmo, haha). Conseguir administrar bem o tempo para trabalhos comerciais, pessoais, tempo para aprender novos hobbies e momentos para lazer na vida seria ótimo. Me vejo morando em uma cidade super movimentada, com vários eventos culturais rolando.
10. What do you hope to achieve with your art?
I hope to be able to encourage people to live of illustration, design and creative areas. And make you think about something that hasn't been reflected yet. Dreaming big hahah: I want to be able to be a reference in Brazilian design and illustration.
Eu espero poder incentivar pessoas a viver de ilustração, design e áreas criativas. E fazer pensar sobre algo que não tinham refletido ainda. Sonhando alto hahah: quero poder ser referência de design e ilustração brasileira.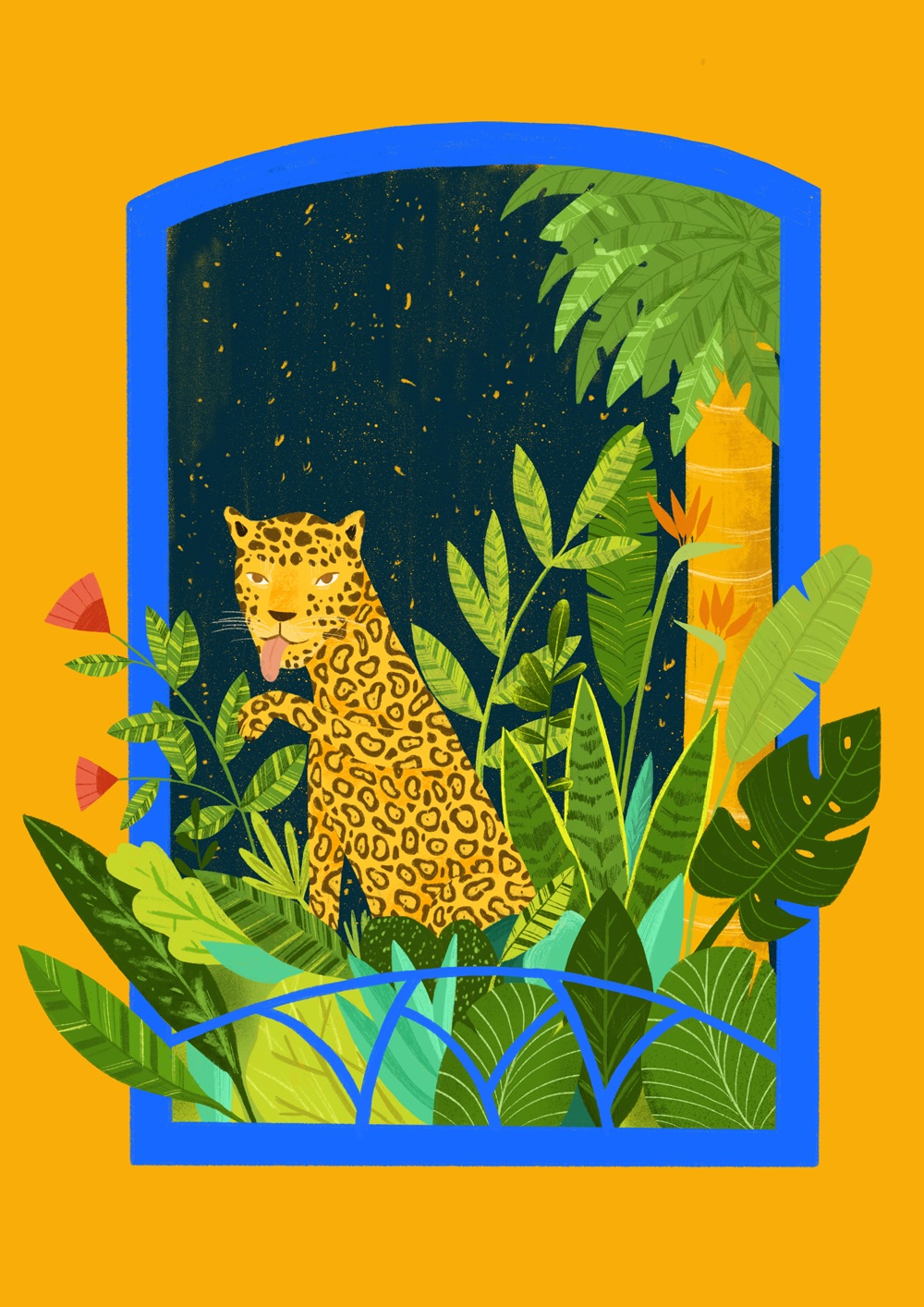 11. Now, tell us a little more about you as a person: what is your favourite food?
Wow, this question is very difficult haha I just LOVE eating. But let's go, the favorites: sushi first, then risotto, barreado, açaí and brigadeiro (a perfect sweet from here).
Nossa, essa pergunta é muito difícil haha eu simplesmente AMO comer. Mas vamos lá, as favoritas: sushi em primeiro lugar, depois risoto, barreado, açaí e brigadeiro (um doce daqui perfeito).
12. Favourite book?
There are several, but some like: Women, Culture and Politics; Design para um Mundo Complexo; História da Bruxaria: Feiticeiras, hereges e pagãs; Pequeno manual antirracista; among others. In general I really like books that talk about design, culture, feminism and travel.
Tem vários, mas alguns como: Mulheres, Cultura e Política; Design para um Mundo Complexo; História da Bruxaria; Pequeno manual antirracista; entre outros. No geral gosto muito de livros que falem sobre design, cultura, feminismo e viagens.
13. Favourite genre of music?
Music helps me a LOT when it comes to creating, so I have several very different playlists: ranging from FKJ, Masego, Anderson Paak, Mahalia to Pabllo Vittar, Doja Cat, Duda Beat, Tassia Reis, Liniker, Seu Jorge and many others. In short: R&B, MPB, Funk BR, Soul, Pop.
Ouvir música me ajuda MUITO na hora de criar, entao tenho várias playlist bem diferentes: vai desde FKJ, Masego, Anderson Paak, Mahalia até Pablo Vittar, Doja Cat, Duda Beat, Tassia Reis, Liniker, Seu Jorge e muuuuuitos outros. Resumindo: R&B, MPB, Funk BR, Soul, Pop.
14. What are your hobbies?
Watching series, listening to music, taking pictures of the city, pictures of people, traveling, taking care of my plants, my dog, reading, making candy recipes. Various things that relax me, inspire me and take me out of my routine.
Ver séries, ouvir música, tirar fotos da cidade, fotos das pessoas, viajar, cuidar das minhas plantinhas, do meu cachorro, ler, fazer receitas de doces. Várias coisas que me relaxam, me inspiram e me tiram da rotina.
15. If you weren't an artist, what would you be?
I think I would do something like tourism. I was going to try to be a stewardess or tour guide to be able to travel a lot and visit several different places haha.
Acho que faria algo tipo turismo. Ia tentar ser aeromoça ou guia turística para poder viajar bastante e conhecer vários lugares diferentes haha.