Instagram:
@gemmakoomen
1. What's your story? Where are you from?
I am a freelance artist and illustrator living in beautiful, wild Northumberland, UK. I grew up as a child of two artist parents in south-west Scotland where I spent lots of time drawing and roaming around in nature. I originally trained in fine art photography and for many years I worked as a photographer and graphic/web designer. But I have always drawn and kept sketchbooks. When I had children I started drawing and painting with them.It felt so good, so much so I began a committed practice of drawing and sharing my work on Instagram. That has gradually led to a lot of engaging work!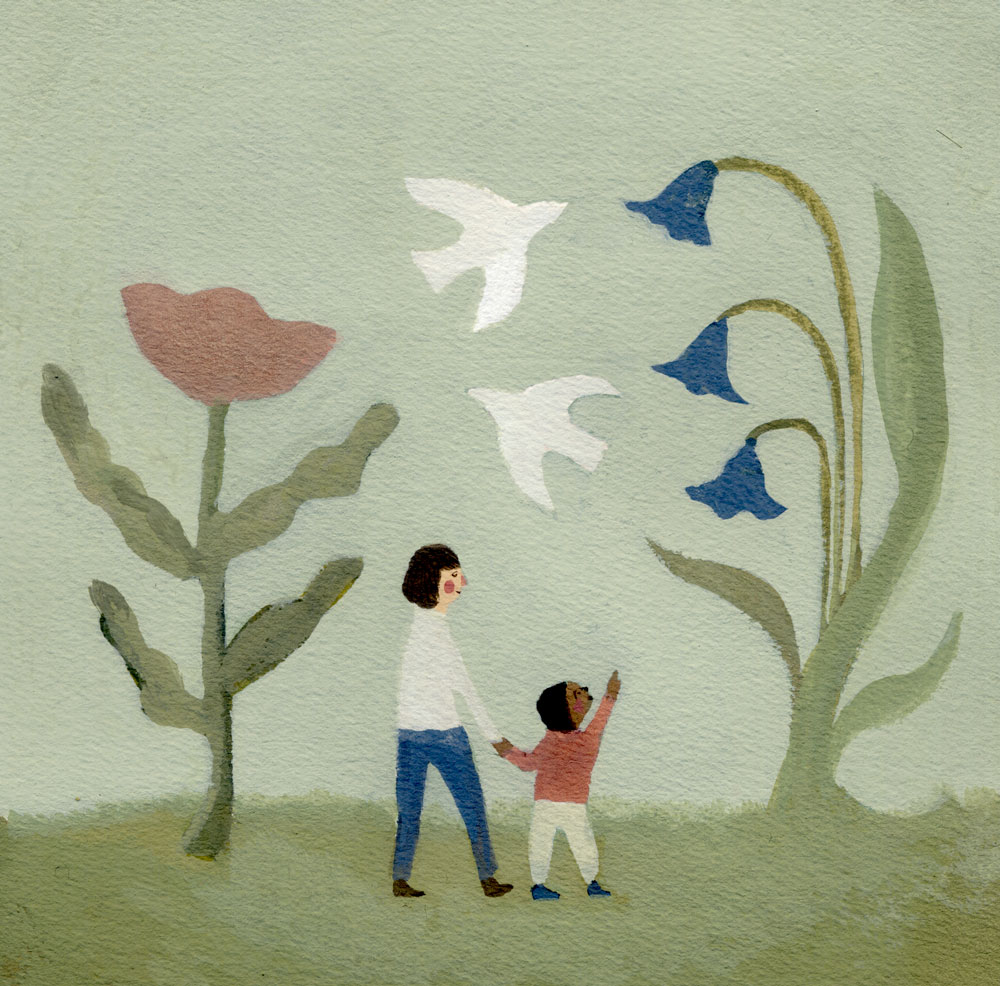 2. Tell us about your aesthetic.
My paintings are fairly simple with a limited earthy colour palette. They are calm in mood and composition. I think they have a soft, playful feel about them.
3. What is your favourite medium and why?
For years I loved using gouache and ink together. Recently I have been using acrylic gouache and I'm definitely in love with it. I feel so happy when I move the paint around. I'm pretty messy and spontaneous and love the way that I can really push the paintwork. Sometimes it feels like a sculptural process as I move the line work and forms around until they really resonate with me.
4. What is your artistic process like?
I am a collector. I am always taking photos, screenshots, finding things in second-hand stores, saving images on Pinterest. I use all of this as a visual library, filling up my sketchbooks with drawings in my brush pen or graphite. I also do a lot of purely imaginative sketches; I quickly draw ideas as they come or I explore a narrative I'm interested in. I really trust my subconscious mind and go with whatever I'm most drawn to when I am working on a more finished piece. For the next stage I often paint a more detailed sketch in black ink and use a light box for the first background layer or paint directly on watercolour paper, it kind of depends on the piece. I sometimes add a bit of texture with pastel or pencil or more gouache with a dry brush before scanning and touching up and adjusting/ rearranging in photoshop.
5. Who and/or what inspires your work?
My seven-year-old daughter has the most amazing sketches and ideas. Sometimes I get so much inspiration just talking to her and my four-year-old. I am also really into vintage children's book illustration, old black and white photos, being in nature - particularly my garden and the farm we live on, encounters and experiences travelling, my emotional life, and primitive painting. A lot of Japanese contemporary illustration, ceramics and sculpture really touch me.
6. What role does art play in your life? How does it change the way you view the world?
It's huge for me, I can't really separate it anymore I feel it permeates through everything; the itch to make and create, the emotions that it brings up, the addiction to being in a flow state while painting, the collecting and researching, it all brings me a lot of pleasure, it feels constructive and soothing. I feel it integrates a lot of me and I couldn't really imagine life without it. I am a peace-loving, sensitive person; I yearn for calm, simplicity beauty and connection, which feeds into my work, and in turn makes me look for that all the more in the other moments when I am not painting or drawing.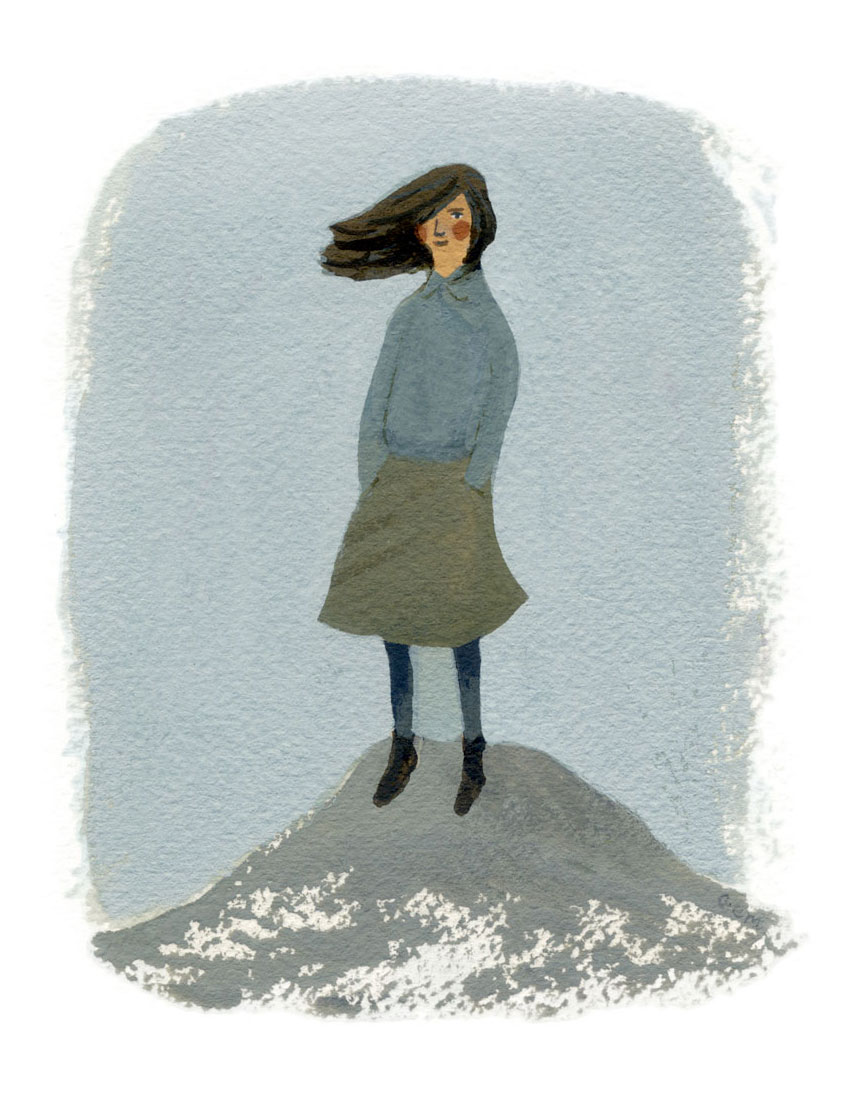 7. Where did you study?
I did my undergraduate degree at the Glasgow School of Art in fine art photography. It was great being surrounded by inspiring peers and exploring themes that interested me. Later I started an MA in photography but I really wasn't connecting to it as my main medium. I was very fortunate to be allowed to transfer into the illustration department at Sunderland University. There I felt I could breathe. I was encouraged to explore an authentic style. I have attended various classes in life drawing, abstract painting and screen printing in the ten years since finishing my Master's degree but I continue to find my style in what I feel is a very intuitive self-taught way.
8. Where do you see yourself in five years? Working in an agency?
I hope to be still committed to drawing and painting daily. I would love to be making children's book art, licensing designs, doing editorial work for publications that I resonate with, and continue to develop and sell my own work in my online shop.
9. What about in ten?
It would be a dream to write and illustrate my own children's books.
10. What do you hope to achieve with your art?
Authenticity and self-acceptance, as well as simplicity, tenderness and peacefulness for myself and for the viewer.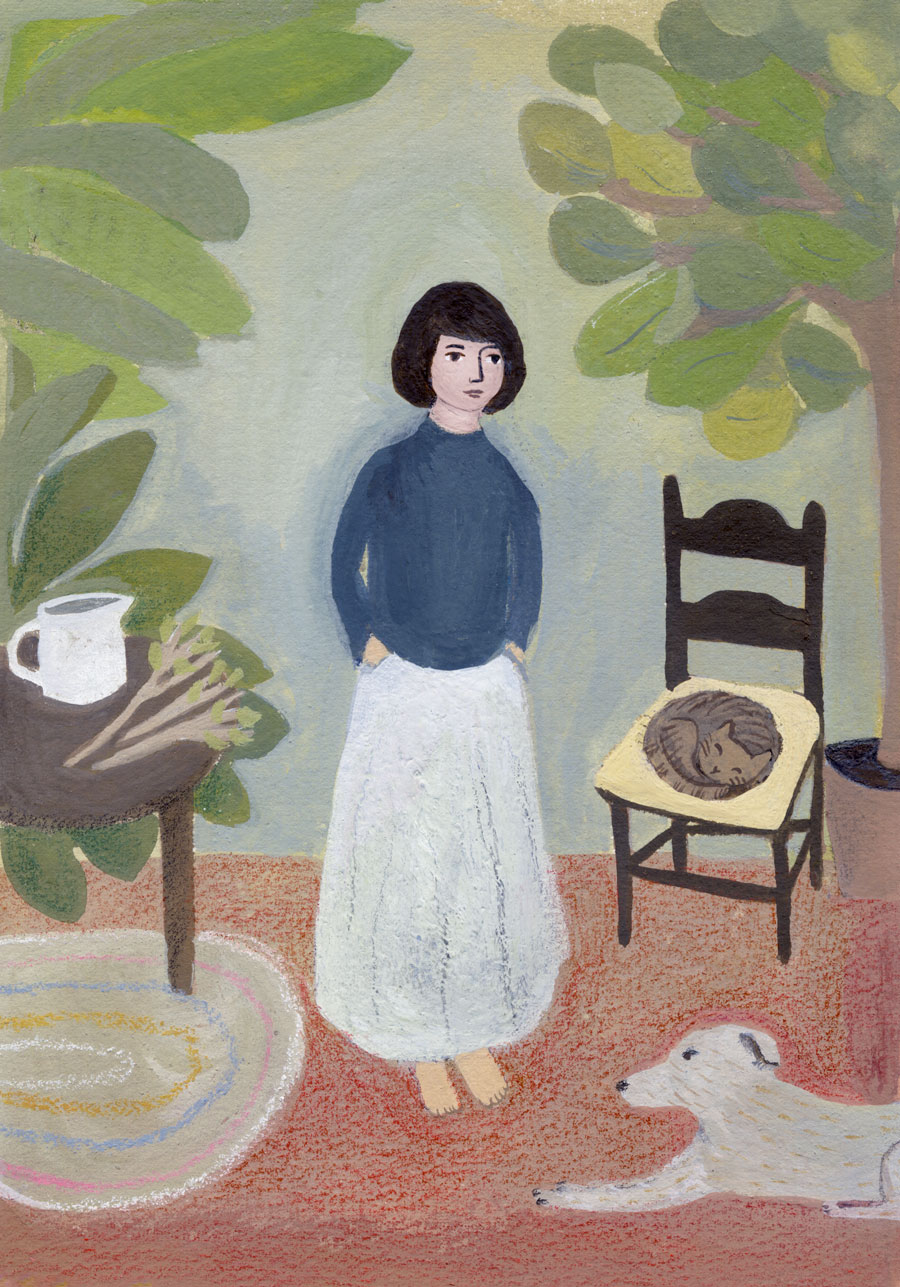 11. Now, tell us a little more about you as a person: what is your favourite food?
Simple country fare; anything that's come out of the garden, laid by our hens, or organic meat, honey and freshly made bread from our neighbours.
12. Favourite book?
Dandelion Wine by Ray Bradbury.
13. Favourite genre of music?
Folk and world music.
14. What are your hobbies?
I like being in nature, walking or gardening. I enjoy singing and playing music, making things with my kids, having soulful chats with good friends, making and eating good food, finding and listening to good music, treasure hunting in charity/thrift shops, and on a slightly less regular basis due to school and English weather- travelling to new places, and wild swimming.
15. If you weren't an artist, what would you be?
I think I would always be doing something creative. If I really had to think of something else, I might be a garden designer, a botanist, or something that involved lots of plants!