Instagram:
@geogeoff
1. What's your story? Where are you from?
Hi, I'm Geoffrey Gomiz. Originally from Nice (France), I currently live in Montreal (Canada) and I'm a Graphic Designer. I am passionate about music and art. It was in 2003 that I discovered the job I wanted to do later: Art Director. I was 13 years old. I started my studies in Graphic Design in high school. I was 16 years old. After that, I worked a bit in the music and event industry. After seeing the band Justice in concert in 2007, I had a crazy desire to make an electronic music band and be on stage. We created with a friend an electro/rock band in 2008 under the name « Satellit ». After playing in some pubs and night clubs in the French Riviera, we quickly had the opportunity to perform live in important stages and festivals from the French Riviera in 2010 with huge headliners bands. We recorded an EP in 2011 and except for one song, the rest gets very very old. I can not listen to these tunes anymore haha. I came back to art school in the meantime and created the identity of the band. We stopped this project in 2013 with a lot of good memories in mind. I finished my art studies in Paris. I came back to Nice in 2014 and I became an Art Director for a jewelry and watche brand in Monaco for four years. I moved to Montreal in 2018 and it is during a trip to the US west coast that I developed a real passion for art collage.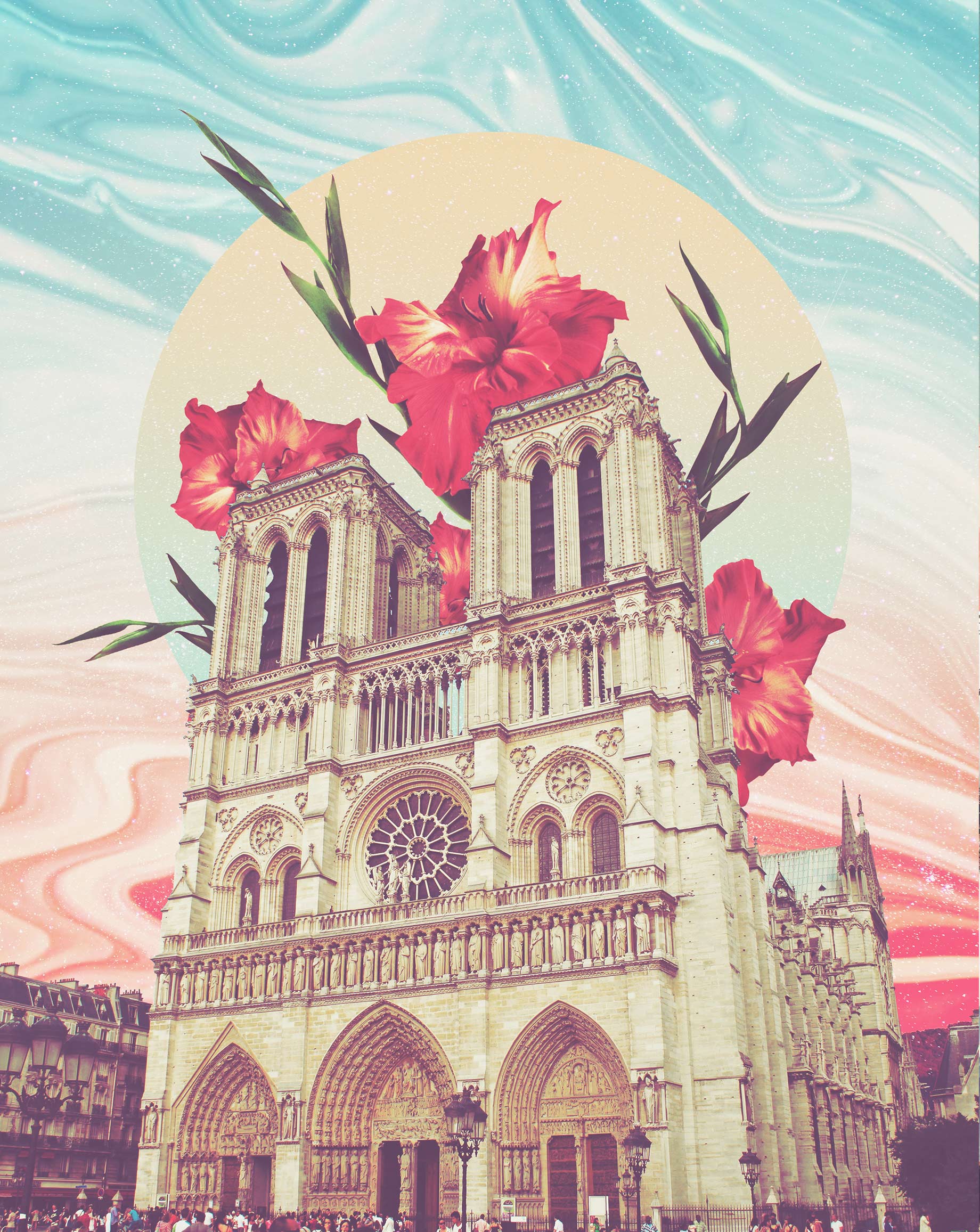 2. Tell us about your aesthetic.
Surrealism with modern abstract and psychedelic science-fi touch. I bring the things I enjoy in life through my art.
3. What is your favourite medium and why?
Digital collage. I discovered through this art a facility to express my ideas and thoughts without being limited.
4. What is your artistic process like?
The inspiration at first. Then images research on things that I particularly like in life. I can spend whole days looking for pictures. Find which image could match with another image. It's a job where you have to be patient. I cut pieces of different images and then put them together in one unique image to make a story. 3 to 7 different images can be assembled on a piece of work.
5. Who and/or what inspires your work?
Mostly the music and videos from the bands I listen to. I am passionate about science-fi movies like the films from John Carpenter or Paul Verhoeven. Also Asian culture like medieval Japan. Every day inspires me, in the street, in my travels, in the video games, in the magazines, museum, Instagram ... But I started digital collage after my trip to California and the discovery of the Colorado desert with Death Valley, Slab City, Desert Daze Festival ... These places inspired me a lot. The desert is the most incredible thing I've seen in my life. I want to go back as soon as possible.
6. What role does art play in your life? How does it change the way you view the world?
Art allows me to escape from the routine. Runaway from problems. Art can bring a lot of good feelings for everyone. It is enough to see the good that art therapy does. I discovered this discipline in Montreal and it can bring a lot to people.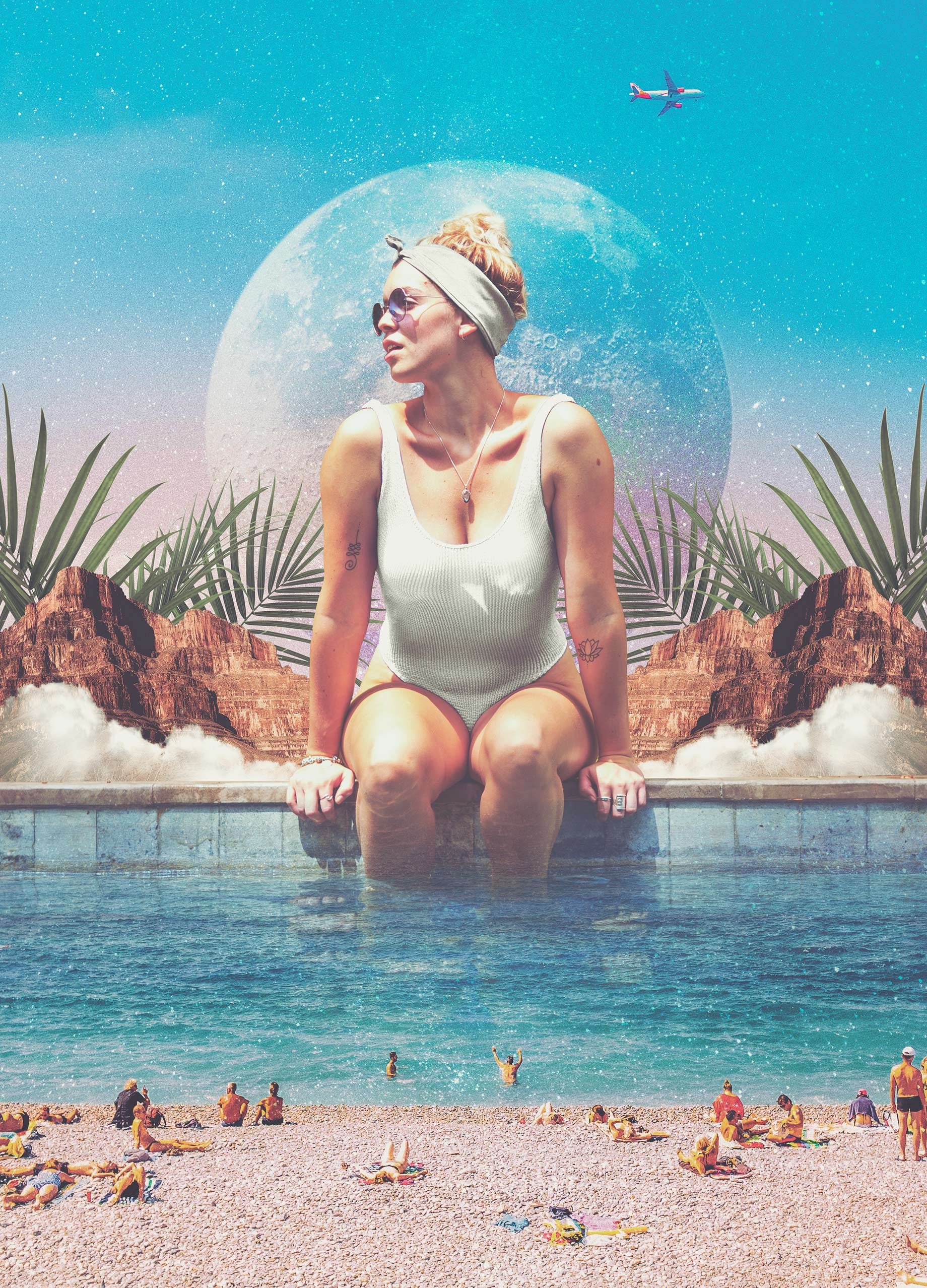 7. Where did you study?
I started my graphic design studies in high school. I studied in Nice and Lyon. I then went back to MJM Graphic Design school in Nice and finished my school studies at the Paris school.
8. Where do you see yourself in five years?
Good question. I will know it in 5 years from now! I do not know in which city I will live. It could be Montreal, Paris, on the French Riviera, or somewhere else. It depends on the opportunities. However, I may want to go back to the music industry. Make music or accompany artists. Continue my artworks.
9. What about in ten?
The only thing I would love to do in the next ten years is going around the world for a year with a backpack. Discover as many countries as possible in every continent of the globe.
10. What do you hope to achieve with your art?
I started the collages without real intentions. I wanted to do things for myself and have fun without having someone above me to tell me what to do. I quickly received a lot of positive messages. I was not expecting that at all. It's really great to see this kind of messages. It encourages me to continue. The ideal is to be able to live with my art.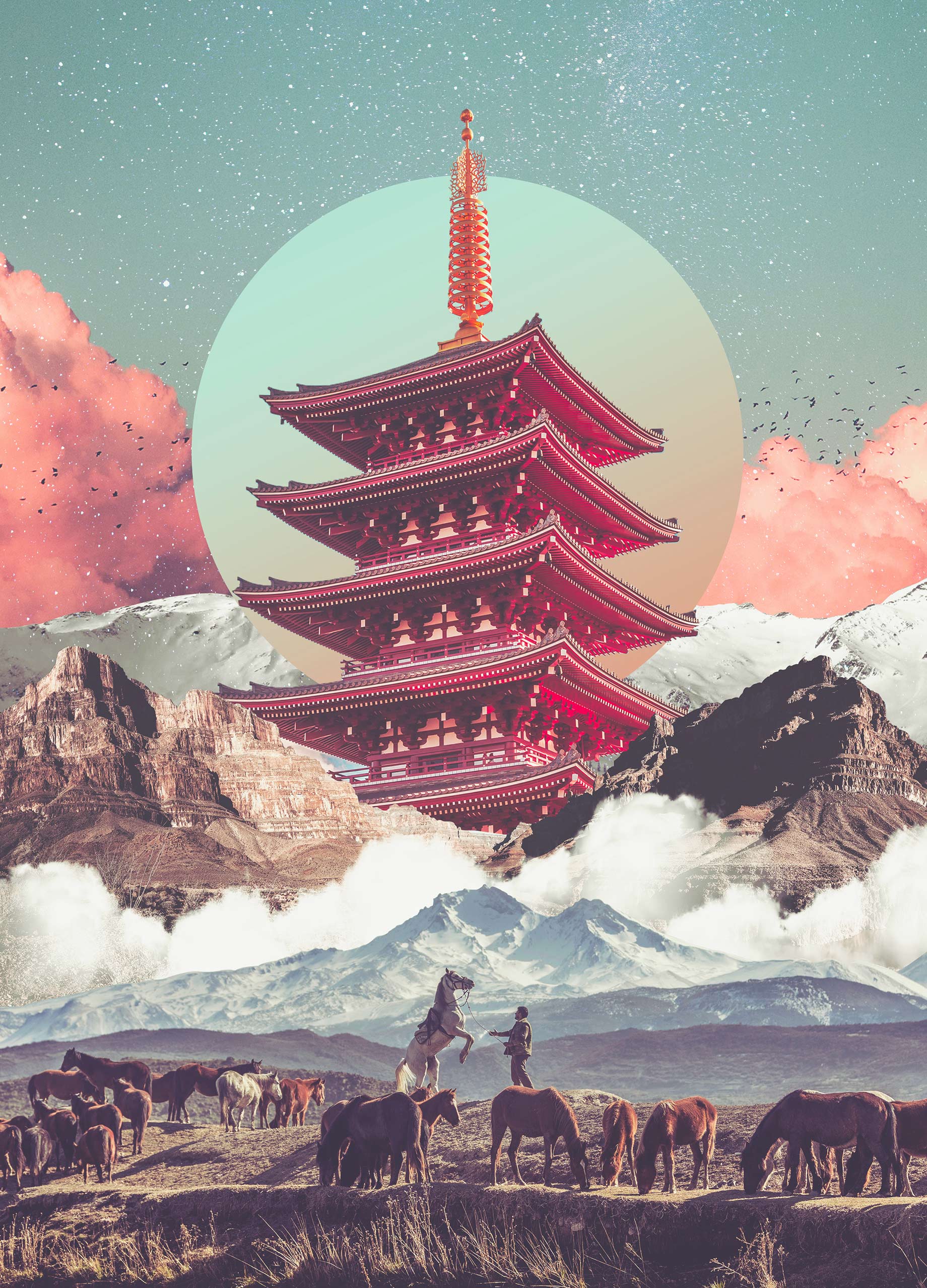 11. Now, tell us a little more about you as a person: what is your favourite food?
Asian food! I think I eat asian food at least once a week.
12. Favourite book?
To be honest with you, I have never been a reader… My culture about books is too weak to give you an answer but, if I had to choose one, it would be "Christine" by Stephen King.
13. Favourite genre of music?
Very difficult question because I listen to a lot of different styles. Electronic music (and there's a lot of different styles), soul, funk, hip hop, 80s pop, trip-hop, classic ... But the kind of music that I listen to the most and since very young is rock. There are also many different styles. I like of course the classics of rock, but also the pop, the indie, the metal, the doom, the stoner... But now I listen to a lot of psychedelic rock. There are many new bands today. Coming from Australia in particular. Psychedelic rock inspires me a lot in my work.
14. What are your hobbies?
My main interests are concerts and festivals. I would like to do all the festivals in France. I always had great moments. I feel « Home » in these kinds of events. You see lots of artists, everybody is so cool and there are good vibes, you meet great people, and you eat and drink well haha. At the moment, 80% of my Instagram stories are based on the concerts I attend to and the music I listen to. Otherwise, I like trips, culture, cinema (mainly science fiction and horror movies), denim, vintage fashion, retro, video games, sports like hockey, football, and tennis. I also like to walk, fall in unknown streets without looking at the map.
15. If you weren't an artist, what would you be?
Owner of a vintage shop!