Instagram:
@giao_williams_illo
Website:
www.giaowilliamsillustration.com
1. What's your story? Where are you from?
I'm a mom to two girls in the fun age range of 11-13, wife to a Welshman, and constant companion to our hound-mix rescue, Maggie (who looks a bit like a Bumpus hound from A Christmas Story). We live in a suburb of NYC in New Jersey. I got into creating and illustrating full-time in 2005 when my husband and I relocated to a state where my corporate job didn't have an HQ and my husband encouraged me to leave the corporate work world for good and follow my creative work path (as a side hobby to my day job, I had been making and selling crafts and selling online as well as at Renegade Craft since 2003). I took some time off while my girls were young and full-time mommied, but I got back into drawing daily back in 2018. I was born in Vietnam but left as an infant when Saigon fell. I grew up in South Bend, Indiana (now well-known for being Mayor Pete's hometown). I'm a Midwest girl who loves cheese and still prefers Chicago deep-dish over the thin New York style pizzas (though I'm not one to turn down a slice, ever).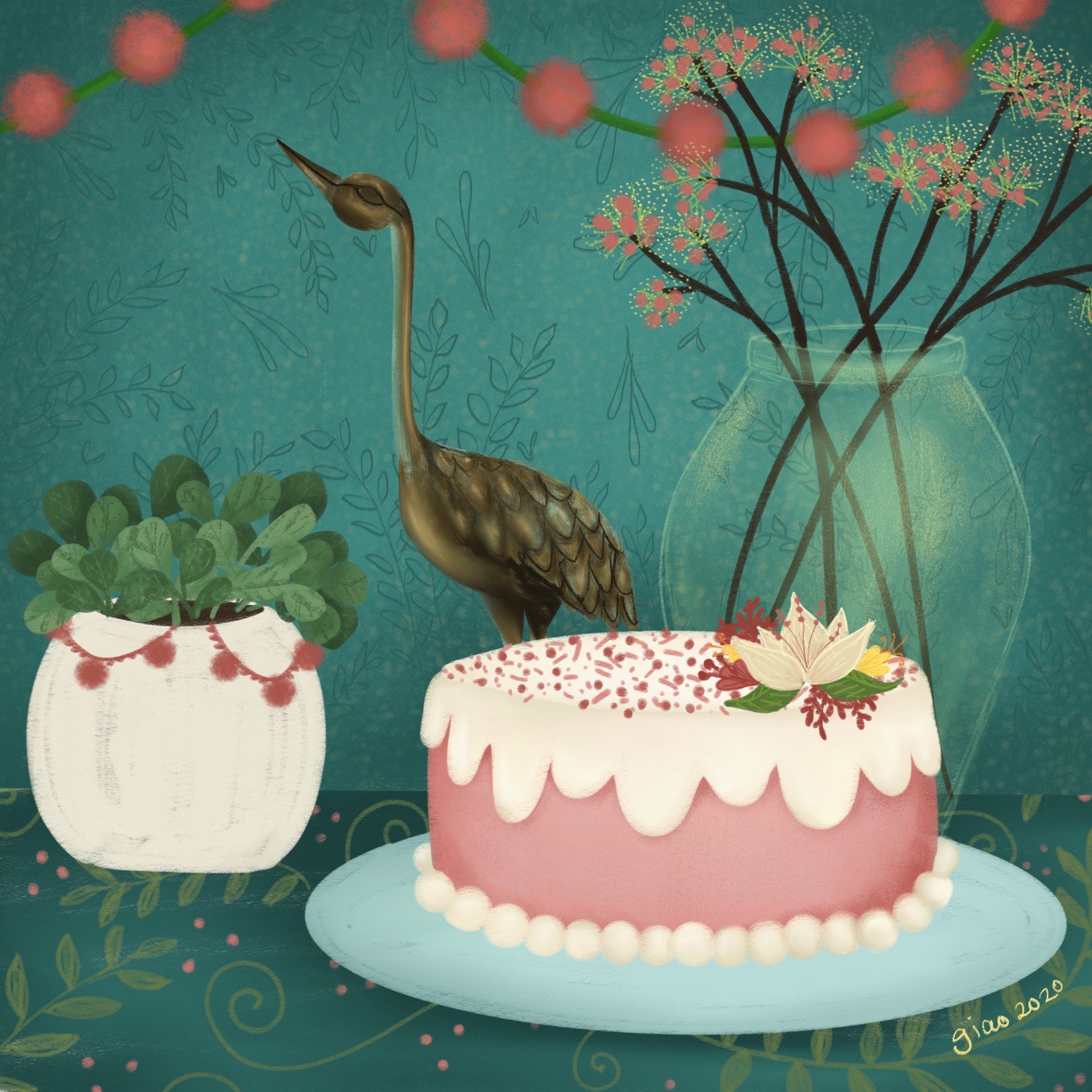 2. Tell us about your aesthetic.
I love vignettes or little moments within a bigger moment. Often my work is light and airy but with a touch of shadow. I'm a fan of a slightly darker underpinning beneath the brighter surface.
3. What is your favourite medium and why?
I've recently fallen in love with drawing on my iPad with Procreate, but my one true love is colored pencils. There's a wonderful versatility in function and blending and vibrancy, paired with the precision of a nicely sharpened tip. Colored pencils were what I grew up creating with and what I find to feel like "home" when I'm creating a drawing. I still have my very first set of Prismacolors, which were gifted to me by my sweet aunt in Montreal back when I was in high school. I fell in love with a set while out shopping, but my parents thought it was a slightly extravagant purchase (they were super pricey back then). My dad's youngest sister happened to learn about my wish for the set and gave me them before we went home from our trip. These pencils are about 30 years old now and still work beautifully.
4. What is your artistic process like?
I start with a thought of what I want to capture and take that spark and mull it around in my head till a feeling for what I think I want to capture forms into a visual idea or vignette. I then pencil in the rough composition and then set color to it.
5. Who and/or what inspires your work?
Inspiration is everywhere. That sounds corny, but it is absolutely true. Sometimes it will be a fun color combination. A quirky outfit. A great bit of lettering. An interesting interaction viewed from afar. Quite often it will be a word association that comes from a prompt or drawing challenge. More often than not it is seeing a person or a scene while I am out and about that catches my eye, which then captures my thinking, usually revolving around the unsaid elements (the feeling) of a mental photo of that brief instance. Books also inspire me to draw. You create visual worlds within your mind when you read; such a wonderful gift your brain gives! When my children were younger, their picture books would also inspire with the colors and styles within the stories. I still have pages from some of their Mary Blair books framed in their rooms. I listen to music for most of the day and find the songs can often create a mental picture that forms into something I'll want to catch in a drawing. My daughters keep me current with many of their music choices, but my steady fallbacks are the music of my youth (poppy 80s, alternative 90s) because they are imbued with lots of nostalgic feelings. Nostalgia informs a lot of my work. Most recently I saw a very distinguished older gent walking around in town who was dressed in a dapper manner. It sparked off a memory of my late father-in-law, who always looked distinguished with a lot of character. That thought led to visits in Britain and how the mood was set by the environment. I tried to bundle all those thoughts into a vignette and created an illustration of a dapper character biking across the countryside.
6. What role does art play in your life? How does it change the way you view the world?
Art is a very therapeutic part of my life. When I have a day where I don't get the opportunity to sit and draw for a bit (it happens, with the busy-ness of being a mom to active and busy kids, as many parents would attest to), I feel like I've missed something essential (like the routine but requisite morning cup of coffee) and it feels like an incomplete day. In our home art is a part of everything we do. Before I unpacked all our essentials (dishes, sheets, etc), I stopped to make it homey but putting up art and family photos on the walls. My husband and kids are all artistic and I think more creative because of the space we live in. We all view the world in artistic terms and appreciate the little things that catch our eyes constantly, even in the mundane moments. For example, the other day I found a stink bug on its back in my kitchen sink. The initial thought was, "ugh, yuck, stink bug!" But the next thought was, "look at those exquisite, red-traced wings with a delicate wire frame of the faintest black!" You don't normally see these wings when the stink bug is just hanging around or walking along the edges of a windowsill, but this unfortunate dead bug had released its wings for me to appreciate, if for a fleeting moment before he was scooped into the kitchen trash bin.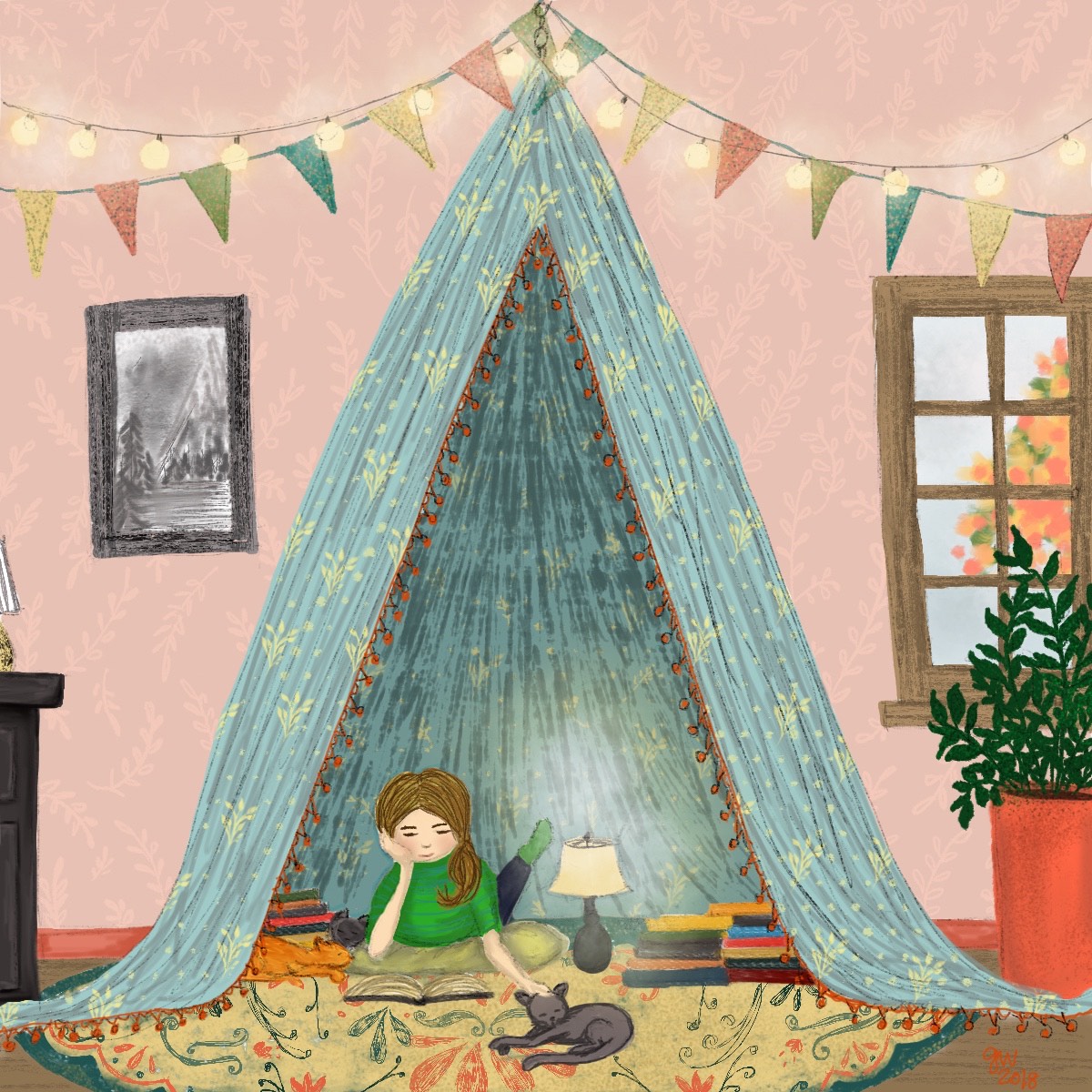 7. Where did you study?
I studied at the University of Notre Dame and The Illinois Institute of Art.
8. Where do you see yourself in five years?
I see myself making a full-time living in my artwork in five years with licensing deals and perhaps another shop.
9. What about in ten?
Still creating new work for various markets (editorial, surface design) and perhaps becoming recognizable for my body of work.
10. What do you hope to achieve with your art?
I hope to make a full-fledged career with my art and to show my girls it is truly possible to make a life doing what you love. I hope my work brightens up the homes, stories, books, and Instagram feeds of the people who like it.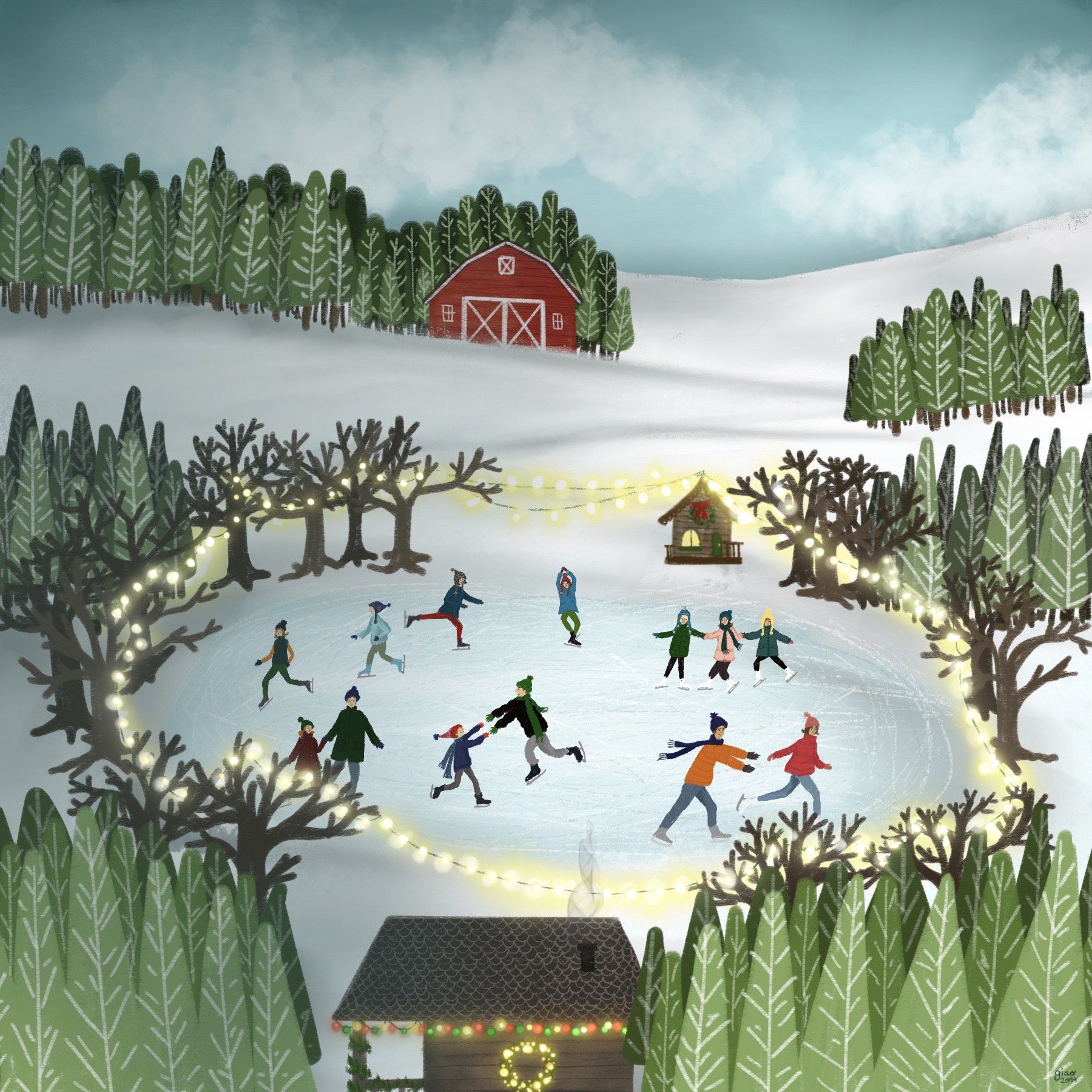 11. Now, tell us a little more about you as a person: what is your favourite food?
My younger daughter loves to ask me my favorite all the time! It is hard for me to narrow it down to one, but I can say the things I love the most include Chicken Tikka Masala + Saag Paneer, Lumpia, Beef Pho, Kung Pao chicken, fresh gnocchi in a nice marinara, tacos…. I love food!
12. Favourite book?
A few favorites: The Bonesetter's Daughter by Amy Tan, The Art of Racing in the Rain by Garth Stein, The Time Traveller's Wife by Audrey Niffenegger, The Little Friend by Donna Tartt, The Great Gatsby by F. Scott Fitzgerald, and To Kill a Mockingbird by Harper Lee.
13. Favourite genre of music?
80s/90s alternative pop (Ride, Cure, Smiths, Trashcan Sinatras, Stone Roses, Pixies, Pogues, Primitives, Belly)
14. What are your hobbies?
Reading, crafting, food, music
15. If you weren't an artist, what would you be?
A shopkeeper! I love setting up little displays and vignettes, I love curating nice things, and I love sharing those nice things with people who might not otherwise come across those finds.