Instagram:
@ginamiller128
Facebook:
www.facebook.com/ginamillerillustration
Etsy:
www.etsy.com/shop/GinaMillerShop
Website:
www.gina-miller.com
1. What's your story? Where are you from?
I'd say that I'm generally from Texas. Generally, because I was born in Michigan, raised in East Texas, and then with the recession of 2009 greatly affecting my family, I also lived in Oklahoma and then temporarily back in Houston, Texas for the long breaks while at school in Georgia. Haha, so I'm just from America, let's say. I'm 22, just graduated from college and will be moving to Milwaukee for my first textile design job!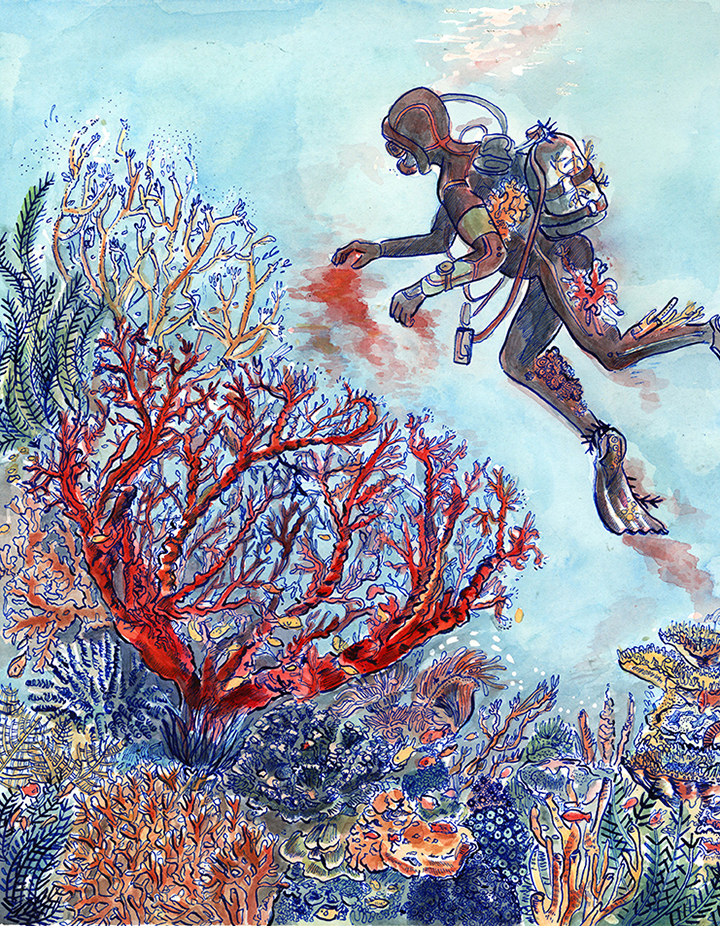 2. Tell us about your aesthetic.
"Aesthetic"--one of those golden words that professors would sigh at along with "style", haha. Well I'd say that all of my work ties together with my affinity for nature and a vibrant color palette, so it's bright and inviting, but with closer inspection there's humor and deeper symbolism. I've been told that my line-work and watercolor is expressive and "loose like my personality". I love flowers, bears, fish, along with repeat patterns that flow between my illustrations, textile design, and sketchbook work.
3. What is your favourite medium and why?
I've found that my bread and butter is ink/acrylic ink with pen nib, layered with watercolor on HP 140lb watercolor paper. Something I figured out after awhile in school was that I like to go crazy with detail and rendering, so either render with shape or render with line—not both! I absolutely love the feel of my hand to paper, the control that I have with a tool, but at the same time, I love the magic that happens with mistakes, experimenting, or working with media like printmaking that creates nuances that cannot be purposely produced. Needless to say, I hate working digitally. I can and I do, but I easily forget shortcuts, zoom in too much, and just don't naturally work that way, whereas you can't really forget how to draw or paint. With my textile design work, I absolutely cherish and value my yardages that I screen-printed by hand, spending 10 hours in the studio day after day, really problem-solving and thinking methodically from start to finish.
4. What is your artistic process like?
All of my work begins with research and thumbnails, really stretching things in the beginning to provide many possible resolutions, followed by three comp sketches, a final cleaned up sketch and color comps (quick watercolor on Xerox copies and color swatch tests). Then I blow up the final comp to about 1.5-2 times the size of the print and use a light-table to lightly draw my composition as reference and do final line-work with pen nib and ink. Scan--because I have screwed up many times before--and do final watercolor and scan with few digital edits. Most of my repeat patterns are the same, and then I would take motifs and create repeat patterns, although I've made patterns traditionally with graph paper, transparencies, and paint. My sketchbook is where a lot of ideas go or fleshing out styles for fun, and my embroideries are pretty much unplanned and develop as I go.
5. Who and/or what inspires your work?
Flora and fauna are at the forefront for inspiration for me, as I love to use things from nature as a vehicle for metaphor that would be more universally understood. As an example to how true this is, when I was lucky enough to study abroad in France a year ago, while visiting the Palace of Versailles, I was more entranced by the trees and natural pattern created from moss, rather than the palace itself. My friends through school are a constant source of inspiration, as iron sharpens iron. Otherwise, Andy Warhol inspired me in high school to take art seriously and let me know that I could actually pursue it; art from Frantisek Kupka, Sonia Delaunay, Wayne Thiebaud, Cezanne; powerhouses like Anna Bond, Elizabeth Olwen, and Lisa Congdon; illustrators like Emilio Ponzi, Lieke van der Vorst, Conrad Roset, Diela Maharanie, Liz Payne, etc.
6. What role does art play in your life? How does it change the way you view the world?
Art is so intrinsically intertwined with life, that I'm not really sure anymore of how to separate it into an external being or the role it plays. Creating art fuels me to wake up every day, sometimes waking me up in the night so I can write more ideas down of things I want to do and create. I feel like art can include the process of making just as much as it means to just thinking creatively, or thinking at all in your own head for that matter. Sometimes it makes me think selfishly and making stuff just for me, what I like and think is fun or pretty, or tends to an emotion; art also makes me think outside of myself and makes me want to understand others and communicate in ways that words may just not penetrate.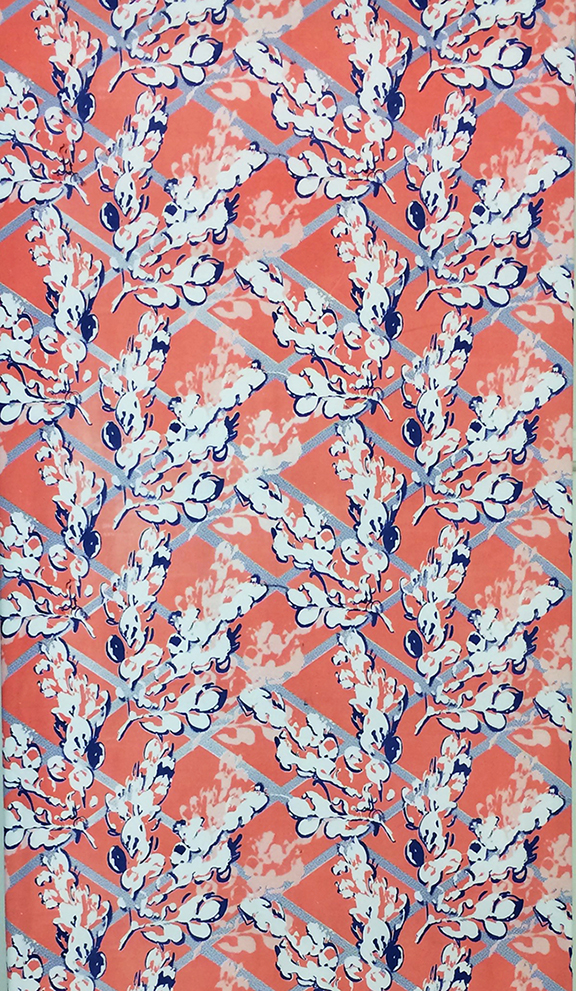 7. Where did you study?
I just graduated in June with my BFA in Illustration and a minor in Fibers from the Savannah College of Art and Design in Savannah, GA.
8. Where do you see yourself in five years? Working in an agency?
Well I can tell you that starting in August, I will be a textile artist at Kohl's in Menomonee Falls, Wisconsin. But that's just a start. I've also started a little business, sewing bags and things to sell in my Etsy shop and in person, and I'd ideally like to start doing editorial work. The ideal goal for myself is to be able to do freelance work full-time, both with my own textile design and editorial illustration. So I'm going to try to get the ball rolling now!! I'm grateful for where I am now, but I also don't want to grow complacent.
9. What about in ten?
Goodness, does anyone know?? Okay, well I at least have 1 year contracted at Kohl's. So then 9 years after that… I want to be doing freelance editorial illustration and textile/surface design as real jobs, like jobs that'll make a dent into my student loans. At some point I want to live in (and be able to afford?) New York City. I'd like to do gallery work, but not as a thing for glory or that classic tragic struggle of artists, but more as with collaboration with others to make things larger than you can do on your own. There are a lot of people out there that could stand to see that they are loved and accepted, and I'd like it to be big, bigger than the strife that is ever so present.
10. What do you hope to achieve with your art?
First impression: a smile and laugh from onlookers. Art is important for me with fueling ideas and feeling satisfaction and joy through the process of making, and sometimes the art is just for me, but once my art has a viewer beside myself, I hope to bring joy and thoughtfulness.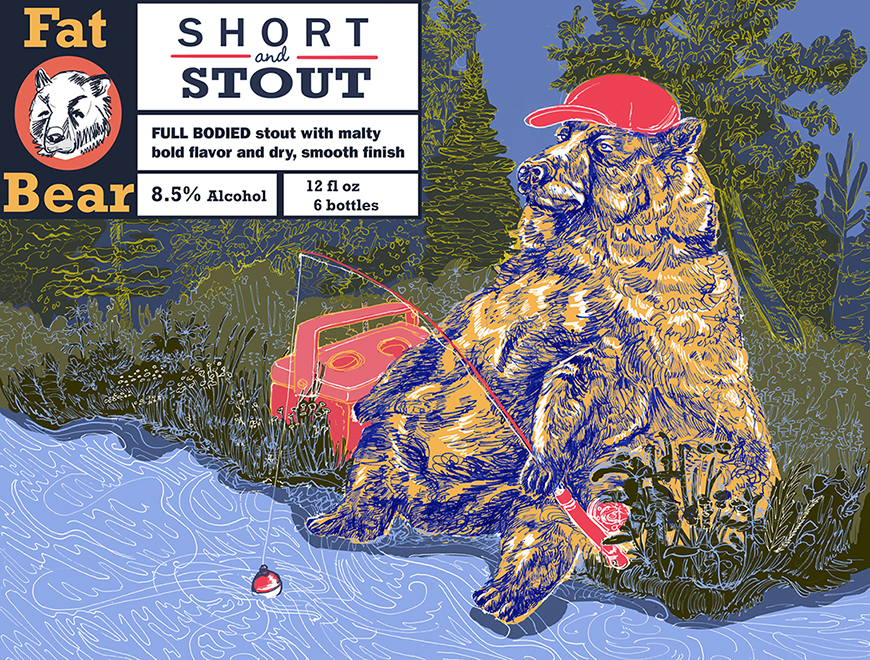 11. Now, tell us a little more about you as a person: what is your favourite food?
Sweet potatoes.
12. Favourite book?
Anything from Haruki Murakami, as his novels keep piling up on my shelf, while I continue to donate other books as I pack moving boxes year after year. I also have a soft spot for Andy Warhol's "The Philosophy of Andy Warhol (From A to B and back again)" along with Steve Martin's "An Object of Beauty". Oh, and the manga "Kimi ni Todoke". hehe
13. Favourite genre of music?
Indie, Folk, Post-rock, acoustic, instrumental, some upbeat stuff. Literally my main playlist on Spotify is dubbed, "Because I'm Pretentious", because my brothers kept calling me a hipster when I was in high school. Staples for this year for working and walking miles around town are: Broken Social Scene, Fink, Kings of Leon's "Walls" album, and Giants & Pilgrims. Or just Michael Scott from "The Office" singing "Goodbye My Lover".
14. What are your hobbies?
It's hard to say since my hobbies/passions are also now work, so that territory can get muddled. I love to cook for my family and friends, so socializing around food is important. I read when I can, exercising at the gym is a hobby I suppose, and then multitasking with embroidering, sketchbooking, or sewing while I watch Netflix or game-play videos on YouTube.
15. If you weren't an artist, what would you be?
When I was 4, I told my family that I wanted to be a "bakery" when I grew up—not a baker, but apparently the actual storefront. Or maybe an engineer, would've been more cost-effective.