Instagram:
@giuliapelizzaro
Website:
www.giuliapelizzaro.com
1. What's your story? Where are you from?
Hello! I'm Giulia Pelizzaro, I am a venetian painter/illustrator based in Amsterdam. I have always drawn since I was a kid, inspired by street art, lettering, contemporary art etc. I was used to draw and copy what I considered challenging and stimulating, building at the same time a personal taste and style.
2. Tell us about your aesthetic.
I'm heavily inspired by street art, doodles, and ironic illustrations. With my art I portray contemporary concepts with an added twist of irony. My illustrations include crowded scenes with bizarre doodles, odd shapes and wavy lines, flat colors without any shades. I make a large use of pink, light blue, turquoise, yellow and black hues.
3. What is your favourite medium and why?
Markers and ink! Even though I almost paint everyday with acrylic colors cause the result on canvas is way more even and uniform. I usually draw first a digital or an ink illustration and then I transpose it on various surfaces.
4. What is your artistic process like?
Before starting I do a lot of research to understand better the concept that I want to illustrate and for inspiration. Then I start to sketch on paper or directly on my laptop till something nice comes up and when I'm pretty satisfied I start making a final design.
5. Who and/or what inspires your work?
I'm inspired by everyday life, internet, movies, people...
6. What role does art play in your life? How does it change the way you view the world?
Art is like a need that I have to satisfy to avoid a mental breakdown.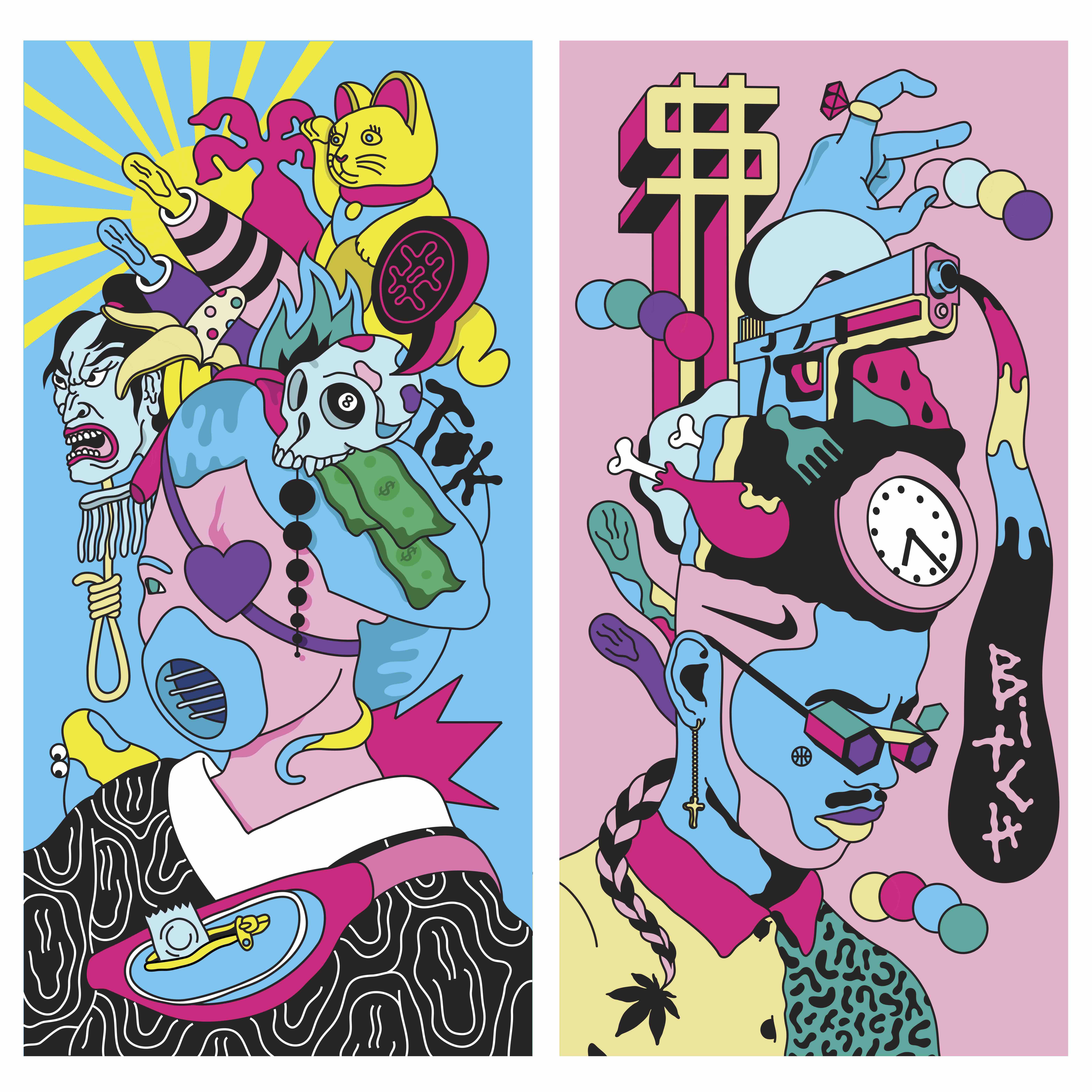 7. Where did you study?
I studied architecture and design at IUAV, Venice
8. Where do you see yourself in five years?
In a warm country swimming with the dolphins
9. What about in ten?
Still in a warm country swimming with the dolphins
10. What do you hope to achieve with your art?
Well, I don't really have a plan. I am just glad and flattered when people/clients/galleries like my art and support it.
11. Now, tell us a little more about you as a person: what is your favourite food?
I love italian food and I love stereotypes.
12. Favourite book?
I really like few books by Oriana Fallaci like 'Insciallah' and 'La forza della ragione' even though I'm more a comics and graphic novels person. My favourite is Painkiller Jane by Jimmy Palmiotti and Joe Quesada.
13. Favourite genre of music?
I listen to different kind of music but my favourite is the hard rock.
14. What are your hobbies?
I have always played basketball since I was a kid and I love it but recently I developed the interest to learn the saxophone.
15. If you weren't an artist, what would you be?
Probably a dolphin