Instagram:
@giuliasagramola
Shop:
giuliasagramola.bigcartel.com
Website:
giuliasagramola.it
1. What's your story? Where are you from?
I'm Giulia, I'm Italian, I've been living in different places in Italy and abroad and currently, I'm based in Barcelona. I started making comics and self-publishing when I was a student and I work as a freelance illustrator since 2010. I'm an author of graphic novels and children's books and I like to design objects/t-shirts/books. Basically, I like to tell stories and to work with drawings on any possible support.
2. Tell us about your aesthetic.
I doodle freely in my sketchbook and from there I come up with forms and shapes that I try to keep as fresh as possible. This way my work can come up as playful, with a narrative feel because of my background in comics. I like colorful images with a limited palette, my characters have always personality and - if the work allows it - you'll always find some humor.
3. What is your favourite medium and why?
I love the intimacy of comics, the way you can tell a full universe in a book and the fact that it's a relationship between you and one reader at the time. Currently, I'm also loving ceramics because it's bringing my aesthetic in new unexplored directions.
4. What is your artistic process like?
I write down in a notebook anything I find relevant or funny or inspiring. I do the same with drawing, I try to go back to my sketchbook whenever I can. Then, my process varies according to the work I'm doing. If it's a personal piece, I'll look in my sketchbook to find some noted ideas and I will develop them into a final illustration. If it's an assignment, first I'll brainstorm ideas writing and doodling nonstop, then I'll make final sketches to send to the client. When the sketch is approved I'll work on the final composition and color palette and will submit the final. For books: I collect my notes slowly and at some point, I'll try to make sense to them. Then I'll start storyboarding the full story, then penciling the full story and maybe making some final page to see how it will look the work in the end. Then I'll do the rest. My last graphic novel took me 9 months, sometimes I had to stop to work on some illustration job, so the process may always vary according to the situation.
5. Who and/or what inspires your work?
Everything I experience, read or see. It's really like being a big antenna and collecting everything, digesting it and making it your own while expressing a point of view. I look a lot around in my daily life (I'm very inspired by the dogs and people in my neighborhood) and sometimes I overhear other people's conversations or take note of what they say on social media (sorry not sorry!).
6. What role does art play in your life? How does it change the way you view the world?
It's all my life, it's the motor to go ahead, especially in times like these in which politicians and the environment are going nuts. I honestly think that without art I would be miserable, even if sometimes it's a very difficult path, I can't see myself happy without making art. It changes the way I see the world by giving a sense and purpose to life in general. I don't think you have to do an artistic job to feel complete, but being connected with your creative side can really change your life.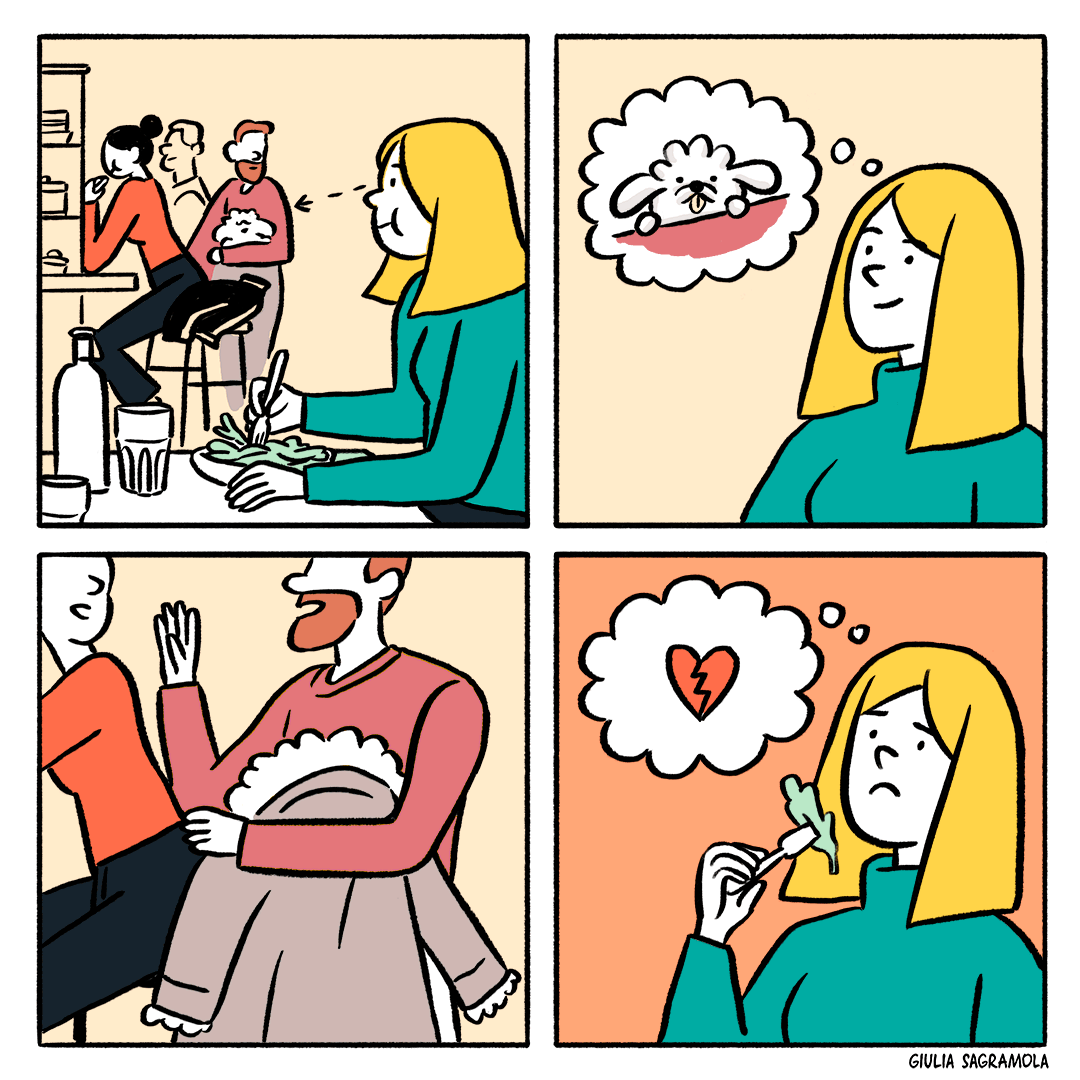 7. Where did you study?
I studied in a small town in Italy called Urbino, in an amazing school called ISIA, where I had the ability to learn graphic design, photography, illustration, book design, typography. It was the best I could have asked at the time. Then I did a year in Barcelona at Escola Massana and it completed my experience with being introduced to screenprinting, etching, animation and illustration storytelling. I miss studying, so when I can I just keep studying things on my own, but it's harder to be focused and finding the time.
8. Where do you see yourself in five years?
Probably doing the same things, maybe living in the USA? Or maybe back in Italy, I don't know and it's ok like this. I'd love to have my own brand at some point or physical space that can be a studio, a printing lab and a shop at the same time. I hope I'll have a dog in 5 years but I hope I'll have one much earlier!
9. What about in ten?
I hope I really opened that physical space at this point! And probably I'll have 10 dogs ;)
10. What do you hope to achieve with your art?
I'd love to create a community, a safe space. Sharing values and vision with other people. I'd like to achieve that with my stories: making people feel at home while feeling all the feels when they read them. On a smaller scale, if you one of my comic strips make you smile on Instagram or one of my illustrations give you a feeling, that's already a lot to me!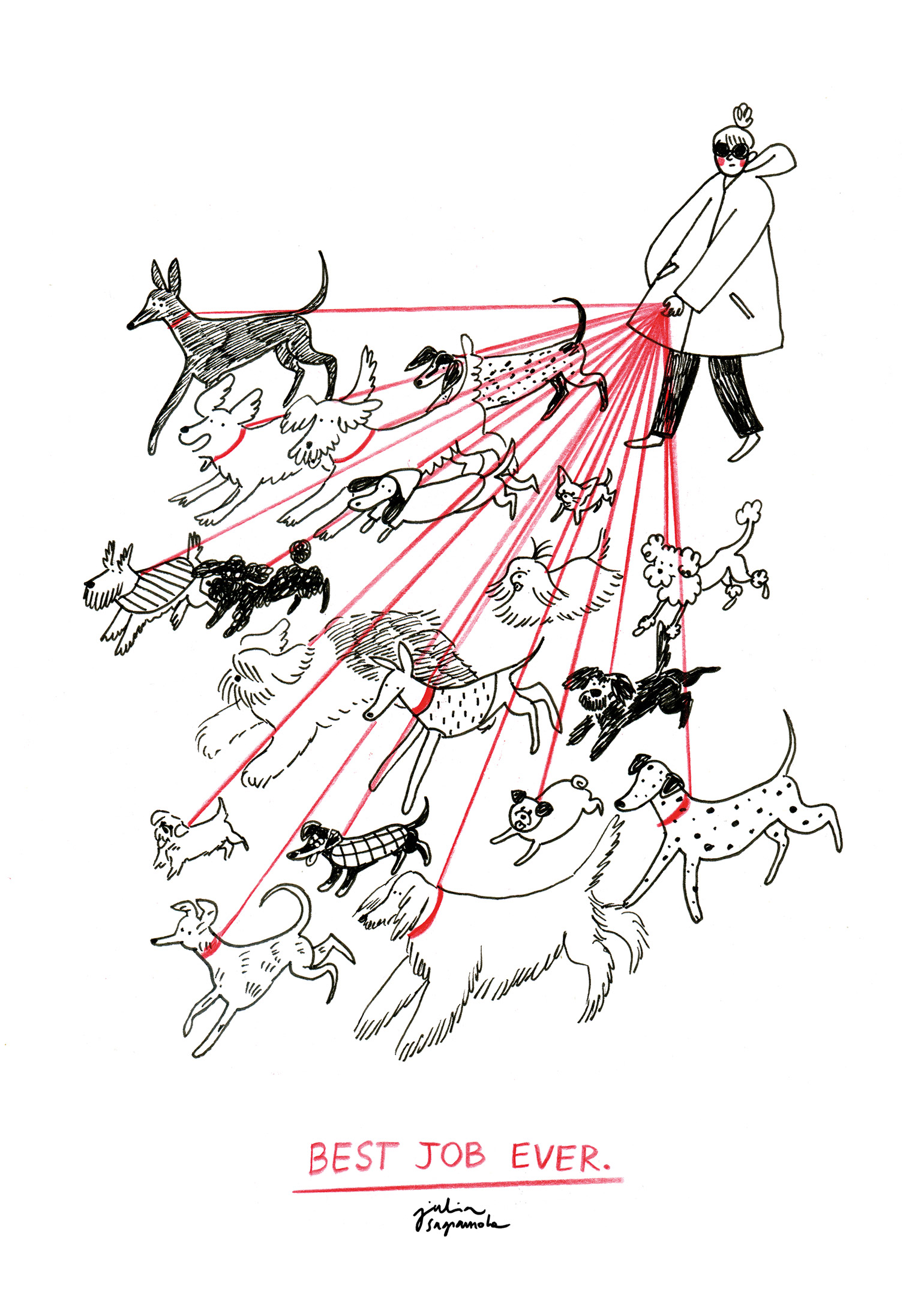 11. Now, tell us a little more about you as a person: what is your favourite food?
I love gelato in a way that it's hard to explain to someone that hasn't had gelato in Bologna. And I love all the ravioli, tortellini, mozzarella, pasta you can imagine. I also love dumplings and noodles, and pizza 4ever. Italian being Italian, I know.
12. Favourite book?
From the classics I'd say Frankenstein by Mary Shelley, the last book I've read that I really loved is Normal People by Sally Rooney.
13. Favourite genre of music?
Many! Some of my favorite bands: The Beach Boys, Princess Nokia, Metronomy, The Kinks, Lizzo, Buzzcocks, Tame Impala, The Misfits... it really depends on the mood.
14. What are your hobbies?
I started ceramics a year and a half ago and I'm loving it. I take pictures and videos of dogs.
15. If you weren't an artist, what would you be?
I would be a dog groomer or a dog walker.