Instagram:
@grandma_guac
Website:
juliabarnes.myportfolio.com/illustrations
1. What's your story? Where are you from?
I'm a junior illustration major, originally from Central New Jersey, but am currently residing in Philadelphia for university sake.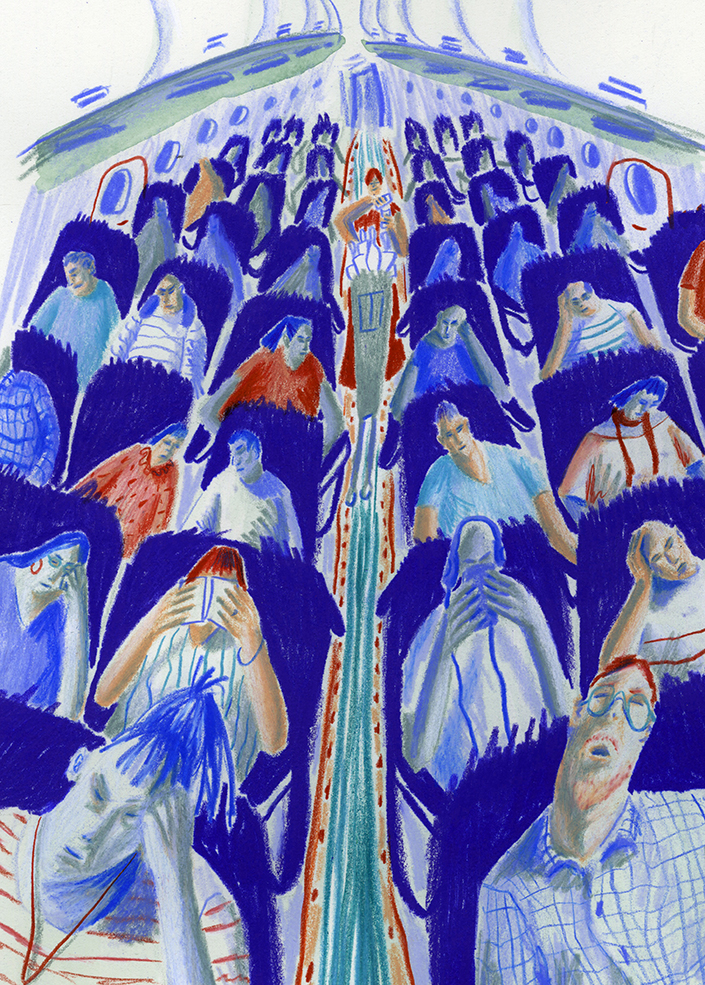 2. Tell us about your aesthetic.
I think of my work as being very loose, energetic, colorful, and uplifting.
3. What is your favourite medium and why?
My all time favorite mediums are colored pencil and oil pastel, currently weighing more on the colored pencil side. They both make me feel as if I'm painting my drawings, just with dry medium instead of wet. Unfortunately, my laziness and impatience has always stood in between me and the painting process.
4. What is your artistic process like?
My process varies from project to project. A lot of the time, I like to gather a bunch of reference images and jump from photo to photo and compose an image on the spot, making color, value, and proportion decisions as I go. I've found that spontaneity helps me maintain movement and life within my work, whereas when I'm doing multiple finished sketches on top of a final piece, I tend to tighten up and lose that essence I had from the first drawing. However, I'm working on my ability to maintain energy through a more drawn out process because planning is definitely necessary sometimes.
5. Who and/or what inspires your work?
As a youngin' in this internet age, I get almost 100% of my inspiration from Instagram. I'll find an artist I like, look at the related artists to them, etc. I love following bigger names, smaller hopeful illustrators like myself, and a lot of magazine profiles like Ball Pit. I have a blast finding new artists on Instagram. It's such a great tool for modern-day artists big and small to put themselves out there and see what others similar to them are doing with their creativity.
6. What role does art play in your life? How does it change the way you view the world?
Sometimes I question how I'm able to contemplate art for hours every day and not drive myself to insanity or start to hate it. My love for it just continues to grow with each day. Between hours of illustration classes every day, researching new artists, thinking of new ideas, talking about art with my boyfriend/friends, working on projects at home and sketching for fun, art practically takes up most of my life. It gives you this conscious lens that I feel like every artist can relate to. It's the eye and mind that make an artist great, not their hands. You observe the people and environments around you with a beauty that not everyone can tap into.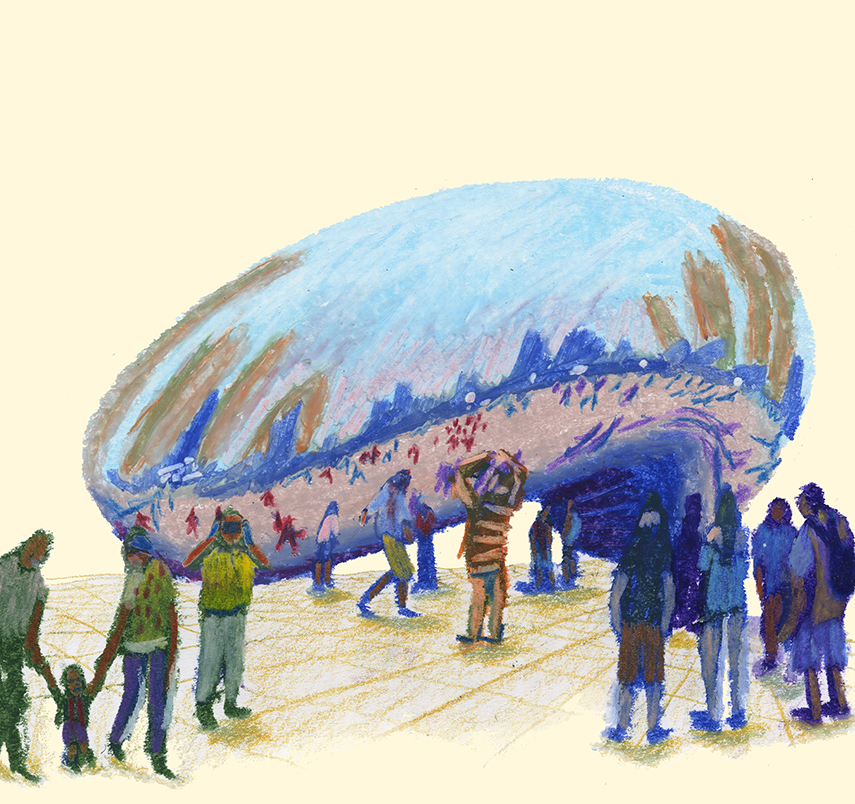 7. Where did you study?
I'm currently studying at the University of the Arts in the heart of Philadelphia. This is my third year in the illustration program.
8. Where do you see yourself in five years?
The first five years right out of college... oof. I'm expecting a lot of excitement, confusion, and growth. My plan is to keep pushing my freelance career, build up my following online and start selling my own printed products. I've accepted the fact that I'll have to push through a part-time job right out of college while I strengthen my art and my contact list, which weirdly makes me feel a little more at ease since I'm trying to be practical and not expect an immediate lift off.
9. What about in ten?
My hope is that I'm able to sustain myself entirely off my artwork. I want to stretch myself over a bunch of different markets like editorial work for magazines, writing and illustrating books/book covers, and selling my personal projects through an online shop. Also hopefully pushing a family by that time??? If I'm not already too stressed???
10. What do you hope to achieve with your art?
When people look at my drawings, all I want to wash over them is love and beauty. I want them to feel a warmth for all the different kinds of people, locations, and wildlife on this planet. I think a lot of people are so overwhelmed in our hectic and bustling society that they lose an awareness for just how insane and puzzling this thing is that we experience everyday. My goal is to have that moment click, to have someone's thoughts be content for a few seconds.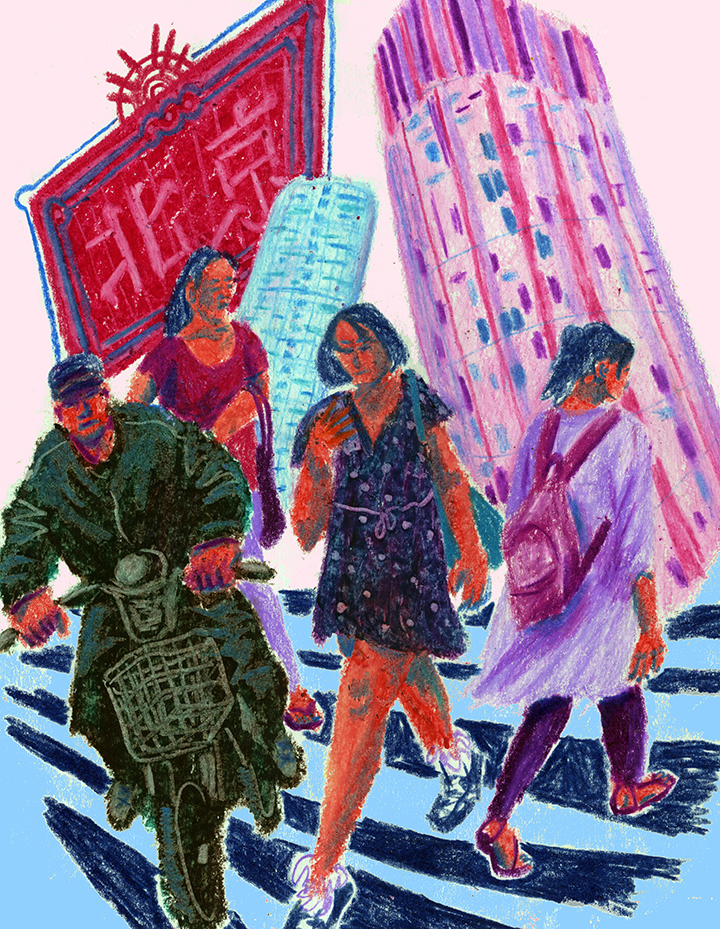 11. Now, tell us a little more about you as a person: what is your favourite food?
I've had a great day when I've laughed, danced, made art, ate numerous plates of good home cooked meals, spent quality time with my loved ones and pets, saw some beautiful scene outside, and relaxed at the end with some tea and a good book. I have so many favorite foods. I think everyone should indulge in all of their senses. If I had to list them though, I would have to go with tacos, any form of potato, and fried rice.
12. Favourite book?
The Untethered Soul by Michael A. Singer. It was the first book on spirituality that I ever read. It really helped me refocus my mentalities at the time and appreciate the mysteriousness and synchronicity in life rather than being hung up on all these little problems that don't matter when you look at the bigger picture.
13. Favourite genre of music?
Oh jeez. This is probably the toughest question. My music taste is all over the place. If I had to choose the genres closest to my heart though, I'd have to go with classic rock, metal, sad/slow/folk, 80's pop, punk, jazz, and psychedelic/jangle pop. That probably didn't really narrow things down but my heart is split in too many directions.
14. What are your hobbies?
Other than making art, I really love to dance and be wild with my friends, read, go out to movies and restaurants with my boyfriend, cook and party with my parents, and watch documentaries about true crime/space/conspiracy theories.
15. If you weren't an artist, what would you be?
I would have definitely gone into the sciences. Either being some kind of diagnostician, homicide detective, or astrophysicist. I still give in to these passions by reading and watching videos to learn about them in my free time.