Instagram:
@gravika1
Website:
www.gravika.pl
1. What's your story? Where are you from
Hi, my name is Helena a.k.a Gravika, from Warsaw, Poland. As for most of us, it all started in the childhood. I've spent a lot of time drawing and inventing non-existent worlds and characters. I loved going through richly illustrated children's books, comics and watch cartoons. And I've dreamt that someday, I will be able to draw like this by myself. At first, I wanted to become a fashion and pattern designer, but I've finished Graphic Faculty in Warsaw, got into graphic design and later on into illustration. And during this adventure I've made the point to become a pattern designer as I've wanted :) I split my time between working as an Art Director and as a freelance illustrator.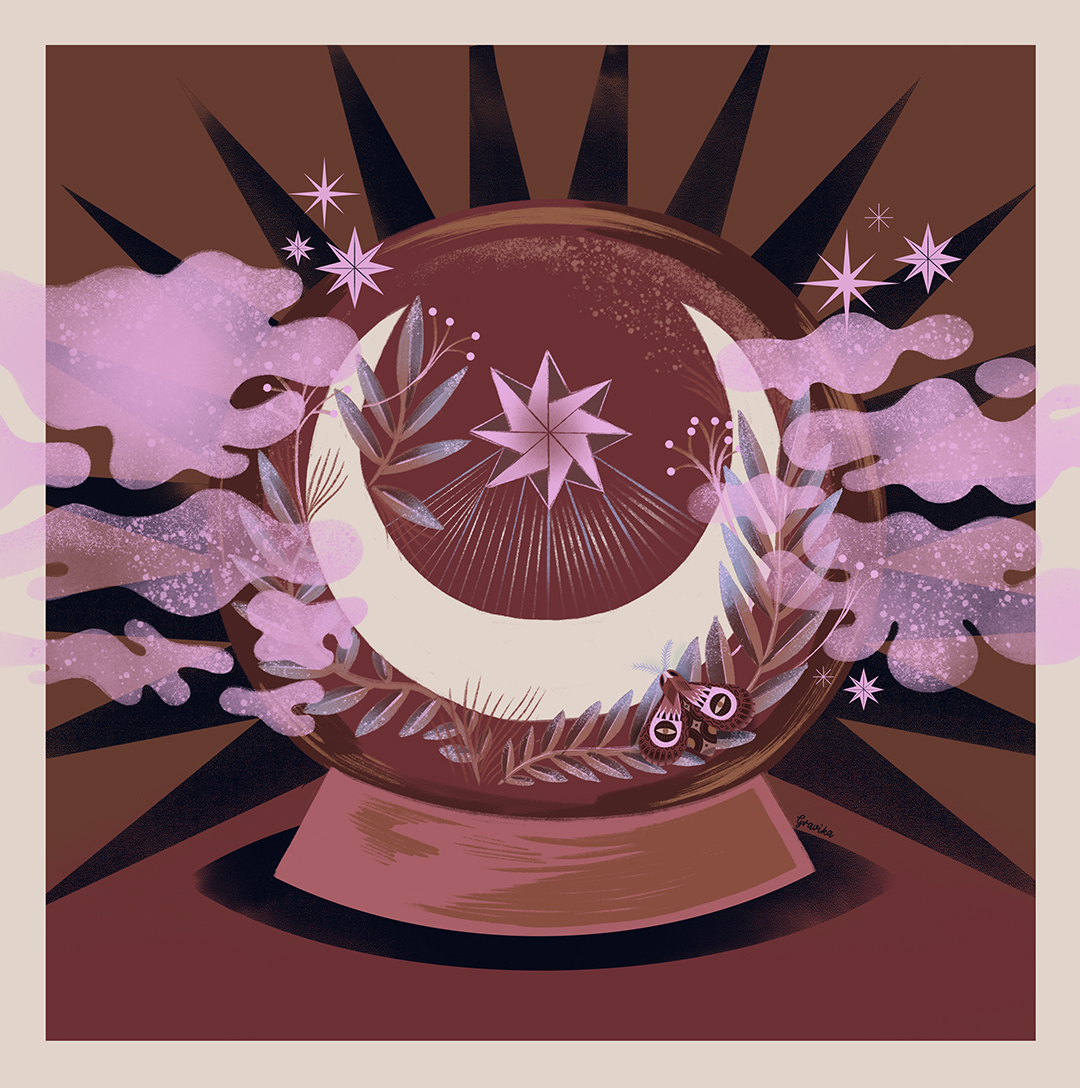 2. Tell us about your aesthetic.
I'm very into colours and bold patterns. And my works are either simple or complex with a lot of elements, rarely something in between. I also like to put a bit of childhood magic into my works.
3. What is your favourite medium and why?
I work mainly digitally. I love working on my iPad. I work in Procreate and Photoshop. I always start with sketches and notes. I make them with pencils, markers and crayons. I like working on iPad, because it feels close to the traditional drawing. In Photoshop, I can finish the details and play with colours and textures. For some time now I'm thinking to get back to paper gouache illustrations.
4. What is your artistic process like?
With every subject, concept work is my starting point. It doesn't matter if it's an illustration for the package design, editorial or a pattern. I make a kind of a tree of the associations with the topic. They can be evident or the opposite - quite unobvious. Then I make sketches and think about the mood I want to achieve. When I find the way, the images with which I want to interpret an issue I start to draw. And I always start the illustration from picking the right colour palette.
5. Who and/or what inspires your work?
I'm drawn to nature, she's a huge inspiration for me. Also a lot of artists have made a huge impact on me. To name a few: Sonia Delaunay, Giacomo Balla, Frida Kahlo, Henri Rousseau, Henri Matisse, Pablo Picasso, Zofia Stryjeńska or Maria Jarema. Love works by Florence Broadhurst, Josef Frank, Polish Poster School f.e. Henryk Tomaszewski or Wojciech Fangor. I'm fond of Mid Century and Art Deco decorative art. I also find a lot of inspiration in folk art.
6. What role does art play in your life? How does it change the way you view the world?
Art helps me to process and understand the world, human's behaviour, different points of view, various emotions and my own thoughts. My art gives me the opportunity to tell stories, to share feelings, to show a bit of who am I and to make people smile or think, at least I hope :) And thanks to others art I can learn something new, I can get to know other cultures, to travel or just simply be stunned visually and emotionally by someone genius piece.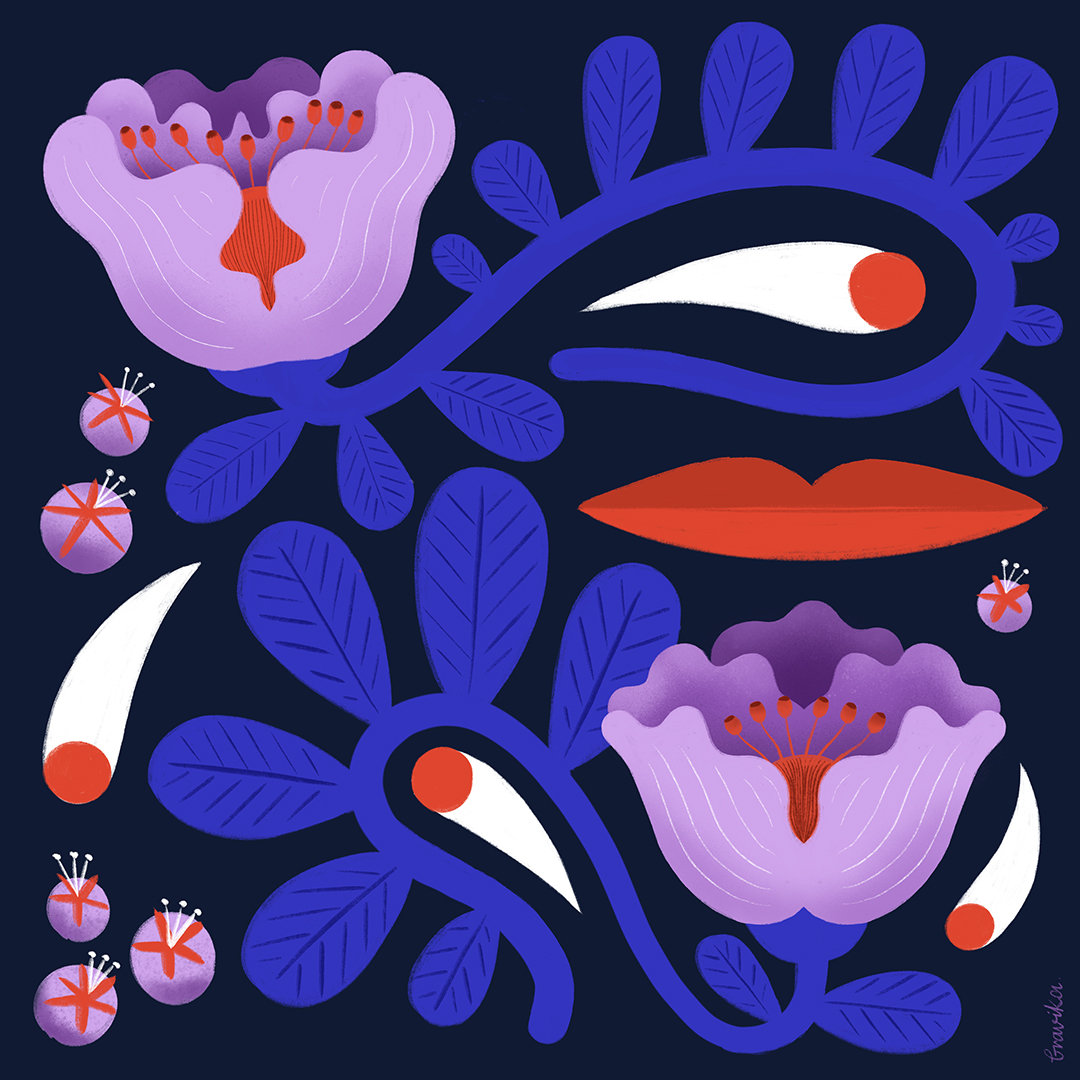 7. Where did you study?
I've studied Graphic Faculty in Warsaw on European Academy of Arts and post diploma Gender Studies at the University of Warsaw.
8. Where do you see yourself in five years?
I see myself surrounded by all my people. That would be super fine for a start. Regarding work, I would like some of my dreams to come true. And maybe to have something on my own related to illustration and design.
9. What about in ten?
Still with all my people! And if some of the dreams come true, just keep doing what I like and keep enjoying the process from my cabin tiny house in the wood by the sea.
10. What do you hope to achieve with your art?
I believe I have three goals. Firstly, I try to have fun and invite others with my works to do so. The other one is to make aesthetic things that would bring a bit of beauty to everyday life. And the third on is to make an impact in subjects that are important.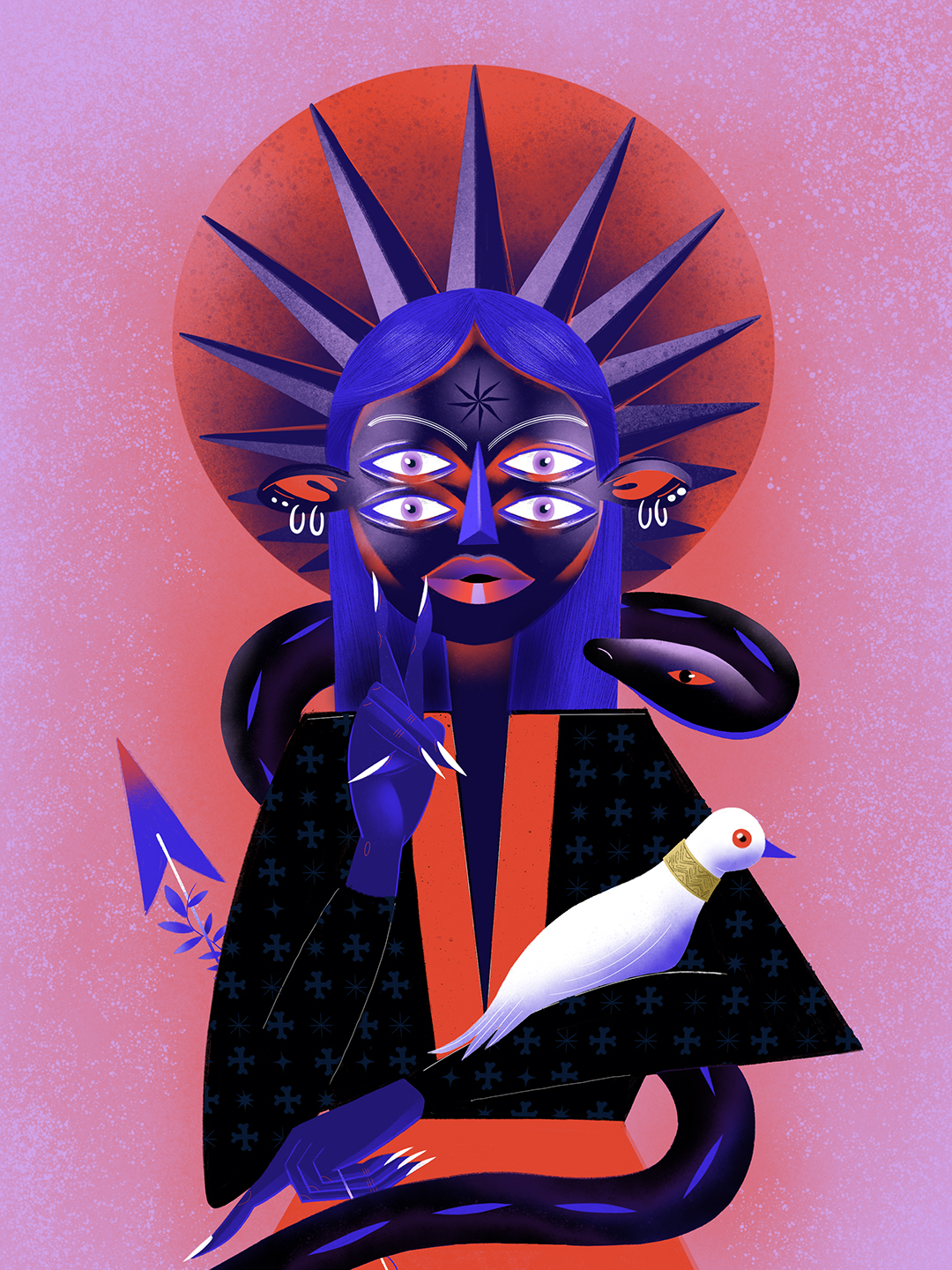 11. Now, tell us a little more about you as a person: what is your favourite food?
I'm a vegetarian, for many years now. And I love veggies <3 Especially tomatoes in every form. I can't imagine myself a day without one! I love hummus and fries. Yasss, fries are my guilty pleasure food.
12. Favourite book?
There are so many great books. From my childhood Moomins by Tove Jansson. And one that maybe is rather important than favourite is The Tibetan Book of Living and dying by Sogyal Rinpocze.
13. Favourite genre of music?
I've listened to rap music since I've been 13 yo. Rap is my base. But apart from that I love classic music, soul, jazz. And I'm a big fan of David Bowie and Depeche Mode.
14. What are your hobbies?
I'm a huge fan of riding a bike. It always lifts up my mood! In general I love spending time outdoors. I adore traveling, canoeing, mushroom picking and spending hours by the sea. I'm also into music and films.
15. If you weren't an artist, what would you be?
If I wasn't an artist I'd be working with animals as a vet or some kind of scientist who studies the life of various species or helping animals. As a kid I wanted to be either an artist or a detective :)