Instagram:
@hadas_hayun_studio
1. What's your story? Where are you from?
I'm from Jerusalem, Israel. In the last decade, I live in Tel Aviv. I recently came back from two years in Milan, where I completed my MA (textile and surface design). It feels great to be back home - Milan is fantastic and fun but Tel Aviv is my favorite city.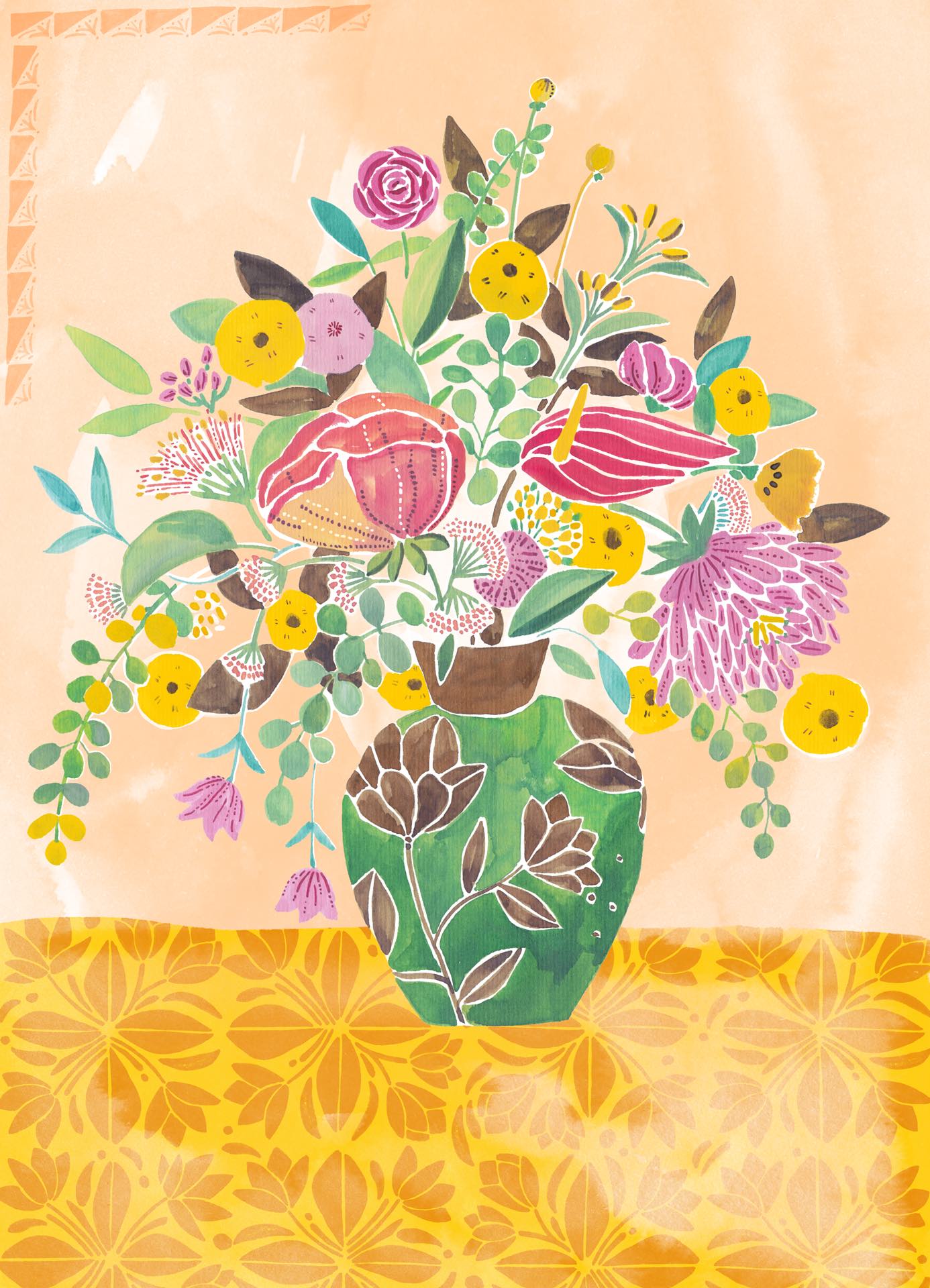 2. Tell us about your aesthetic.
I love many details, many colors, many patterns. A lot of my working progress is an internal dialogue- 'is this too much? I don't think it is'. I enjoy boldness and brightness and trying to keep it also delicate and inviting. I think it's safe to say that I'm simply looking for beauty.
3. What is your favourite medium and why?
Now I'm deep into ecoline ink. I love how they are liquid but still very saturated on the paper. This material is almost encouraging me to work bigger and more boldly, and I love this effect. Other kinds of watercolors that I used to work with before are too transparent for me at the moment. For my the secret of the ecoline is the white- it's texture is like milk, and it gives a great thickness to the drawing.
4. What is your artistic process like?
First I just draw. I work on a few pieces simultaneously and create little series. Afterwards, I scan everything, bring it to Photoshop and then rethinking the composition, the density and the size of the image. Usually, I combine different patterns and elements together to complete the image - I have stocks of mini patterns, a stock of leaves, a stock of single flowers and so on, and I'm playing with finding the right matches for all of them. When I don't feel like drawing a whole new image, I can always update my stocks, and it's also a great meditation.
5. Who and/or what inspires your work?
Nature. Flowers, leaves, birds. Vintage botanical prints. Natural illustrations by Maria Sibylla Merian. The work of David Honkey, the Work of Matisse, the work of Henri Rousseau. Friday Kahlo. My younger sister's sketchbook work. Music by Leonard Cohen. Nature documentaries, especially with David Attenborough. Hermes scarfs. Botanical gardens, local flower shops, beautiful coffee mugs, people with bold colorful styles. Ceramic artists, traveling to faraway places, traveling in my neighborhood.
6. What role does art play in your life? How does it change the way you view the world?
I look for and find beauty everywhere, and I think my artistic life is well blended with my so-called personal life. When I make a new friend I want to draw them when I move to a new space I want to draw it. I love drawing patterns and also be surrounded by them, I love drawing flowers and plants also surrounded by them. When I experience the urge to fly I draw more birds, when I want to feel my roots I draw more women in their living rooms.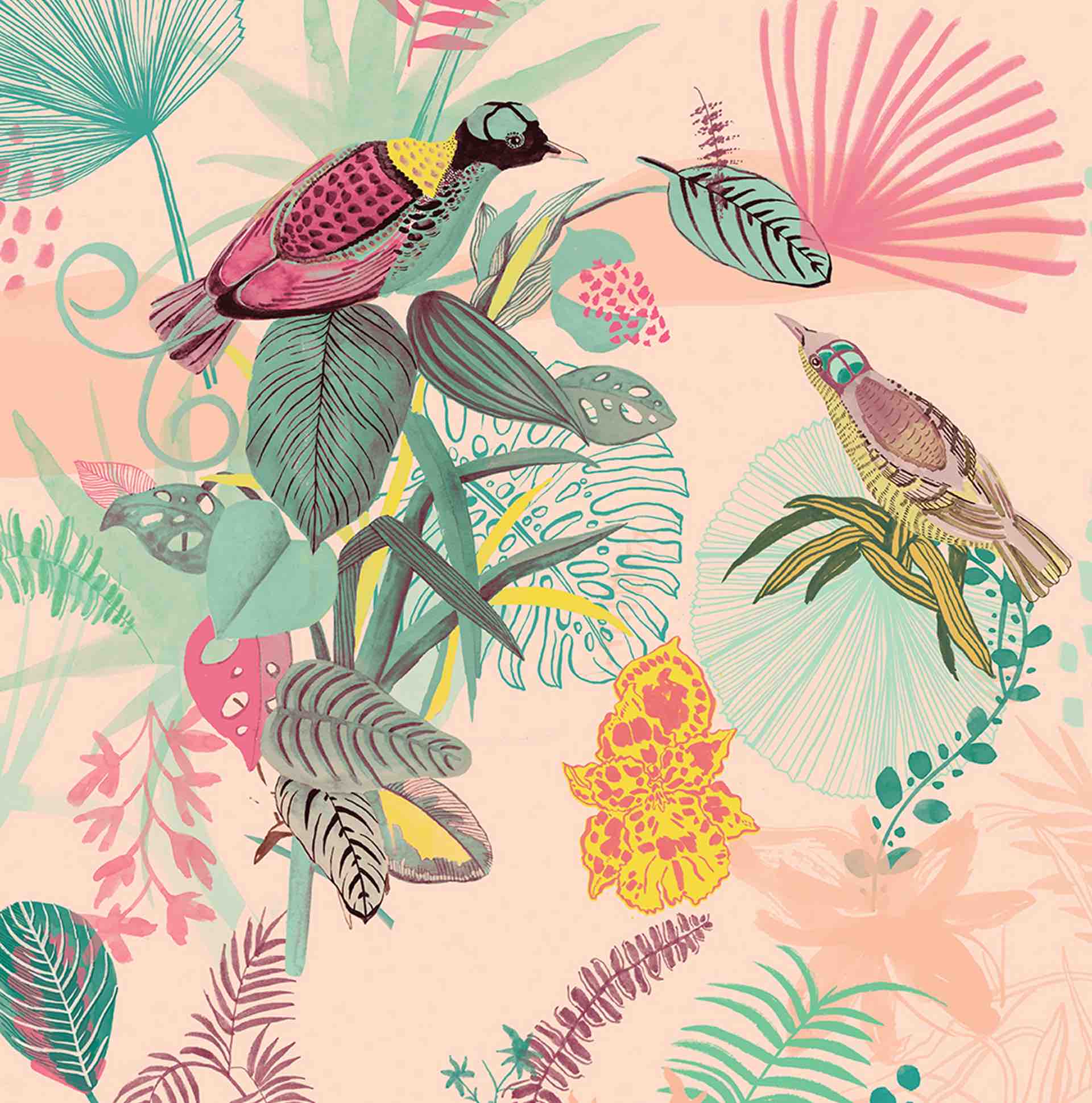 7. Where did you study?
Bezalel academy, in Jerusalem, and then Istituto Marangoni, Milan.
8. Where do you see yourself in five years?
Hopefully only drawing for a living. Hopefully teaching, I'm starting to feel I have something to say to younger artists, even if it's still primal. Hopefully contributing to fashion brands that I appreciate, working on home decor collection, after a few books, and having my own personal projects going on at the same time. hopefully drawing in the living room with my future child at the weekends, since I have a child and stopped working on weekends :)
9. What about in ten?
That's a long shot! I don't know, I hope I'll still enjoy my work so much and will discover new sides of it all the time. I hope to be peaceful, to teach more, to grow all the time.
10. What do you hope to achieve with your art?
I want my art to be comforting, light, bring joy and touch hearts. Since I'm a surface designer and basically believe that any image is a surface, I want people to just want it around them.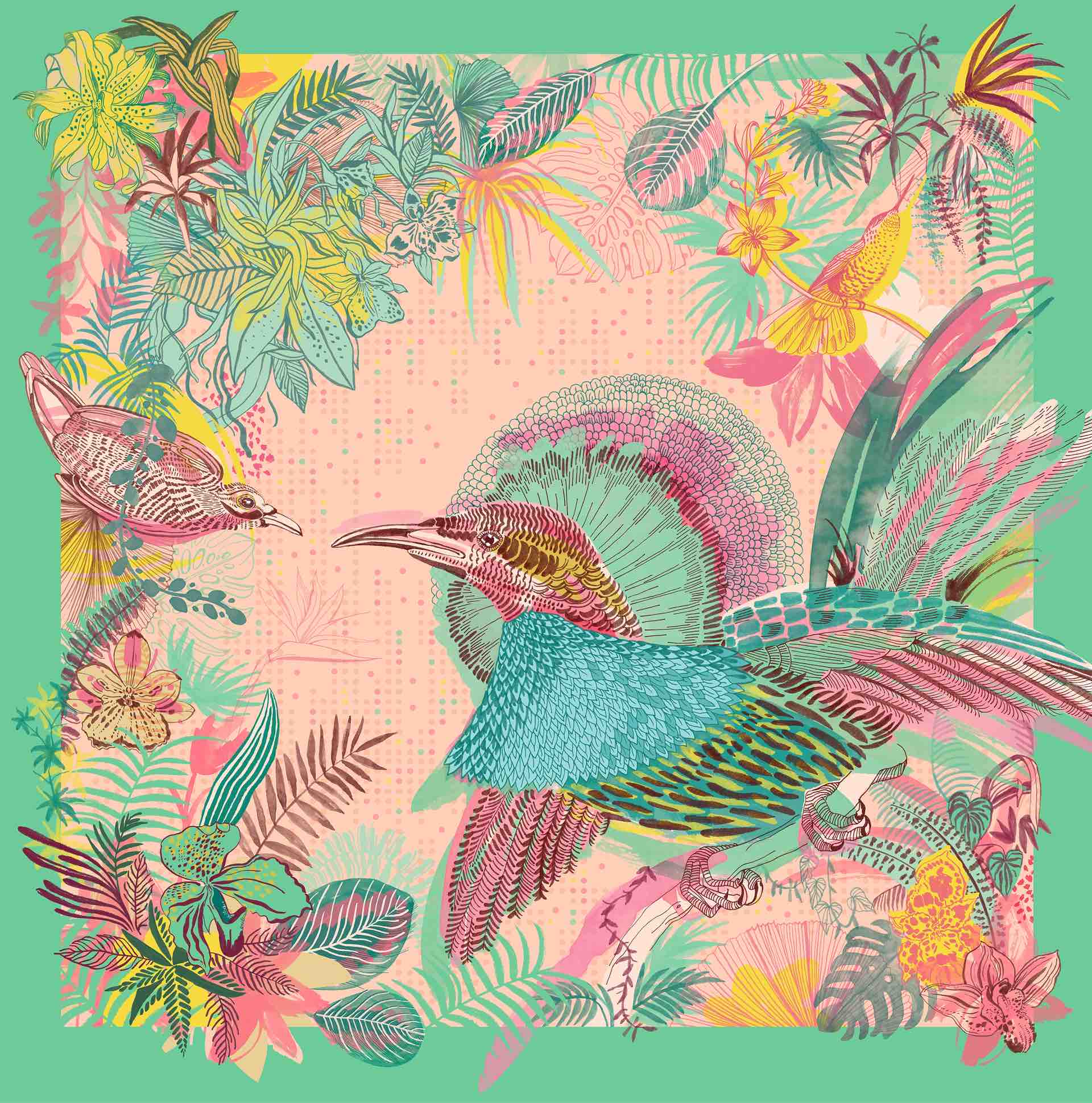 11. Now, tell us a little more about you as a person: what is your favourite food?
It will always be fresh plain white rice. And everything with avocado on top.
12. Favourite book?
At the moment it's 'why I wake early', by Mary Oliver. Also everything by Alice Munro.
13. Favourite genre of music?
I'm a fan of the Smiths, Nick Cave and also Suad Massi and Fairuz. While working I'm listening mostly to podcasts, and I love Radiolad.
14. What are your hobbies?
I love growing plants, experiment with crafts, practicing yoga (I'm doing it for years and never got any better, so it's definitely a hobby) dance to music and sing out loud while I'm alone.
15. If you weren't an artist, what would you be?
For my national service, I volunteered at mental health centers in the community and loved every minute of it. If I wasn't an artist I'd just continue.