1.What's your story? Where are you from?
When I was little, I always carried a book and a pencil wherever I go. Though I live in Indonesia, my family is descendants of chinese people, and I am the only one who believes in art, not just as a hobby, but as something that I want to do in my life. The moment when I truly saw the wonder of what drawings can do was when I saw Glen Keane's Ariel from Little Mermaid movie. Since then, it has always been my dream to work in animation studio. But working in companies have resulted in negative impact for me, yes I learned things, but my colleagues made me believe that it is impossible to have a living from animation, since they are paid very poorly and most studios go bankrupt here. But since I met my boyfriend 2 years ago, things have changed. We both believe in the power of storytelling through animation, and since we have gone through depression, my perspective on sharing stories have changed. Many people have responded to our story of depression. We are now working hard to make our pilot animation, in hope to build our own animation studio here in Jakarta in the long run.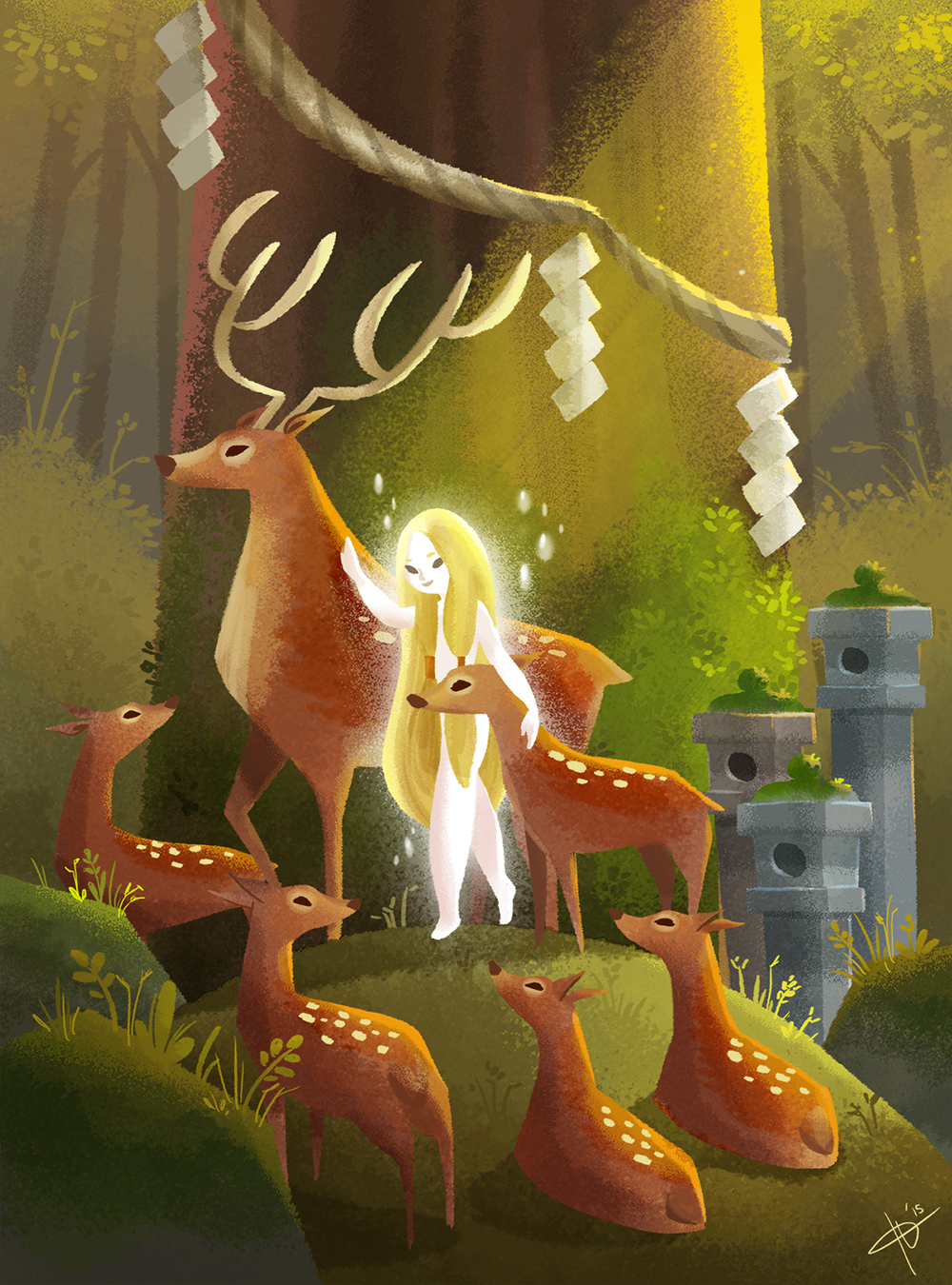 2. Tell us about your aesthetic.
I always believe that story holds the key. I like to capture moments, or the feelings of the moment and the story of characters. I believe it's not the technique but the story that makes people to be able to relate with my drawings (though techniques would definitely help to boost the message of the story!) I can't really draw when it is just for learning techniques, or when there is nothing that relates to me in the drawing.
3. What is your favourite medium and why?
Digital painting, I'm using photoshop and wacom to draw and paint, because it feels like im drawing, but on computer lol. But nothing really beats pencil and paper ! The sound, the smell, the mess, the mistakes, the rough lines. So I go digital to do illustrations, but once in a while I would go back to pencil and paper to loosen my hands (and wrists!).
4. What is your artistic process like?
Once I know the story that I want to tell, I draw it in my head, I mean, I imagine it in my mind. After I can see how composition works together in my head, I would go straight to do the sketch in photoshop. If the sketch doesn't work, or if it's too boring, or if im stuck, i usually go to other artist's blogs to inspire me. Then in coloring process, i usually turn on one song (on repeat haha!) that really represents my feeling for that painting. I cannot exaggerate more how it helps me to create the mood.
5. Who and/or what inspires your work?
The moments or feelings that I experience, the times when me and my boyfriend sit down, talking about life, about beauty, about love, that's what inspire me to draw most. Others are like, lines from a song, or lines from a book. The inspiration of my style comes from many, many artists out there, mostly who work in animation industries.
6. What role does art play in your life? How does it change the way you view the world?
Art has helped me to voice out deep things that I cannot express through my lips; things that may be awkward, or cheesy to say, you know.. But looking back, I always draw to express my melancholy, my cries, my solitude, my joy. Through art, I can see myself in the character that I draw or others draw, exploring the world that I have always wished to exist. I see that realities are filled with paradox, or things contradictory that rolls side by side. Art can help people see that other side that is unseen. Through art, people express their minds and hearts. Used wisely, art can help people to see truth, beauty, hope, and love.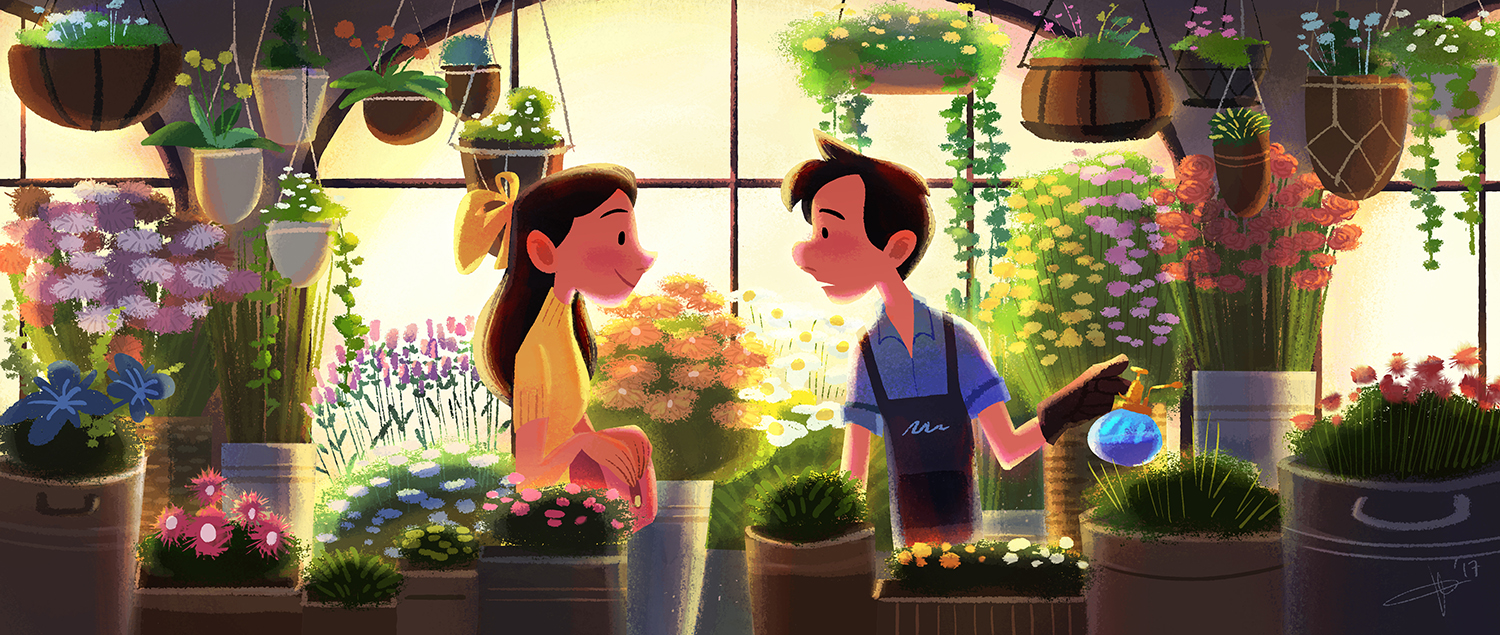 7. Where did you study?
I studied in my room, browsing through those artists' blogs for hours, everyday, practising what I've learned from them, on hundreds of papers. Yes I did go to university, but I didn't learn to draw or painting from there. People assume I can draw because I studied in university, but they are so ignorant of the fact that to be able to draw you must draw and practice, observe and learn and develop, and draw some more.
8. Where do you see yourself in five years?
I never like this question LOL, not that im not a motivated person or doesn't have a dream, but one of the mysteries of life is how dynamics life is and a person is. But where I am now, I see myself married to this wonderful man, working together to sustain our animation studio, making stories, living in a small studio, meeting our team for brainstorming ideas, teaching and motivating the team to work for what is worth, not for vanity or money.
9. What about in ten?
Hmm.. Still in love with this wonderful man, have some children to pass down the wisdom, we would still be working on stories to make into animation, and maybe I'll start making my own children's illustrated books for my kids.
10. What do you hope to achieve with your art?
To get people to see beauty, hope, and love in the midst of grief and sorrow. We see many lies and pretence in the society today, and how human's hearts are covered up by artificial things. I hope by telling honest stories and my belief in GOD, I'll be able to share in the stories of others and share to them the gifts and joy that i have as a christian.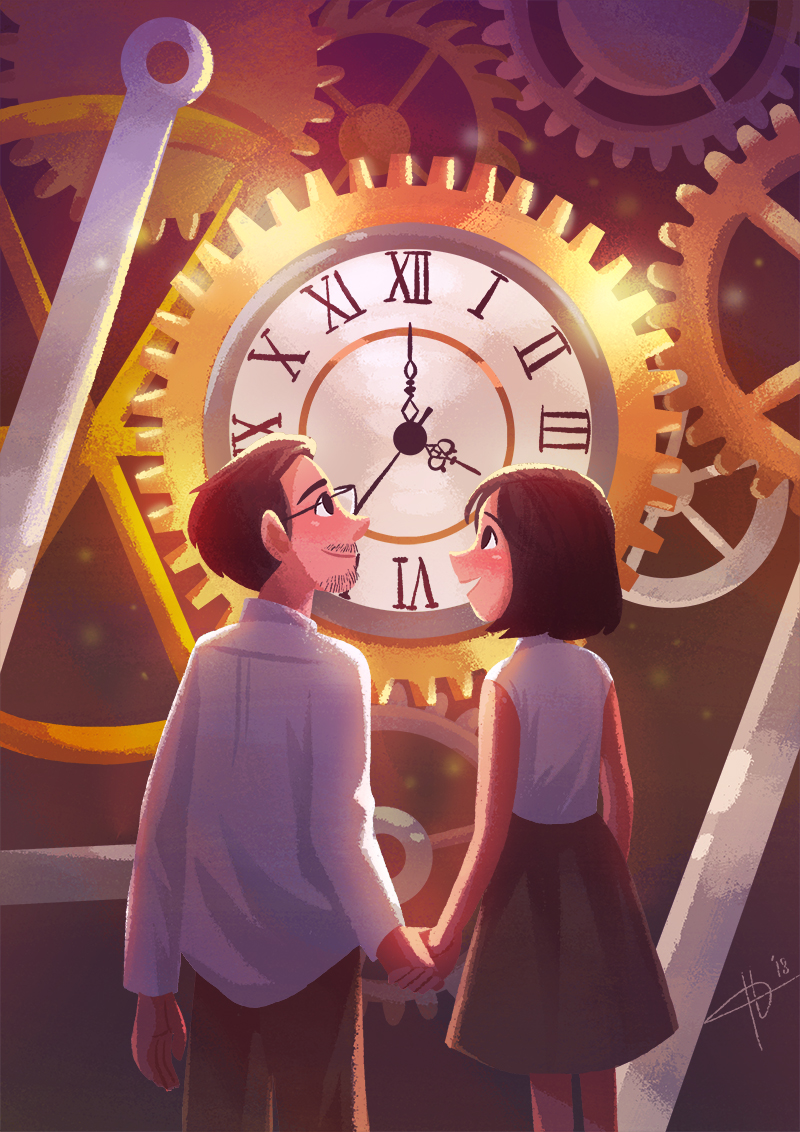 11. Now, tell us a little more about you as a person: what is your favourite food?
Fried rice ! And eggs ! I don't think i can live without eggs and rice.. I loveee carbs, oh, and pastries too ❤️❤️❤️
12. Favourite book?
Children's book - the curios garden by Peter Brown. Philosophy - CS Lewis the four loves and grief observed, and currently, turn my morning into dancing by Henry Nouwen. And the journal books that have my boyfriend's writings in them, his words are dear to me.
13. Favourite genre of music?
I loveee folk songs/ indie rock/ pop rock. But my favorite is celtic-folk songs, they have its own mystical twist in them, they bring me back to my childhood when imagination runs wild with fairy tales.
14. What are your hobbies?
I like to read comic books for leisure. Observing people must be my favorite though :D I like to observe people's behavior, their activities, what they might be thinking, what does it feel to be in their shoe..
15. If you weren't an artist, what would you be?
I would be a paid traveller for nat geo! (if they do have such XD) I'm willing to be cameramen assistant or anything for nat geo as long as I can tag along with them into nature around the world haha!