Instagram:
@hannakinart
Twitter:
@hannakinart
Facebook:
www.facebook.com/hannakinart
1. What's your story? Where are you from?
My name is Hanna Mancini, and I'm an illustrator, crafts person, procrastinator and general creative type from Melbourne, Australia. I was born in the city, but spent most of my childhood growing up in the countryside. Now I'm back in the suburbs, where I work full time running my own creative label, Hannakin, from my small home studio.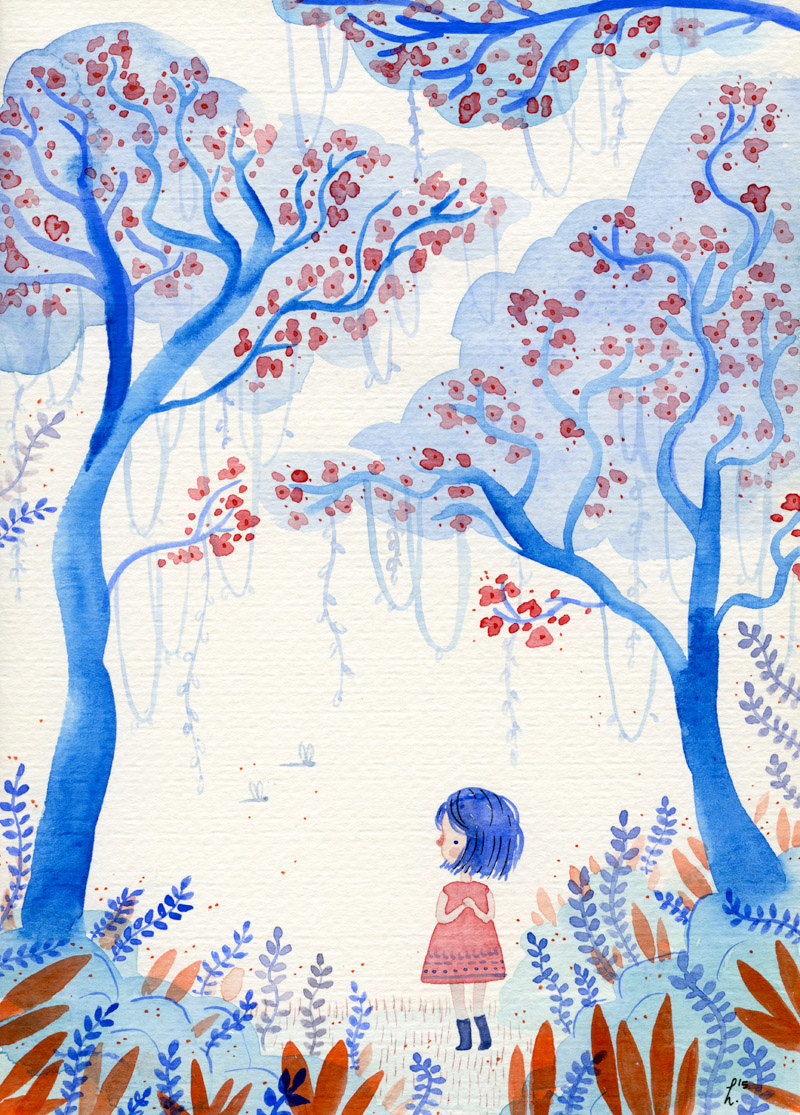 2. Tell us about your aesthetic.
My style is whimsical, sweet and naive, with a slightly dark edge. Most of my work (both 2D and 3D) is heavily character focused, and I like creating strange creatures, and quiet, gentle moments. My scenes and characters are mostly friendly/happy, but often also reflective or with an edge of melancholy.
3. What is your favourite medium and why?
I can't pick just one! I'm predominantly an illustrator, and when working 2D my favourite medium is watercolour (often incorporating elements of collage), but I also do quite a lot of sewing and 3D soft sculpture textile work, and for these I love working with felt.
4. What is your artistic process like?
Chaotic and erratic. I am working full time running my small business (selling prints and cards of my illustrations, and other handmade bits and bobs), but to be honest I'm not particularly good at keeping a good schedule, and I do wish I sat down a little more often to just draw and better my skills, but I always seem to have a million other little tasks going on and I am very all over the place (it's a wonder I get anything done)!
5. Who and/or what inspires your work?
I am a big fan of children's books, fairy tales and folk tales, animation and video games, and I regularly draw inspiration from all of these. I also often create pieces inspired by lyrics, and of course my day to day life is constant inspiration (and I try to carry my sketchbook with me everywhere).
6. What role does art play in your life? How does it change the way you view the world?
Art is my life. Running a small business around my art has been challenging in a lot of ways, it puts a lot more pressure on the art I make to be "good" (I find it harder to draw or create just for myself, the line between art and work has become blurred). I feel like it might be easier to just have a "regular" unrelated job, because I would still be painting/drawing/making no matter what, and maybe it'd be more fun without that pressure. But at the same time, I am able to support myself and work from home running this business, I do have a lot of fun, and count myself lucky to be able to do what I do.
7. Where did you study?
I studied Visual Arts at Swinburne University of Technology in Melbourne.
8. Where do you see yourself in five years? Working in an agency?
I can see myself still running and continuing to grow my small business. It's getting to the point now where it is almost too much work for me by myself, so I feel like in the next five years there will be a point where some kind of change will need to occur (whether that's hiring help, or focusing on one area more so I can manage by myself. Currently I sell online, at artist's markets, and as wholesale to retail outlets across Australia).
9. What about in ten?
I really haven't thought that far ahead, but I am open to change! Currently I'm pretty pleased with the steady growth in followers/business, and for now I am happy to get by while I tinker and develop my style and body of work further. In the future, though, I'd be keen to get start making my own children's books, or even work on more collaborative projects with animators or game developers, who knows!
10. What do you hope to achieve with your art?
Stability. Comfort. Contentment.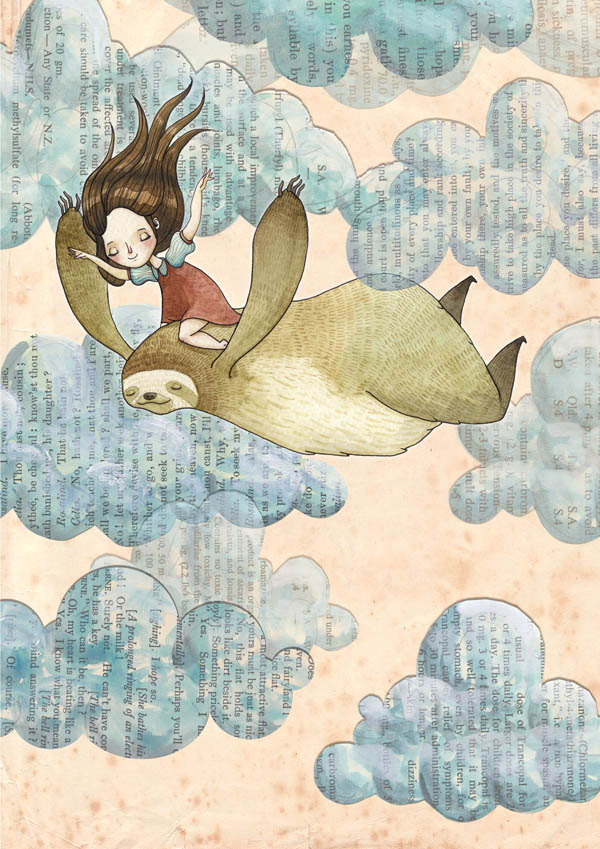 11. Now, tell us a little more about you as a person: what is your favourite food?
I am an avid tea drinker. I am a homebody. I prefer winter to summer, because I like to feel cosy in my small comfortable space while it's gloomy outside. I am half Finnish and half Italian, and my favourite food is the spaghetti that my dad makes every Sunday, passed down from my Nonna.
12. Favourite book?
The Lost Thing, by Shaun Tan
13. Favourite genre of music?
This is too hard because different moods call for extremely different music, but I listen to a fair bit of post rock, modern classical, pop, folk and punk music, and I don't mind me some classic jazz standards. (according to my partner, though, my favourite music is "plinky and eerie").
14. What are your hobbies?
Art is so intertwined in my life that it is both work and play, so basically "making stuff"! Lately I've been working on a few little polymer sculpted characters just for fun, I like playing around with creative projects in my free time. I also love video games.
15. If you weren't an artist, what would you be?
I was never meant to be a doctor or a lawyer! I can't really imagine art or creativity not being involved in my professional life in some form or another. I could see myself being involved in a creative space (gallery, theatre, workshop space) or publication possibly, or working for a company who designs/makes something or other (I always think working for a company that makes props or set designs would be interesting)!