Instagram:
@hatsuyakanako
Tumblr:
www.hatsuyakanako.tumblr.com
1. What's your story? Where are you from?
I am Kanako Hatsuya. Born in Tokyo in 1990 and I live in Tokyo. I have been living in Harajuku since I was young, but I do not know if it affects my style. I started painting from about 22 years old. 初谷佳名子です。1990年生まれ、東京都出身、幼い頃から今まで原宿で暮らしていますが、それが作風に影響しているかはわかりません。22歳ぐらいから絵を描き始めました。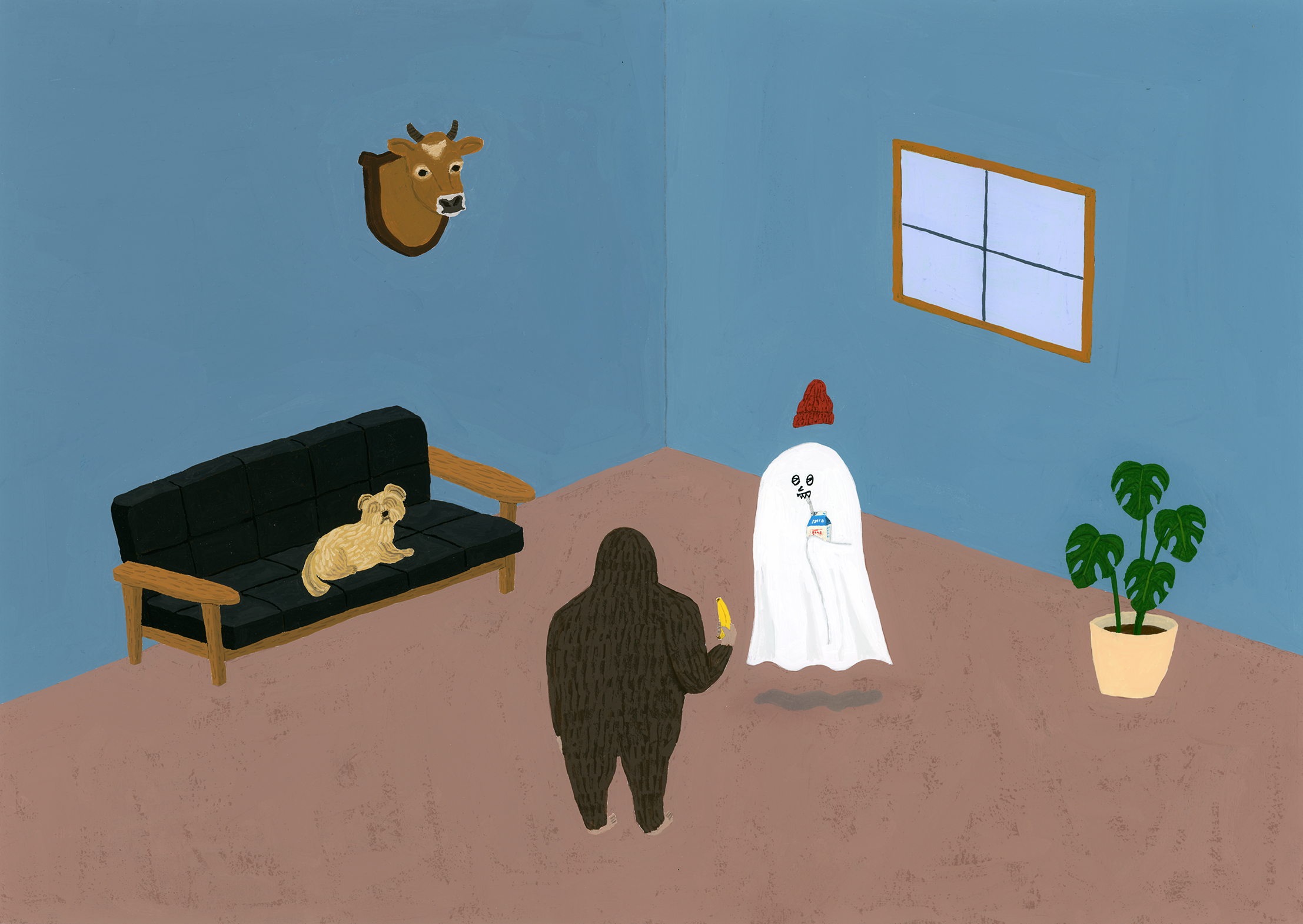 2. Tell us about your aesthetic.
It is a fantasy-like and exciting. And honest. ファンシーさと少し突き放す空気感です。あと素直さ。
3. What is your favourite medium and why?
I like textures created from paint. I think that there is a touch which cannot be done with the PC. 絵の具でかいた質感が好きです。PCでは出せない手触りがあると思います。
4. What is your artistic process like?
It is mainly painting. I use acrylic paint on drawing paper, paint it flat and texture. I often draw while listening to the radio. 主にペインティングです。画用紙にアクリル絵の具でフラットに塗ったりテクスチャをつけたりします。 ラジオを聴きながら描くことが多いです。
5. Who and/or what inspires your work?
I am influenced by things that I see and feel in my everyday life, things I see in SNS and various graphics around me. I want to draw animals such as dogs and bears. Buildings, interior and flowers etc. Recently I am also interested in phantom creatures and monsters. 日常で見るものや感じること、SNSで目にするものや身の回りにある様々なグラフィックから影響を受けています。描きたくなるのは犬やクマなどの動物。建物、インテリアや花など。最近は幻の生き物や怪獣にも興味があります。
6. What role does art play in your life? How does it change the way you view the world?
I think that it is like a purpose to live because I will never be satisfied more than shaping the image. I am always influenced by what people made. 私にとってイメージを形にすることほど楽しいというか嬉しいことはないので、生きる目的みたいなことだと思います。人が作ったものには常に影響されます。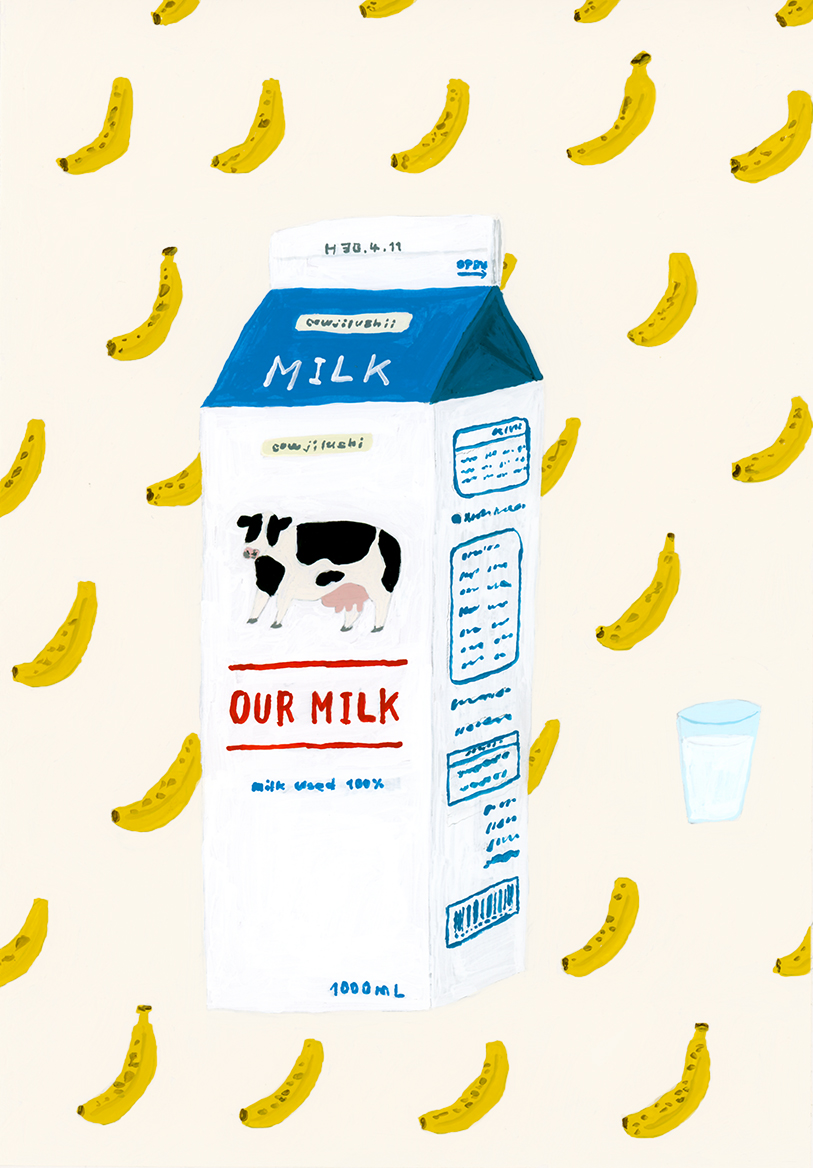 7. Where did you study?
I studied at Tokyo's illustration school "Aoyama juku". In addition, I think that I learned a lot from movies, music, and various other entertainment. 東京のイラストレーション教室「青山塾」で勉強しました。あとは映画、音楽、その他の様々なエンターテイメントから学んだことが大きいと思います。
8. Where do you see yourself in five years?
I would be happy if I could do more work for illustration. イラストレーションの仕事が今よりできてたら嬉しいです。
9. What about in ten?
I am not good at imagining the future, so I do not know. 先のことをイメージするのがあまり得意ではないのでわかりません。
10. What do you hope to achieve with your art?
I am aiming for my illustration to be introspective entertainment. I want to train more in expressions and entertain a lot of people. 私は自分のイラストレーションが内省的なエンターテイメントになることを目指しています。もっと伝えるのが上手になって、たくさんの人に楽しんでもらいたいです。
11. Now, tell us a little more about you as a person: what is your favourite food?
Mango Pudding, Tomato Cream, Gapao マンゴープリン、トマトクリーム、ガパオ
12. Favourite book?
SAYONARA PENGUIN さよならペンギン
13. Favourite genre of music?
Rock and pop songs ロック、ポップソング
14. What are your hobbies?
To take a break. (During breaks, watching TV and youtube, often doing a kendama.) I am born idle lazy. 休憩すること(休憩時間にはテレビやyoutubeをみたり、けん玉をします。)私は生来の怠け者なのです。
15. If you weren't an artist, what would you be?
I want to be a keeper of a penguin at a zoo. ペンギンの飼育員になりたいです。