Instagram:
@helena.perezgarcia
Facebook:
www.facebook.com/Helena-Perez-Garcia-171397209589297
1. What's your story? Where are you from?
I'm a Spanish illustrator and graphic designer born in Seville, a beautiful city in the south of Spain. I moved to London in 2012 and I've been living there since then. I've loved drawing since I was a child, so for me studying Fine Arts was a natural decision.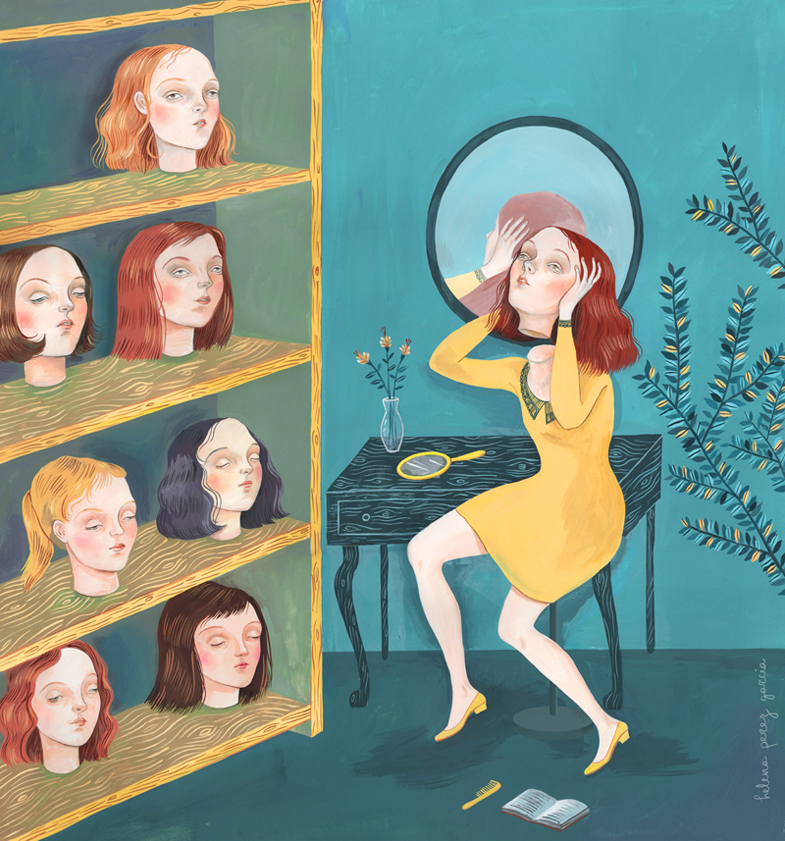 2. Tell us about your aesthetic.
My illustrations are usually very rich in detail and colour, often depicting mysterious characters in surreal situations. I use analogue techniques because I love working with real materials, brushes and paint, and feeling the texture of the paper. There's something exciting and very beautiful in mistakes and imperfections and that's something the computer could never mimic.
3. What is your favourite medium and why?
I love gouache because it's very immediate and quick. I also love how flexible it is, so I can create gradients or work with flat colours, depending on the result I want to achieve.
4. What is your artistic process like?
When I'm working on a commissioned project, like an illustrated book or an illustration for an article, the first step for me is reading the text that I have to illustrate. If there's no text, I jump on to the next stage, which is doing some research and searching for inspiration. I like to flick through the pages of my art catalogues and have a look at my Pinterest boards to gather inspiration for patterns, objects, faces, postures, etc. After collecting inspiration, I start working on sketches and when I'm happy with some of them I send them to the editor or publisher. Once the sketch has been signed off I start working on the final illustration. The process is much more free when I'm working on a personal project, like a series of illustrations for an exhibition or a personal illustrated book. Sometimes I find inspiration in a book I'm reading, looking at someone in the tube or looking at a painting in an museum. I scribble and sketch these ideas very quickly on my notebook. Sometimes, it takes me months or even years to materialise these ideas, and some other times is much more immediate and I start working on the final illustration straight away.
5. Who and/or what inspires your work?
My style is mainly inspired by art. Since my trip to Rome two years ago, I've been very inspired by early Italian art, specially from the 14th and 15th century. I love the bright colours, the manierism, the delicate details, the floral patterns and the timeless beauty of these masterpieces. I also admire and take inspiration from other painters like Magritte, Odilon Redon, Bruegel, Hieronymus Bosch, the Pre-Raphaelites… and also filmmakers like Robert Bresson and Jean Cocteau. As for the stories behind my illustrations, I usually get inspiration from literature and essays by my favourite authors, like Virginia Wolf, Gabriel Garcia Marquez, Navokov or Andre Breton, just to mention a few.
6. What role does art play in your life? How does it change the way you view the world?
It has played a big part in my life since I started looking at the pictures of paintings on my parents encyclopaedias, ages ago when Wikipedia didn't exist. Art for me is a way of expression, it's a way of making questions about the world we live in, and make our time on the earth happier, giving sense to our lives.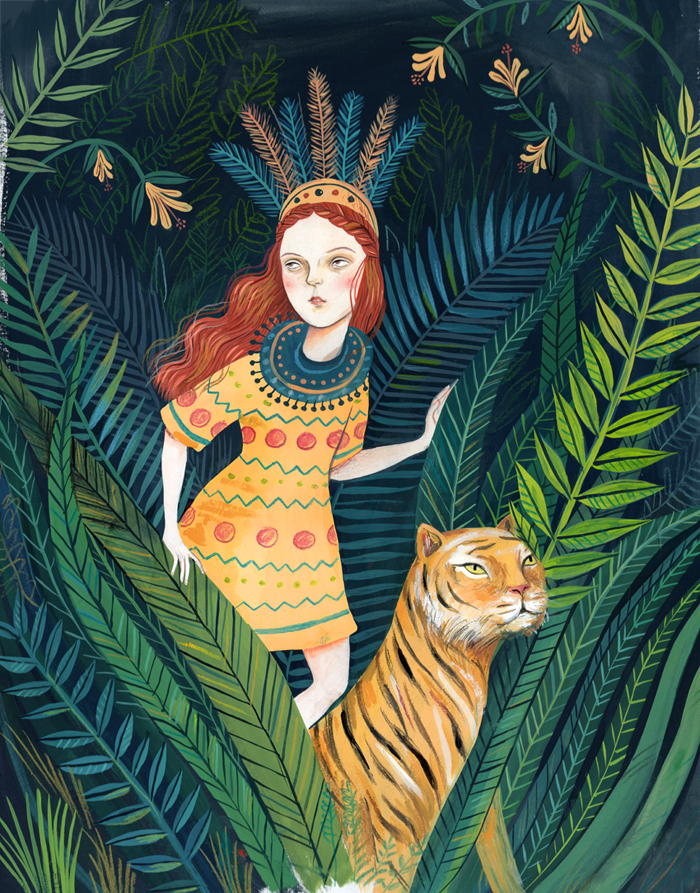 7. Where did you study?
I studied Fine Arts in Seville and finished my degree in Valencia, where I also studied a Masters in Design & Illustration.
8. Where do you see yourself in five years? Working in an agency?
I would like to be dedicating more time to illustration by then. At the moment I work as a designer too so I can't dedicate enough time to illustration. Hopefully, I'll have more time to work on illustration projects in the future. I have notebooks with lots of ideas for new projects and illustrated books and I get frustrated because I don't have time to work on them, so hopefully in 5 years I will have the time to work on lots of new and exciting projects.
9. What about in ten?
Still working hard on new illustration projects.
10. What do you hope to achieve with your art?
I want to tell stories through my paintings, make questions without waiting for answers but as a way of understanding things a bit better. I also would like that people can feel a connection with what I do, making them happy in some way.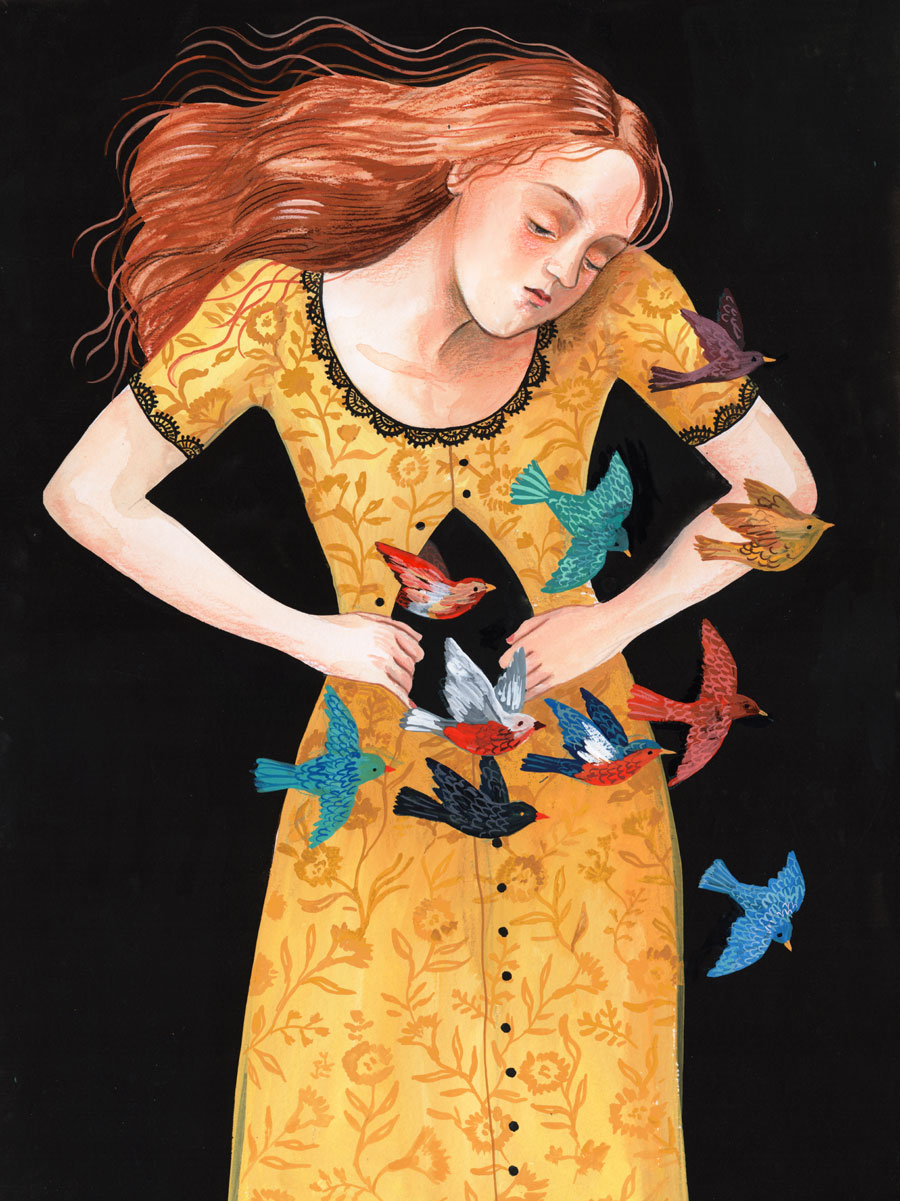 11. Now, tell us a little more about you as a person: what is your favourite food?
Chocolate! Does that count like food? Haha! Pizza with my friends is a must. I'm searching for the best pizza in London at the moment.
12. Favourite book?
That's a hard question! I couldn't choose just one, there're some many books that I love and have influenced me and my work! ´The Waves` and ´A room of one's own' by Virginia Wolf, `The Stranger` by Albert Camus and 'One Hundred Years of Solitude' by Gabriel Garcia Marquez are some of my favourite ones, just to mention a few.
13. Favourite genre of music?
I would say Rock and independent Pop, anything that flexes between those styles; Garage, Folk, Punk… I have to admit that I not very open to some music genres, like hip hop, techno or house, I can't stand them at all. Can't listen to a song that has only one chore that it's repeated all the time, it makes me very nervous :S
14. What are your hobbies?
Reading, swimming, watching films, hanging out with my friends, visiting exhibitions...
15. If you weren't an artist, what would you be?
A graphic designer? I've already work as a designer so I guess that doesn't count :) I would say an art historian. I find it hard to image myself working on anything that it's not related to Art at all!