instagram:
@hereszackrosebrugh
Twitter:
@zackrosebrugh
1. What's your story? Where are you from?
I am an American boy from Phoenix, Arizona, but spent the last school year, and will also spend the following one, in Le Mans, France. I am an English language assistant in a couple of primary schools there. It's a great gig— I only spend 12 hours or so a week at work, so the rest of my time is left to art.
2. Tell us about your aesthetic.
I like fun color palettes, playful shapes and patterns, and simple, cartoon-ish abstractions of everyday objects.
3. What is your favourite medium and why?
I love Muji pens and computer paper. I draw in sketchbooks too, but I am always afraid to draw something ugly on one of the pages and be cursed to see it every time I flip through the otherwise nice looking sketchbook. I like the freedom of being able to recycle a bad sheet of computer paper, and I think it makes me more prone to try new things, which is nice. Also: it's easier to scan a sheet of paper than a sketchbook, which is nice, too.
4. What is your artistic process like?
I usually start with my computer paper and Muji pens, or maybe even a sketchbook if I'm feeling cheeky. Either way, I scan what I do by hand and work with it in Photoshop using my tablet. I find I have an easier time focusing when I have a podcast on, so I do that a lot. I drink water (sparkling if I have the luxury) and get up to go the bathroom and look out the window often.
5. Who and/or what inspires your work?
Scandinavian design, Henri Matisse, Young Thug, the many wonderful fellow artists I follow on the internet, French architecture, De Stijl, David Hockney, and Aki Kaurismäki
6. What role does art play in your life? How does it change the way you view the world?
It's difficult to say what role it plays. On a very practical level, it drives a lot of my decision making about how I spend my time. It also makes the world a place to be abstracted from and represented— every experience can be brought home to my desk and doodled.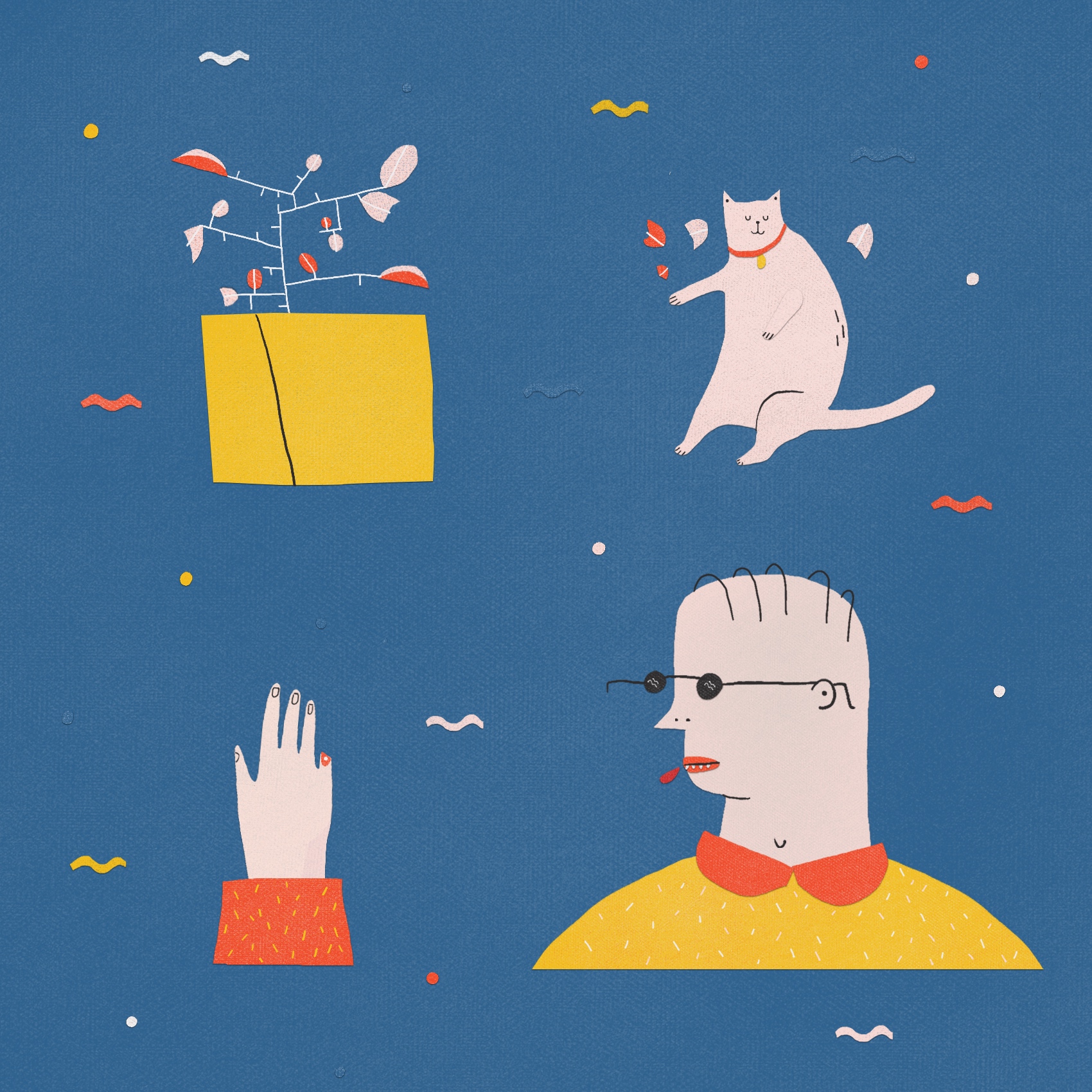 7. Where did you study?
I studied English and linguistics at Arizona State University.
8. Where do you see yourself in five years?
It'd be great if I could find myself a gig at an agency, or do freelance. I've also toyed with the idea of going to graduate school, but my English undergrad degree doesn't exactly meet the "related field" criteria put forth by the programs I've looked at.
9. What about in ten?
I hope to still be making art in some capacity and continuing to try new things. Berlin seems like a nice place, so maybe I could live there in ten years. I don't know.
10. What do you hope to achieve with your art?
I'm personally drawn to art that is approachable and fun to look at, but isn't shy about being unconventional. The kind of work that made me want to start drawing was just that: stuff like Brian Rea in the New York Times, for example—I was so excited by the idea that art could look like that, and it just seemed like such a blast to create. And more than that, it was able to communicate so much with what seemed like so little. I hope to be able to make art like that.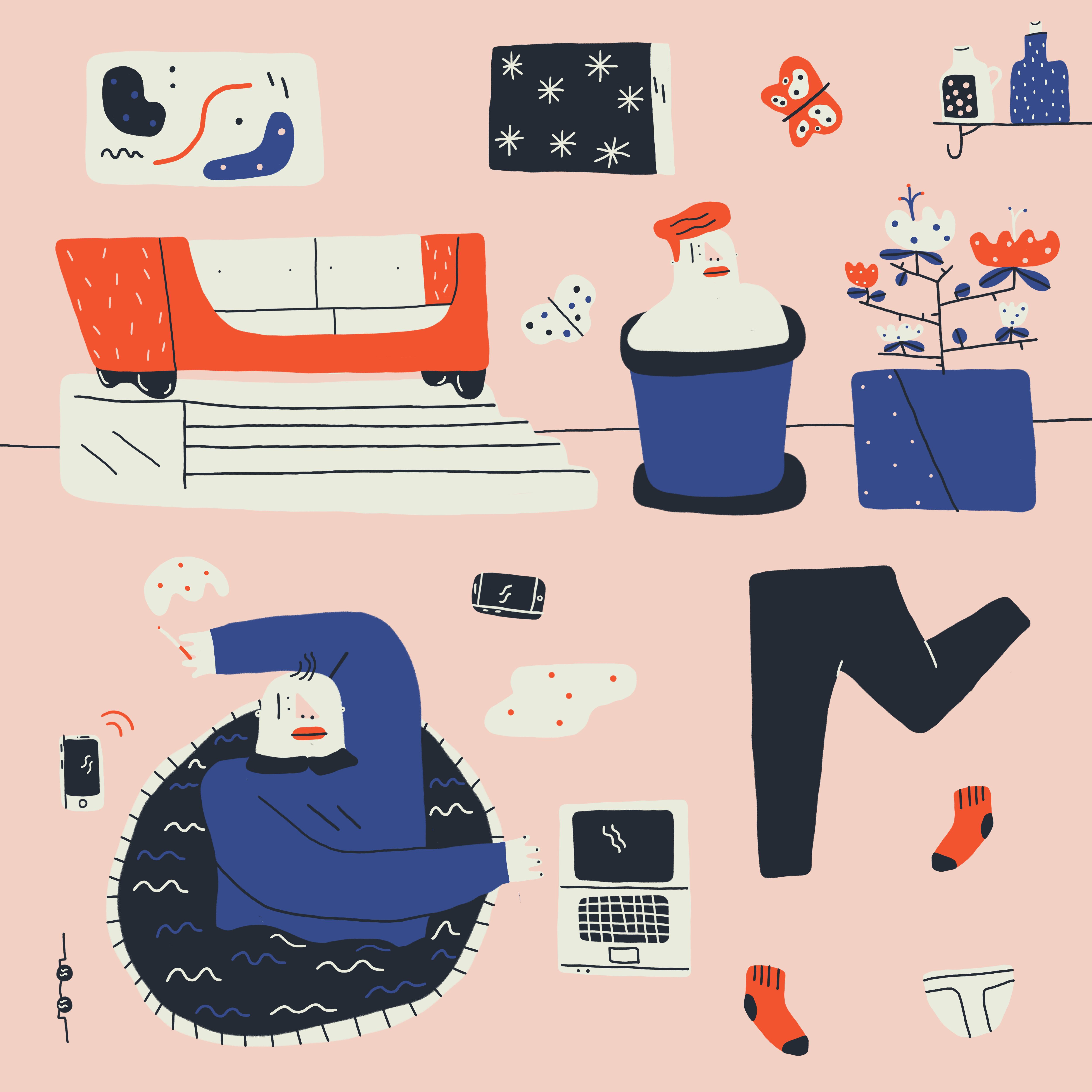 11. Now, tell us a little more about you as a person: what is your favourite food?
I've spent this summer eating burritos for the majority of my meals, so I'll say that: burritos.
12. Favourite book?
Lydia Davis's Collected Stories
13. Favourite genre of music?
I've been listening to a lot of hip hop lately. I'm also a big fan of electronic and ambient.
14. What are your hobbies?
I like to draw! Outside of that, I enjoy exercising, reading, and skateboarding.
15. If you weren't an artist, what would you be?
I imagined myself being a translator for awhile—I liked the idea of it being both a linguistic and creative exercise. I used to work in a parking lot, and it wasn't so bad. If all else fails maybe I could head back there.