Instagram:
@hillkurtz
1. What's your story? Where are you from?
I was born in the UK and grew up in California. My wife and I have had a fairly vagabond life, living in New York, London, Vancouver, and now we've been in Paris for a few years.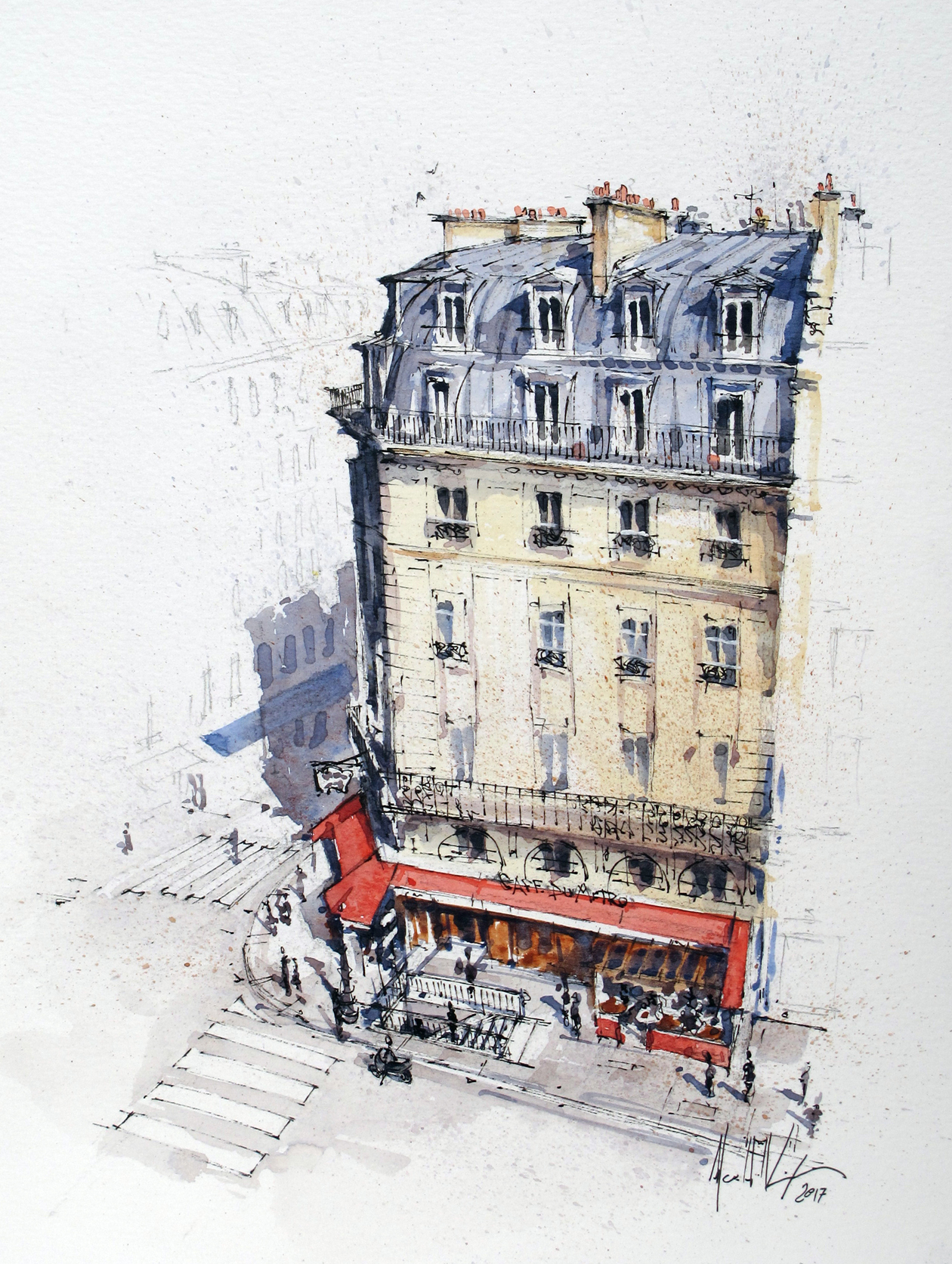 2. Tell us about your aesthetic.
I love the timeless aspect of sketching with pen and watercolor. Once you look above the ground floor, a lot of these European cities haven't changed much in hundreds of years. It's easy to feel the pull of history and imagine who's walked these cobblestones before me. And sitting in a place sketching, letting distractions and modernity melt away, it's the best way I know of really getting to know a place.
3. What is your favourite medium and why?
I love the clarity and immediacy of watercolour. There's an element of not being entirely in control, so each piece becomes a bit of a collaboration between what I'm doing and whatever the paints, the water, and the sunlight wants to do.
4. What is your artistic process like?
I've been doing mostly urban sketching, so sometimes I'll have a clear idea of what I'd like to capture, and other times I just wander and see what catches my eye. I start with an ink sketch, with fountain pen and waterproof ink. Then I move on to watercolor. The trick for me is to keep each stage loose. I used to pile on intricate details, and my drawings lacked life. So I'm learning to invite in the energy of the place I'm painting.
5. Who and/or what inspires your work?
The Impressionists, Whistler, Corot, Rembrandt's etchings, Francois Boucher's drawings, countless other urban sketchers… and of course Paris.
6. What role does art play in your life? How does it change the way you view the world?
Art is the air I breathe, it is the way I view the world. My day job is a storyboard artist for feature films, so I'm drawing every day. My professional work is a very different style from my painting, so it's nice to bounce back and forth between the two.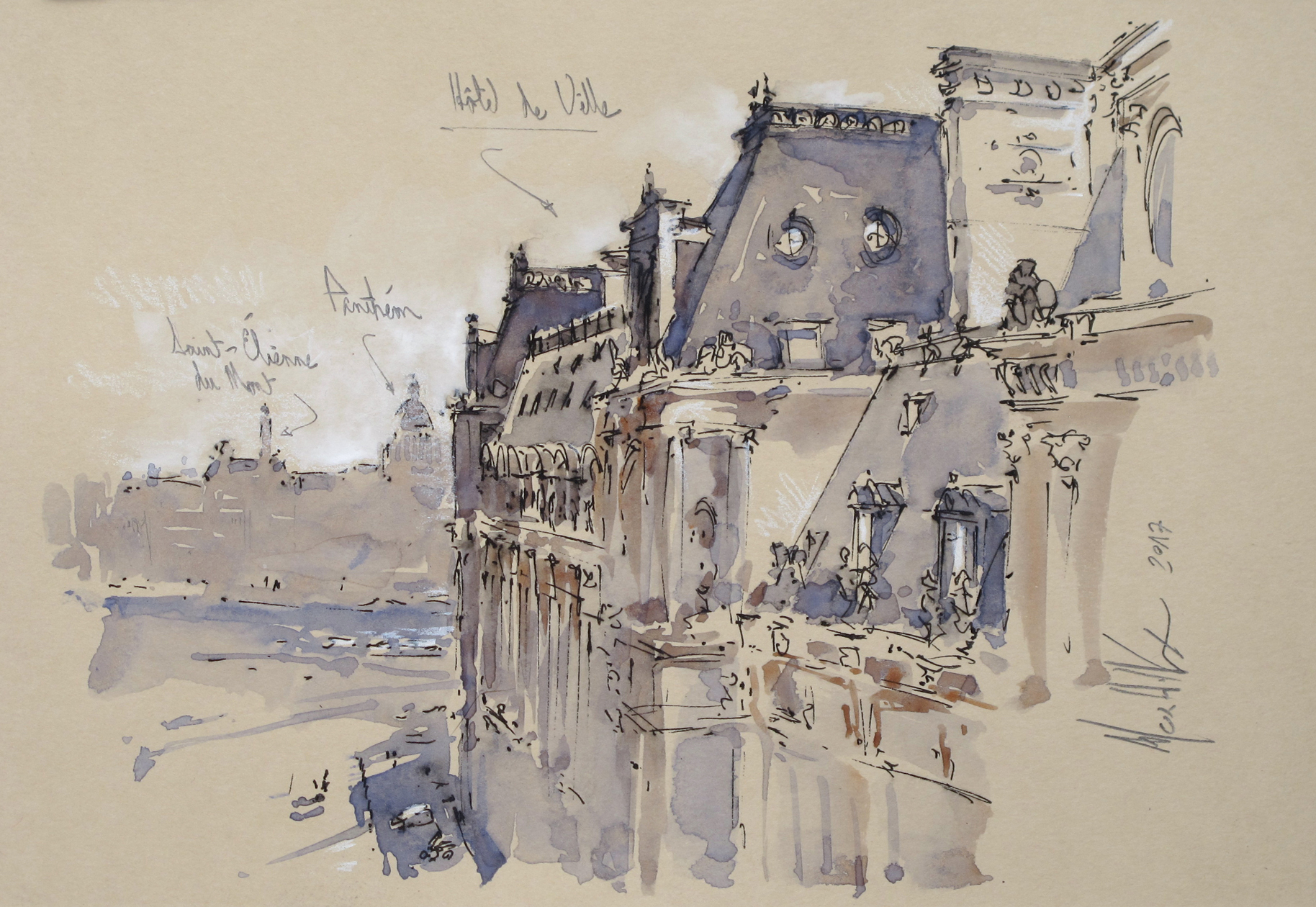 7. Where did you study?
I went to film school at Chapman University in California.
8. Where do you see yourself in five years?
I'd love to stay in Europe. Work keeps pulling me back to Los Angeles, but I feel much more connected to the world here.
9. What about in ten?
I can't think that far ahead. :)
10. What do you hope to achieve with your art?
The last couple of years have been amazing in that I've been able to meet fellow artists from around the world. Suddenly there's this global community of sketchers, and we're sharing our work and experiences. So I'd love to continue that. I would love to travel and sketch with fellow artists in places I've never been. And it's wonderful that art is how this can be achieved.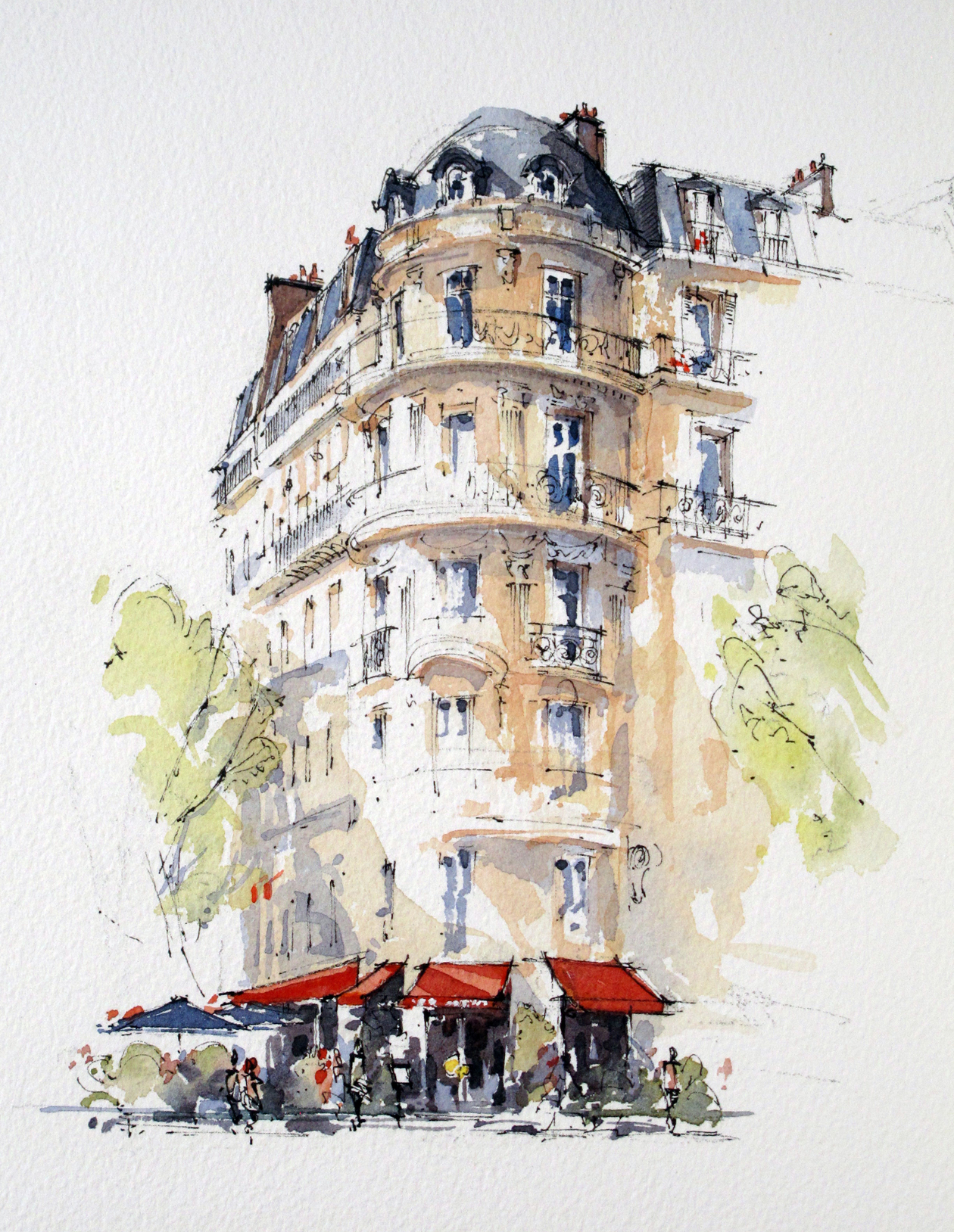 11. Now, tell us a little more about you as a person: what is your favourite food?
Living in Paris I have fallen in love with confit de canard.
12. Favourite book?
"The Adventures and Misadventures of Maqroll" by Alvaro Mutis, the insatiable wanderlust, the unexpected moments of insight in sometimes dreary, sometimes exotic locations, it's just brilliant.
13. Favourite genre of music?
I've always been a classic rock guy, but bring on South African jazz, blues from Mali, Irish folk, Russian folk… I'm always listening for my next favorite band.
14. What are your hobbies?
I enjoy hiking and backpacking. Where I grew up in California the high Sierras were never far away.
15. If you weren't an artist, what would you be?
If I weren't an artist I'd probably be an archeologist or paleontologist. I love the idea of digging up dinosaur bones or bits of ancient civilizations in some remote location.