Instagram:
@holly_jolley_
1. What's your story? Where are you from?
Well,my name is Holly Jolley, I live in Chile, a Spanish-speaking country that goes all the way to the end of South America. I started in the illustration world because of my dad, he was a very funny and stylish english man who made sure I was in contact with art from a very early stage of my life. We would spend entire days wandering around in museums, art shops and libraries. Sometimes we made really big drawings in the flat where he lived, he told me that it was fine to do things in my own way, that it was ok if I wanted to paint the ocean bright yellow. As a result of that I've been drawing non stop since I was a very little girl. It just makes me happy. I didn't really understand illustration as the most important part of my life until some time ago. My dad passed last year and that made me change, I started thinking he gave me some kind of mission, I don't know what that might be, but sure it involves illustration.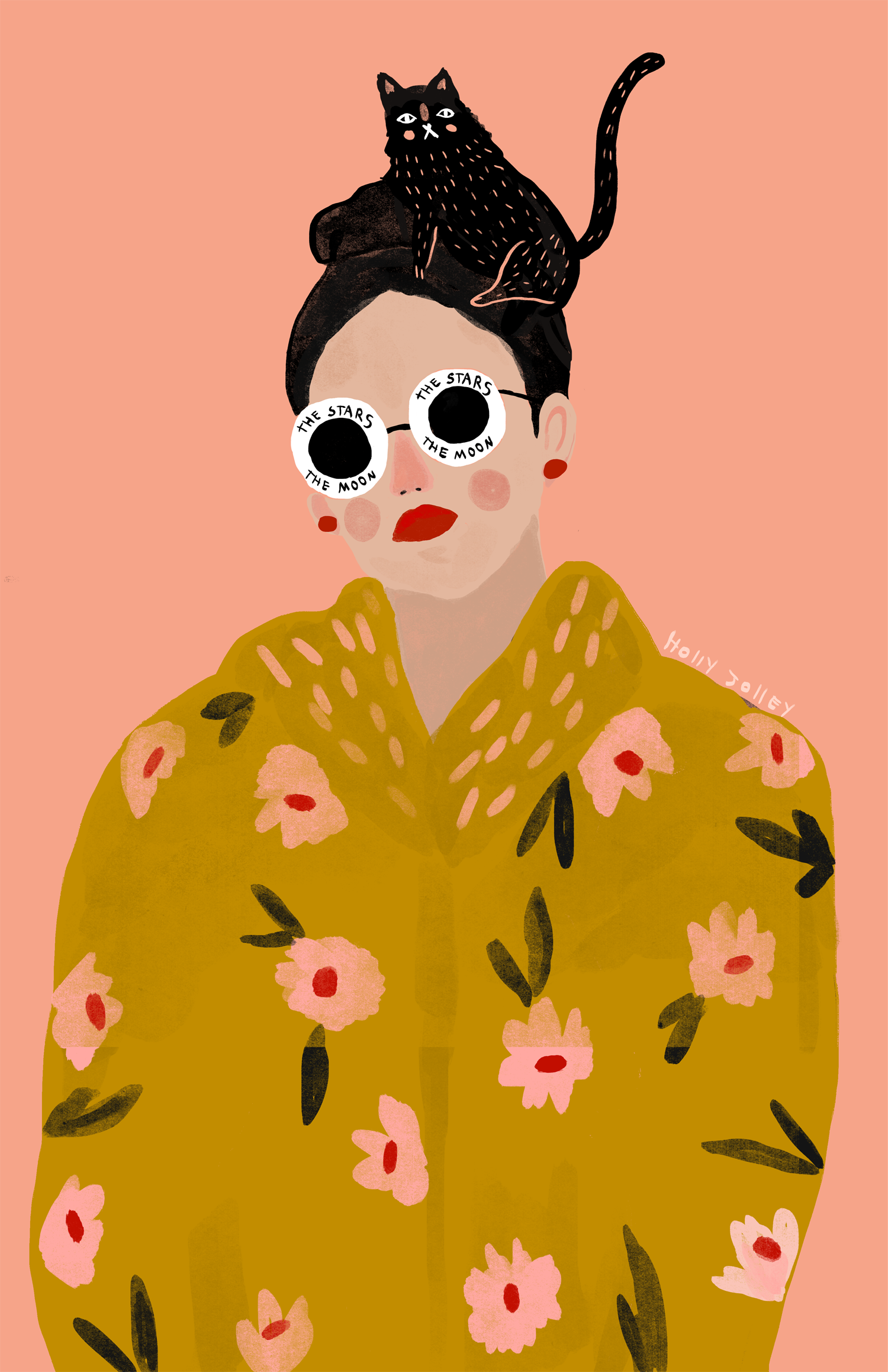 2. Tell us about your aesthetic.
I'm all about women, nature and animals wearing fancy hats. Some people could say that my illustrations are a little childish, it could be, they just come out of my imaginary. I like the contrast between bright colours, sloppy shapes and emotions in my illustrations. I think they are happy and a little melancholic at the same time.
3. What is your favourite medium and why?
I like markers and pens because they are simple and I can use them in any context, but I would say my favorite thing is paint. I'm a gouache girl these days. I love the soft texture on paper when it dries.
4. What is your artistic process like?
Really disorganized. I just spend day after day wandering around my house with an idea or a feeling I can't really describe in mind, listening music (from Ru Paul to Radiohead), testing colours, petting my cats (specially Gingerbread, my orange kitty), sketching, looking around, painting, drawing, hating what I just did, loving what I just did, starting all over in an eternal loop.
5. Who and/or what inspires your work?
So many things! Specially fashion, films, nature and people walking on the streets. I'm currently obsessed with Gucci (like everyone, I guess), and I've always had a thing for Wes Anderson. I love the colour palettes, the eccentricity and specially the connection funny-tragic-beautiful you can get in his work.
6. What role does art play in your life? How does it change the way you view the world?
It´s like a substance i need every day to function, I like the duality of art,you can find it in big badass fancy museums or in fat ladies walking dogs in a cold morning. Art gives me the chance to find inspiration in unexpected places.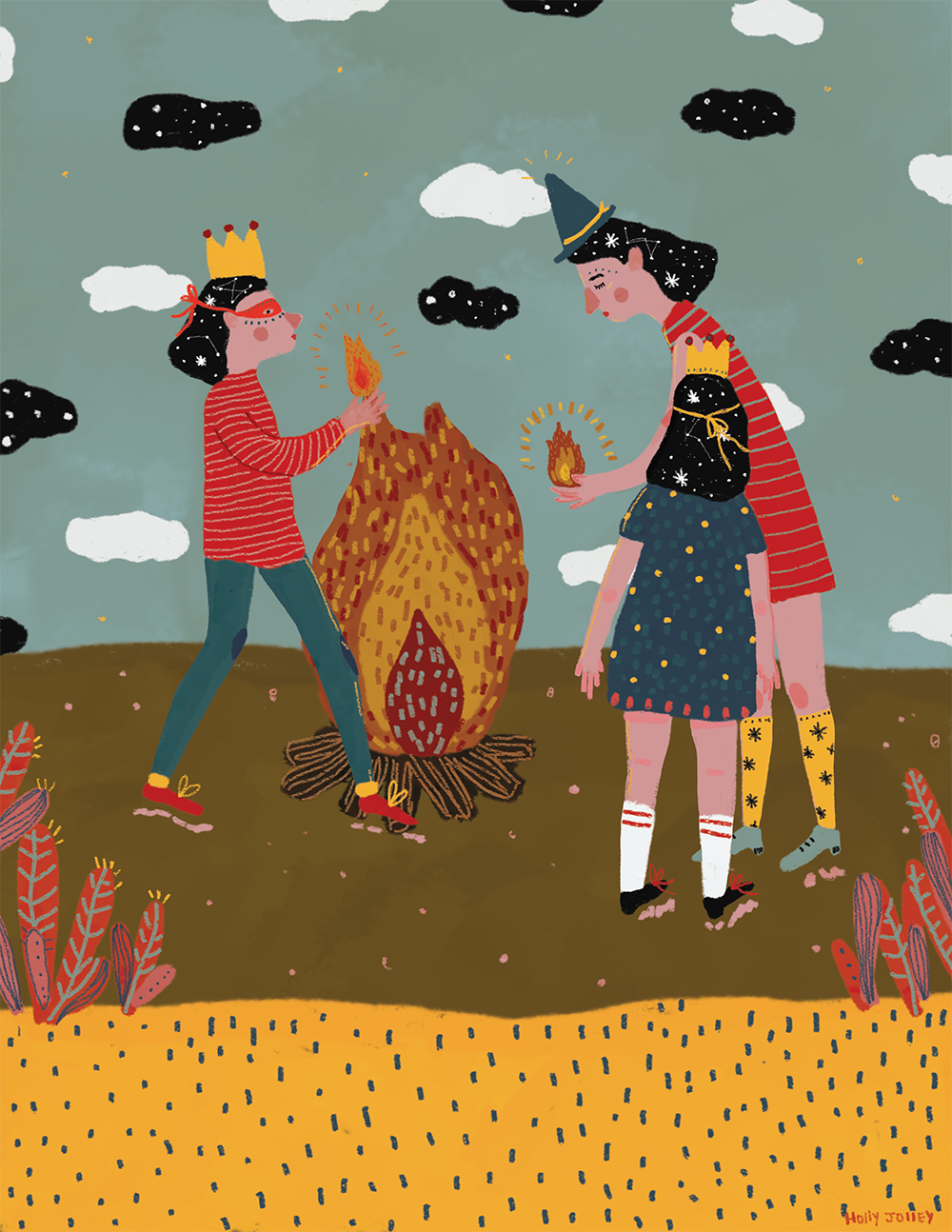 7. Where did you study?
I'm studying at the moment! Design at Universidad Católica de Chile.
8. Where do you see yourself in five years?
Living in a tiny apartment with my cats, eating pizza 4 days a week, drawing and painting all day long. Being happy.
9. What about in ten?
The same, but with more pairs of shoes(shiny ones) and maybe in another country.
10. What do you hope to achieve with your art?
I would like to find my perfect and unique way of seeing and doing things,like my pure style,I don't know if that's like even possible.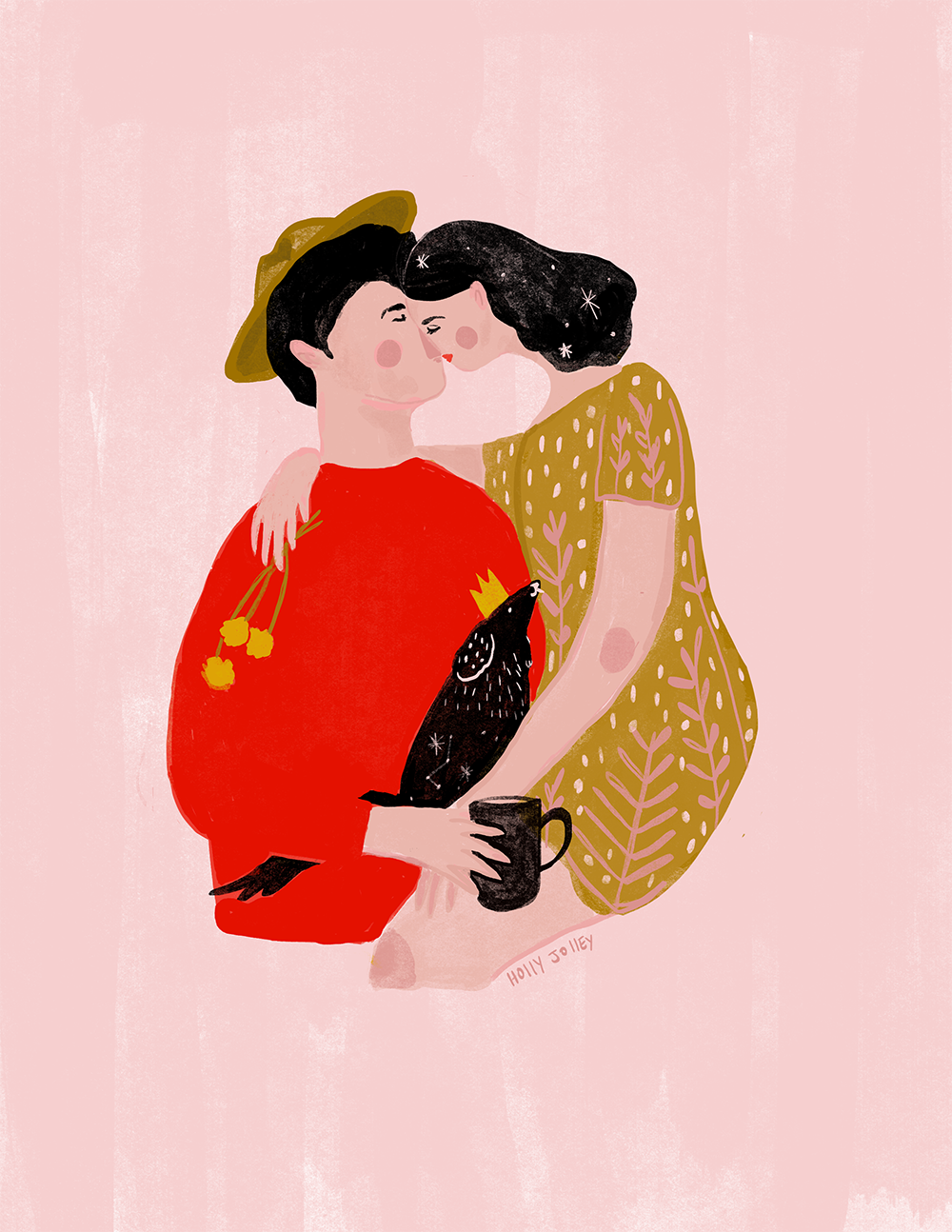 11. Now, tell us a little more about you as a person: what is your favourite food?
Easy one! Gnocchi with Roquefort cheese sauce and for dessert some raspberry & chocolate cake. Super healthy, super fitness.
12. Favourite book?
"Danny the champion of the world", by Roald Dahl. A brilliant book about a little boy and his dad, and how they create an elaborate master plan to steal pheasants from a very rich and evil man with a nice hat.
13. Favourite genre of music?
Hmm I don't have one. It depends on my mood, but usually I like listening bad pop songs when I'm drawing.
14. What are your hobbies?
When I have enough time I love camping and reading. Oh, I don't really know if this counts as a hobby, but one of my favorites things in the world is taking naps, I need one right now.
15. If you weren't an artist, what would you be?
I'm not sure if I consider myself an artist, but if I wasn't in the illustration world I would probably be working at the local zoo feeding monkeys. O maybe I could have a boring lawyer job.