Instagram:
@honoreperrine
Behance:
www.behance.net/perrinehonore
Website:
www.perrinehonore.com
1. What's your story? Where are you from?
My name is Perrine Honoré, I was born in the south of France and grew up in a small but lovely village called Saint-Jeannet. I left home when I turned 18 to study a year of fashion design in Sweden. I then studied Graphic Design in Paris and I just recently ended my masters of Design and Communication in Barcelona. I really enjoy living in this sunny and dynamic city—my plan is to stay for a while!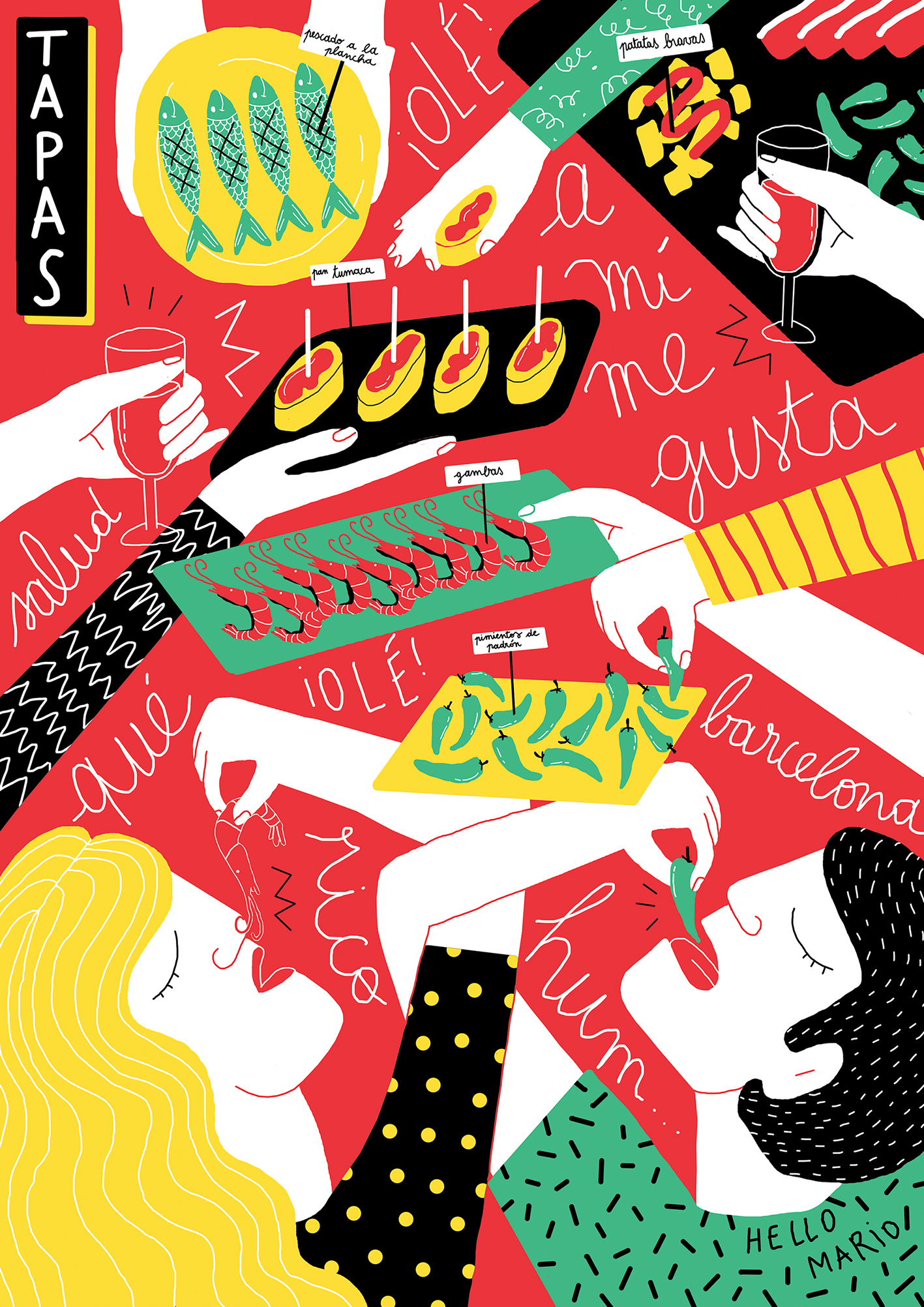 2. Tell us about your aesthetic.
I build a critical universe where madness and spontaneity prevail, through a festive and colourful aesthetic. I love to make colours and forms match as well as designing patterns. My illustrations are meant to spread energy, rhythm and passion.
3. What is your favourite medium and why?
I mostly draw digitally with photoshop, I would say because it is the fastest and easiest way for me to come up with an image and it is a very complete and flexible software. The tablet allows me to retain the motion of the drawing. However my favourite medium (when I have time and space to rearrange my whole flat) is acrylic painting, I enjoy working on canvas. It relaxes me. It gives another dimension to my work.
4. What is your artistic process like?
I always keep a sketchbook on me and I fill it with ideas; things that I see, that I like, that make me laugh (mostly invaluable things). Those sketchbooks are the first step of my creative process, then I pick up drawings. Sometimes I mix them in order to get a final image. Before I paint, I always draw a sketch in a very small scale. That way I can ensure the composition of the drawing is balanced and stable.
5. Who and/or what inspires your work?
I have always liked to visit museums and my favourite for sure is Le Musée du Quai Branly (Paris), which is the museum of primitive and ethnic art from Asia, Africa and Oceania. I also like the Egyptian and Greek flat paintings. The lack of perspective gives a specific aesthetic. When I studied the history of art I was very inspired by the faces of Modigliani, the very graphic compositions of Picasso, the shapes and colours of Matisse. Of course my inspiration is also drawn from my daily life, my relatives, the music I listen to, contemporary artists and designers.
6. What role does art play in your life? How does it change the way you view the world?
Since I was a kid, drawing has always been my main hobby. I have always had a vivid imagination and have always dedicated time to it. I am doing my best to be able to live out of my passion even if it requires a lot of involvement. I guess my sensibility to composition, colours and forms mould my view of the world looking for the beauty—I easily turn a street scene into an illustration in my mind.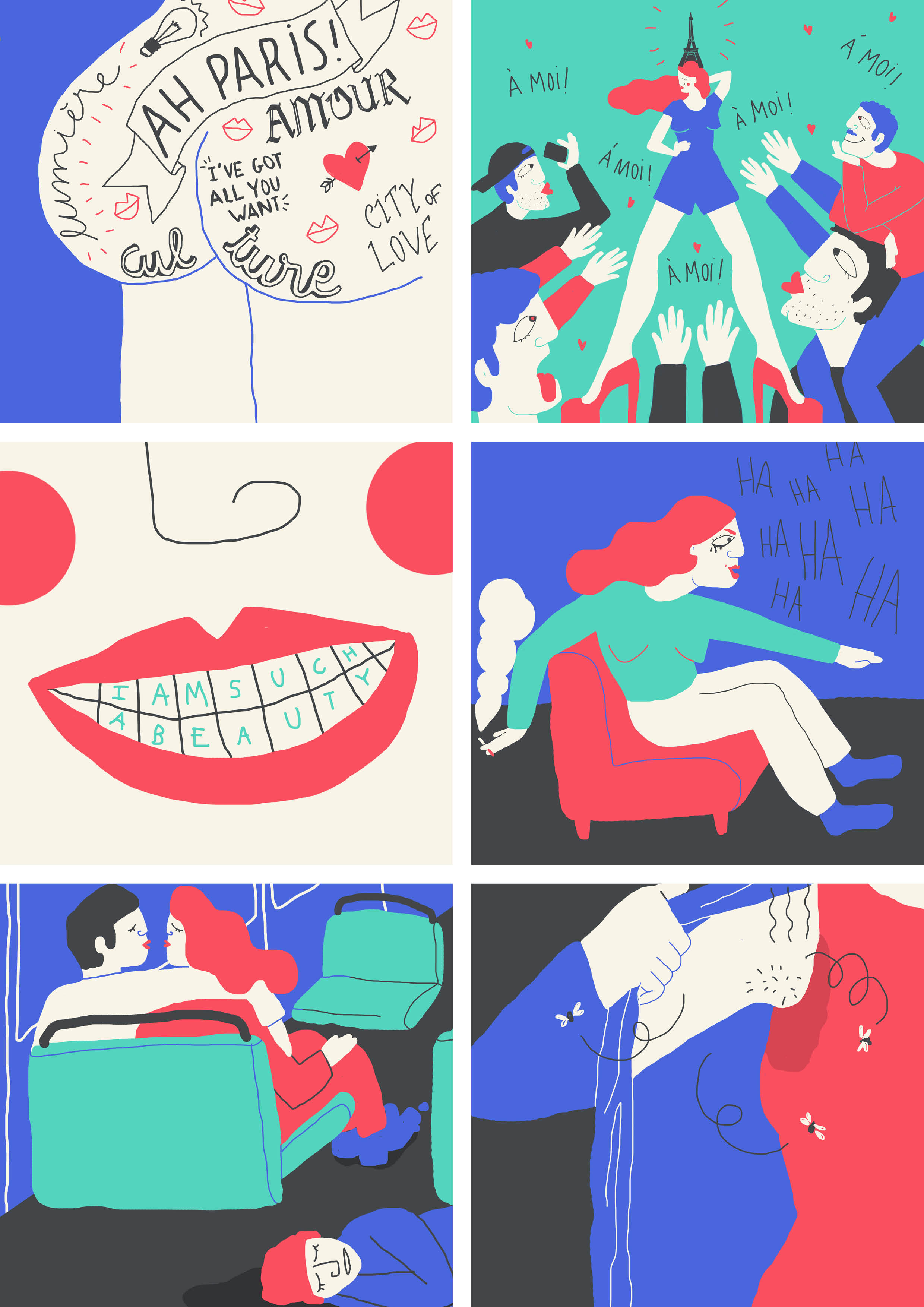 7. Where did you study?
I have studied fashion design in Sweden, Graphic Design in Epsaa, Paris, and my masters degree in Design and Communication was in Elisava, Barcelona.
8. Where do you see yourself in five years? Working in an agency?
In general, I am not too much of a future-making-plans girl. I have plenty of projects in mind and I have no precise goal, we will see where life brings me! Recently I painted my first mural in the gallery Miscelanea (
perrinehonore.com/portfolio/mural
). I enjoyed it so much that I could perfectly see myself as a street artist traveling around the world to paint walls!
9. What about in ten?
I wouldn't mind sharing a workshop, or a work space with other creative designers from others fields and work on bigger projects, and organise events together!
10. What do you hope to achieve with your art?
I don't believe my art will change the world, but at least if it makes people smile, puts them in a pleasant mood, dreaming, traveling, for me it's more than enough.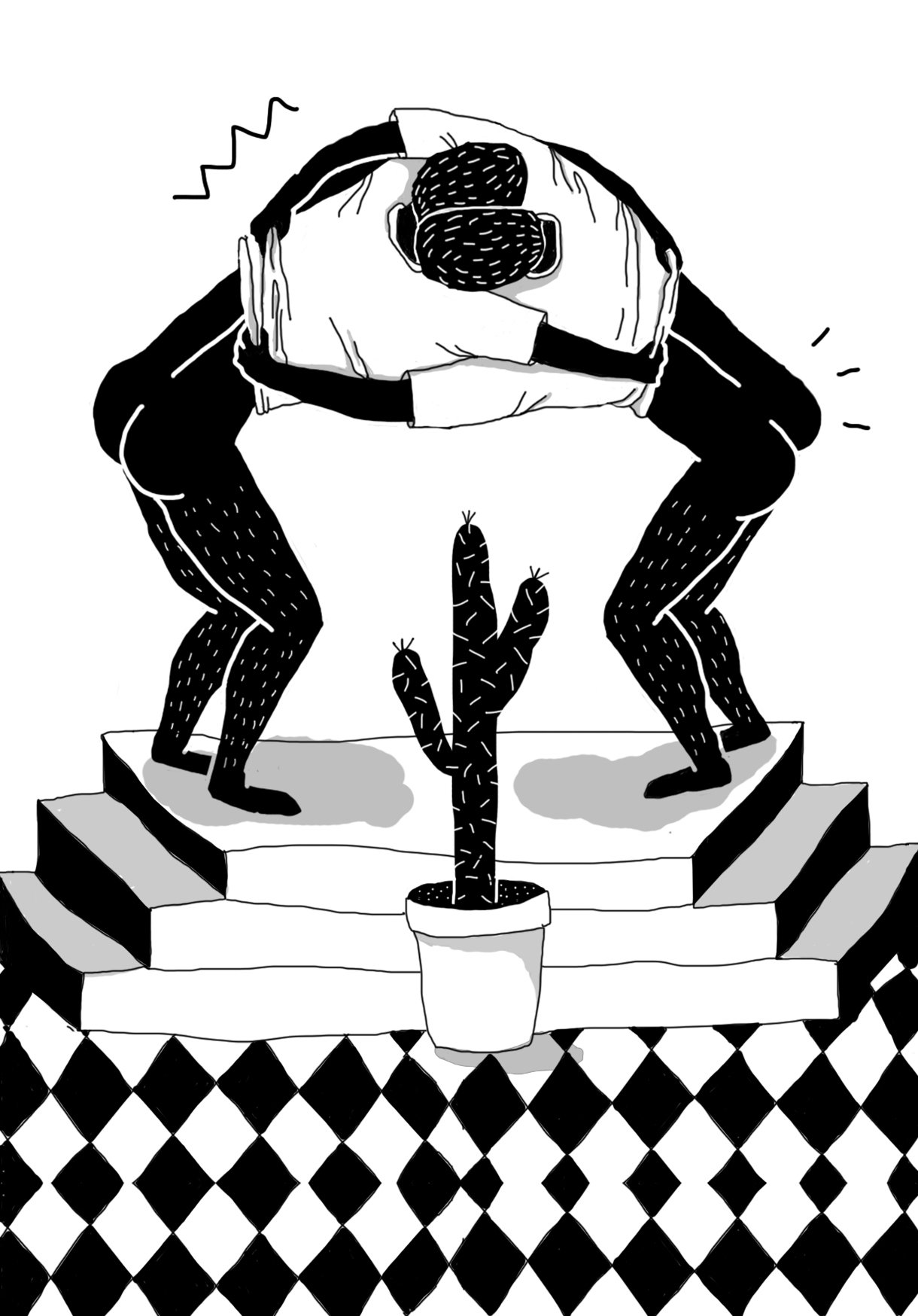 11. Now, tell us a little more about you as a person: what is your favourite food?
Hmm... That's a good one, I would say Asian food: sushi, Thai or Vietnamese dishes.
12. Favourite book?
Roy Lewis's "Pourquoi j'ai mangé mon père". It is about a prehistoric family that faces evolution and progress (discovery of fire). There is one part of the family that is for and one that is against. It has a great sense of humour and I was very amazed by the graphical way of representing this polarisation of political, social, and even technological issues that still occur today.
13. Favourite genre of music?
I listen a LOT of different genre of music, I particularly like jazz, alternative hip-hop and experimental.
14. What are your hobbies?
Swimming, dancing, reading, cooking, sewing, traveling, drinking, joking!
15. If you weren't an artist, what would you be?
I guess I would have studied something related with psychology and neurological sciences, it is amazing, discoveries about the human brain and personality we are able to make nowadays but as I don't have a scientific mind I would have worked as a social carer, why not with kids… Or chef... Well I don't know!