Instagram:
@iampamarte
1. What's your story? Where are you from?
Hello! I am Pamarte (Pamela Calvetti - 26 years old) I am Chilean, I currently live in Valparaíso, a port city, which is close to the sea, it is very colorful and full of contrasts, this makes it a completely unique place for me, here I arrived when I decided to study design. In the school it was not of the students with the best grades, but the artistic area called me a lot of attention and although I was not completely sure in that way, I knew that my future and my place had to be related in one way or another with what textile. Then getting to the embroidery was something that happened in a very natural way, without much thinking about it ... I liked it and I just started doing it. Hola! yo soy Pamarte (Pamela Calvetti - 26 años) Soy chilena, actualmente vivo en Valparaíso una ciudad puerto, que está al ladito del mar, es muy colorida y llena de contrastes, esto la convierte en un lugar completamente único para mí, aquí llegué cuando decidí estudiar diseño. En el colegio no era de las alumnas con las mejores notas, pero el área artística me llamaba mucho la atención y aunque no estaba completamente segura de que manera, sabía que mi futuro y mi lugar tenía que estar relacionado de una u otra forma con lo textil. Luego llegar al bordado fue algo que sucedió de una manera muy natural, sin mucho pensarlo mucho... me gustó y simplemente comencé a hacerlo.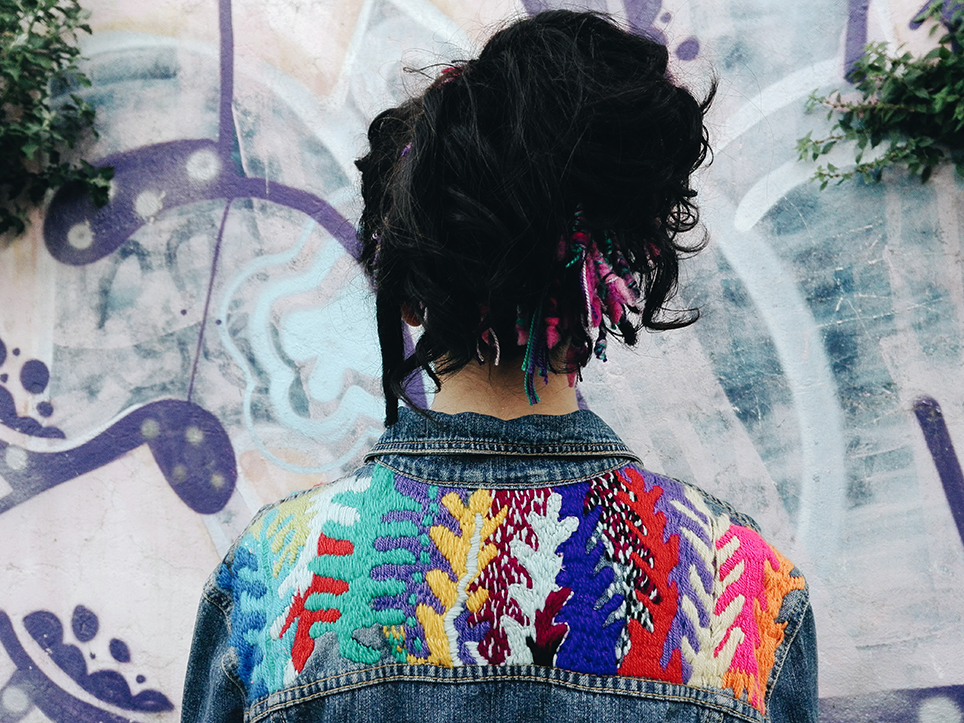 2. Tell us about your aesthetic.
My aesthetics I think is characterized by the high contrast between the texture that generates the wool or thread (for its conformation and color) with the image itself. I like to use many colors that create contrast but at the same time mix between them to be very similar, so sometimes I even fall a little psychedelic (although I have never used hallucinogenic drugs) I like to create and imagine worlds that perhaps exist but that we do not know (that's why I work a lot with the sea and its depths), this gives me an infinite freedom when working and that I love. Mi estetica creo yo se caracteriza por el alto contraste entre la textura que genera la lana o el hilo (por su conformación y color) con la imagen en sí. Me gusta usar muchos colores que creen contraste pero que a la vez se mezclen entre ellos al ser muy similares, por esto a veces incluso un caigo un poco psicodélico (aunque nunca he consumido drogas alucinógenas) Me gusta poder crear e imaginar mundos que quizás existen pero que no conocemos (por eso trabajo mucho con el mar y sus profundidades), esto me da una libertad infinita al momento de trabajar y eso me encanta.
3. What is your favourite medium and why?
My favorite means are the wool and threads, to work directly with the fabric and how it is changing as I intervene. Sometimes I also draw and try to project the ideas that I have in my head on paper with any colored pencil that I have nearby, but I feel that it comes out easier and more natural on the fabric itself. Mi medio favorito son las lanas e hilos, trabajar directamente con la tela y como esta va mutando a medida que la voy interviniendo. A veces también dibujo e intento proyectar las ideas que tengo en la cabeza sobre el papel con cualquier lápiz de color que tenga cerca, pero todo siento que me sale más fácil y natural sobre la tela misma.
4. What is your artistic process like?
I think I'm still in a process of self-discovery with embroidery, but I work a lot from the intuition at the color level, as far as the formal I observe a lot the nature that surrounds me, the leaves, the plants and from there I draw ideas that I draw (because they forget me later) I imagine all the types of algae that could exist, I watch many documentaries and videos about the marine world, that animals live in the depths and how they have adapted their form, their body, their actions in order to survive. What comes after this always changes and I develop it as it is born to me no more, sometimes with thoughtful sketches or other times with ideas that appear spontaneously at the moment (those are the ones I like the most). Creo que aún estoy en un proceso de autodescubrimiento con el bordado, pero trabajo mucho desde la intuición a nivel de color, en cuanto a lo formal observo mucho la naturaleza que me rodea, las hojas, las plantas y de ahí saco ideas que voy dibujando (porque se me olvidan después) imagino todas los tipos de algas que podrían existir, miro muchos documentales y videos sobre el mundo marino, que animales viven en las profundidades y como han ido adaptando su forma, su cuerpo, su actuar para poder sobrevivir. Lo que viene después de esto siempre cambia y lo voy desarrollando como me nace no más, a veces con bocetos pensados u otras veces con ideas que aparecen espontáneamente en el momento (esas son las que más me gustan).
5. Who and/or what inspires your work?
I am a Pisces sign and that is why I feel a deep connection with water, I love it, I have always been good at swimming and I have to be in constant contact with it, so afterwards I made the relationship with the sea, because in a certain way I think that It represents. The connection with the hidden and wonderful things that can appear in the depths came later with the documentaries that I have seen about marine life where they always show that the human being has reached a certain point (can not sink any more) and the robots only a little further on, this allowed me to think that there is still a world that we do not know and that we will never know maybe. That is the world that I try to represent in my embroidery, a fantastic world, beautiful, full of colors that manages to appear only with a little light. Soy signo piscis y por eso siento una profunda conexión con el agua, me encanta, siempre he sido buena para nadar y tengo que estar en constante contacto con ella, Por eso después hice la relación con el mar, porque de cierta manera creo que me representa. La conexión con las cosas ocultas y maravillosas que pueden aparecer en las profundidades vino después con los documentales que he visto sobre la vida marina en donde siempre muestran que el ser humano ha llegado hasta cierto punto (no puede hundirse más) y los robots hasta solo un poco más allá no más, esto me permitió pensar que aún existe un mundo que no conocemos y que no podremos conocer nunca quizás. Ese es el mundo que yo intento representar en mis bordados, un mundo fantástico, hermoso, lleno de colores que logra aparecer solo con un poco de luz.
6. What role does art play in your life? How does it change the way you view the world?
I do not really consider myself an "artist", I think that what I do allows me to project my ideas and my way of thinking about things that can be touched and looked at. Now my way of seeing things has always been more or less similar, my way of living and moving is normally slow, so I try to feel more, observe with attention the things that surround me and how they change according to the moment of the day, the weather, amount of light etc. and this also helps in my creative process. Realmente no me considero una "artista", creo que lo que hago me permite proyectar mis ideas y mi manera de pensar en cosas que se pueden tocar y mirar. Ahora mi manera de ver las cosas siempre ha sido más o menos parecidas, mi modo de vivir y moverme es normalmente lento, por lo que intento sentir más, observar con mucha atención las cosas que me rodean y como ellas mismas cambian de acuerdo al momento del día, el clima, cantidad de luz etc. y esto también ayuda en mi proceso creativo.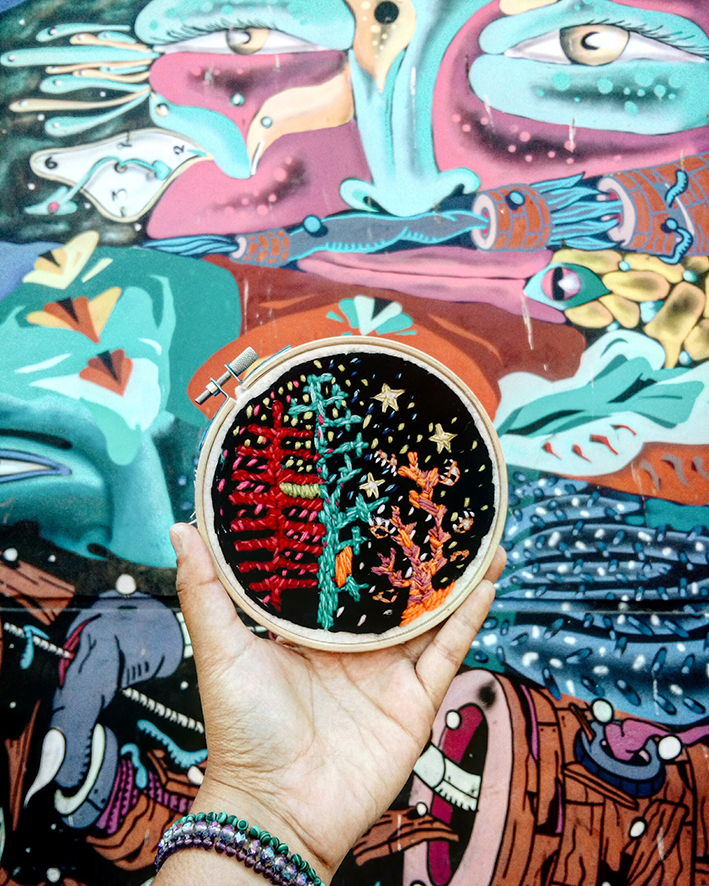 7. Where did you study?
Study at the University of Valparaiso in Valparaíso Chile Estudio en la Universidad de Valparaiso en Valparaíso Chile
8. Where do you see yourself in five years?
I see myself living outside Chile (I do not know where yet) working on design and embroidery in a freelance way, traveling and getting to know new places. Me veo viviendo fuera de chile (no se donde aún) trabajando del diseño y el bordado de manera free lance, viajando y conociendo lugares nuevos.
9. What about in ten?
I do not like to project ideas so much in time, that what happens has to happen and that it is as beautiful and positive as possible. No me gusta proyectar tanto las ideas en el tiempo, que suceda lo que tenga que suceder y que sea de la forma más linda y positiva posible.
10. What do you hope to achieve with your art?
For people to launch no more, learn to create without fear and try to do it in the best way possible, one has to do what makes you happy. Que la gente se lance no más, aprender a crear sin miedo e intentar hacerlo de la mejor manera posible, uno tiene que hacer lo que te haga feliz.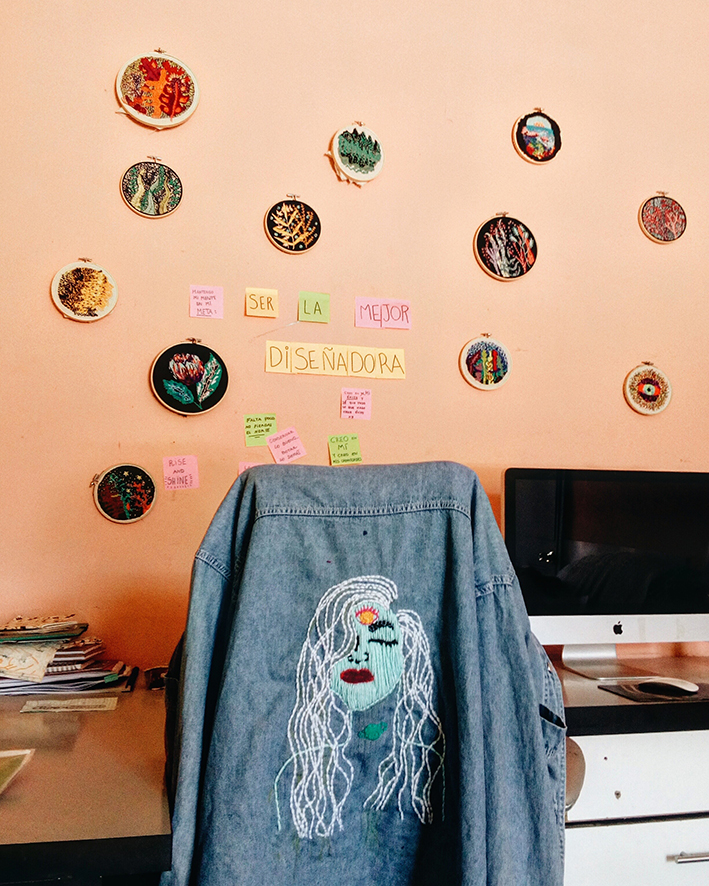 11. Now, tell us a little more about you as a person: what is your favourite food?
I love mashed potatoes with fried eggs and I always have to eat something sweet. Me encanta el puré de papa con huevo frito y siempre tengo que comer algo dulcecito igual.
12. Favourite book?
I'm not really reading :( No soy muy de leer en realidad :(
13. Favourite genre of music?
I like listening to Latin music (I do not speak of salsa or merengue). If it's from Chile better, I think it's important to support what is where you come from. Me gusta escuchar música latina (no hablo de salsa o merengue). Si es de chile mejor, creo que es importante apoyar lo que es de donde uno proviene.
14. What are your hobbies?
A while ago I was learning climbing, now I'm riding a bicycle. You could say that my main hobby is the hahaha embroidery but in a few years I would like to develop it in a more professional way and be able to live from it. Hace un tiempo estaba aprendiendo escalada, ahora estoy andando en bicicleta. Se podría decir que mi hobbie principal es el bordado hahaha pero en unos años me gustaría poder desarrollarlo de una manera más profesional y poder vivir de eso.
15. If you weren't an artist, what would you be?
A traveler or marine biologist. Una viajera o biologa marina.