Instagram:
@iljakarsikas
Website:
www.iljakarsikas.com
1. What's your story? Where are you from?
I live and work in Helsinki, the capital city of Finland, where I was also born in 1978. I spent my childhood in small town in Northern Finland and moved back to Helsinki to work as a designer in 2003.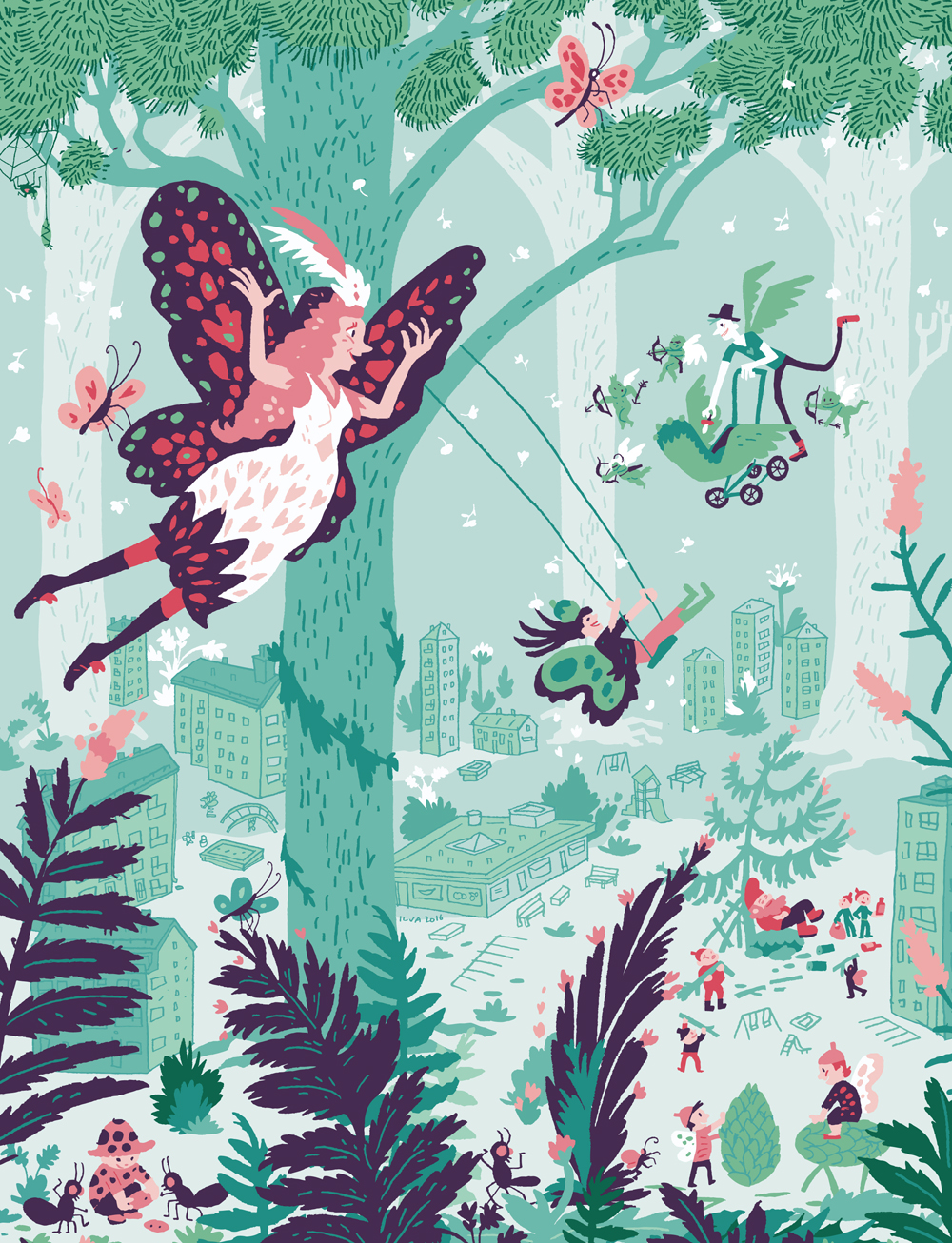 2. Tell us about your aesthetic.
I try to create pictures that give good vibes and positive feelings. Right atmosphere is very important, and how the people (or other creatures) appear in the picture. There's usually some warm humor in my pictures. I like clear colours and organic shapes. I want my pictures to be somehow narrative. I like details as a way to tell stories and to make the pictures deeper, not in the means of decorating.
3. What is your favourite medium and why?
Nowadays I like to make rough drawings with pencil. I scan the drawings and make the final picture using the Adobe Illustrator. That's the way I can combine relaxed feeling with harmonic compositions and well thought colours. I've been working like that 'round 2 years and it feels really good. With my kids I've been drawing a lot with crayons and it's really relaxing, so I guess I will try crayons also for some future picture book project.
4. What is your artistic process like?
If you think just one picture, I start with very small and rough pencil sketchies. While sketching I usually get the ideas. For me it's really hard to get good ideas by sitting down and thinking. So I use my hands to think. I draw the picture again and again to find the right composition and then I make the final line drawing. I vectorise the drawing and make the final composition and colours in computer. Some pictures will born without any complications but some need many days to find the right lines, colours and atmosphere. And when you start, you can never know which one you're dealing with. Making the whole picture book is totally in different level and in my cases it usually takes years to create a full story with perfect pictures and characters.
5. Who and/or what inspires your work?
Music, books and art exhibitions give the basic inspiration. Many great known and not-so-known illustrators in real life, in books and in Instagram inspires me. Quite often I get inpired also by nature, mainly on springtime. I also enjoy of looking my kids playing around – to see how they learn things, and to hear their funny thoughts and especially see how they draw so naturally.
6. What role does art play in your life? How does it change the way you view the world?
My father is a sculptor so art have always played important role in my life. It's really hard to think the life without art. Art gives me new ideas, perspective to the whole world, learn how to behave and how to face different kind of people and things you haven't thought yourself before.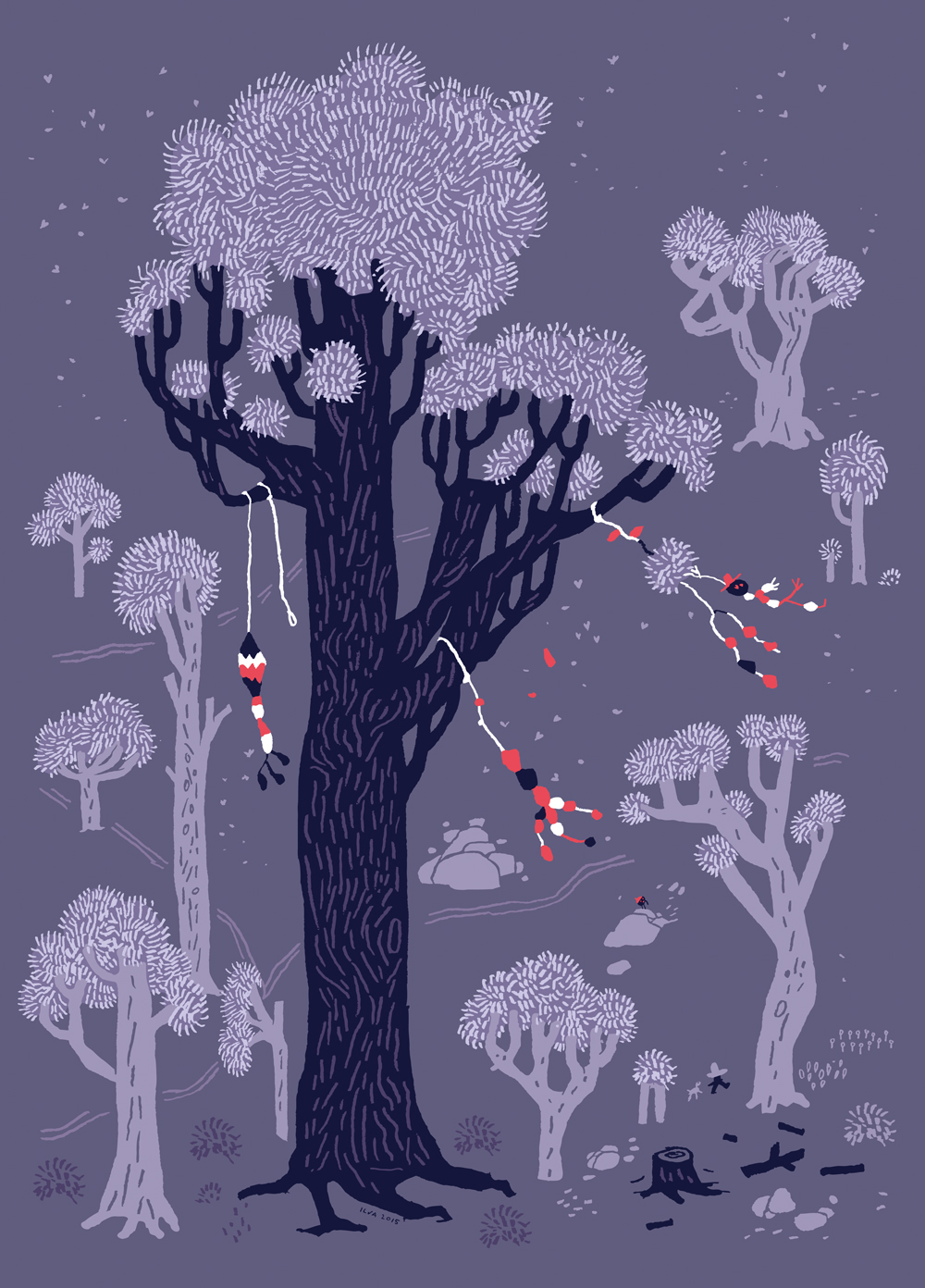 7. Where did you study?
I graduated from Lahti Institute of Design back in 2003. Since then I have been working in a shared studio space with other designers and illustrators – many of them are my classmates from Lahti. To share a studio with friends must have been the best school for me. I can share my ideas and problems with my colleagues and learn new things everyday just watching how they work and solve their design problems.
8. Where do you see yourself in five years? Working in an agency?
I hope I have done a few more children's books and some of them are translated to other languages. My agents work really hard for me so I might have a bunch of really nice clients around the world. But I guess I still work in the same studio with my friends.
9. What about in ten?
Nothing have really changed exept that the number of my picture books and translations of them have increased enourmously. And exept that my kids are teenagers and I have really hard as well as really nice time with them.
10. What do you hope to achieve with your art?
I hope my illustrations give good feelings and help people to stand their everyday life a little bit better. I dream that my picturebooks bring joy and hope to the kids and their parents who read them.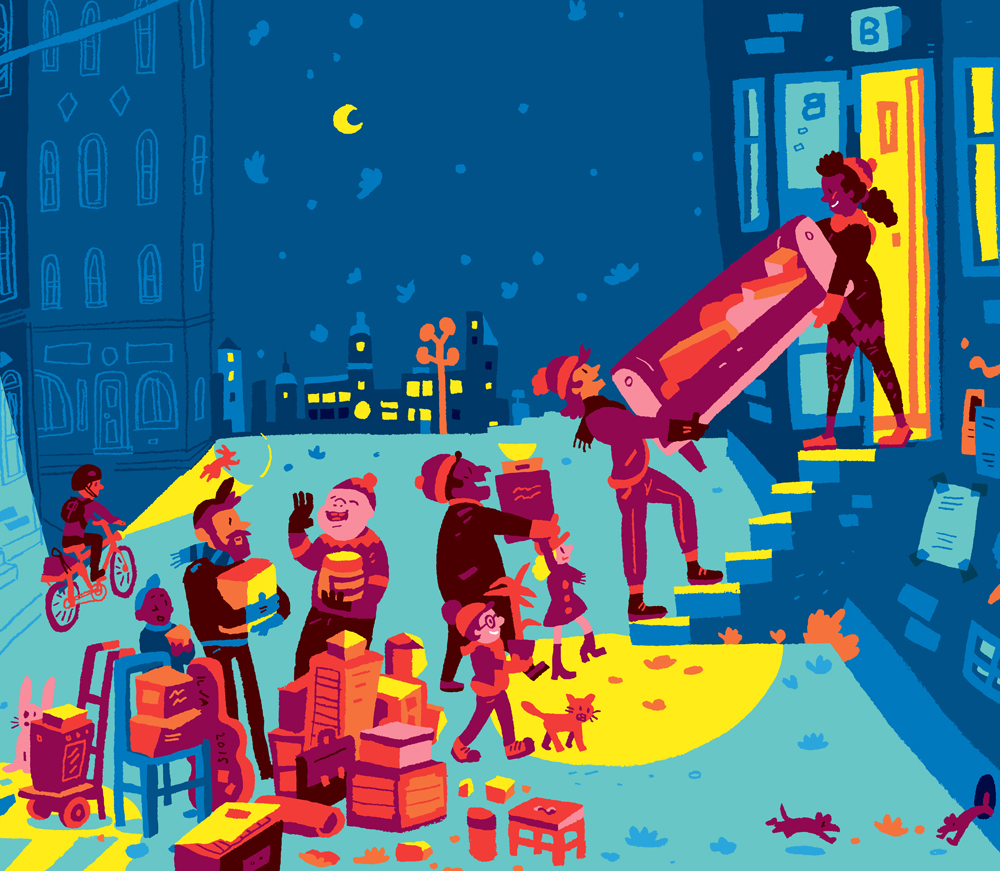 11. Now, tell us a little more about you as a person: what is your favourite food?
I really enjoy of eating my every day lunch with my friends and colleagues. Good company is for me even more important than the exact food. Though I must say that we have really good vegetarian lunch places next to our studio. At home I eat quite often Finnish rye bread with butter, tahini and slices of apple and that's something quite unique.
12. Favourite book?
José Saramago's The Cave is one of the best.
13. Favourite genre of music?
Indie pop, if you include the Cure, the Smiths and Red House Painters in indie pop.
14. What are your hobbies?
Music is very important part of my life, and in addition to listening a lot of music I sing and play guitar, bass and piano. I also go swimming as often as possible.
15. If you weren't an artist, what would you be?
When I was a bit younger I dreamed of being a rock star. So let's say I would be a musician and songwriter.