Instagram:
@illustrating_rain
Twitter:
@IllustratingR
Facebook:
www.facebook.com/illustrating.rain
Pinterest:
www.pinterest.com/illustratingr
Tumblr:
illustratingrain.tumblr.com
Website:
www.illustratingrain.co.uk
1. What's your story? Where are you from?
My story is quite a long and windy one. I have always been creative and after graduating with an academic degree, I still maintained an artistic practice of my own. The span of work over the years includes supporting young adults within a college art department, creative practitioner across schools incorporating art into the mainstream subject areas and also a carnival costume maker, quite a feat for someone who is 5ft 2" whilst the costumes are over 10ft! It wasn't until a health scare which was a wake-up call a few years ago, that I began painting and concentrating on pursuing art as a livelihood and a business as opposed to something I just tried to fit into a so-called 'proper job'.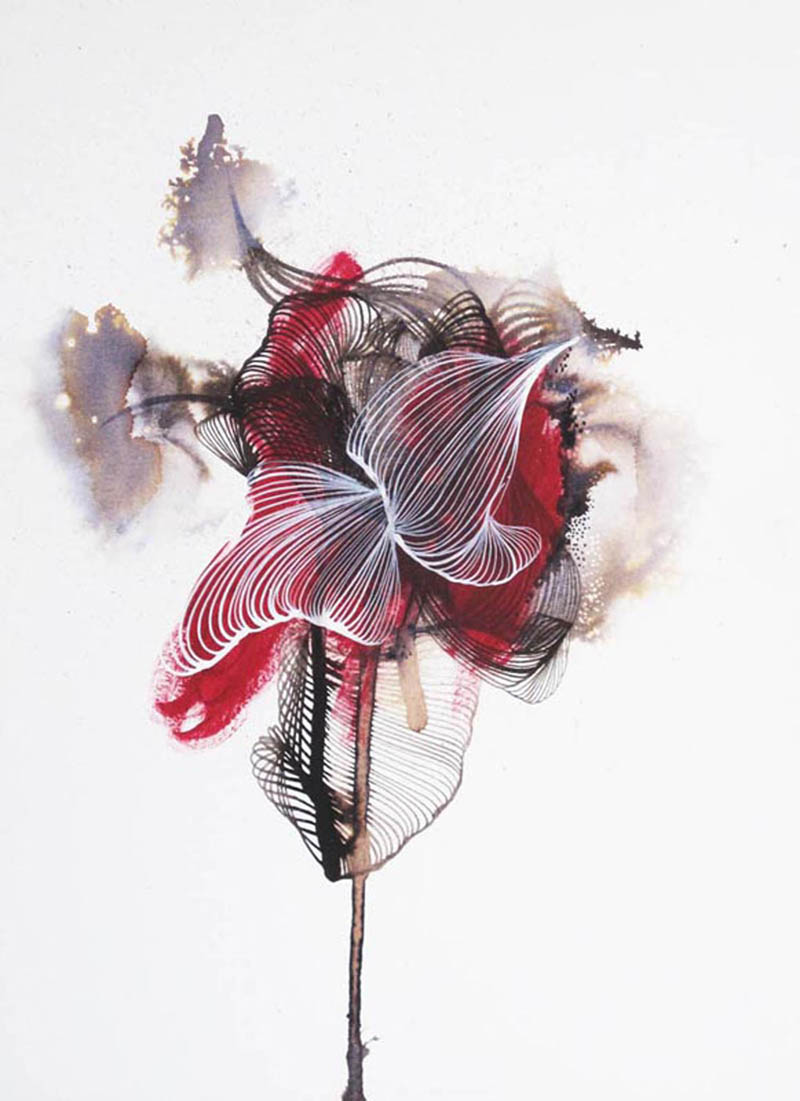 2. Tell us about your aesthetic.
My aesthetic with regards to my painting is one of quite an ethereal nature. I find the practice of painting a meditative process and so the lines are flowy and organic, the image is created as I paint, there is not usually a clear idea in mind, it is more of an unfolding as I go along, one brush stroke after the other. It is more of a mood that is created rather than a distinct image which fits into the abstract nature of my work,
3. What is your favourite medium and why?
My favourite medium is ink and this is because it too has its own plans for the work that is created with it. The material itself meanders onto the page and moves in its own direction and I love the way in which once it has come into contact with water or bleach, it takes on a form of its own, which in turn informs what I do next. In a way, the ink guides me more than I guide it.
4. What is your artistic process like?
My artistic process is quite instinctive and very natural. I always begin by stretching paper and as I am doing this, I am thinking of colour palettes. I don't spend too much time staring at the white space in front of me or planning the piece extensively. I tend to decide on an area of the paper where I feel the work should begin, mix up some colours, lay them all out nearby and then put on some music or a podcast and begin. Once I start, there is a speed to painting that is directed by the way the water, ink and bleach are interacting and to work with those elements before they begin to dry. After they are dry, then I work again adding layer upon layer.
5. Who and/or what inspires your work?
I am inspired by the ideas of the unseen and the invisible realms of the spiritual world. The way in which we as humans are governed a lot of the time by the thoughts created in our brains, which generate feelings and emotions that we all act on and live by. I am intrigued by what we can't see, of what our consciousness is and how the Universe and nature operate so systematically and organically within such a beautiful and precisely designed system.
6. What role does art play in your life? How does it change the way you view the world?
Art is an intrinsic part of my life, it is much like the breath to me. It is needed, it is always happening and it is natural and yet taken for granted. I see the world through the lens of creativity and see patterns in most things, whether they be structures or fractal imagery in nature. I see the world with a creative resonance to colour, shape and form. I like the idea of seeing the world without the labels attached to it, although that can be quite a tricky one as we humans seem to be attached to wanted to label everything.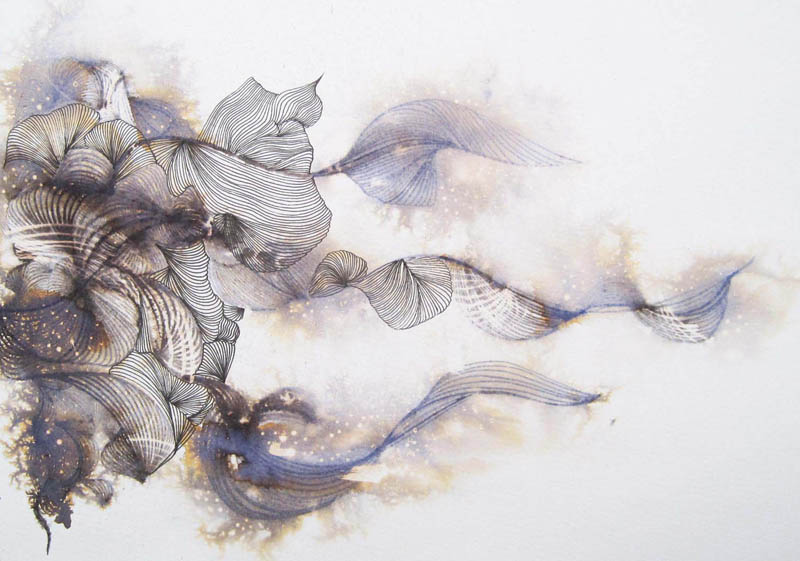 7. Where did you study?
I graduated from the University of Bedfordshire with a degree in Sociology & Black & S.Asian Studies. My artistic practice is self-taught.
8. Where do you see yourself in five years? Working in an agency?
In five years time, I would like to continue painting, collaborating with other creatives and establishing a business that encourages and promotes the possibilities of choosing to be an artist and seeing it as a career that is both profitable and breaks the long-held and perpetually reinforced myths of the 'starving artist' and other such beliefs where the notion of being a working artist is seen as unrealistic and impossible. I would like to contribute to a different mindset for those wanting to take this path.
9. What about in ten?
In ten year's time, I would really like to be mentoring and working with those wanting to be working artists, alongside keeping my own artistic practice alive.
10. What do you hope to achieve with your art?
With my art, I hope for the viewer to resonate with a piece, to feel a spark of connection, an emotion to be evoked by it. An invisible thread that brings the art and the viewer together. I want my art to bring some light into the world.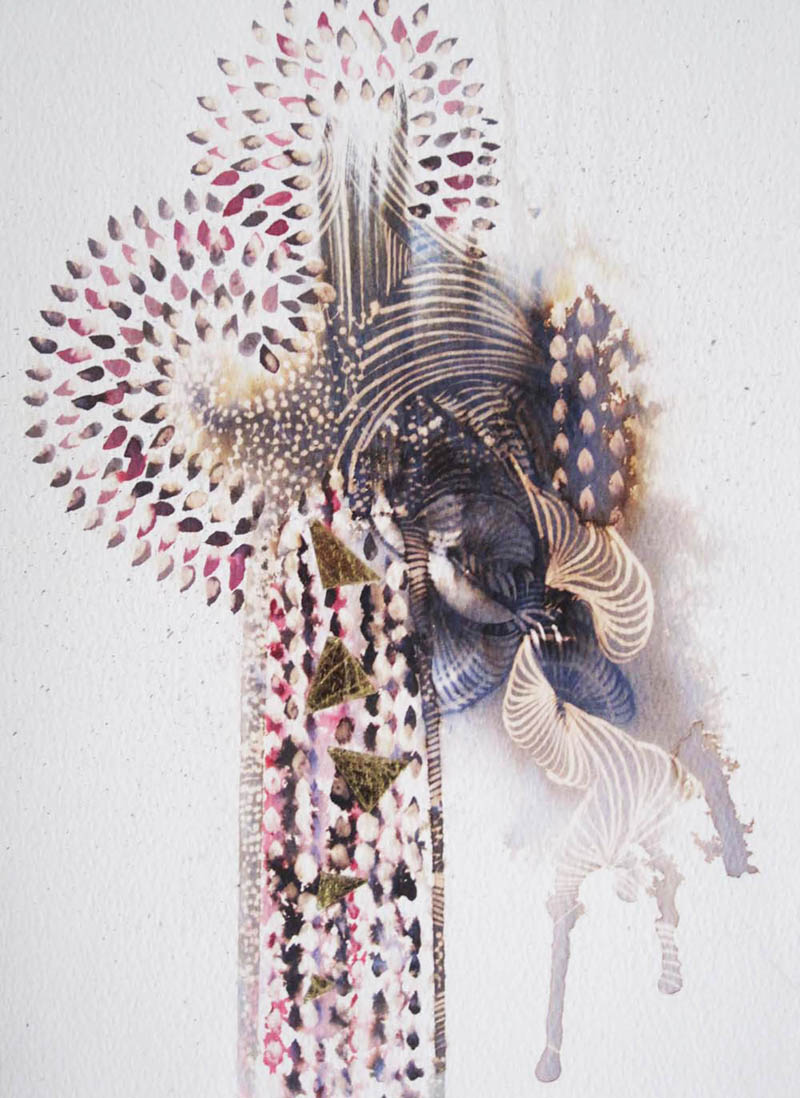 11. Now, tell us a little more about you as a person: what is your favourite food?
My favourite food is a Gujarati dish called Hurang Ne Dhar. It takes days to ferment the bean before it is cooked and so is not a quick and easy dish but delicious!
12. Favourite book?
There is no answer for me for this one. I love reading and so there are too many to choose from, so I will pick a few! A Suitable Boy by Vikram Seth, The Inside Out Revolution by Michael Neill, Of Bees & Mist by Eric Setawain and Somebody Should Have Told Us by Jack Pransky.
13. Favourite genre of music?
My taste in music is pretty mainstream as it goes. So a mix of Jamie T, Drake, Anne Marie, Jessie Ware & Clean Bandit.
14. What are your hobbies?
In my spare time, I like to read and cook!
15. If you weren't an artist, what would you be?
Most likely a teacher with a secret desire to be an artist:)